Go figure. During the summer, we are so busy on the farm that I barely get a chance to go anywhere. And then, when I do, where do I go but to another farm, just up the street from me!
Granted, the Grey Barn and Farm is a pretty cool place, with an alluring farm stand filled with some very special edibles: aged, raw-milk, certified-organic cheeses. (Plus, grass-fed beef, pastured pork, and bottles of raw milk, don't you know!) Yes, I just said there is artisan cheese – and handsome grass-grazing Dutch Belted cows with names like Mae and Mary Nell – less than a half-mile from my house. Pinch me. (If I moved across the line from West Tisbury to Chilmark, I could now live entirely on locally made food since Chilmark has the three C's – cheese, chocolate, and coffee – that are the only things I absolutely can't live without, despite my goings-on about vegetables.)
Better yet, don't pinch me. Just invite me to your picnic, because this is what I will bring: the new Bluebird cheese from Grey Barn. Farmers Eric and Molly Glasgow introduced this creamy, buttery, not-too-sharp aged blue cheese this past spring, to offer alongside their pungent washed-rind Prufrock and their grassy, bloomy-rind Eidolon (my favorite, until Bluebird came along).
I first encountered Bluebird (the name comes from a poem by naturalist John Burroughs) on an appropriately mist-shrouded cool April morning. It was the kind of damp, salty day that every coastal dweller can feel in his bones, whether he lives on Martha's Vineyard, or on the south coast of Ireland, or in Normandy – places where the Glasgows have taken some inspiration for their cheeses, because of the similar weather. It was the sort of day you might see a bluebird perched on a fence post in a farm field, or hear his song ("A wistful note from out the sky") as he calls for his mate ("Ah, now I know his heart doth sing!.../O bluebird, welcome back again/Thy azure coat and ruddy vest/Are hues that April loveth best…/And thy blue wing's a joyous sight/Among the brown and leafless trees.")
Not surprising then, that my first taste of Bluebird (I nibbled from the samples in the farm stand while waiting to talk to Eric) was a comforting remedy to both the damp in the air and the dullness in my tastebuds. It was nutty and creamy, a bit smoky with a little hint of cocoa – the kind of umami flavor that only blue cheese can boast, but in a subtle, grown-up way. And it was familiar … a bit like Gorgonzola, Eric reminded me upon greeting me. Ah, yes!
I asked Eric, why blue cheese now? And he said they had always wanted to do it, but that it became pretty clear it was a natural for their location when the blue molds appeared voluntarily from time to time when making their first two cheeses. It's in the air. Cheese terroir – how cool!
Our conversation moved on quickly to eating (my favorite topic) and serving the cheese, and Eric volunteered that he'd like a little Bluebird on his grilled steak this summer … and that it tastes pretty good with a Belgian ale, too.
Hmmm, my mind went straight to the picnic table.
Last summer, we had exactly one picnic – at our picnic table, which we moved to our way-back field for the occasion. (This was high summer, and as farmers we barely sit down to eat at night during July and August, much less have people over.) Along with the other goodies that friends brought and that we picked from the garden, I put a piece of Grey Barn's Eidolon on the table with some freshly made wild blackberry jam. It was a perfect pairing, and I got a huge kick out of knowing that this delicious and well-crafted cheese came from cows (and farmers) right up the road, and that the berries came from a bramble patch just over the hill.
We never moved the picnic table back to the house, so this summer I intend to enact a strict picnicking schedule. We will have a small gathering at least once every few weeks. And we will have cheese. I will bring a nice square of Bluebird to slice and spread on grilled ciabatta, maybe topped with some roasted beets and baby greens (see recipe below). Or I'll serve it with one of my favorite antipasti: roasted grapes, olives, and walnuts. Or maybe we'll simply drizzle it with honey. There might be a Belgian ale or two around, and a cold glass of Riesling's not a bad way to go with Bluebird, either (so I've been told).
Maybe I'll just skip the farming part this summer and go picnicking. Join me?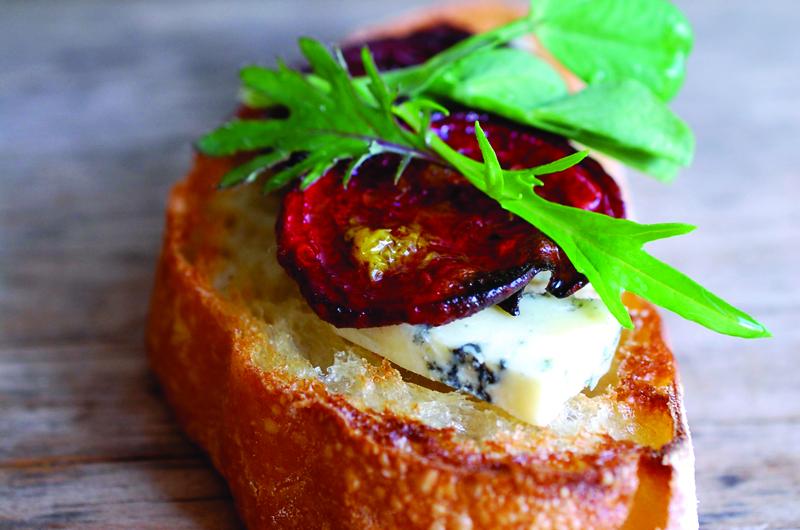 Grilled Ciabatta with Bluebird Cheese and Quick-Roasted Beets
Serves 4, Yields 8 to 10 toasts
3 to 4 small to medium beet roots, trimmed but not peeled (about ½ pound)
Olive oil
Kosher salt
½ teaspoon freshly grated lemon zest
8 to 10 slices ciabatta or other
artisan bread
8 to 10 long slices Bluebird cheese
A couple handfuls of local baby greens (mizuna, kale, arugula, nasturtium, tatsoi)
Local honey or maple syrup for drizzling
1. Heat the oven to 450 degrees. Line a heavy-duty rimmed baking sheet with parchment paper. Using a sharp, thin-bladed knife, trim the ends of the beet roots and then slice each beet crosswise into rounds between 1/8- and ¼-inch thick. (Don't use a mandoline, which would cut them too thinly.) If the beets wobble around, cut a thin piece off the bottom to stabilize.
2. Toss the beet slices with 1 tablespoon olive oil and about ½ teaspoon salt. Spread the beets in one layer on the sheet pans and roast, flipping once if you like (and rotating the pans in the oven), until tender, glistening, and shrunken, 14 to 16 minutes.
3. In a small bowl, combine 2 teaspoons olive oil with the lemon zest.
4. Turn the oven to broil, or heat a gas grill to medium. Brush both sides of each bread slice with olive oil and broil or grill until golden, 2 to 4 minutes per side. While the bread is still warm, lay a slice of cheese across each piece. Top with a few roasted beet slices and a few baby greens. Drizzle with honey or maple syrup (just a little) and lemon zest oil. Serve right away.