Farm-to-table. Locavore. Seasonal. Organic. Heirloom. These are terms that have been driving cutting-edge food and enriching the culinary vocabulary in the past few decades. Before then? Not so much.
Though these notions had been shaping how food was produced and consumed in America, especially in rural areas, since colonial times, they faded in many places across the country once full-bore industrial food production took hold. But when I am asked how I became a food writer, I describe a trajectory that began more than forty years ago and came wrapped in seasonality and shaped by farm-to-table. My approach to food was decidedly retro.
I began not on the Vineyard, but with a column called "In Season" for The East Hampton Star, a weekly newspaper published on Long Island. I was frustrated and annoyed by the dreadful produce that was being sold at the local supermarket in midsummer and by watching people filling their shopping carts with packages of hard, pinkish tomatoes when they could as easily find bright scarlet examples bursting with juice on an impromptu card table in someone's front yard nearby. I only wanted corn from July through September that was picked the same day. These people did not seem to care.
It was time to set these shoppers straight, I thought. The editor of the newspaper liked the idea and I was in business at a time when being a food writer was hardly the compelling career choice it has become. My beat was local produce and seafood combined with my background as a smart shopper and good home cook, attributes I acquired at my mother's side. Soon after I was offered a byline in The New York Times and never looked back. Then, some twelve years later, I was invited to contribute food stories to Martha's Vineyard Magazine and relished the opportunity.
Though more compact and far less hyped than the Hamptons, Martha's Vineyard shares a landscape of farmland, beaches, impressive dunes, wetlands, bays, and ocean tempered by salty sea breezes and shaped by hundreds of years of tradition.
Both regions are defined by fresh peas, strawberries, and radishes in spring; vine-ripened tomatoes and fields of corn in summer, along with bushy herbs, berries both cultivated and wild, ripe peaches, plums, and melons. In fall I can count on apples, cauliflower, squashes, and pumpkins. Brussels sprouts are sold on their stalks. And of course there is kale.
Farmers start their seeds in greenhouses to be ready when there is no longer threat of frost. And through the year there are lobsters, squid, clams, mussels, scallops, oysters, fluke, sleek bluefish, muscular striped bass, handsome black bass from the sea and inlets, and, in winter, silvery whiting. Chickens, eggs, and ducks are raised nearby.
In the years covered by my reporting, you could forage for beach plums and enjoy a lobster dinner on the Vineyard. But in those days, the sophisticated farmer who grew arugula for cooks who wanted it for their salad bowls was rare. Organics were barely on the radar. If tomatoes were heirloom it was by accident, not purpose-planted as they are today.
The scene is different now as the farmers and fishermen have expanded their outlook. Thriving farm stands and fishmongers have long been a resource for devoted cooks, but they now sell fashionable produce like golden beets, fingerling potatoes, romanesco cauliflower, and rainbow chard. There is a market for so-called "trash fish" like monkfish and skate. Razor clams are prized delicacies.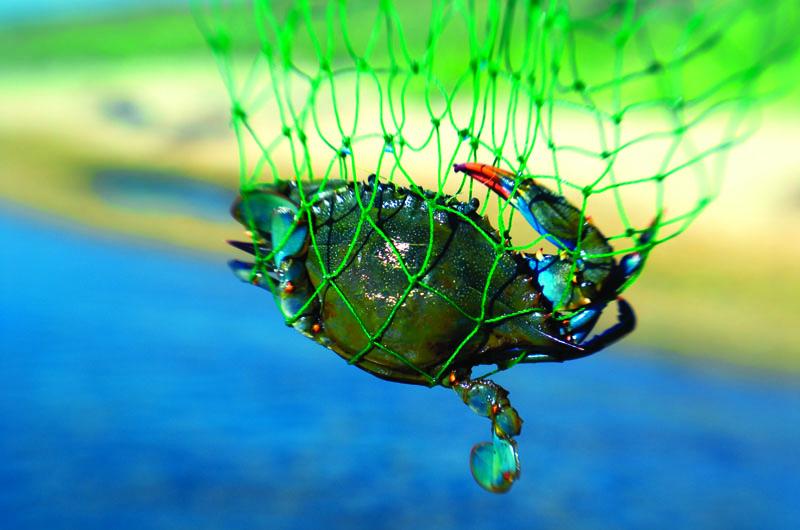 Today from Chilmark to Edgartown, in addition to offering seasonal produce, farms make cheeses, hold classes and tours, raise livestock for meat and milk, organize CSAs for consumers, and bake pies. There are farmers' markets that operate on a regular basis. Restaurants rely on them and sometimes even tend their own plots of tomatoes and herbs.
Now, as Martha's Vineyard Magazine celebrates its thirtieth year, it can reflect on a longstanding outlook that puts value on what's local and seasonal. Years ago the magazine was a trendsetter in this regard. It still deserves to be at the head of the table supplied by the farms. I had a place at that table too and I am very proud of it.
Florence Fabricant is a longtime food writer and columnist for The New York Times and the author of twelve cookbooks. She served as this magazine's first food contributor, from 1990 to 1993.
Farm-fresh eggs? We've been championing them since the beginning. And kale? Yeah, we knew all about that. Many great chefs and writers have contributed features and columns over the years, enough to fill several cookbooks. Here are some of our favorite recipes from the archives.
1992
Florence fabricant's Arugula Salad with Pesto Vinaigrette
Serves 4
2 bunches fresh arugula
1 large ripe tomato, sliced thin
1 garlic clove
1 tablespoon pine nuts
1/4 cup fresh basil leaves, packed
1/4 cup extra virgin olive oil
2 tablespoons white wine vinegar
1. Rinse the arugula and remove all heavy stems. Place it in a salad bowl. Slice the tomato into the bowl.
2. With the food processor running, drop the garlic and pine nuts through the feed tube and process until finely chopped. Stuff the basil leaves in through the feed tube, pressing them down with the pusher. Process until the basil is minced, then stop the machine and scrape down the sides of the container.
3. Turn the machine on again and add the olive oil through the feed tube, then the vinegar. Spoon the dressing over salad, toss and serve.
This recipe originally appeared in the August 1992 issue, in a column by Florence Fabricant.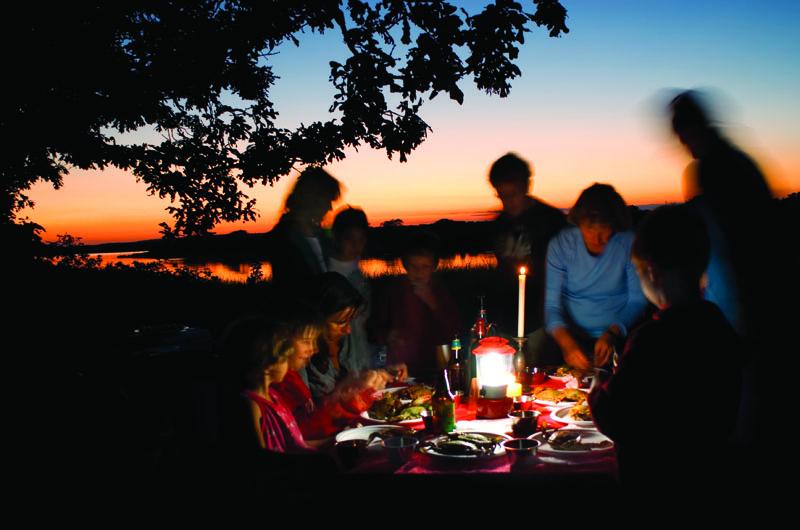 1994
Jean Andrews' Kale Soup
1 large bunch of kale
5 large potatoes
2 onions
2 cans red kidney beans
2 pounds linguica or chourico, sliced into 2-inch pieces
1 teaspoon salt
1 cross-cut beef shank or stew meat
1. Wash and chop the kale; peel and roughly dice the potatoes and onions.
2. Brown the beef and sausage in 2 tablespoons of oil, sprinkled with a little flour.
3. Add kale, onions, kidney beans, potatoes, and salt and cover with water or beef stock. Cook over low heat at least 2 hours, adding water as needed. Kale soup is best if made a day ahead and allowed to stand so the flavors blend. Season to taste with salt and freshly ground black pepper. Fresh, chopped mint may be added before serving (in Portugal mint is only used in kale soup during a feast).
This recipe originally appeared in the Fall/Holiday 1994 issue, in a column by Julia Wells.
2003
Laura Silber's Pan-Roasted Striped Bass with Warm Sweet Corn and Leek Salsa
Serves 6
3 pounds striped bass fillet, boned and skinned, cut into 6 portions maple balsamic marinade
1/2 cup balsamic vinegar
1/2 cup water
1 3/4 cups extra virgin olive oil
1 teaspoon Dijon mustard
2 tablespoons maple syrup
1 clove garlic
2 teaspoons chopped fresh thyme
2 teaspoons chopped fresh oregano
Salt and pepper to taste
Corn and leek topping
1/4 cup olive oil
2 shallots, minced
4 cloves garlic, minced
2 cups leeks, cleaned and sliced into thin rings
3/4 cup diced sweet red pepper
1 teaspoon fresh thyme
1 teaspoon fresh oregano
1 1/2 cups sherry
1 1/2 cups vegetable stock or water
6 ears corn, kernels cut off cobs
3/4 cup fresh scallion greens, chopped
1 cup fresh basil, thinly sliced
Salt and pepper to taste
1. Blend the marinade ingredients in an electric blender on high speed until dressing is thick and emulsified. Transfer to a glass jar and store in the refrigerator.
2. To make salsa, heat olive oil in sauté pan to scent. Add shallots, garlic, leeks, red pepper, thyme, and oregano. Sprinkle lightly with salt and pepper and sauté on high heat until leeks begin to become tender. Add sherry and water to pan. Bring to bubbling and cook for 5 minutes.
3. Add corn kernels, mix well and cook for just 1 minute more. Remove from heat and add scallion greens and basil. Adjust salt and pepper seasoning. Salsa can be held here off the heat until ready to serve fish (reheat quickly on high heat if necessary).
4. Preheat the oven to 350 degrees. In a glass baking dish, pour 1/2 cup marinade. Set portioned bass into the pan and season lightly with salt. Coat fish thickly with another cup or so of marinade. Bake for 18 to 25 minutes, depending on thickness of fillets, until just barely cooked. Remove from oven, cover pan with foil, and let rest 2 minutes before serving.
5. To assemble dish, place fish on plate and ladle salsa generously over fish. Garnish with 2 long chives and/or nasturtium blossoms and serve piping hot.
This recipe originally appeared in the September–October 2003 issue, in a column by Eniko DeLisle.
2008
Détente's Baby Bok Choy Salad with Local Lamb Milanese
Serves 4
1 full rack of Island lamb or 8 lamb chop ribs
2 cups bread crumbs
1 teaspoon cumin
1 teaspoon cardamom
1 teaspoon garlic powder
1/2 teaspoon cayenne
Flour for dredging
3 eggs, lightly whisked
Vegetable oil for cooking
3/4 pounds Island baby bok choy
1 lemon, juiced
1 orange, juiced
1 tablespoon cilantro, roughly chopped
2 tablespoons sesame oil
Salt and pepper, to taste
1 piece (approximately 3 ounces) of Parmigiano-Reggiano cheese
1. Divide lamb into 8 equal portions by cutting along each bone of the rack. Cover lamb pieces with plastic wrap and hit with a mallet to thin out the meat. Mix bread crumbs with the dry seasonings. Dredge the lamb in flour, then egg, and finally the bread crumb mixture.
2. Heat large skillet on medium-high heat and add a layer of vegetable oil. Add half of the lamb and cook to a golden brown, about 1 to 2 minutes per side. Place on paper towels. Continue the same procedure for the remaining lamb. Add more oil if needed.
3. While lamb is cooking, separate leaves of the bok choy. Slice lengthwise into long thin strips (julienne). In a bowl, combine citrus juices, cilantro, sesame oil, salt, and pepper. Toss the bok choy until lightly coated.
4. To serve, lay 2 pieces of lamb on a plate, top with bok choy and freshly shaved Parmesan.
This recipe originally appeared in the May–June 2008 issue, in a column by Catherine Walthers.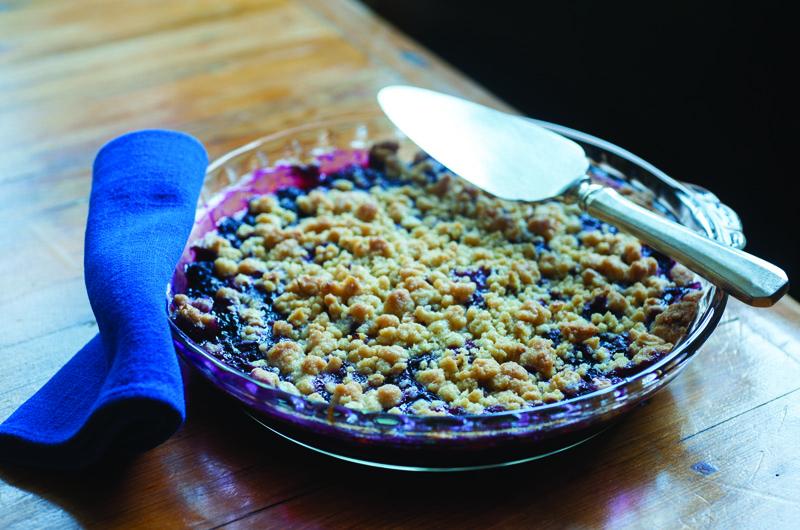 2013
Louise tate king's Blueberry Crisp
Serves 6
3 cups fresh blueberries
1/2 cup sugar
1/4 teaspoon mace or nutmeg
1/4 teaspoon cinnamon
1 tablespoon lemon juice
1/2 teaspoon grated lemon zest
3/4 cup all-purpose flour
1/2 cup sugar (may substitute brown sugar)
6 tablespoons butter, softened
1/4 teaspoon salt
1/4 cup nutmeats, chopped (optional)
Sweetened whipped cream or vanilla ice cream for serving (optional)
1. Preheat oven to 350 degrees. Place blueberries in a mixing bowl. Add sugar, spices, lemon juice, and zest; mix lightly. Place the mixture in a shallow 1- to 2-quart casserole or baking dish.
2. Prepare the crumb topping as follows: In a mixing bowl, combine the flour, sugar, butter, and salt. With your fingers or a pastry blender, work these ingredients to a crumbly consistency. Sprinkle over the berry mixture, and add nutmeats, if using.
3. Bake 30 minutes, or until the topping is nicely browned and the fruit is tender. Serve with sweetened whipped cream or a scoop of vanilla ice cream.
This recipe appeared in the August 2013 issue, in a column by Catherine Walthers. A favorite of blueberry grower Susan Murphy, the recipe was first printed in The Martha's Vineyard Cookbook by Louise Tate King and Jean Stewart Wexler (The Globe Pequot Press, 1971).