There's no conspiracy or anything – in fact, people will be happy to tell you if you ask. It's just that some of the best food on the Vineyard is hidden. You need to find the back door, or the side door, or the dirt driveway with no sign. Timing is everything, too. If you want Back Door Donuts or Chilmark Chocolates or armfuls of wild watercress and bucketfuls of mussels, you need to know what hour, what day, and what season to go hunting for them. I've promised myself that someday I'll draw a treasure map of all this, because discovering these delicious surprises meant everything to me when I first moved to the Vineyard.
Lacking a treasure map, I want to tell you this one thing (write it on the back of your hand or something): The best asparagus you will ever eat is for sale, out of a greenhouse over at Morning Glory Farm, before their farm stand ever opens for the season. You just have to go around back.
Someone told me about this asparagus not long after I experienced the phenomenon of baby lambs during my first spring on the Vineyard. That year, the winter had been cold but clear. I had hiked to the bottom of Menemsha Hills and back, not once but twice, in the month of February. And around Felix Neck at least a dozen times. I was shaking off the cobwebs that had covered me during eleven years behind an office desk. As Island winters go, that one was far more gracious than the curmudgeon we hosted this year. Nevertheless, I still felt like a magic wand had been waved over the landscape when the hills rolled out their green carpets, the daffodils sprang into bloom, and those little white critters with ears of pink and legs of noodles appeared at their wooly mamas' sides. Besotted I was – with baby lambs and with the Vineyard spring. And that was before the asparagus.
It's quite possible that the moment I found those giant purple asparagus in a bucket of water next to a scale with a sign on it was the moment I decided I'd stay on the Vineyard forever. I'd never seen a vegetable so handsome. Giant purple spears thicker than a wizard's wand with tight tips swirled like soft-serve ice cream. Right then, too, my obsession with photographing vegetables began. I took my prize spears home and shot them rather awkwardly with a bad camera and little sense of how to light them. But what did it matter.
Then I cooked them. Though I'd rarely cooked asparagus as fat as these, I knew instinctively what to do with them. After trimming, I seared them in a mix of butter and olive oil in a sauté pan over medium-high heat. I turned them until each side was lightly browned, since I knew browning brings out the sweet, nutty flavor of asparagus. Then I put just a small amount of stock/wine/water in the pan, partially covered it, and lowered the heat, so that essentially the thick spears finished cooking by braising. Then I whisked a little Dijon mustard, fresh thyme, and cold butter into the reduced pan juices to make a little sauce. They were delicious and perfectly cooked.
With the rest of my stash, I used a different trick to deal with the thickness – a trick that happens to work well with thin asparagus, too. I cut the spears on the bias (a sharp diagonal), and stir-fried them. Not only does this bias cut yield a pretty shape, but it also exposes a lot of surface area for browning, making it a perfect shape for sautéing or stir-frying. So remember this when you get your own stash of fat (or not-so-fat) asparagus this spring. Sautéing or stir-frying is a nice break from grilling, roasting, or quiche-ing your asparagus.
And if you're a gardener, don't wait as long as we did to get a patch of asparagus going, as this perennial vegetable takes three years to yield decently. Start with bare roots (available at SBS and some nurseries), find a good permanent spot where you can dig a long trench to plant them, and have plenty of compost on hand to gradually fill the trench. Keep the bed well watered and weeded, and you'll be able to harvest lightly next spring, more the next. You might have to keep the location of your patch a secret, though, or I'll be around for a visit.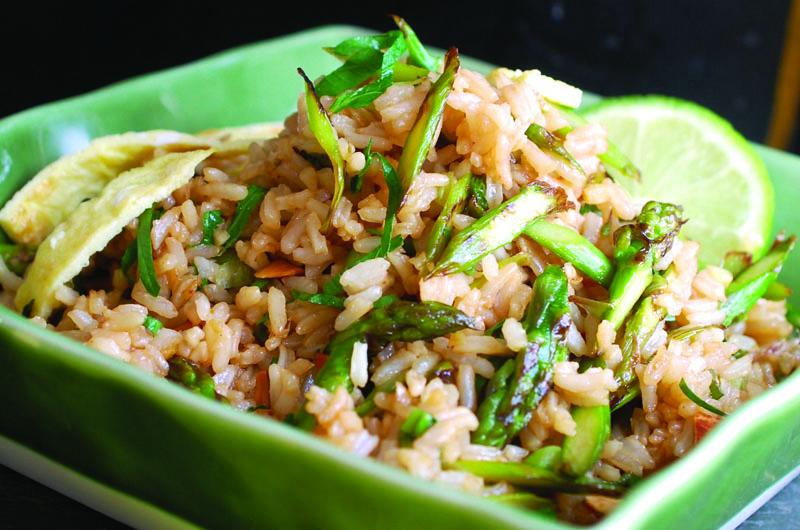 Gingery Fried Rice with Asparagus recipe.