This year we are growing pumpkins in the old piggery (by accident) and butternut squash in an old chicken yard (on purpose). I will spare you the explicit details on how and why these particular cucurbits are so happy and healthy, but let's just say squash likes fertile soil.
I am pretty psyched about this because not only will we have our own homegrown jack-o-lanterns, but we will also have plenty of butternut – my favorite squash – for minestrone, ravioli, rigatoni, cannoli, crostini, Stromboli, rollatini . . . Okay, maybe I am pushing the versatility of butternut here, but let's face it, butternut is not only the easiest winter squash to peel, it also has excellent flavor and a smooth texture. (I should know, as I subjected my family to a taste test after roasting eight different varieties we gleaned from the Morning Glory Farm squash field right next door to us a few years ago. We had permission, I promise. Butternut won. My family enjoyed the side-by-side apple tasting a lot better, however.)
And while I love to slow-roast butternut (cut in half, brushed with butter, and cooked face-down on a sheet pan for an hour or more to yield tender, spoonable flesh), I've developed a quicker-roasting technique that makes it weeknight-friendly. I crank up the oven to 450 degrees, cut the squash into small dice, toss with oil and salt, and spread them out on a rimmed baking sheet. Of course you have to peel the squash first, but I find a y-shaped peeler makes quick work of this. (Especially if you cut the neck off and just use that!) Also, I won't tell anyone if you're conveniently using grocery butternut that's already peeled. (Just be careful when buying this stuff – the flesh deteriorates quickly when peeled so look for squidgy-ness under that plastic.)
About twenty-five minutes is all the little dice need in the oven to get tender and caramelized. Then you can serve them right away drizzled with maple-lime butter (recipe below) or a bit of apple cider and honey (great with roast chicken). Or use them in a risotto, as a pizza topping, mixed into a grain pilaf with pecans and cranberries, in a savory tart, or tossed with sage brown-butter and pasta. Or, now, while we have this languorous Island fall with corn still growing tall, tuck them into a delicious quesadilla with fresh corn, black beans, and cilantro for a snack or even a light supper (recipe at right).
And if you do happen to be growing butternut this year, here's what I learned last year about harvesting them for winter storage. First, wait and wait and wait. (I am not good at this.) Look for the skin color to turn from beige to peachy – and lose most of that green veining. Then cut (don't pull) the stem and leave the squash in the field for a couple days if possible. This will help the skin harden and toughen up a bit. Next, move the squash to a warmish place for a couple weeks (we use the hoop house, but a shed or garage would work). The warm temps help to "cure" the butternuts. Lastly, move them to a cool, dark place where they can happily pass many winter months – or at least as long as it takes for you to cook them all.
Recipe for Quick Roasted Butternut Squash with Optional Maple-Lime Butter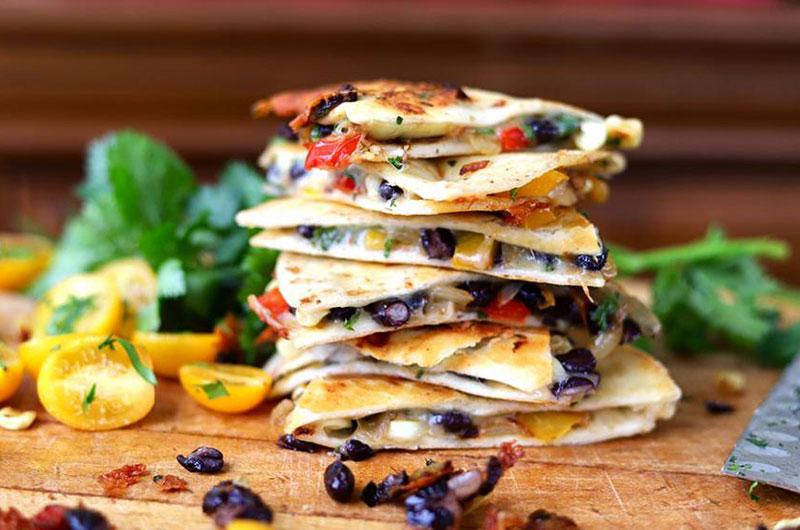 Recipe for Butternut, Fresh Corn, and Black Bean Quesadilla