As she spent the summer promoting and signing copies of her new cookbook, Table Talk, Espresso Love's Carol McManus found affirmation for the idea the book is based on – that busy Americans are gradually giving up an important aspect of family life: the family dinner.
She thinks that's a mistake.
"Some of the most simplest, most wonderful things we're losing," Carol says, and "we all know what's missing." Though many American families still sit down regularly for family dinner, Carol says current figures show some 42 percent do not. Can one woman on a mission help reverse this trend?
Carol wrote the book both as a way to bring the family back to the dinner table by offering parents easy-to-make recipes from the café she's owned for sixteen years, and as a forum to raise and talk about the subject. She's traveling to New York City, Connecticut, Cape Cod – and anywhere she's invited – taking every opportunity to address her singular message.
"I really think food is love," says Carol. "It shows you care." The benefits of kids eating with their families, she believes, goes beyond better family communication. "Kids that eat with families have better reading and math scores, have less juvenile delinquency, less drug addiction, alcoholism, less teenage pregnancy," she notes, referring to statistics from several studies. Plus, she says, they learn to trust.
While gathering at the dinner table is an opportunity to learn what is going on in your children's lives, she says, "This is not just talking to kids about did you do your homework, did you brush your teeth, did you make your bed?
"They want your attention. What happens at dinner? You sit with them and give them attention. You cook this wonderful meal, and then you sit and you talk. That's what they really want; they want to be with you.
"Even if Mike [who was her husband and a Winthrop police officer] wasn't home, I'd still make dinner and we sat at the dinner table," Carol says. "When I look back, I can see how important that was." After dinner her kids often sat together at the large dining room table doing homework.
Now, she says of her kids, "They're all close and they all enjoy each other. That's what a family is. People have been sitting down together forever – food is more than food."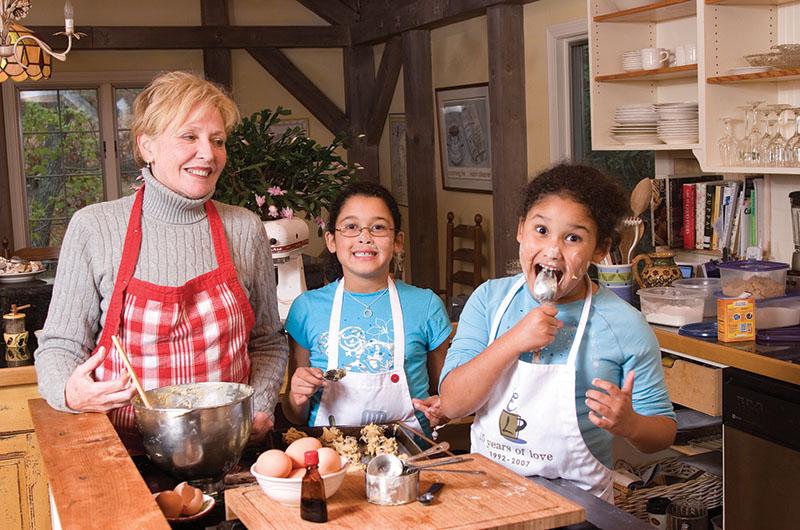 Carol's own experiences, as a working mother trying to make it all work, went into the recipes and the strategies she offers busy parents. The concept really struck a chord with her. "When I hit upon it, it just felt right. I wanted it to be warm and about family." But the idea had been germinating for seventeen years, since her days as a fifth-grade teacher and director of day-care centers off-Island.
She moved to Martha's Vineyard with her two youngest children, to a house they owned in Katama, in 1986 when she was getting a divorce. Carol's two oldest children were in college, and her middle child had finished his senior year of high school in Winthrop. It was a difficult time, but the hardest, Carol says, was two years in the early 1990s when she commuted to work in Boston.
"I would fly home two nights a week," she says, "but I was still gone three days. It was awful. I would pre-make meals and label them. I even made their lunches and put them in paper bags. I would call them every night – you know, 'Did you do your homework? What's going on?' – but it wasn't the same."
She thinks the two children would not have been able to handle it as well as they did, if they didn't have that earlier foundation: "Up until that point, we always had dinner together, so they had all those years sitting down with the family." That experience fueled her belief in the importance of sharing meals together and played a big part in her motivation to find a better way to earn a living.
She had always loved to cook and bake. After watching a 20/20 TV show on the beginnings of the coffee boom, she opened Espresso Love in the Harborside Hotel in 1992, with $7,000 – $5000 of it borrowed. She was in bankruptcy, so her son Michael took out a loan for her in his name. Her children all helped when they could. "It was a success right away."
The business grew out of the small hotel space and Espresso Love moved to its current location behind the Edgartown courthouse in 2001; it now includes an outside garden space and serves dinner as well. Her son TJ (Thomas Joseph), now thirty-five, moved from Austin, Texas, last summer to run the business. "He can cook, he can bake – he's amazing," Mom says. Son Michael and daughter Paula are lawyers off-Island. Debby, who lives in Hopkinton, is a nanny. Maureen is the assistant to the director of Martha's Vineyard Land Bank Commission. Carol also has four grandchildren.
In Table Talk, Carol (along with her co-writer and friend Brenda Horrigan) is a cheerleader encouraging busy parents to cook. Recipes have prep times of twenty, fifteen, even ten minutes, and come with suggestions – like making the Tried and True Meatballs with pasta one night and saving a batch for meatball subs later in the week; and saving leftovers from marinating and grilling a skirt steak to serve the next day on a roll with lettuce, tomato, and garlic mayo – for which there is a recipe.
Every Monday was pasta night with Carol's kids, and she says just knowing that made one of the toughest days of the week a little easier. In a recipe called Stovetop Cheese and Pasta Supper with three ingredients (broccoli, pasta, and Gorgonzola cheese), she writes, "I dare you to find an easier or more delicious supper dish than this."
It may seem ironic to some that Carol owns a take-out café. But it's comforting to know the recipes were created by a professional and are tried and true – Carol says, "tested hundreds of times" by customers and her own kids.
In 1997 while operating Espresso Love café, and prompted by customers asking when she was going to share her recipes, Carol produced a small cookbook called Morning Treats. She had been thinking of another book since then, discussing her ideas over the years with Brenda, but it wasn't until three years ago that she hit upon the one that suited her. She finally acted on it after subtle encouragement from the book's publishers, Jan Pogue and John Walter, owners of the publishing company Vineyard Stories.
The book is an achievement that complements Carol's successful business and her family – both of which led her to write it in the first place. Now, she's inspired to move out into the wider world – maybe as a poster child for sit-down dinners. She's hoping to write Table Talk Provence and Table Talk Italy – areas where she's traveled with ethnic food she loves and cultures that still celebrate the table: "I want to cook with Provencal women in their kitchens and learn the secrets and talk to them about family," says Carol. "I love their culture. I love that family is so important.
"Maybe those cultures aren't as successful as our country, but look at what we've lost," Carol notes. But she believes it's not too late, "I think you can have both," she says. It's just common sense. "You sit down with people and you talk to them at the end of the day and you connect with them. They haven't stopped doing that in Europe, in France, Italy, and Spain."
Three recipes from
Table Talk
courtesy of Carol McManus
Carol's crunch time granola with dried fruits and almonds
Thyme-touched roast chicken with rosemary, potatoes, and carrots