"It's crispy and delicious, almost a little sweet," says Tim Broderick, a man who knows his fluke. The Chilmark fisherman was the host of last year's fisherman's fish fry, an annual tradition to mark the end of the commercial fluke season and a chance for the fishermen to slow down and enjoy this summer specialty they unload daily on Menemsha docks. Their method was simple and classic: they rolled the fluke in flour seasoned with just salt and pepper and plunged it into the deep fryer, serving it alongside fried clams, garden salads, and other potluck dishes. "It's a real local treat for ten to twelve weeks," Broderick says about the fresh Vineyard fluke.
Broderick is the captain of one of a small number of Vineyard-owned fishing boats that head out around four o'clock each morning from Menemsha to trawl the ocean floor of Vineyard Sound to the Elizabeth Islands and around Aquinnah for this mild-flavored flatfish. They are usually joined by a similar number of boats from other ports, and each is allowed to land three hundred pounds five days a week until the statewide quota is filled. Until the 1990s the species, which is sometimes called Vineyard sole or by its proper name, summer flounder, was in serious decline. But beginning in 1993 catch limits and management plans slowly began to take effect. The species reached its "target population" in 2010 and is hailed today as a rare conservation success. The commercial fluke season that opened June 10 closed last year on August 23.
Once unloaded on the Menemsha docks, fluke is snapped up by local fish markets and distributors, such as the Menemsha Fish House, which delivers fresh fluke daily to up to eighteen Vineyard restaurant chefs. Before becoming the local seafood coordinator for Menemsha Fish House, thirty-year-old Michael Holtham would often head to Menemsha to "cherry pick" the best fluke for State Road Restaurant, where he was a chef. For him, that meant aiming for the largest fluke, which are easier to portion with a bit higher fat content. "For me, it's a meatier, more substantial piece of fish," he says, adding that fluke is one of his personal favorites.
Considered a money fish, fluke fishermen take great care to bleed and ice their catch right away. It's typically the larger of the various flounder species found in the area, but the differences between the various flatfish (sole, flounder, and fluke) can get confusing. "There are all kinds of different flounder in the area, including yellowtail flounder," says Holtham. "Some are shorter and fatter; some are long. Windowpane [flounder] is so thin you can see through it."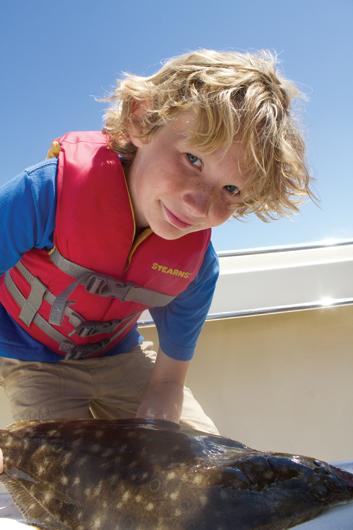 Fluke have large mouths and teeth and can be more aggressive in going after prey, even coming off the bottom. "We've had fluke with whole squid in their stomach," says Holtham. "They eat different things; that's the reason they get larger." Sizes average two to five pounds, but can reach up to twenty-six pounds. Yellowtail flounder, by contrast, have small teeth and typically weigh one to two pounds.
You can cook fluke very quickly, typically in under ten minutes, making it ideal for a last-minute, delicious meal. It can be pan seared, broiled, or baked – or deep-fried as fish and chips, as mentioned. When the fish becomes white, it's done. A squeeze of lemon or a simple pan sauce of lemon and a touch of butter works nicely as an accompaniment, with a sprinkling of parsley, dill, or tarragon, or even garlic, capers, and wine for a piccata-style sauce. One local family says their secret to serving fluke is a dip in milk, then a dredge in a dry pancake mix before pan-searing to get a crispy coating.
Because it's so local and fresh, Chef Nathan Gould of Water Street Restaurant at Edgartown's Harbor View Hotel often serves fluke crudo, dressed in just olive oil and citrus as an appetizer. Gould uses seasonal strawberries, a good olive oil, and yuzu (a fragrant Japanese citrus) or grapefruit juice – serving it on a block of ice or a chilled plate.
Holtham pan sears his fluke, after pressing it into breadcrumbs and fresh lemon zest, and finishes cooking it in the oven. He serves it with a simple tomato salad or garden salad, rather than a sauce.
"You've got a really nice delicate piece of fish – to saturate it with a sauce is a crime to me. I want to taste the fish."
The following recipes were published along with this article,
Chef Nathan Gould's Fluke Crudo
Mike Holtham's Pan-Roasted Fluke