Here in the Northeast, we are welcoming some early peeks of springtime. Longer days and faint whispers of warmer, sunnier days give hope that March will vanquish the February chills. I say, "Bring on spring!" And even if I can't count on instant warmth, I can count on this deeply lemony pound cake to liven up whatever Mother Nature has in store. The freshly baked aroma alone is balm for the winter-weary, and the buttery, lemon-scented cake with an insanely velvety texture will brighten any day in any climate.
This gorgeous cake is as easy on the eyes as it is easy to make. The ingredients are the usual suspects – flour, sugar, eggs, butter, milk, lemons - and all are likely in your pantry and fridge so you can get started immediately. As for the vessel, I've baked this recipe in a 10-cup and a 12-cup fluted Bundt pan – Nordicware makes many versions of Bundt pans – and I've also evenly divided the batter into two 6-cup Pyrex loaf pans. You can freeze the second loaf before glazing for up to three months. See the Kitchen Note below regarding preparing the pan along with baking times for the various vessels.
Interested in going beyond the basic – but amazing – recipe? Along with the final addition of flour, you can fold in up to 4 ounces of diced block-style cream cheese. (I like to partially freeze the block for easier, cleaner cutting.) Adding up to 3/4 cup of sweetened, shredded coconut or chopped white chocolate (chips are ok too) instead of the cream cheese are also fun ways to make the recipe your own.
The cake can be served without adornment – all the curves and crevices are stunning – or with a simple dusting of confectioners' sugar. That said, I will admit that I am partial to adding the lemon glaze. The flavor is bright and tart and it looks heavenly when drizzled or poured over the cooled cake. Whether you are pouring or drizzling the glaze, don't worry about making it "perfect" – one of my least favorite words. I love the look of some glaze pooling on the plate and irregular drizzles add dimension and interest. While a single recipe makes plenty for drizzling (only use as much as you like), if you are looking to coat the whole cake, I suggest doubling the glaze recipe.
Depending on the season, feel free to serve slices of cake with a few fresh berries, sliced kiwis or orange segments.
This is our 22nd installment of Baking Together. If you're new to our Baking Together column, be sure to check out our other Baking Together recipes and the tip & technique articles that go with them.
I'm looking forward to hearing what your favorite ways are to serve this crowd-pleaser. Be sure to leave us your notes in the comments section so we can all share our results and favorite variations.

Kitchen Notes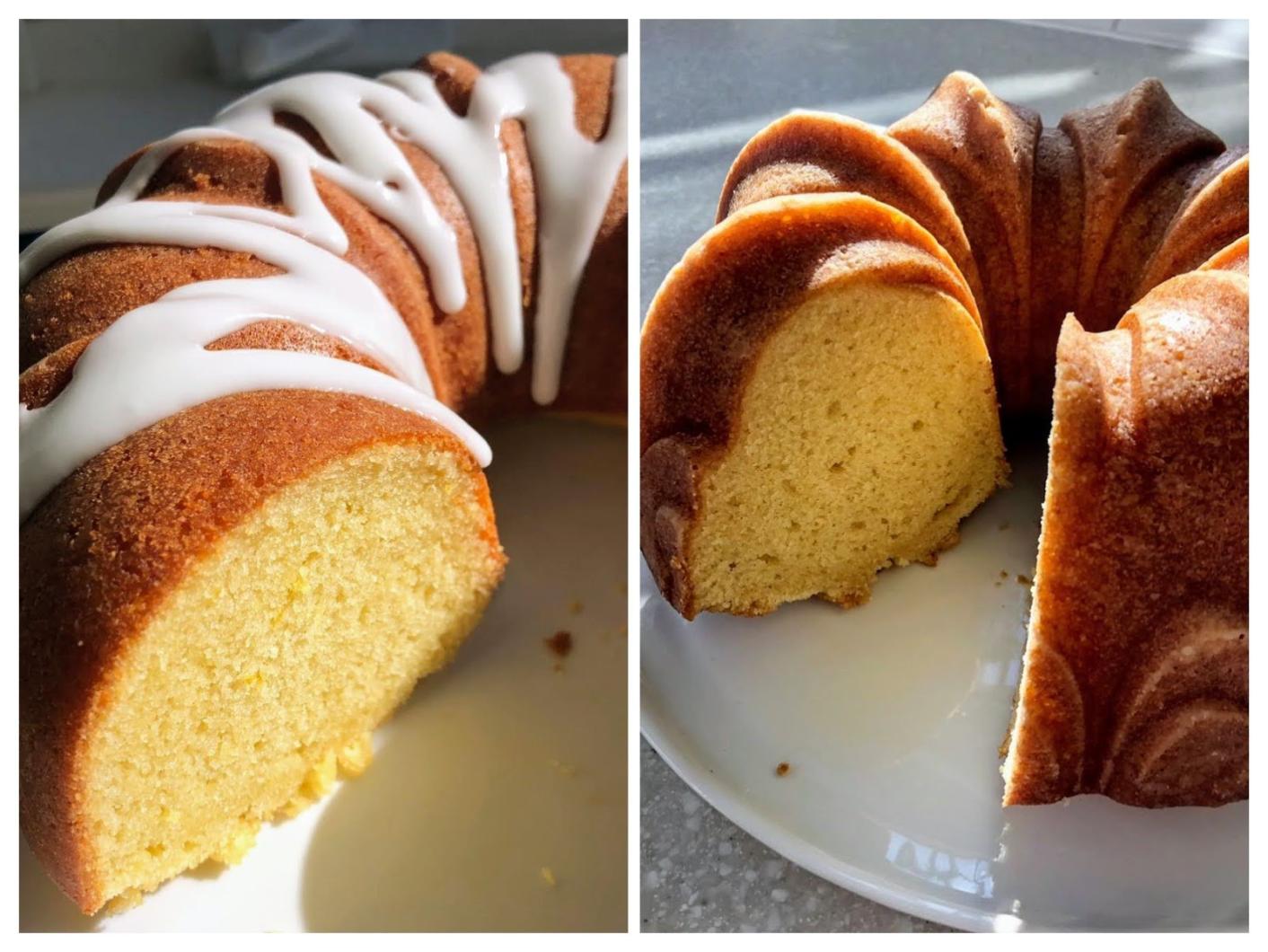 Baking times
The deeper and heavier the pan the longer it will take to bake. Be sure to follow the doneness clues!
Standard 12-cup Nordicware Bundt pan: Baking time, 50 to 53 minutes
Deeper, more intricate 10-cup Nordicware Bundt pan: Baking time, 57 to 59 minutes
Nonstick 10-cup lightweight Bundt pan: Baking time, 48 to 51 minutes
6-cup Pyrex loaf pans: Baking time, 50 to 52 minutes
Preparing the pan
When greasing these pans, especially the ones with more intricate designs, it's important to get in the nooks and crannies. That said, over-greasing before flouring will cause unpleasant, cakey flour bits to build up. I recommend coating the pan with an oil spray then using a paper towel to smooth and spread the oil over the entire surface. This ensures the pan is completely covered and that any excess is soaked up.
Likewise, flouring this style of pan takes an extra step or two but it is worth it to ensure an easy release and a flawless finish. Begin by tapping the flour down the sides of the center tube. Add more flour and shake the pan to cover the bottom. Next, tip the pan to one side to gather the flour in one spot. Rotate the pan clockwise, shaking to disperse the flour along the sides and crevices. Now rotate the pan in the opposite direction and repeat the process. Once the entire surface is covered, tap out most of the flour and then turn the pan over and firmly tap it on the counter to eliminate all the excess.
About That Lemon Zest
Use 3 large lemons or 4 or 5 medium ones. The best way to assure that you are adding only the yellow zest (and none of the bitter white pith beneath) is to use a Microplane (or other brand) rasp-style zester to zest your lemons.
Zest directly into the mixing bowl filled with the granulated sugar to capture every bit of zest and citrus essence and oils. Added bonus: no cutting board, scraper and measuring spoon to clean up.
Egg Tips
The recipe calls for 5 whole eggs + 2 yolks (all large-sized), but you can substitute 6 whole eggs if that's easier.
Before cracking and using, be sure the eggs are at room temperature for the smoothest emulsion into the batter. Covering them with warmish water for a minute or two can speed the process, if necessary.

Add-ins (Optional, choose one)
Scatter the ingredients over the batter along with the final addition of the flour mixture and fold until just blended and bake as directed.
Cream cheese
Partially freeze 3 to 4 ounces of block-style cream cheese before cutting into very small pieces.

Coconut
Use up to 3/4 cup sweetened, shredded coconut.
White Chocolate
Use up to 3/4 cup chopped white chocolate. Chips are ok too.
Ginger (Lemon-ginger is one of my favorite flavor combos)
Add 2 teaspoons finely grated ginger root to the sugar. You can also add up to 1/2 cup finely chopped crystalized ginger.