The month of January is the reset month. Typically, reacting to the excess of the holidays, many start with diet changes. But for the last few years, the growing trend has been giving up alcohol for the month in what has become known as Dry January.
The term was coined in England in 2013 as part of a public-health campaign sponsored by a London-based charity. Since then it has spread worldwide. Dry January now has its own Twitter hashtag and the internet is filled with helpful articles about the benefits of a month without alcohol and tips for successfully ditching the drink. Interest has spurred efforts toward a Booze-Free February and Sober September.
A survey last year found nearly one in four respondents on Martha's Vineyard was giving Dry January a go. That said, like everything that's been difficult to predict during the Covid-19 pandemic, it's hard to forecast whether Dry January 2021 will get dryer or simply tossed out the window altogether. In the midst of the pandemic this past spring and summer, U.S. sales of wine, beer, and liquor shot up anywhere from 20 to 30 percent compared with a year earlier. So the question is: will we continue to embrace quarantinis or turn toward quaranteetotaling?
After trying it last year hoping to lose a little weight, West Tisbury resident Nicole Cabot says she hasn't made up her mind whether she'll take the challenge again this year. "My husband was having surgery [last year], and I knew he wasn't going to be able to drink, so I said I'd give it a try. I didn't find that it was that difficult to give up."
Cabot's husband lost fifteen pounds by not drinking, along with exercising. As for her, "I never lose any weight, that's the difference between men and women, but I felt good."
Tricia Bennett, an addiction and trauma therapist on the Island for the past thirty years, says she believes anyone who tries Dry January usually has a good reason. "It's usually a health-related reason or they have an inkling that they should be looking at their drinking."
Under normal circumstances, it's hard to change habits, she says. People often find self-care a challenge. Faced with a pandemic, it's even more challenging. People are watching TV or drinking more as a way to escape the stress, she notes. "Whatever we use for our coping mechanisms, we're doubling down on our coping mechanisms during the pandemic.
"I would say Dry January is a courageous move in the direction of self-care and just seeing what happens to your life when you remove one of those coping mechanisms," Bennett says. "I usually suggest when anyone takes on something like this that they journal ten to fifteen minutes a day – how are they feeling taking on the challenge, what are they feeling in the moment, and, overall, what's coming up."
The good news is you can give up the alcohol without having to forgo any of the flavor, complexity, or just plain creative fun of a traditional cocktail. So if you think you might hop on board this January, here are some tips for making your own nonalcoholic creations at home. But whatever you do, just don't call them mocktails. This term has fallen out of favor among most bartenders, at least on bar menus, many of which now include drinks without alcohol. Instead, you might see descriptions such as zero-proof, no ABV (alcohol by volume), 0 percent ABV, spirit-free, or simply nonalcoholic drinks. One Washington, D.C. restaurateur put together a nonalcoholic menu entitled Sobrio, the Spanish word for sober.
The best cocktails showcase a balancing act of flavors, and the same techniques and balance can be applied to drinks without alcohol. For nonalcoholic drinks, fresh fruit and fresh citrus, such as lemons, limes, oranges, and grapefruits, will be the key. Luckily, citrus is abundant during the winter. Try combinations such as grapefruit and lime or lemon, lime, and orange together. Muddling – gently squishing – fresh fruit such as raspberries, blackberries, or pineapple in a glass before adding citrus, a touch of sweetener, and sparkling water is another way to go.
Fresh herbs also can be used to add both aroma and flavor. Mint reigns, but basil, rosemary, and cilantro are likewise delicious. Try pairing cilantro with cucumber or grapefruit – or even in combination with mint – and be prepared to be surprised.
Simple syrups and flavored syrups also offer infinite varieties. A simple syrup is equal parts water and sugar, made ahead to dissolve easily in a cocktail. To make a flavored syrup, you might add frozen fruit, herbs, or spices at the end. Think: strawberry and thyme; blackberry, cardamom and pear; lemongrass and ginger; or peach and lemon verbena. Once made and strained, you can store your flavored syrups in the fridge. When you're ready, add citrus, ice, and sparkling water and you have a complete cocktail.
Or you might add bitters. Bitters are concentrated tinctures or combinations of herbs, bitter roots, spices, or flowers steeped in alcohol. They can add depth to any cocktail, as well as a bit of complexity or sophistication. Although they are alcohol based, you add only a few drops to your drink at the end, so the amount of alcohol is negligible. Still, steer clear if you're taking a hard line. These days bitters come in every flavor imaginable, from wild hibiscus to tamarind agave.
Last but not least, garnishing counts, so don't skip this step. A beautiful visual presentation makes your guests feel like they are not missing out, and in fact getting something special. Take a moment to add a lime or lemon wheel, a few pomegranate seeds, or one or two raspberries. A fresh green herb sprig also adds a wonderful aroma.
Happy New Year, and cheers!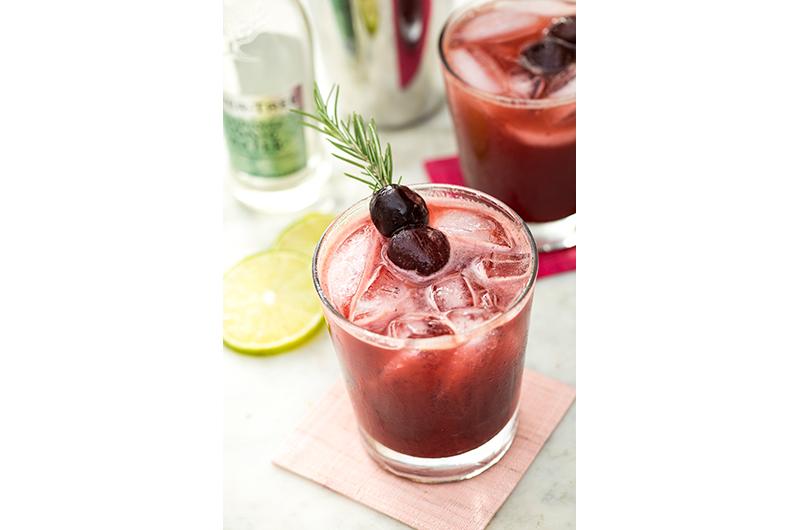 Lightly sweetened elderflower tonic water from Fever-Tree is a nice tool for making zero-proof cocktails. You can usually find it in the supermarket or at liquor stores, such as MV Wine & Spirits near the airport. Elderflower is the ingredient found in St. Germain liqueur, a favorite in many regular cocktails. If you can't find elderflower tonic water, add regular soda water and 3/4 ounce of simple or honey syrup.
Serves 1
2 ounces cherry juice (see recipe below)
3/4 ounce freshly squeezed lime juice
Fever-Tree elderflower tonic water or substitute
1 sprig of mint or rosemary, for garnish
2 defrosted cherries, for garnish
In an old-fashioned or rocks glass, combine the cherry juice and lime juice. Fill the glass nearly to the top with ice. Add the tonic water to the top of the glass. Stir with a spoon and garnish with a mint or rosemary sprig piercing the cherries.

Cherry Juice
1 cup frozen pitted cherries, available in frozen section
3/4 cup water
In a blender, combine until smooth. You will have some leftover for additional drinks.
The combination of mint and cilantro adds zesty flavor to this simple drink. To make the cucumber garnish, you can use a peeler or a sharp knife to cut a long, thin piece, then wrap it around the inside of the glass. It adds both visual interest and a flavor boost
Serves 1
2 sprigs fresh mint (leave as a sprig)
4 sprigs fresh cilantro
2 lime rounds
1 ounce freshly squeezed lime juice
1 ounce simple syrup (click here for simple syrups)
Soda water
1 or 2 long, thin slices of cucumber, cut thinly lengthwise with a knife or peeler
1. Place the mint and cilantro in a tall glass. Using a muddler, gently crush or bruise the herbs. (The idea is to release flavor but keep the herb leaves intact so that bits of herb are not floating around the glass.)
2. Add the lime juice and simple syrup to the herbs. Fill the glass nearly to the top with ice. Fill glass to the top with soda water. Mix well so that the herbs are visible. Arrange 1 or 2 slices of cucumber along the sides of the glass.
Pomegranate juice acts as the base of this brighty, zesty drink. Top it off, if you like, with a dash of bitters.
Serves 1
2 ounces POM Wonderful pomegranate juice
1/2 teaspoon grated fresh ginger
3/4 ounce freshly squeezed lime juice
1/2 ounce simple syrup or honey syrup
2 ounces freshly squeezed orange juice (from 1 orange)
4 to 6 drops Angostura orange bitters (optional)
Pomegranate seeds, lime wheel, sprig of rosemary or mint, or edible flower, for garnish
1. Combine pomegranate juice, ginger, lime juice, simple syrup, and orange juice in a mixing glass or cocktail shaker. Fill halfway with ice and shake well. Double strain (using a cocktail strainer plus a small kitchen strainer) into a cocktail glass (martini glass or rocks glass) with ice. Add drops of orange bitters if desired.
2. Garnish with a small handful of pomegranate seeds. Top with a sage flower, mint sprig, or lime wheel.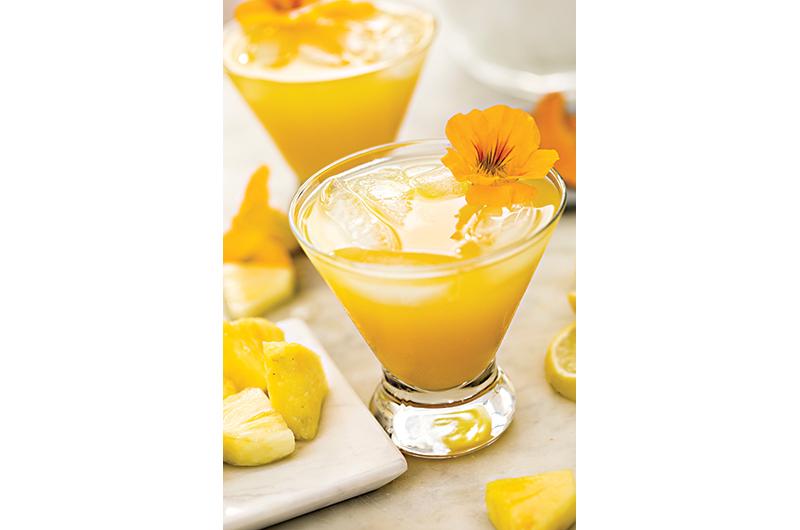 This cocktail features fresh ginger as well as fresh turmeric, a tuber similar to ginger with a bright orange color and exotic flavor. Both are grated and strained so that their flavors infuse the drink. You can often find fresh turmeric in the supermarket. Dried turmeric is not a good substitute here.
Serves 1
1 teaspoon grated fresh turmeric
1 teaspoon grated fresh ginger
2 ounces pineapple juice
1 ounce freshly squeezed lemon juice
3/4 ounce simple syrup or honey syrup
Soda or sparkling water
Round of lemon or an edible flower, for garnish
1. Peel and finely grate 1 teaspoon each of fresh turmeric and fresh ginger. A microplane grater with holes a bit larger than a zester works perfectly. Add both to a cocktail shaker. Add the pineapple juice, lemon juice, and simple syrup. Let the mix sit for a few minutes until the flavors combine.
2. Add ice to the shaker and shake well to additionally blend the flavors and chill. Double strain into a cocktail glass with a few ice cubes using your cocktail shaker strainer in addition to another small kitchen strainer to catch extra bits of ginger and turmeric. Top with soda water and stir with a spoon. Garnish with a lemon or an edible flower.
A simple syrup is an essential ingredient in non-alcoholic drinks like this Vineyard Sunrise and this Pomtini.
Simple syrup: Combine 1 cup of water and 1 cup of sugar in a saucepan. Bring to a boil and stir to dissolve. Let cool. Add flavors if desired. Store in a mason jar; the syrup will keep for weeks in the fridge.
Raw honey syrup: Combine 1/2 cup of raw honey and 1/2 cup water in a small bowl or mason jar. Mix with a whisk until combined. Raw honey from the Island Bee Co. (islandbeecompanymv.com) is a good choice because it has a liquid consistency and is more easily combined, plus its mild flavor won't overwhelm any drink to which it is added. Store in a mason jar in the fridge.