Jennifer Christy grew up in an artistic household in Chilmark. Her father, Joe Neill, is a sculptor. Her mother, Marianne Neill, ran Marianne's Screen Printing in Vineyard Haven. And her stepfather is sculptor Jay Lagemann, best known for Swordfish Harpooner and Raising Children/Swinging Jenny. "I've always focused my paintings and sculpture on the abstract," she said.
Christy started The Approach of Fall after a year-long painting frenzy. "I made thirty paintings, then took a month off. When I went back to the studio in September and began this it worked right from the beginning. The title came after the work was finished. The Approach of Fall helps give the viewer a foothold to connect to it.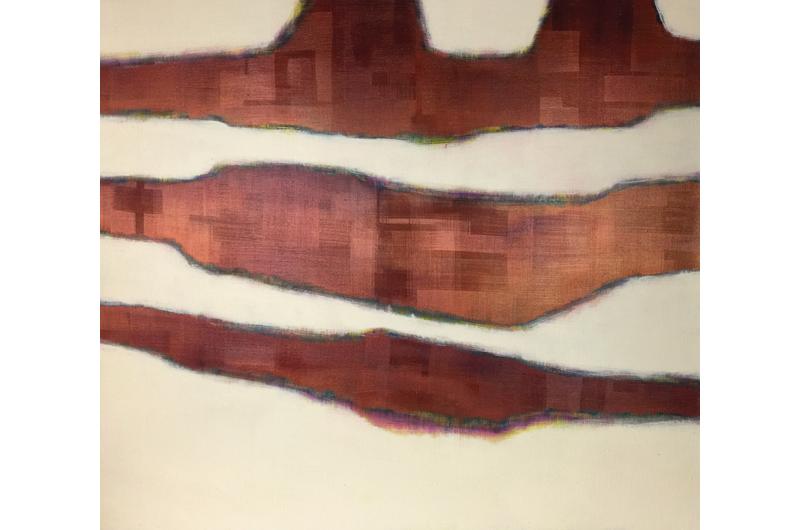 "When I start a canvas I have an image – forms – in mind. It's vague in the beginning, but I do a lot of sketching. It's like taking snapshots. I have a formal background in art, and I think about the balance, composition, and dynamic as I work. I experiment with the energy that is being created. Over time I developed a gallery of forms that fit what I want to reveal.
"I have many paintings and sculptures going at once. My sculptures look very much like the forms in my paintings. There are elements that have a certain body shape or a landscape feel. It's a fluid process. I like the happenstance, although I've gotten to know what darks and lights will have what I want to say. The colors and shapes that have the emotional impact. They are organic, part of the living world around us."