Their work takes them to northern Alaska, to the Antarctic ice floes of the far south, and, at least mentally, to the depths of the ocean. But first there's the daily commute, seven miles there and seven miles back across the familiar waters of Vineyard Sound.
Often seen as a way station for residents and visitors en route to the Vineyard, Woods Hole is also, of course, home to a world-famous scientific research community. The origins of Woods Hole as a science hub can be traced back to nineteenth-century zoologist Spencer Fullerton Baird. Appointed assistant secretary of the Smithsonian Institution, Baird helped create the U.S. Commission of Fish and Fisheries. Having summered and collected specimens in Woods Hole as early as 1863, he used the initial congressional appropriation of five thousand dollars to set up headquarters for the new agency in the village in 1871.
The National Marine Fisheries Service Woods Hole Laboratory is now the oldest institution in the world devoted to fisheries research, and the Woods Hole Science Aquarium is said to be the oldest public marine aquarium in the country. The Marine Biological Laboratory (MBL) was established in Woods Hole in 1888, followed in 1930 by the Woods Hole Oceanographic Institution (WHOI), now the largest organization in the village. Today there are at least five research organizations in Woods Hole, employing more than 1,500 people.
It's no surprise, perhaps, that among the ranks of Woods Hole scientists are a handful of people who have a foot on both sides of the ferry route. In a reverse of the more familiar daily commute for many who live on the Cape and have day jobs on the Island, each day they take the boat from the Island to work in Woods Hole. They are, if you will, something of a floating brain trust.
For Megan Carroll, landing a job in Woods Hole was a homecoming of sorts. Growing up on the Vineyard, her introduction to WHOI began with Jason Jr., a remotely operated vehicle that was involved with finding the Titanic wreckage. "It's amazing," she says. "I was in elementary school when Jason Jr. was doing work with the discovery of the Titanic. We went over to the Oceanographic and saw the live feed when they were exploring the Titanic. That was really my only exposure to the Oceanographic, even though it's right there when you get off the boat. I was amazed, how much goes on there and how big it is."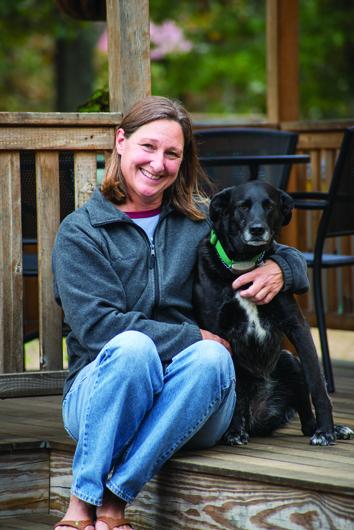 After studying mechanical engineering at the University of Vermont, she came back to the Island and ended up staying and working at WHOI. "To have a commute, this is a great way to go," she says. "It allows me to utilize my educational background, which I wouldn't be able to do [on Martha's Vineyard]."
Today, she is involved in building the next generation of submersibles, of the sort that discovered the Titanic. She played a key role in the mechanical engineering effort for the recent upgrade of Alvin, the submersible owned by the U.S. Navy and operated by WHOI. She also completed the design and
oversaw assembly and testing for underwater elevators, called landers, for the research vessel Falkor, operated by the Schmidt Ocean Institute of Palo Alto, California. And as if that's not enough, she's involved in developing a new underwater vehicle for Schmidt.
As an Island-raised scientist, Carroll says there are under-utilized opportunities for connecting her home and her workplace. More Vineyard schools could visit the institutions, she says, or scientists could come over to the Island to give talks. Already, she says, some Vineyard high school students interested in science come over to work as interns or lab helpers. "When I was in high school, [we] always worked in the restaurants and made money," she recalls. "There's definitely something to be said about getting experience like this, especially if this is what you're interested in."
While Carroll grew up with WHOI in her backyard, working there was a dream job for Leah Houghton, in part because of her love for the Vineyard. Her husband, James Novack, bought two acres on the Island in 1980, and after the couple was married in 1988 they honeymooned on the Island. "Every time we'd come out I'd think, 'I'm going to work there,'" she says of WHOI. Finally, in 1998 she got a job as a biologist and became a commuter.
"I know that people on the Vineyard know of the scientific community in Woods Hole," says the West Tisbury resident. But, she says, the institution's work can slide under the radar, or be misunderstood. "What people ask me all the time is...'Oh, so you look at whales and fish?'
"No, there's so much more than that," she goes on. Then adds: "Atomically, yes I do."
Her work involves stable isotope chemistry and "a fancy piece of equipment" that detects the difference between various isotopes. Analyzing the individual amino acids in proteins extracted from fish muscle tissue helps provide a good idea of what the fish have been eating. That knowledge in turn offers clues to the migration habits of juvenile and adult fish.
"So we use it to try to develop better marine management, to try to figure out where protected areas are," Houghton says. If juvenile fish are staying in mangroves to grow, for example, those areas should be protected for the health of the species.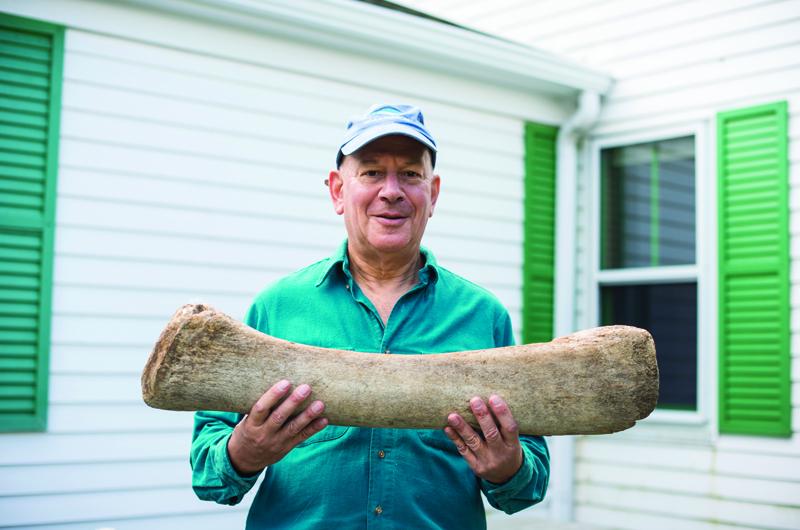 That research takes place in a laboratory, but Houghton is also a science research diver. Her dives are as local as the waters around Woods Hole and the Vineyard, and as exotic as collecting fish in the Red Sea. She also helped tag whale sharks. "The opportunity to travel to these crazy places is my favorite perk of the job," she says.
In Antarctica, she worked as part of a team studying ocean currents and how they are constrained by underwater features and continents themselves. The team put a tracer chemical in the water 1,000 miles to the west of the tip of Chile. The tracer disperses along with the currents but always stays at the same depth, allowing researchers to return annually to measure its concentrations and how far it has gone.
Antarctica is beautiful and the emperor penguins friendly, Houghton says. But beware the leopard seals, which have been known to attack humans. One day, "cold and windy and just what you would imagine Antarctic weather would be like," she and another scientist were doing their work on the ice when "up pops this leopard seal. You never saw two people run backward so fast in your life," she recalls. "We got out of there and we just got as far away as we could. We still had equipment in the water."
While Houghton's work includes getting a very close look at individual fish, Jesse Ausubel's research has taken a much broader view. In addition to his many other accomplishments in the scientific and environmental fields, he is the co-founder of the Census of Marine Life, a decade-long comprehensive inventory of all that lives in the oceans. This international effort led to the discovery of literally thousands of new species and a better understanding of habitats. One of the new species, a lobster with an oversized right claw, was christened Dinochelus ausubeli in honor of Ausubel. The study created a baseline picture of ocean life that will help measure and understand changes under the sea.
For part of the year, Ausubel's trip to work brings him nearly face to face with his field of study. Since 1991, he has spent summers commuting from his home in Oak Bluffs to Woods Hole, where he is an adjunct scientist at WHOI. But unlike most of the other Vineyard-Woods Hole commuters, he usually takes the Patriot boat, which cruises between Oak Bluffs and Falmouth harbor. On that boat, he says, you can "more or less reach your hand over the side and touch the water. You feel like you're at sea."
"I actually enjoy it," Ausubel says of the daily ritual. "Woods Hole is very special and wonderful, and I do have to say, I'm very often surprised how little the two communities actually know about each other."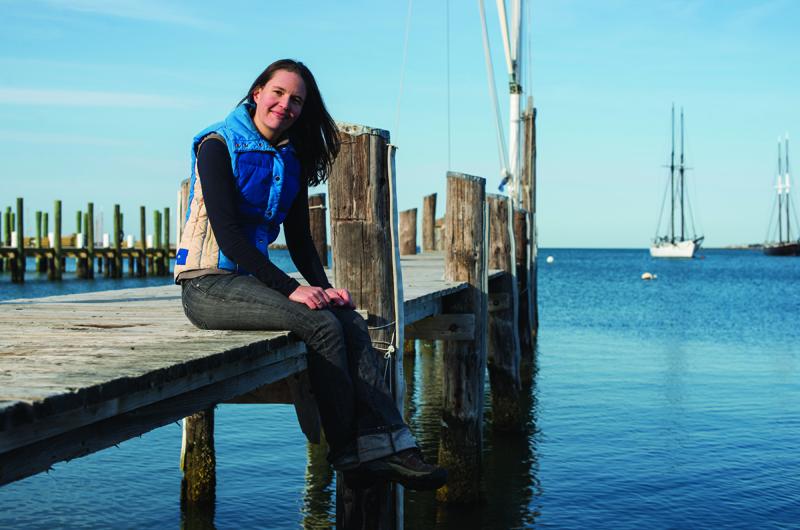 Some people from WHOI never come to the Vineyard, he says, while some Islanders see Woods Hole as a place to drive through. For him, though, the connection between the two places is the best of both worlds. "One of the world's great science centers, it's just right across the water," he says. "And I like living on the Island."
Though Jessica Drysdale's work at Woods Hole is perhaps less focused on the water than that of her fellow commuters, she may spend more time on a boat than the rest of them. Not only does the Ottawa native commute on Steamship Authority ferries to her job as a research assistant at the Marine Biological Laboratory, during part of the year she and her husband, Gannon & Benjamin boatbuilder Matthew Hobart, live on their schooner, Heart's Desire. That is, when she is not far away from it all, working three hours south of the Arctic Sea in Alaska, among the grizzly bears and caribou. She works for MBL's ecosystems center, which is doing long-term research on the carbon cycle in the Arctic tundra ecosystem.
She and other researchers are looking at how global warming leads to changes in the methane and carbon dioxide coming out of the ground. Another big project focuses on tundra fires. "With warming and changing climate there's been more naturally occurring fires started by lightning."
While the scientists' research takes them to far-flung places and involves vastly different fields of study, each of the commuters shares a sense of what it's like to live by ferry schedules, and to occasionally be stranded at work during bad weather. But no one's complaining.
"It's a pretty nice commute, really," Drysdale says. A relative newcomer to the cross-Sound ritual, she's still learning the ropes. "These other people I commute with have been doing it longer than I have, and they have their spots that they have been sitting in that don't have some freezing fan blowing on them or are away from noisy televisions."
"There is a group of us that go off together and find each other and catch up or work on knitting projects," Carroll says. "We occasionally do muffins in the morning, breakfast. Or cocktails at night."
"It's been really funny to watch it through the years, the number of people that come and go and what they do and how long they last," adds Houghton. "When the Islander was running, we used to block off one section and have a big Christmas party. We'd get everybody together, all the commuters, decide who was going to bring what...we'd have a Christmas party, we used to do Cinco de Mayo."
Though Ausubel's commute is a little different – back and forth on the small boat that brings newspapers and bagels to the Island from the mainland – he feels the solidarity too. At work, when he announces that he has to catch the ferry and walks out of the room, "only a few people really understand what that means."
In other words, none of them would trade it. "I thought one time about kayaking over," Houghton says. "But the one and only time I ever went out of [Lake] Tashmoo, I scared myself so badly, I was like, I'm not ever going to do that."
Leopard seals are enough of an occupational hazard, it appears.