Here's a tip: If ever you find yourself in the position of dialing up two-time National Book Award nominee Edward Hoagland (which, conceivably, you could; he's in the phone book), don't attempt to flatter him by insisting that your father, a longtime admirer of Hoagland's nature essays, novels, and nonfiction books, is his biggest fan. That title he will gruffly, if patiently, inform you, is in high-demand, and is currently held by Garrison Keillor, from whom he received an effusive note praising his 2001 memoir, Compass Points.
It is not so much bravado as the impulsive output of a magnetic memory that compels Hoagland – known to all as Ted – to automatically list his notable admirers (John Updike, Saul Bellow, Joyce Carol Oates…) and numerous literary achievements in an initial conversation. Ted Hoagland is possibly the best writer you've never heard of – certainly the most lauded man of letters living in Edgartown – and at eighty-one, he is also a well-oiled one-man publicity machine.
Above all, though, Hoagland is a gifted storyteller. Over the course of many conversations, on the phone and in person, we discussed topics ranging from the West Village to West Africa, cattle trains to transvestite prostitutes. And all number of creatures, great and small: the big cats he cared for in Ventura, the elephants he grew fond of during his time in the circus, and of course, his beloved twenty-two-year-old box turtle who could be heard through an open door scuttling along the shower stall floor as we sat in his Edgartown office.
This year, 2014, is a big one for Hoagland. It is the sixtieth anniversary of the year in which he sold his first book, Cat Man, to Houghton Mifflin, and graduated from Harvard University (in that order). It is the fiftieth anniversary of his first Guggenheim Fellowship. (Another followed in 1975.) And in October, he published his twenty-fourth book, The Devil's Tub. It's a selection of classic stories and previously unpublished novel excerpts that he hopes will be the definitive collection of his short fiction work.
His work thus far, that would be. In his ninth decade, with a bibliography of books, essays, and stories that runs longer than most magazine articles, he gives no impression of slowing up. When not traveling to Boston or New York City, he lives most of the year hunkered down in Edgartown where he writes every day on one of two typewriters always at the ready in his office. (One was queued up, atop the washing machine, when we met.) He's more than 58,000 words into his "Vermont novel," which is based on time he's spent in the state's Northeast Kingdom, where he bought a hundred acres for ten thousand dollars in 1969 and where he spends the warmer months.
"I wouldn't be here in the summer if you paid me," Hoagland said of the Vineyard, moments after ushering me into the home he shares with his partner of twenty-five years, Trudy Carter. The 300-year-old house belonged to Hoagland's mother until she died in 1998, and the wallpaper and window dressings of his ground-floor office appear to have been untouched since then. African artifacts line the shelves, and stacks of books crowd the walls – Forster, Proust, Whitman – making the room feel less like a workspace and more like a lovingly curated used bookstore.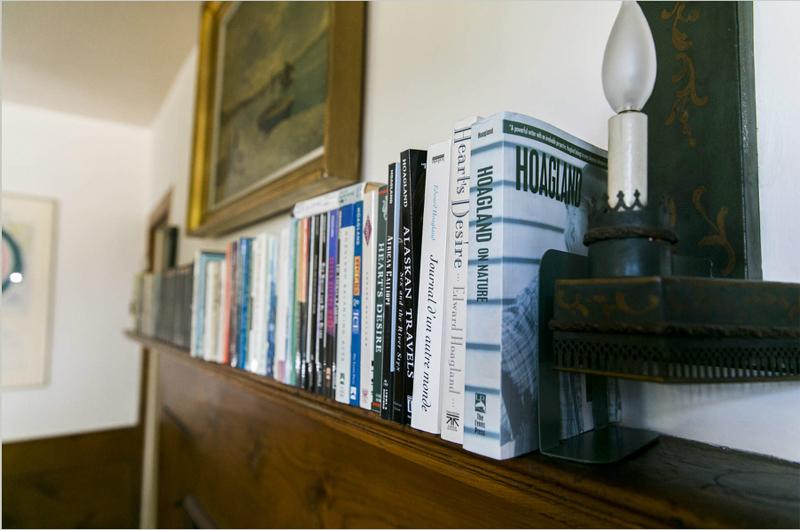 In other words, it's cozy, which suits Hoagland much of the time. But Edgartown is not, as he puts it, his "heart's home." Of these he has two: downtown Manhattan, where he lived for more than thirty years, and the place in northern Vermont. "Crossing my land I have moose and bear," he mused, pointing to a painting of the small Vermont cabin where he lives, fully off the grid, from May to September. "Obviously deer and coyotes, fishers and bobcats, foxes, on down to weasels and shrews and otter, mink, beaver…"
Hoagland lists his woodland neighbors as proudly as he does his old city chums Richard Yates and Donald Barthelme, fellow writers with whom he kibitzed regularly in Greenwich Village coffee shops about life and craft. "I love to be surrounded by the most diverse possible population," he said, implying human or otherwise. Gazing through the window at quaint North Summer Street, he added, "It's not wild here."
Which is not to say he doesn't enjoy his down-Island address. "I'm a block from the movie house," he was careful to point out. "I go to all the church suppers. I go to the Anchors [senior center] four times a week. I just came back from an exercise class, and I go to a poetry group on Thursdays. I go to the Edgartown library for the free movies on Tuesday nights. And when I hear about something at the Federated Church, I go there. All of those are just easy walking distance from my house."
His ambivalence toward the Vineyard probably explains why it is that though he writes well on the Island, he rarely writes of the Island. "I've written everywhere about Vermont, but not the Vineyard, because this was my parents' home and it was their territory. My father sailed and part of my reaction against his way of life was not to sail but to be a mountain person instead. I was required to take golf and tennis lessons when I was young, until I was old enough to refuse them."
For someone who has traveled extensively and written widely about some of the more far-flung corners of the world, a leafy corner of Edgartown may indeed seem an unlikely permanent residence. But at this point, he says, it's all he needs. "I was just talking to my eye doctor yesterday about the handicap of my vision," he recalled. (In his fifties, Hoagland developed cataracts and a retinal condition that left him nearly blind. Surgery helped, but his vision remains impaired.) "As I've said to him: I've been to Africa five times and I don't need to go again. I've been to Alaska nine times, I don't need to go again. I don't need to see anymore than I have seen. But I work just as hard wherever I am."
Adventure is a way of life for Hoagland, though it wasn't always so. Born in 1932 in New York City, he moved with his family to New Canaan, Connecticut, after his father, a former Wall Street lawyer, switched jobs. There, he quickly adapted to country life. "When you're a small child it doesn't have to be the wilderness," he said. "I think we had a couple of acres, but adjoining was a forty acre estate. I would climb the great spruce trees in the wind and sway like John Muir. I would catch snakes and turtles."
It was on these afternoons spent high in trees or communing with pond life that Edward Hoagland, nature writer, was born. But his passion for the written word stemmed from more than just a love of the outdoors. From the age of six he was afflicted by a debilitating stutter, a condition that remains with him to some extent to this day.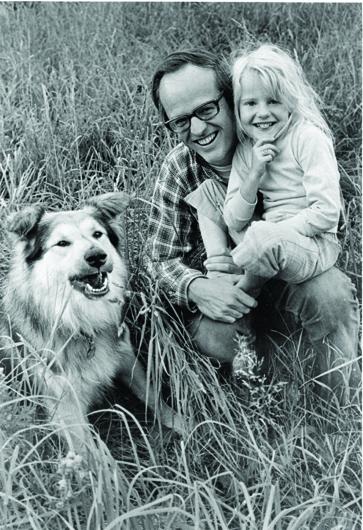 "I stuttered enormously badly, it's hard to conceive," he explained. "I didn't start stuttering until I was six. That's the way it is with stutterers: they don't stutter at two. The way I remember it – although it's probably not accurate – is that I was sent off to a summer camp and there was another boy there who did stutter and I made fun of him. And then I, therefore, became a stutterer."
With conversation an insurmountable challenge, Hoagland spent much of his time as an adolescent alone in the woods ("Stutterers don't stutter with animals") or with his nose in a book or journal. "If you can't talk, you write, for Chrissake."
A serious reader from a young age – he read War and Peace at thirteen, and was an "announced socialist" at twelve – Hoagland decided he would be a great novelist. Just a few years later he was well on his way. As already mentioned, his first book, Cat Man, was accepted by Houghton Mifflin while he was still an undergraduate at Harvard. Loosely based on the two college summers he spent working for Ringling Bros. and Barnum & Bailey Circus, it was warmly received by critics, and his picture appeared in both Newsweek and Time magazines.
"The reason I was precocious in writing a salable book at the age of nineteen or twenty is because I couldn't talk," he said. "I was still a virgin because at that age, girls actually want a cool boyfriend. My face twisted up like a gargoyle." Although today his stutter is much less pronounced, certain moments still haunt him. "I had scalding experiences. I was friends with George Plimpton and one time at a party, some publisher brought someone over to meet me. I began to stutter badly, and the guy, he put his arm around the woman he was with and said, 'I'm very sorry to subject you to that.' And pulled her away."
Despite Hoagland's early success, his father was unimpressed. After seeing an early proof of Cat Man, the elder Hoagland, then an international lawyer for Standard Oil (now Exxon,) contacted the legal department of Houghton Mifflin and argued against the book's publication. "He thought it would be banned," Hoagland recalled. "Because I used the word 'piss.' He told me it would ruin my mother's life at the country club, that it might affect his career adversely, and that it would prevent my sister from marrying a respectable young man."
It wasn't that his father didn't appreciate literature or the arts. "He loved to go to museums. He loved art, and he loved opera, but the idea of having an artist in the family was anathema to him. It was backsliding in a sense." He had grown up in Kansas City and, after winning a scholarship to Yale University, worked his way to the East Coast on a cattle train.
"The old adage 'shirtsleeves to shirtsleeves in three generations,'" Hoagland smiled at his desk. "You claw your way up from the cattle train to being a Wall Street lawyer, and then your son joins the circus at fourteen dollars a week when he's eighteen years old."
But his father ultimately had no choice but to recognize his son's achievements. "My father's office was on the twenty-sixth floor at Rockefeller Center, overlooking the skating rink, and that's where the CEO's office was, too," said Hoagland, leading me into the dining room, where he keeps a selection of his books on the mantle. Pulling down a well-worn copy of Cat Man, he choked up a little. "After my book came out, a few months later, my father was walking down the corridor and the CEO of Exxon appears, and the CEO throws his arm around my father – my father who thought I was going to hurt his career – and he said, 'You must be so proud.'"
There was no permanent rapprochement with his father, however. Hoagland inherited only his mother's Edgartown house because shortly before he died in 1967 his father "disinherited" him for refusing to promise never to sell the family's main property in New Canaan, Connecticut, to anyone Jewish.
"So now I live in a trust fund house without a trust fund," he said. By contrast, his relationship is close with his own daughter, Molly, who was born in 1968, and whose mother, Marion Magid, he was married to for twenty-five years.
Occasionally with Hoagland, despite all of his well-deserved pride in his literary successes, you get the sense that he is a bit dissatisfied. "I wanted to be a great novelist," he said in our first phone conversation. "But I realized I didn't have the genes to be a great novelist. I could be a good novelist."
Often compared to Henry David Thoreau and Walt Whitman, Hoagland writes most in the tradition of Montaigne, in that his essays wander inclusively, associatively, about anything and everything, all at once. While trying to be a "great novelist," and in addition to his many nonfiction books, Hoagland has published over twenty essays in The Village Voice, just as many in The Nation, and over sixty editorials and reviews in The New York Times.
It helped that the headquarters of many publications were within walking distance of his apartment. "I'd hand carry my columns up to The Times," he remembered, "and the editor would edit them while I sat there at his desk, and they would be published the next day. When I turned something into The Village Voice, it would come out on Wednesday and I would see people reading my piece on the Staten Island Ferry. That kind of instant gratification increased my productivity, and my satisfaction and joy, because when one finishes a book, in the old days you waited nine months for it to come out. And then it would only sell 5,000 copies."
Hoagland also credits his productivity to the energy of living in the city. For many years, he lived in a housing project for artists in the Meatpacking District, long before it was a bastion of trendy nightclubs and restaurants. Some of his neighbors went on to have long and fruitful creative careers (Diane Arbus, Galway Kinell) while others worked the street (perhaps just as fruitfully) as drug dealers and prostitutes. By the age of eight, Molly could identify transvestites on the corner, often a difficult proposition. Hoagland's work was fed by the colorful commotion just outside his door. "I'm publishing my twenty-fourth book title in October," he counted. "If I had lived in northern Vermont, or here instead, I would be publishing my sixth book, probably."
But it's more than just instant grati-fication and urban inspiration that made him into a great essayist. (The best, said John Updike; "our Chopin of the genre" said Joyce Carol Oates.) As a writer, he struggles with neat narratives, with clear beginnings, middles, and ends. "Life seldom works in blocks of related events," he wrote in Compass Points. "Rather, you can break your fingernails trying to undo the causal knots and they stay knots."
As if to illustrate this, during one conversation Hoagland found himself on a sprawling tangent about a girl he once knew. It was the girl who took his virginity, in fact, and who later appeared on his doorstep, pregnant by another man, asking for his help. He accompanied her to San Francisco, where he stayed with her until she gave birth to a baby girl. Soon after, at the insistence of her parents, the girl reconciled with the child's father, and Hoagland returned to New York.
Twenty-five years later, when Hoagland was established as a writer, he ran into the child's father on the street. "He turned up as a postman in Greenwich Village," Hoagland laughed. "So we would chat on the street, because he was literally in the neighborhood." The man was, by this point, long estranged from the child and her mother, and Hoagland urged him to reach out.
"We were talking about how you save for retirement, and I said, you ought to make contact, because who are you going to leave your money to? You don't want it to go to the State of New York! And it had never occurred to him. So I said in order to do that, you need her Social Security number, and also, you should meet. She's a woman now. She can handle it."
Hoagland was persistent, and the man eventually found the daughter. He visited once or twice, but there was no great reconciliation, no Hollywood ending. "He did get her Social Security number," Hoagland shrugged, as if to say: this is real life, and real life is full of stories that end before you want them to.
As for Hoagland's story, it remains full of knots untangled, novels and essays not yet written. But he is content enough in the work he's done to pass the torch to the next generation of writers and activists, the people interested in the same causes – environmental, political, personal – that always called out to him.
"I feel just as strongly now," he insisted. "It's just that I feel too old, and I feel that it's up to younger people to do the battles now. And also I don't have anything new to say on the issues of the day that are not being said by other people, or in some cases haven't been said by me."
"I do find the young people as idealistic as we were," he said. It was the end of May, and he was readying to leave the cozy comforts of the Island for yet another summer in the wild.
"I believe in them. I don't envy them at all. But I believe in them."