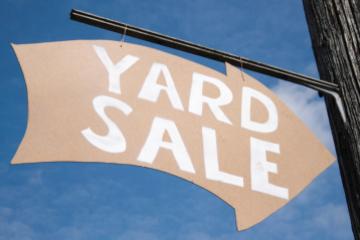 Deep in the heart of every yard saler is the fervent hope that they'll stumble upon some real treasure – maybe the lost Ark of the Covenant. And deep in the basement of every yard saler are the treasures they actually came home with: used vacuums, waffle irons, bicycle tire pumps – the very items they need to have a yard sale of their own. It's an eternal cycle. Here's how to make the most of it.
By Geoff Currier
On Tuesday, after reeling in my first fish ever, I lifted up the big bluefish and turned around to see my friends Tom and Mike with their iPhone cameras perched over wide smiles. They were as exhilarated as I was. Perhaps this is what happens when you combine two guys who have a bunch of Derby pins and plaques with their pitiful friend who's fished the Derby the last three years without a single catch.
By Nicki Miller
Thanks to our friends the winter moths, there's no shortage of dead trees on the Island – chances are you may even have a few on your property. Here are a few tips on how to take those trees down, trim off the branches, and leave your own limbs intact.
By Geoff Currier
Pages