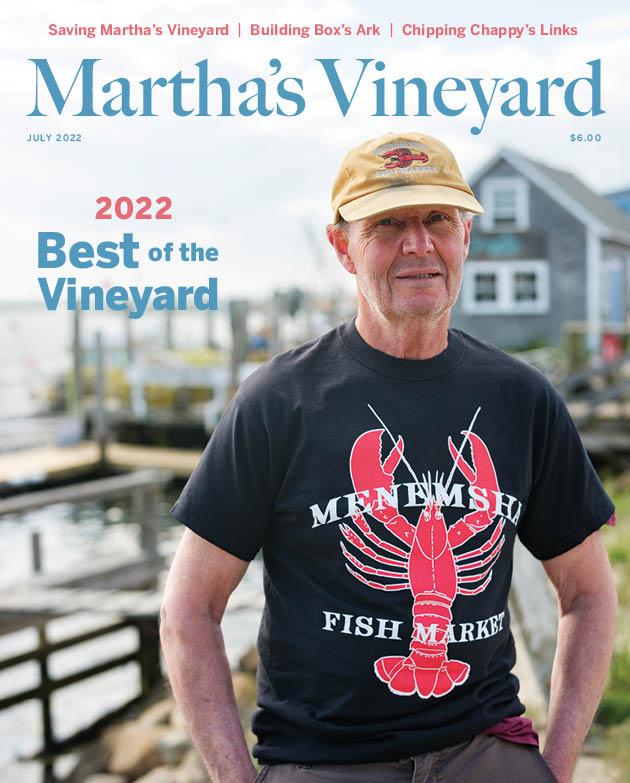 My first winter on the Island, more winters ago than seem possible, my now-husband and I rented a small upside-down guest house in Katama. This was back when off-season rentals were easier to come by. Even so, it was a lucky find. Every day a little past 4 p.m. the sun set outside our windows over the fields of The FARM Institute. Beyond the back door, a wooded path led to a rocky harbor beach.
The home was owned by William (Marks) Waterway, a thoroughgoing hippie and environmental activist who, after crossing the country on horseback, washed ashore in 1978 and never left. In 1985, he founded this magazine.
I had come to the Vineyard after leaving my job as managing editor of the Boston Phoenix. And so that my Islander husband, who I had cajoled into city life, could enjoy one last Vineyard lag before we headed out in search of concrete pastures. Come May, when the lease ended, we intended to leave.
Over the next five months, I stared at golden fallow fields, walked empty beaches, and wondered what more I was seeking. Like so many others, I planted roots and never looked back. I accepted a job as news editor of the Vineyard Gazette. Two years later, I moved my belongings down the hall to join the staff of Martha's Vineyard magazine, which the Gazette had purchased in 1990.
It's one of those quirky Vineyard coincidences that I would one day become the editor of the publication that my former landlord founded. And yet I've come to realize that, on this Island, coincidence is often connection disguised. Eight individuals have occupied the role of editor before me, five of whom I have had the privilege to know. All have shaped this magazine and helped me in ways great and small.
Of those, one deserves particular recognition: my immediate predecessor, Paul Schneider, who occupied the position from 2013 until the May–June issue of this year.
I joined Paul as senior editor for his second issue and was lucky enough to work alongside him for the fifty-eight that followed. Under his tenure, this scrappy little magazine punched far above its weight class, delivering thoughtful stories of the Island's past, its present joys and future threats, and its myriad quirks and characters. I am grateful beyond measure for his guidance and friendship, and for conferring on me a slate of well-conceived stories. I'm also happy to report that Paul won't be going far. Though he's stepped down from a full-time role, his fingerprints can be seen on this and future issues in his new role as contributing editor.
Dozens of others have a hand in producing this magazine, but additional thanks and credit belongs especially to art director Alley Moore, who has defined the look and tone of this beautiful publication for nearly twenty years, and Nicole Fullin, who first joined the staff as a college intern in 2012 and quickly made herself indispensable. This issue marks her first as managing editor.
It's remarkable that the core members of this team have remained in place for the better part of a decade, and that they will continue to do so as we write this next chapter. That unlikely continuity is due in no small part to the leadership and resolute support of our publisher, Jane Seagrave.
It's a rare privilege to get to do a job you love, telling the stories of the place you love, with people you admire. I am thankful for the opportunity. And I'm lucky that, by some twist of fate or connection or coincidence, those first-winter Katama sunsets were so good.