Down a dusty road in West Tisbury, just over a small hill of a driveway, among four 72-by-20-foot greenhouses and on twenty-one acres of land – twelve of which are dedicated to farmland – pastel pink dahlias, eye-popping neon zinnias, and sunflowers the size of preschoolers bloomed under the bright mid-October sun.
The scent of soil perfumed the air, and before you could see the happenings of a farm, you could hear them: pigs snorting, bees buzzing, and one giant whoosh and whiff of an autumn breeze toppling empty buckets not yet filled with clipped flowers to the ground, metal handles softly clacking like keys, not at all in sync with the birds chirping above the trees.
"Welcome to the farm!" Robyn Athearn shouted while picking up the buckets. She pointed to the wildflowers ahead of her and walked toward the fields. Of the twelve acres of farmland, seven are in flowers.
The flowers grown here are sold at Morning Glory Farm, the Island-famous farm stand in Edgartown that regularly attracts throngs of visitors for its homegrown strawberries, tomatoes, pumpkins, corn, and baked goods. It was started in 1975 by Athearn's in-laws, Jim and Debbie. The flower operation, run entirely by Athearn and her staff of about fifteen, is its own entity of the family business. It's located on a different campus, in a different town. Athearn, her husband, Simon, and their young children, ten-year-old Rose, eight-year-old Ignatius, and three-year-old Alden, also live on the property.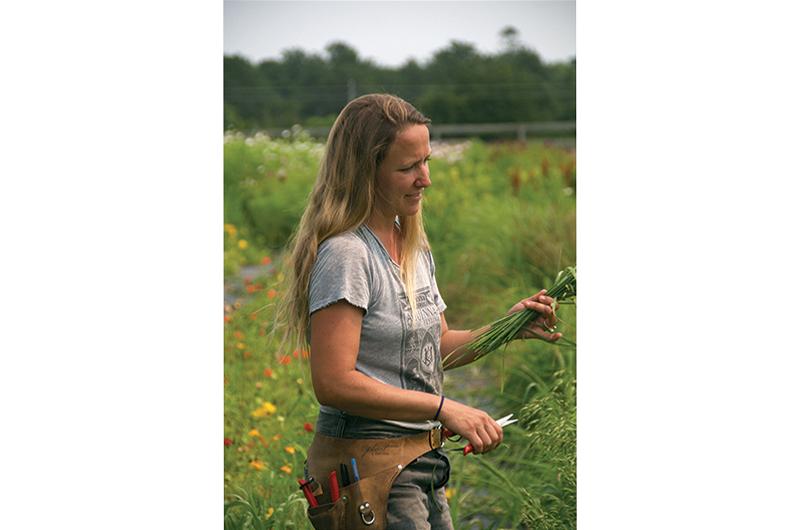 "It's my own nature preserve out here," she said. "I mean, there are skunks and we always get sprayed. There are bunnies, and deer within the deer fence, and there are so many birds. We have a lot to learn surrounded by all this beauty."
Historically, Morning Glory Farm has always sold flowers. The family grew and sold them within the first few years they were farming, almost fifty years ago. "At first, my mother in law Debbie and her friends had a flower patch and they'd always cut some fresh flowers to sell at their roadside stand, which became Morning Glory Farm," she said. "So there's always been flowers."
But in recent years, flowers have begun to seem less like an afterthought and more a tent pole of the thriving family business. Flowers are the most profitable crop Morning Glory grows (followed by corn, then tomatoes – all the beloveds). That's mostly thanks to Athearn, who in recent years has stocked the farm stand to overflowing with bouquets of delightful simplicity and complexity, expanded into occasional wedding services, and even recently launched a flower CSA with three options: mixed field bouquets, small centerpieces, and large centerpieces arranged in artisanal ceramics created by Micah Thanhauser of Merry Farm Pottery and Lainey Fink Scott. She's also beefed up the use of greenhouses, allowing her to sell to Island florists not just in the summer months but throughout the year.
Athearn started farming flowers for Morning Glory about thirteen years ago when her mother in law asked her to take it on. "I was very intimidated, even though of course I absolutely wanted to do it," she said. In those early days, flowers were grown at Morning Glory Farm's Edgartown fields, where they were rotated with the vegetables. "The reason we eventually brought them over here to West Tisbury was because we wanted our kids to grow up on an actual working farm. We were going to work and they just weren't having the experience of growing up on a farm. This farm was inactive, and we wanted to activate that," she said.
"I like working with a really small group of people toward a common goal. That's why I am here on this earth. And I love having my family here with me....This has changed our life profoundly."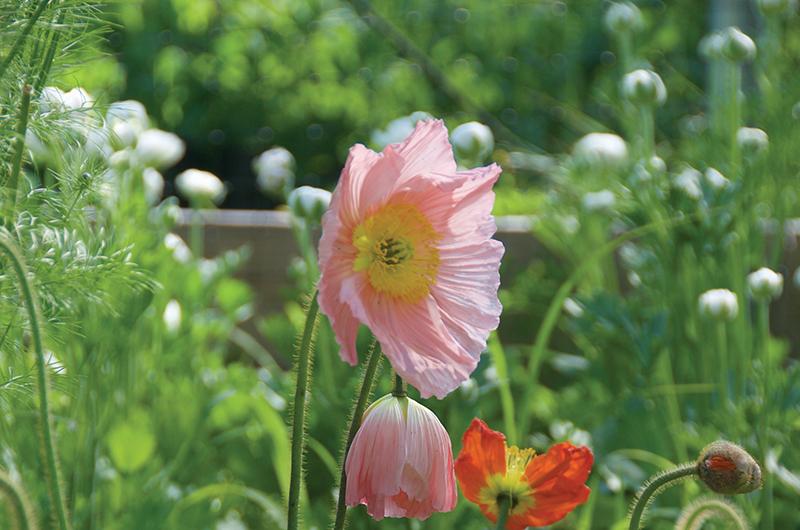 It's also changed the business. Prior to taking over the flower operation, Athearn estimates the farm sold around 1,200 bouquets a year. "I took that number to about 5,000 my first season just with the sheer will, grit, and determination of my team." Today, they do the equivalent of about five times that number. Last year, the farm sold around 24,000 bouquets.
To keep up with that demand, Athearn grows almost one hundred varieties of flowers. She starts seeding in February and continues seeding many successions of the same crops; each year she grows more varieties. "There's no limit to trying new things," she said.
The fields and greenhouses display peach-colored ranunculus in March, gorgeous delphiniums and fluffy ballet-pink peonies in early June, and coral-colored poppies in late spring and early summer. Dahlias, zinnias, and sunflowers grow like the summer crowds late in the season. Once the frost comes, usually around Halloween, everything dies. She and her workers stock the farm stand with dried bouquets and wreaths. "And then we plan and start back up again for the next season."
But from early spring to mid-October, flowers grow. And grow. And grow. In addition to Morning Glory Farm retail and flower CSAs, her arrangements are sold at Cronig's Markets and the Chilmark General Store. Her main floral clients are Morrice Florist in Vineyard Haven, Middletown Nursery in West Tisbury, and Donaroma's and Aubrey Maria Designs in Edgartown.
She also sells simple groupings of flowers sporadically on her friend Trip Barnes's property on State Road in West Tisbury, which she's dubbed Trippy's Roadside Stand. A bundle of sweet peas or a bouquet of poppies cost $10 cash via the honor system. "Trippy's is so successful," she said, smiling. "I mean, that farm stand was one of the highlights in 2020," Athearn said.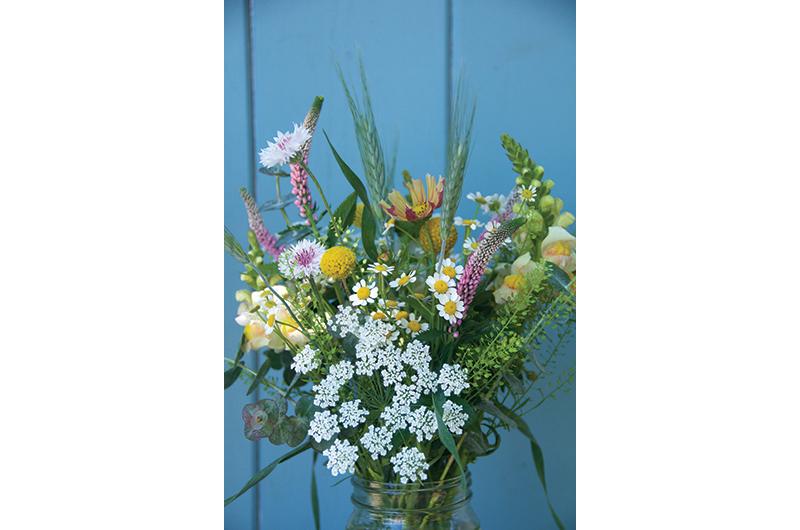 "The notes in the money box were so funny. Sometimes they said, 'I'll pay double next time' or 'I owe you $2' but then as the summer went on, the notes got funnier and people would write down questions like, 'What time do you bring the flowers?' and 'Can we get some flowers for my grandma's memorial next week?' Sometimes checks would be made out to a question mark."
In the early, most anxious days of the pandemic, Athearn decided to put free flowers at the roadside stand for anyone who needed a pick-me-up. On Morning Glory Farm's Instagram she wrote: "In this moment of tension, stress and uncertainty Simon and I wanted to spread a little sunshine! Free flowers are kind of a spiritual hug!" Come they did. Almost 2,000 people liked the post, hundreds commented, dozens of people shared it, and the flowers were scooped up in minutes.
"People always say you are just giving this stuff away!" she said, laughing. "But hey, I'm one of five kids. I've always been a good sharer."
Besides, there's plenty of people willing to pay. "I would love to see Island-grown flowers in every shop during the season," she said. "The desire is here for the flowers. We are growing them and people are buying them."
Growing up in Dallas, Pennsylvania, Athearn – then named Robyn Hosey – loved school and learning. She graduated from high school in 1996 and attended Saint Michael's College in Burlington, Vermont. It was there, in college, that she met her best friends: Tracy Meyers Briggs, Jennifer Rankow Klein, Laura Marashlian, and Meeghan "Meg" Morrow Knapp – now Athearn. (Meg married Daniel Athearn, Simon's brother).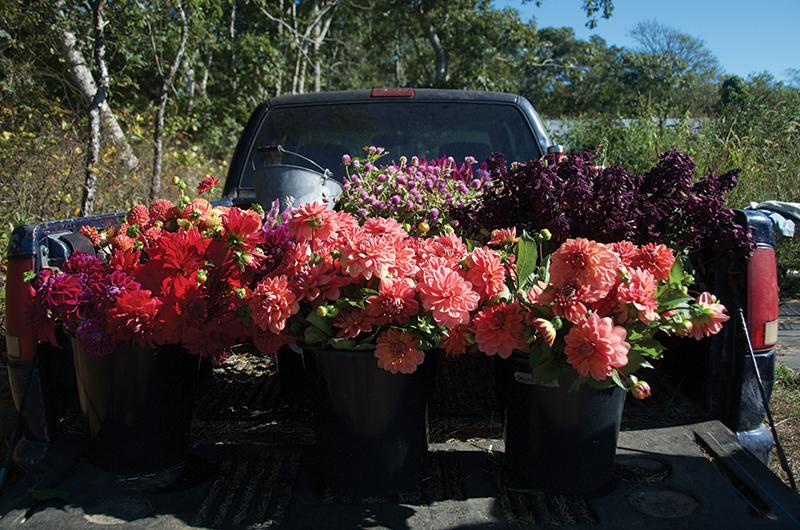 It was Meg who introduced her to the Vineyard. "Remember the war in Afghanistan? I was working for the Peace and Justice Center in Burlington and I would call my girlfriends and be like, 'What are you guys doing?' Meg had a summer house on Martha's Vineyard and I had never heard of it here. And I would talk to them on the phone and they would say they were working on this farm on Martha's Vineyard and I was like, 'There's a war going on! You can't just hang out on a farm on an Island! There's a damn war going on!,' she recalled, laughing. "They said, 'You should come for the weekend.' And that was twenty years ago.
"This place has a way of sucking you in. I think we always were joking that we would do this for retirement, but we just skipped ahead. All of us have tried to leave. I've gone to school twice, I got my master's, I took a job in Pennsylvania at a different farm once." (Prior to working at Morning Glory, Athearn worked for the FARM Institute in Edgartown, at the Lands at Hillside Farms in Pennsylvania, and in many states, on many farms, before settling on the Vineyard. "I was a farmer before marrying Simon and farming at Morning Glory.")
"I've worked on several different farms, but once you live somewhere once like Martha's Vineyard, even just for a couple of years, it's hard to forget. It's like that little village under your Christmas tree."
It's a little like that out in the fields, too, where all is calm and bright if not snowy and silent and Athearn is a one-woman powerhouse among the flowers. About 200 feet behind her in different directions you can spot her staff working; they're all female, and they're all happy. Her employees range in age from high schoolers to people in their mid-thirties. "And then there's me. I'm forty-three." Everywhere you look, there's girl power on the farm. Each greenhouse is named after a strong, powerful woman who walked the earth: Frida Kahlo, Bell Hooks, Ruth Bader Ginsburg, Mary Oliver. Seedlings start in the so-called "Mother House," where pictures of Mother Teresa, Mother Mary, Shiva, and Mirra Alfassa are thumbtacked to the exterior wall.
"Historically, mostly women apply for this job," Athearn explained of the people who put in an application specifically to work in the flower fields. "It doesn't mean I wouldn't hire guys if they wanted to be part of it" – she since has – "but the interest has always been with women. Instead of that being something that can make us less, it's something that can make us more. It's really something powerful."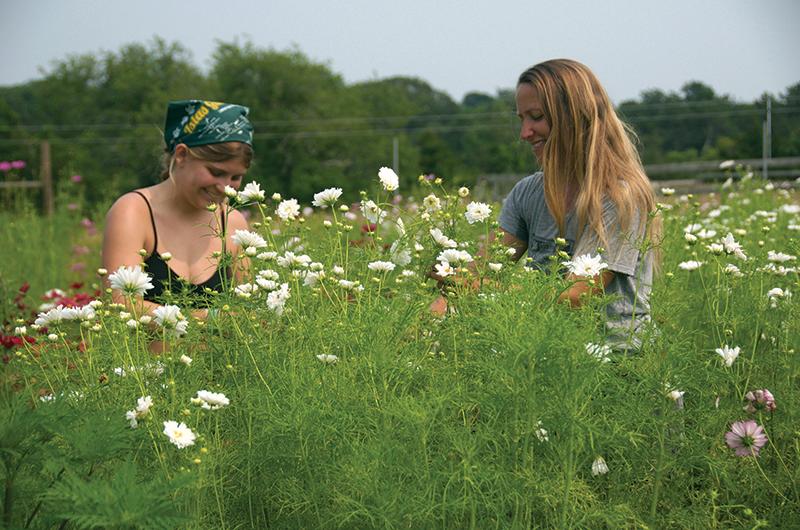 That feeling extends to the business side of the operations, and in particular the florists with whom she regularly works. "This is when you realize women working together really works. They buy from me; we grow for them. And I love doing this. If I was just selling flowers at the farm stand, I could never pay all these people who work for me or teach these women to be flower farmers."
Coming off one of the most unusual seasons for anyone working in farming, Athearn said the pandemic made her think even more about how the world needs more small-scale flower farms.
"Places all around the world were burning warehouses of flowers during the pandemic because they couldn't get them across customs," she said. "South America, Holland, flowers from all over the world. Taking this perishable thing that has a shelf life of like a couple of days and shipping them in boxes when women and men all over this country would love to be flower farming is just crazy.
"It's a great job," she continued. "I mean, all summer my fingernails were falling off and we've never worked so hard. It was quite intense. But we were so grateful to have this job and to be together and be outside. We wore masks, and just to be together outside in the sun, it was what we all needed. The more flowers there are, the more insects there are, the more birds there are, the more birdsong there is, and that all translates to joy."

In 2021, Athearn had her busiest year yet. "This year we overstaffed, because last year every single thing I grew was bought. Every single stem was sold," she said.
She and her team were able to anticipate the demand and get more plants in the ground and sell more steadily. "I have been able to sell to florists since February, barely missing a week," Athearn said in July of 2021. She had already started annuals in the fields and had plans to add another greenhouse, which has since been completed, bringing the total to five large greenhouses and one small. "It's been a delight," she said.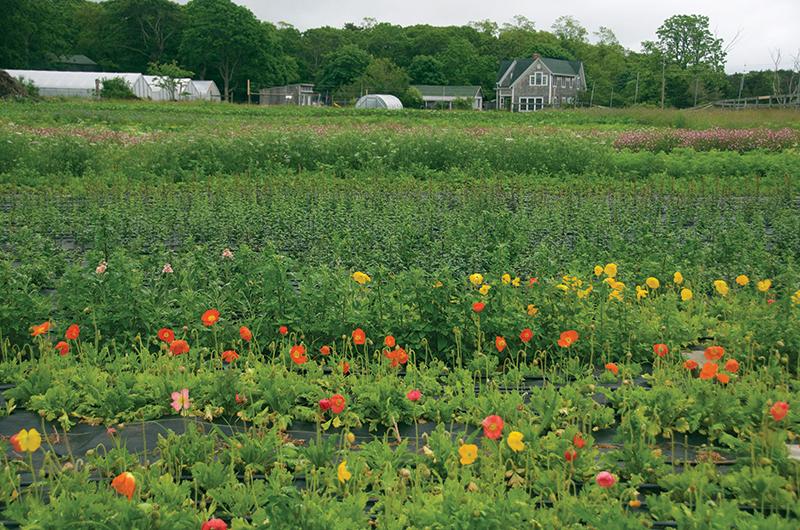 Still, for all her success, Athearn showed no signs of resting on her recently grown laurels. Farming really can change the world, she said repeatedly as she made her way through the fields clad in a Wrangler denim jacket over a wine-colored T-shirt, blue jeans flanked with a brown leather florist belt big enough to hold heavy-duty pruners and flower scissors. Her hair – long and blonde like Rapunzel – trailed behind her as she wove through rows of towering flowers. "People are intrigued," she said. And people want to be part of it.
A few years ago, she started collaborating with local artists Elissa Turnbull and Lily Luna Bennett to make flower power T-shirts to sell at the farm stand. She didn't know if they would be popular – "because who needs another T-shirt?" – but why not try. "Every time we make and sell a new T-shirt, they sell out in days. That's another thing: if you build it, they will come. People love flowers; they also love being empowered. They love girl power. That's all I'm trying to spread."
Looking forward, Athearn, who has a Master of Education from Antioch University New England in New Hampshire and went to the organic farming program at the University of California, Santa Cruz, hopes to one day add an education wing to the farm. It's a direction inspired perhaps by the likes of Floret, a Washington-based flower farm started in 2008 that is often credited with inspiring a new generation of florist-farmers throughout the country. Today the company has a thriving seed business, has produced several books, and regularly offers online and in-person courses designed to teach amateurs and professionals the tricks of the trade.
"I have always loved learning...and I have always wanted to start a farm school," she said, adding: "My absolute dream would be to have a nine-month apprenticeship program, something I could open up to the country, or to the world. It's really fun to think about the curriculum and things that you learn on a farm. These are things that you take with you your whole life."
This looking toward the future and envisioning ways to reinvent isn't confined to just the flower fields at Morning Glory. In January of 2019, Jim and Debbie Athearn gave the farm equally to all the farm-working members of the family: son Daniel and his wife Meg, and son Simon and his wife Robyn. It's what the Athearns call a family-wide partnership. "It was an amazingly generous thing they did," she said. "We all really love our different jobs on the farm. And I am so grateful for Jim and Debbie."
The elder generation continues to report to work every day, just as they have since the seventies. But under this new plan, Simon is the CEO, Daniel is the COO, Meg manages the booth at the West Tisbury Farmers' Market and will soon take over marketing, and, of course, Athearn has flowers. As a family, they collaborate on big decisions, such as slowly rebranding the farm. Recently, the family hired the Island-based Blue Rock Design Co. to help digitize their vision of a new logo. The original Morning Glory Farm logo was a sun that a kid in the seventies drew on a coffee cup. It was perfect for the farm, but not intentional. "The new logo is a little bit of all of us," said Athearn. "Simon wanted the sun, Dan wanted the stone wall and farm stand, and Meg and I wanted something cheery." The new logo debuted last fall, and a new website is set to launch later this spring.
They're subtle changes, really – ones that many people might overlook – but they're evidence of a new generation trying out new things, sticking with what works, and making an intentional mark on the beloved family farm. And, perhaps, preparing the way for yet another generation to till these fields.
Back on the West Tisbury flower farm, on another warm but breezy summer morning, Athearn was inside her home putting on her boots. Alden, her youngest son, ran up to her. She smiled down at him. "I have to go to work," she told him. He put his boots on right after her. "Me too," he said, and they walked out to the fields, among the sunflowers, together.