It was just a few years ago when the idea of regenerative farming – or any kind of farming – occurred to Amy Weinberg of Greenwich, Connecticut. After watching the documentary Biggest Little Farm at the Telluride Film Festival in Colorado, Weinberg remembers jumping out of her seat asking the guest speakers, the farmers themselves, "What can I do?"
Back at her summer house on West Chop, Weinberg continued to feel like "something was brewing." She couldn't shake the desire to grow food year-round for the Island community using sustainable practices. Not long after, her husband, John, brought her the latest Vineyard Gazette. In it was an article about how Beetlebung Farm, which had been farmed by the Fischer family since 1961, was for sale.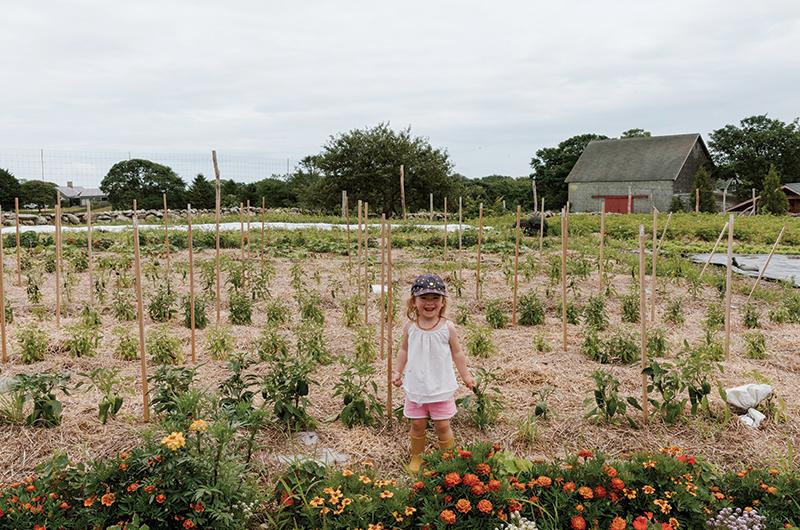 "It just happened," Weinberg remembered.
Jump ahead three years. Sitting on a farmer's porch and sipping tea, Weinberg surveyed the 5.7-acre farm, taking in its construction projects, sixty raised beds, three beehives, and
 blazing forsythia. "I love it all," she said. "But my very favorite place right now is inside one of those new greenhouses. It's like a dream."
Inside essentially looks like garden meets candy store: vibrant veggies and herbs appear in stark contrast to the dismal, gray weather outside. Starter plants for celery, parsley, tomatoes, napa cabbage, carrots, lettuce, and even very tasty arugula flowers (who knew?) are tended to by a dedicated team, most of whom live on site.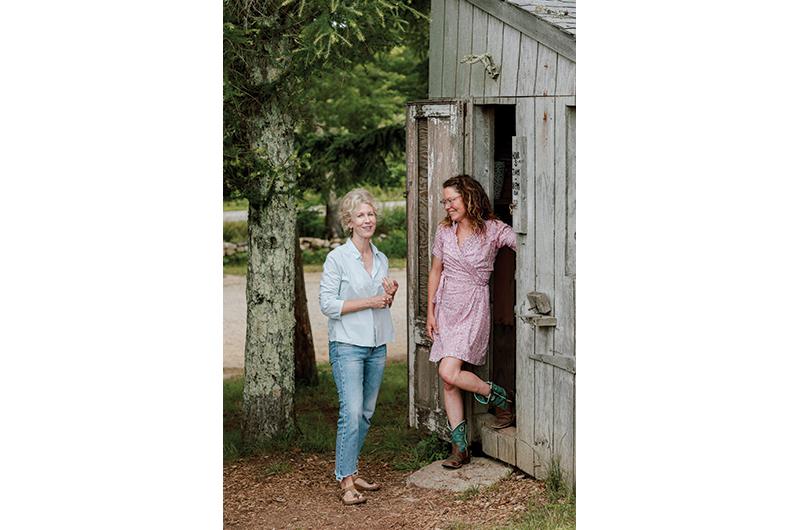 Weinberg, who along with a group of investors purchased the property in 2018, is quick to point to co-founder and farm director Krishana Collins as an equal partner in the stewardship of Beetlebung Farm. The two had met a few years prior but really hit it off when Collins made the floral arrangements for Weinberg's daughter's wedding. "It would never have happened without Krishana," Weinberg said.
By her own admission, Weinberg didn't know anything about farming, and Collins, who is well-known on-Island for the beautiful flowers she grows at Tea Lane Farm, accompanied her to several farming conferences where she devoured the information. In particular, Weinberg found her interests very much in sync with Stone Barns Center for Food & Agriculture in Pocantico Hills, New York. Inspired by that operation, she imagined Beetlebung as a farm that could do more than embody organic practices, but could care for the soil health as well.
Weinberg was so impressed with the operation at Stone Barns that one of her first steps was to hire Kate Woods, who was working as the field manager there. Woods was in search of a new farming opportunity where she could work with her partner, Nick Doherty, who specializes in farm propagation and greenhouse management. Together, the duo co-manages Beetlebung Farm while living in an on-site cottage. "Our regenerative approach is a mindset, an understanding of how systems work. It's farming with nature as opposed to against it," said Woods, whose chief roles include field production and marketing.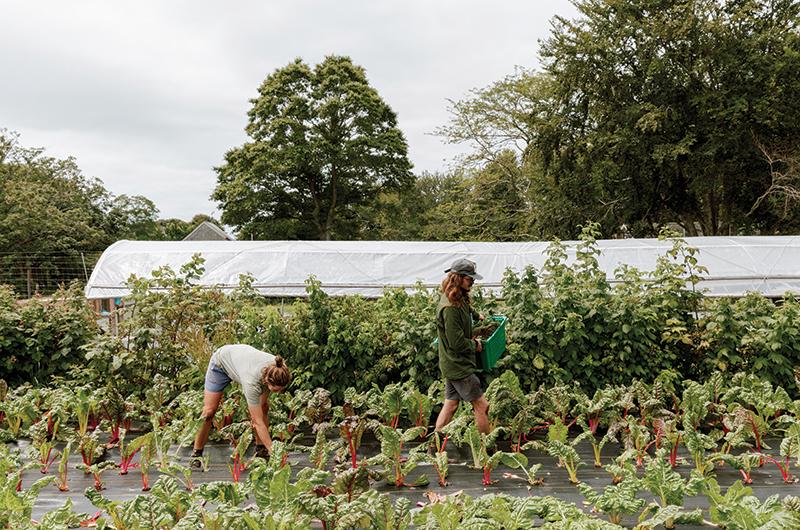 By not interfering too much with the soil's microbial population, sustainable farmers enable these "communities" to do their jobs. Cover crops, reduced tilling, crop rotation, and spreading compost all help to build soil structure. In turn, healthy soils can better absorb rainfalls and sequester carbon. As climate change increases, bringing hotter temperatures and water shortages, this approach is a way to offset its effects.

"We only have twenty years of topsoil left in a lot of our nation's major growing areas," noted Woods. "The role of a small farm is to be a small example of how you can steward a piece of land and feed a community."
Small scale regenerative agriculture, Weinberg believes, is cheaper in the long run because there is no need for heavy equipment, fertilizers, and pesticides. "Our farm is so small that it's actually considered a market garden, and it's how people used to live: small scale intensive production. This is efficient."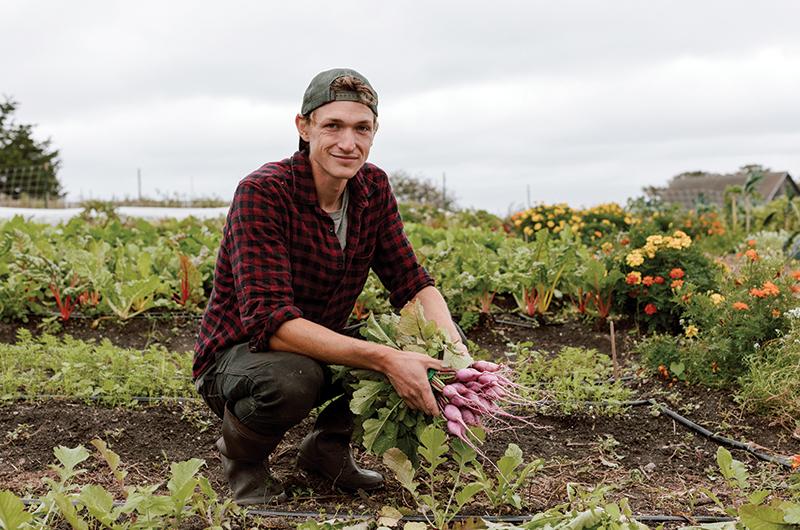 Weinberg was drawn to the farm in part because of its location in the center of Chilmark at Beetlebung Corner. "Including the farm in a town center means we can better share what we're learning," said Woods. The farm is already hosting Chilmark School field trips, and this fall will offer a program where different grades come individually. She hopes that the farm's visibility will be seen as an open invitation to everyone to visit. "When you see farmers in fields, washing, packing, it's part of everyday life. It highlights how involved the work is," she noted.
From the very beginning, Weinberg said, she made reaching out to the agricultural community a priority. When the first Beetlebung manager arrived, she threw a party at the ArtCliff Diner in Vineyard Haven for Island farmers in 2019. The other Island farmers, in turn, added Beetlebung to a group email that includes over seventy-five people who offer favors, such as "I'm taking a truck off-Island next week. Anyone else need grain?" Noli Taylor of Island Grown Initiative has lent critical advice.
As Woods explained about the farmers' circle, "There's so much demand here that it feels like we're not really competing. We want to help each other….Everyone's just finding and honing their niches."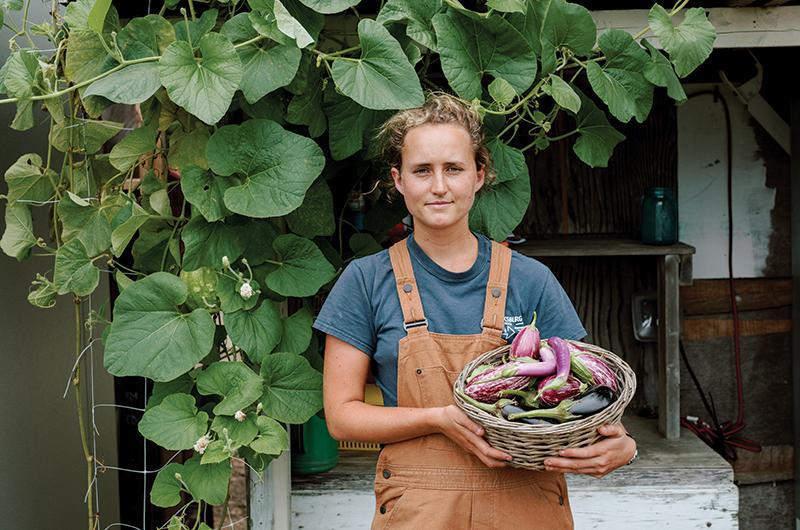 Weinberg's vision, too, has morphed substantially since her first inspirational viewing of Biggest Little Farm. Year one, back in 2019, was an expectedly soft opening year with a focus on building infrastructure and growing "killer tomatoes." In their second year, they faced unexpected challenges due to the Covid-19 pandemic, such as keeping up with enormous demand.

Looking forward, Weinberg envisions hosting residencies, lectures, and dinners inside the newly restored late-1800s farmhouse. She imagines workshops on home growing and reducing food waste. Again, aligning with Stone Barn's approach, a priority is bringing people together who share common interests, especially makers.
"Being a chef is a craft. How can some time on a farm shared with a potter or glass blower benefit these craftspeople? How can they cross-pollinate and share ideas?" she asked. "I want to host supper clubs in the winter, bring different groups together and talk – maybe farmers, nonprofits – feeding people in lots of different ways."
As part of that vision, the Beetlebung team plan to build (pending board of health approval) a "new" barn, a post-and-beam structure salvaged from Walpole, New Hampshire, that will slowly be moved to the farm. Eventually, Weinberg hopes it will house more than basic farming functions, such as washing and packing. "It can open up access to good health food if we can hold space for community by maybe having a commercial kitchen," she said, and then added, "I'm hesitant to say too much more because we need to follow town protocol and work with the community."

This fall, foodies can find Beetlebung Farm's vegetables, herbs, berries, and flowers at such restaurants as State Road, Beach Road, Fantzye Bagels, and Seaweed's. Beetlebung produce is available for purchase at the West Tisbury Farmers' Market and the on-site farm stand. It's a small farm with big plans. And, with the advantage of employee housing, Beetlebung appears – pardon the expression – ready to grow.