The entries came from California to Georgia, Texas to North Dakota, and captured the Island from Aquinnah to Oak Bluffs, Vineyard Haven to Chappaquiddick. There were scenes of sand and surf, of vibrant flora and fauna, as well as people of all walks. And, of course, there were a lot of epic sunsets and trusty lighthouses – in short, all the things that make the Island a great place to explore with a camera in hand.
After reviewing almost 1,000 images, the judges have spoken. Here are their favorites.
First Place
Karen Morgenbesser
Greenwich, Connecticut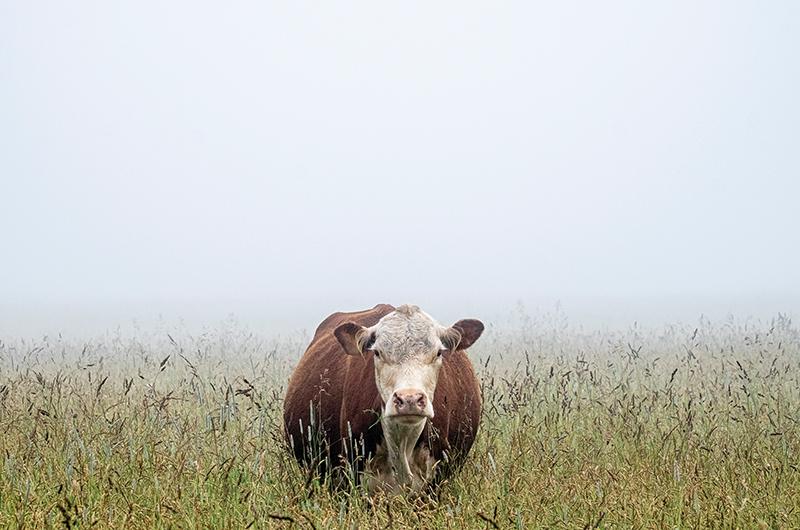 While visiting The FARM Institute in Katama one foggy morning, Karen Morgenbesser photographed a lone cow through the haze. "Peaceful, evocative, striking," said a judge.
Second Place
John Furst
Newton Highlands, Massachusetts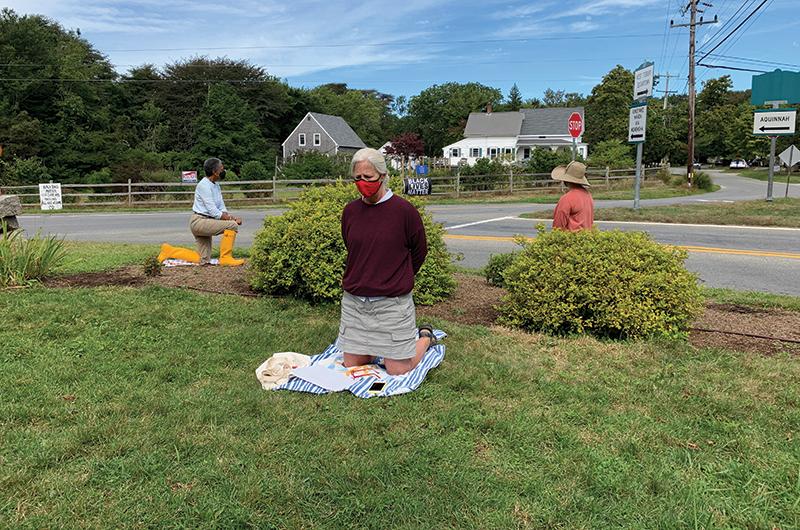 At Beetlebung Corner in Chilmark, John Furst photographed the daily ritual of people kneeling in solidarity with the Black Lives Matter movement. "It's a historic year, with masks and activism becoming part of the new normal," said a judge. "I'm glad there are photos like this to mark the moment."
Third Place
Claire Callagy
Chilmark, Massachusetts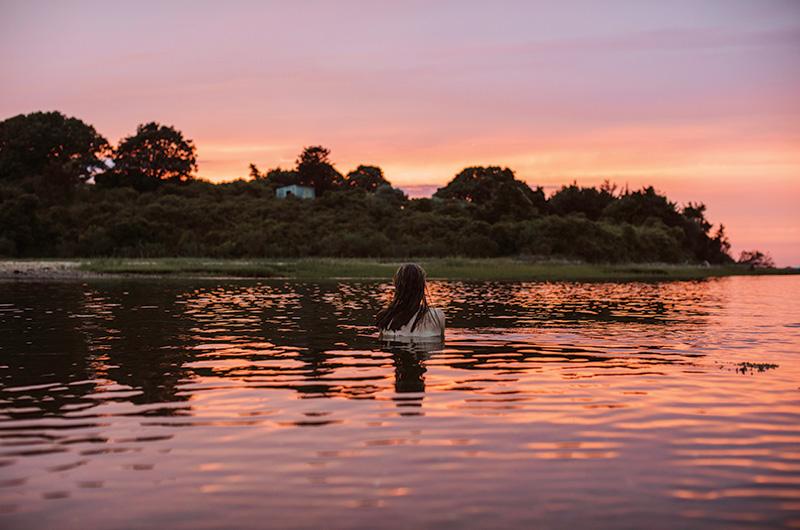 Claire Callagy was on hand with her camera this summer as a lone swimmer bathed in the pastel-reflected waters of Chilmark's Nashaquitsa Pond. "If you have to be socially distant," said a judge, "this is the way to go."
Honorable Mention
Doug Allen
Maplewood, New Jersey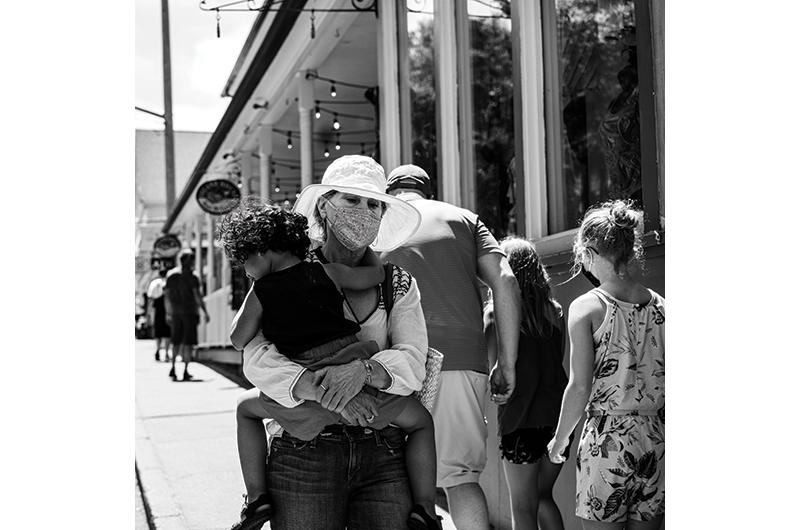 While out on Circuit Avenue in Oak Bluffs, Doug Allen photographed the intimate scene of a masked mother carrying her child. "Love and protection. What more could a child or parent ask for?" one judge remarked.
Honorable Mention
Larry Glick
Sudbury, Massachusetts
Just prior to sunset, Larry Glick photographed the long shadows across the fields from Keith Farm to Beetlebung Farm along Middle Road in Chilmark. "We've all seen this field, but the dramatic shadows make it new," commented a judge.
Honorable Mention
Lisa Rubin
Westfield, New Jersey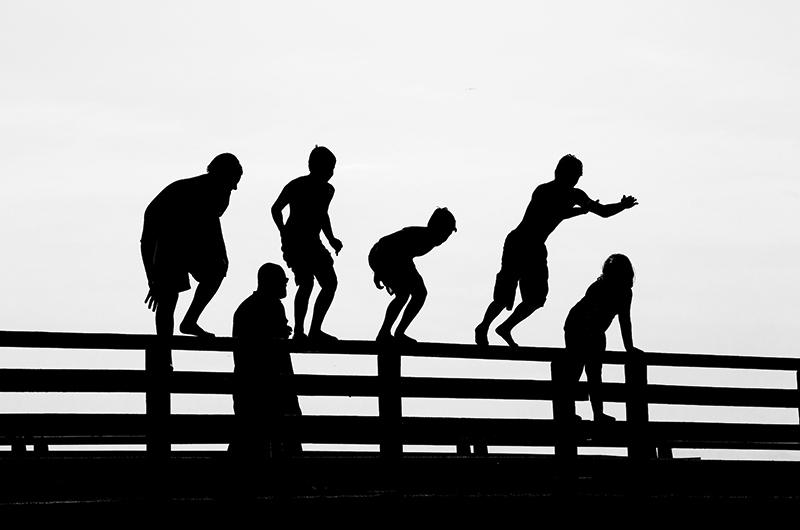 Jumping off the bridge is a classic summer pastime, and a subject that Lisa Rubin couldn't resist photographing. "Who doesn't love a good bridge-jumping shot?" said a judge. "The bold, graphic style of the photo makes this classic scene feel fresh."
Honorable Mention
Dutch Doscher
New Canaan, Connecticut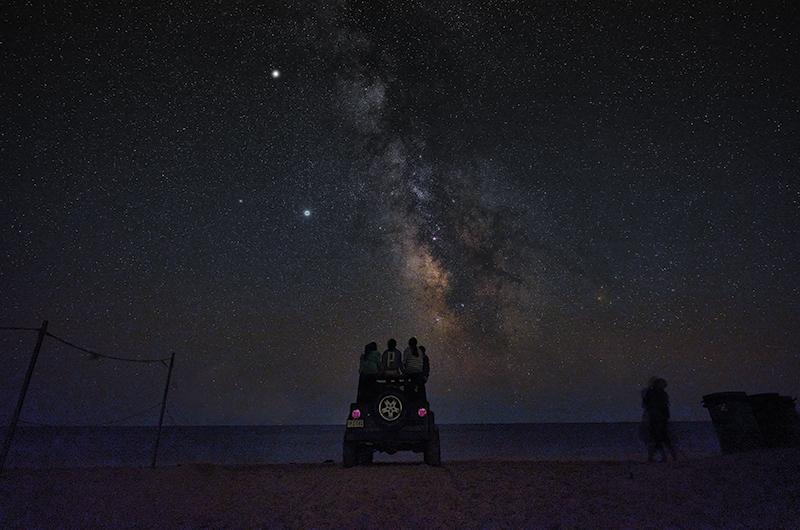 While out on Norton Point, Dutch Doscher utilized a Fujifilm medium-format camera to photograph a new moon sky. "I like the sense of eternity and solidarity in this image," said a judge. "Even though the people are clearly in a modern automobile, you feel the connection to the stone age and beyond."
Honorable Mention
Annemarie Ralph
Vineyard Haven, Massachusetts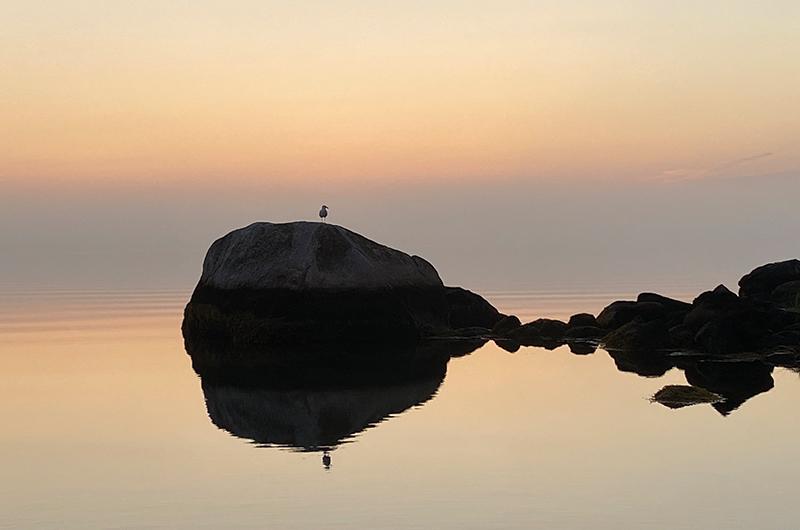 Annemarie Ralph was taking in a sunrise at Menemsha Pond when she observed that the sky and water had seemed to meld. "The symmetry of this photo is captivating," said one judge. "It feels as if time and space have been suspended."
Honorable Mention
Virginia Leussler
North Reading, Massachusetts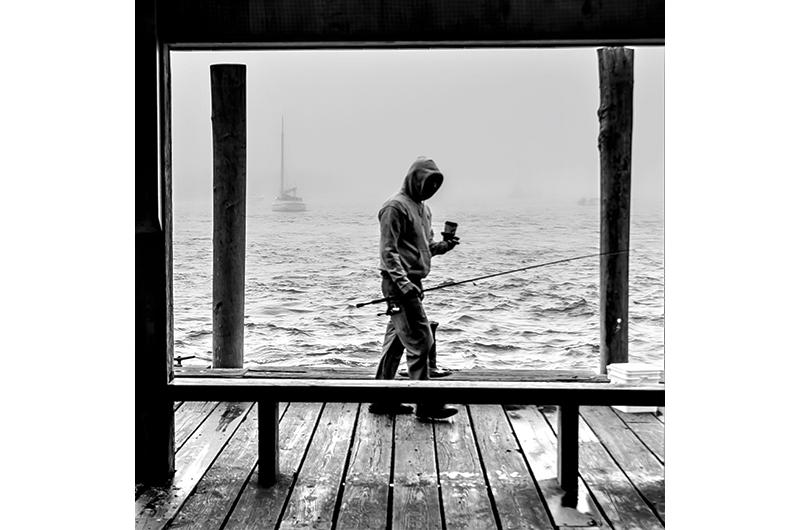 While visiting Memorial Wharf in Edgartown one morning, Virginia Leussler photographed a hooded fisherman in a dense fog. "The portrait is a wonderfully composed moment," commented a judge.
Honorable Mention
Chace Lewis
Vineyard Haven, Massachusetts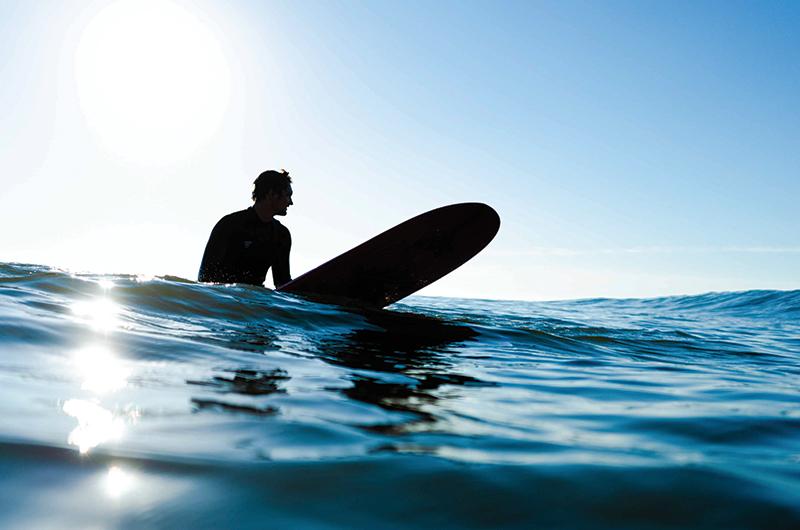 While in search of the perfect wave off the Vineyard's South Shore, Chace Lewis photographed his friend looking out toward the open ocean. "A beautiful immersion into water and sun during that quiet moment between waves," commented a judge.
Honorable Mention
Donna Diaz
West Tisbury, Massachusetts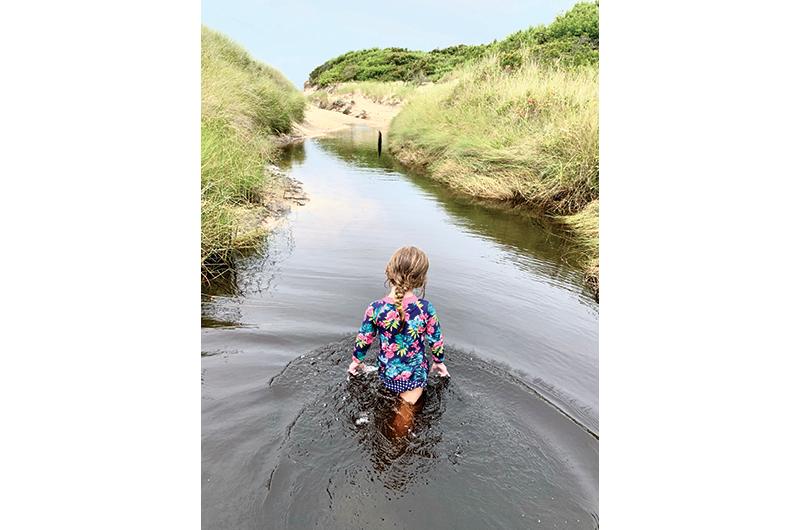 While enjoying a day at Lambert's Cove Beach in West Tisbury, Donna Diaz photographed her granddaughter taking a walk through the Coca-Cola Stream. "The composition [of the image] pulls you in," commented a judge.
Honorable Mention
Margaux Kelley-Portillo
Silver Spring, Maryland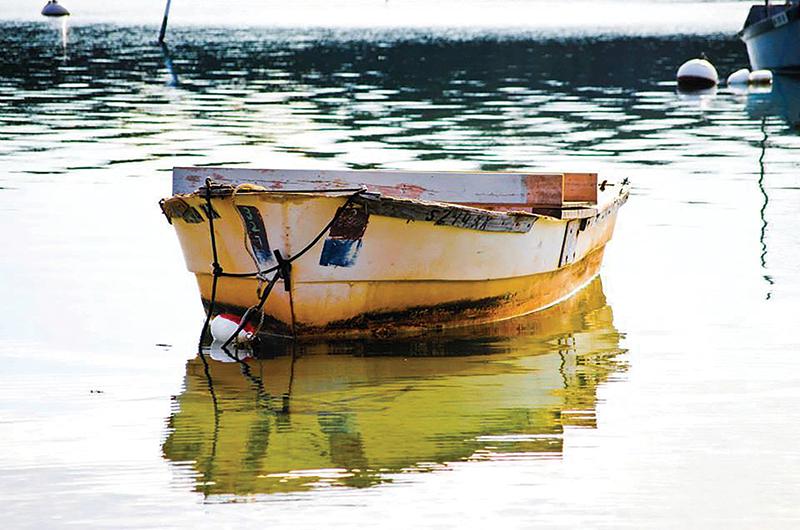 Lake Tashmoo is home to many moored boats, but one in particular caught the eye of Margaux Kelley-Portillo, who found the reflection of the yellow boat an intriguing subject matter. One judge had just two words to describe the photo: "Tried and true."
Honorable Mention
Barry Berman
Reading, Massachusetts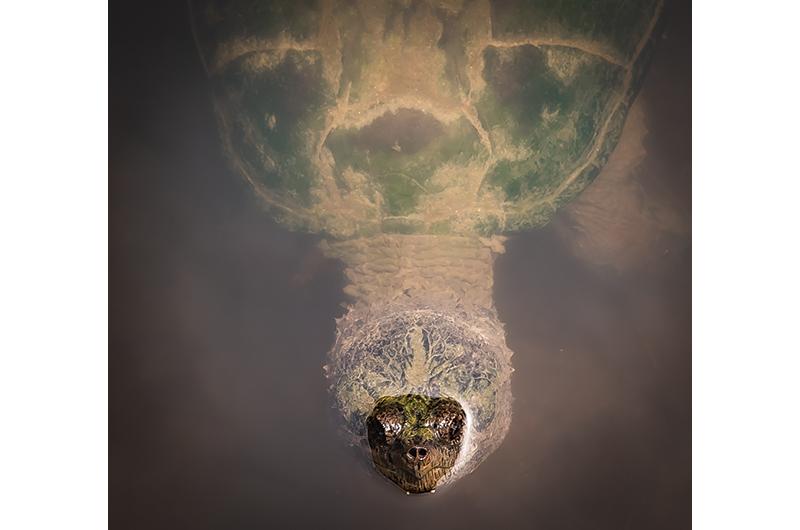 At Mytoi, the Japanese-style garden on Chappaquiddick, Barry Berman was in the right place at the right time with his camera when a turtle poked its head out of the water for some air. "I love the clarity and composition of this photo," said one judge.
People's Choice
William Bishop
Edgartown, Massachusetts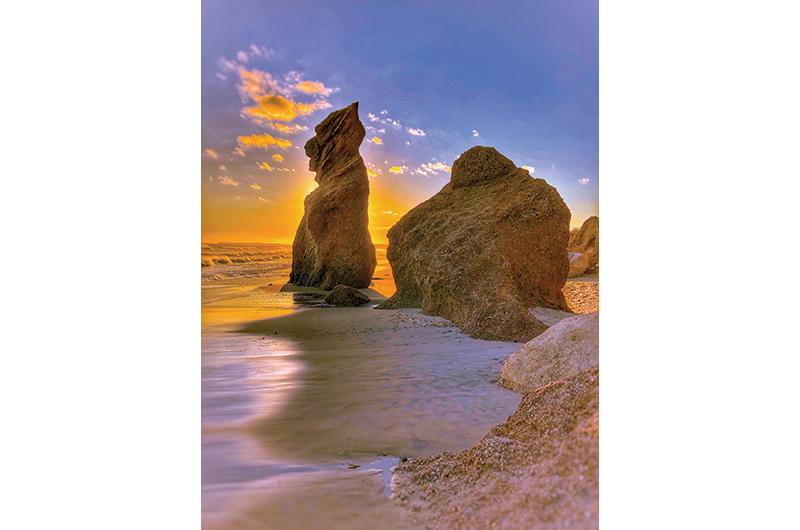 With almost 500 ballots cast, this year's People's Choice award (and the cover photo of the Winter-Spring 2020-2021 issue) goes to William Bishop's image of the iconic sentinel at Lucy Vincent Beach in Chilmark. Bishop captured this image at sunset before the cliff succumbed to erosion this past May.
The Judges
This year's panel included Jimmy Moffat, a West Tisbury summer resident who is the co-founder of Art + Commerce, a leading international photography agency; Yann Meersseman, an Islander, photographer, and co-founder of Vineyard Colors; Dolores Allen Littles, a former director of photography for Time-Life Books who lives in Oak Bluffs; Christine Sargologos, a West Tisbury photographer whose work frequently appears in this magazine; Alley Moore, the art director for this magazine; and Vanessa Czarnecki, this magazine's senior editor and the editor of Island Weddings magazine.