The walls are white. The woodwork is white. Even the floors and 
furniture are white.
But the house itself sings with color, from the cushions on the chairs to the artwork on nearly every wall, while soaring windows bring in ever-changing views of the sky and sea.
This is the Chilmark getaway of artist Carol Brown Goldberg and her husband, Henry "Hank" Goldberg, a builder and developer in the Washington, D.C., area.
The couple bought the house on Peaked Hill Road in 1989 after spending several summers there as tenants. "We rented it because of the view," Carol said – a commanding sweep from Edgartown to Noman's Land and the Atlantic beyond.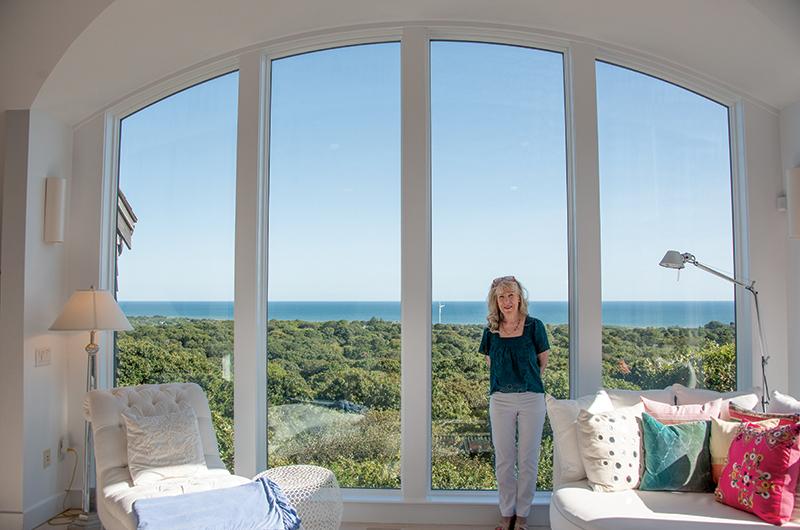 The Goldbergs worked with Bruce MacNelly, of MacNelly Cohen Architects in West Tisbury, to transform the early 1980s home into a weekend and vacation destination with plenty of room for the couple, their three children and, now, nine grandchildren. "It was an Acorn house [a type of prefab home that featured soaring ceilings and expansive windows]," she said. "I feel we turned it into a bit of an oak."
The couple interviewed five architects before choosing MacNelly. "As soon as he walked in, I liked him," Carol recalled. "I felt that he was very much an artist and a good listener."
That first impression deepened as they began to work together on the hillside home, opening up the panoramic southward views and filling the rooms with light from the top floor to the basement.
"What I've liked about the house are the layers," she added.
The upper layer, now the Goldbergs' front entrance, once was the parking area for the house. It was a considerable walk from what then was the front door, but it overlooked the south side of Chilmark and the ocean beyond. "This is where we pulled in," she said. "I'd come out of the car and see this view."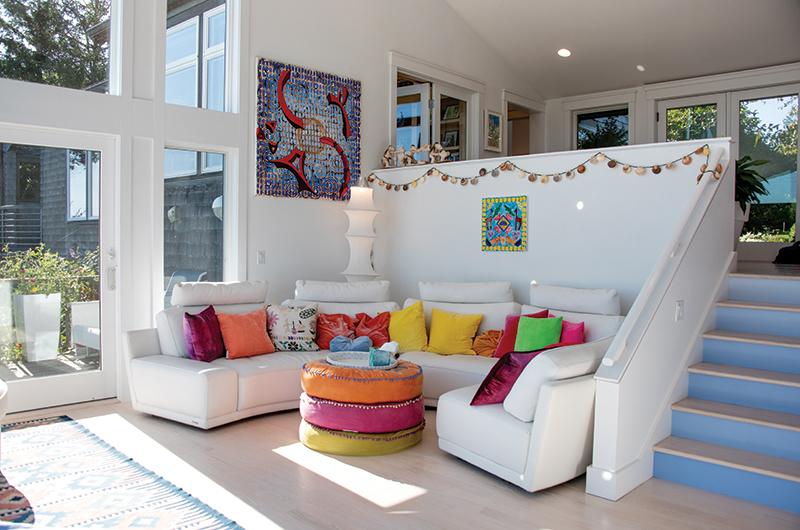 To bring that breathtaking sensation into the house, MacNelly designed a wide, arched floor-to-ceiling window for the addition, directly ahead of the new entrance hall and down the steps that lead to the main level.
"I told him, 'I want as much window as possible so we can come in and get that hit,'" said Carol. The effect, when coming through the front door, is of having the Island and the ocean at one's feet. "It's almost like you say a prayer, 'Thank you that I'm back here, seeing this view again.'"
After transforming the old parking area, MacNelly and the Goldbergs reclaimed more automotive space by converting a detached garage and workshop into the master suite. "Smarty here said, 'What a waste, why don't we connect it?'", Hank said, indicating his wife.
With generous walk-in closets and separate bathrooms – linked by a his-and-hers shower between them – the master provides the couple with the opportunity for privacy when family and friends are visiting, while staying linked to the rest of their home. "We used to have fifteen people sleep here," Carol said.
The couple have since added two other houses on the property where family can stay, though they keep plenty of beds ready for children and grandchildren who want to sleep over.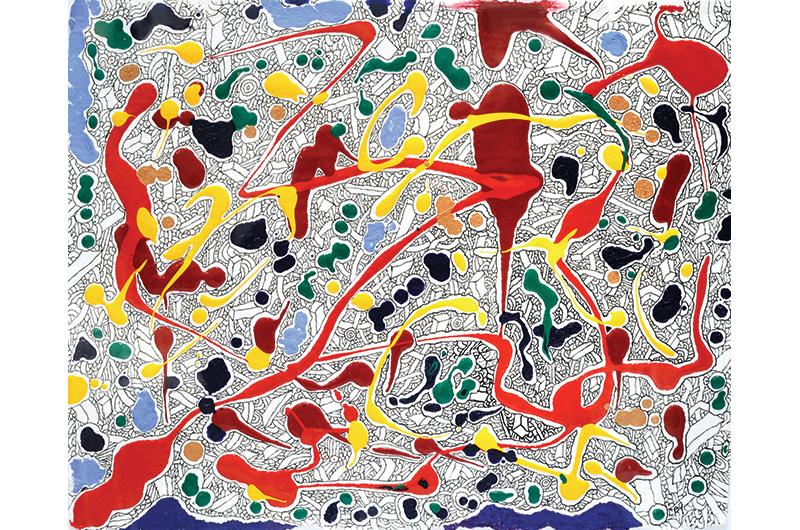 And the Goldbergs have continued to add more living space to their home – most recently, with the help of Peter Breese of Breese Architects in Vineyard Haven, by converting a balcony off the kitchen into what they call the glass room, where windows run from floor to ceiling and treetops crowd just outside. "It's kind of the magic room," Carol said. "It's so magical in the summer. It's like being in the middle of a jungle – 
a nice, safe, tame jungle."
The kitchen and its butcher-block counters are essentially unchanged from when the Goldbergs purchased the home. But, as in every other room of the house, contemporary artworks add life and color to the space. A metal and glass beetle sculpture by well-known American artist Joan Danziger clings to one white wall, while another displays a wood- and beach-stone assemblage by Island sculptor Heather Sommers.
"I love having artists' pieces here," explained Carol, who has also collected works by Jacob Kainen, Tom Martinelli, and other modern masters, as well as pieces by Howard Finster and lesser-known folk artists.
The kitchen, glass room, and a series of living spaces all flow together on the home's main layer, where comfortable white chairs and sofas strewn with colorful cushions abound. Twinkling lights that 
dangle from the ceiling add a sense of enchantment, while canvases by Carol and other painters line the inner walls.
"This house is really for adults and children," 
Carol said. "I like having a seamless life. One thing flows into another. Childhood flows into adulthood, and children grow up in a house that they can be 
adults in," she said.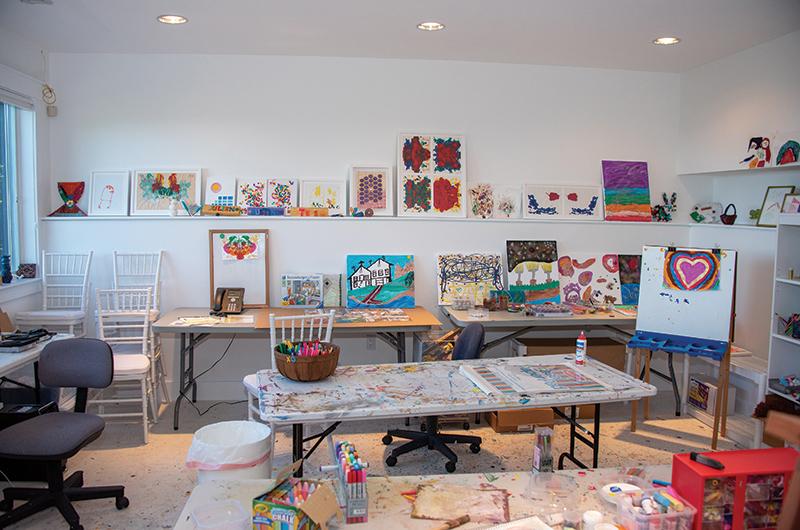 That's why the house has room for everyone to do what they enjoy. Hank has his office, a windowed room that resembles a broadcaster's booth off the main entrance hall, while the children and grandchildren have all the space they need to play a game or assemble a puzzle on the floor; listen to music, read a book, or make art; or watch a movie or walk on a treadmill in the downstairs TV/exercise room.
Carol, for her part, maintains a studio in the home, though her primary workspace is in Washington. "I love my studio on the Vineyard because it's contained; it's small and I don't get distracted," she said.
Nearby is another studio space for the grandchildren, well-stocked with Play-Doh, finger paints, and tiny, glittering mosaic tiles. Seven of the children worked together to create a mosaic bench that now stands in their grandparents' bedroom, where the artwork over the bed was also created by a grandchild. An action painting in black and white by her granddaughter who was nine years old at the time, the piece is recognizably a tribute to Carol's own exuberant style. More grandchild art is framed and displayed in a hallway gallery just for them. Carol points with pride to her six-year-old granddaughter's jewel-toned rendering of a Gordian knot: "She practiced and practiced and wanted 
to do it.
"I didn't do any of this, and I became an artist," she added, noting that her own formal art career began when she entered the Corcoran School of 
Art in Washington, D.C., at age thirty. "What are they going to be? They're going to be amazing."
While seven of the grandchildren spent this summer in Chilmark, along with their parents 
and a set of maternal grandparents, on the advice of a physician the Goldbergs themselves chose 
to shelter from the Covid-19 pandemic at home 
in Chevy Chase, Maryland. There, Carol focused 
on a new series, titled Moments, that features bright, dynamic acrylics with titles that tango with famous artists: A Walk in the Woods with Mr. Klee, 
A Moment with Kandinsky.
Much smaller than her previous works, the pieces she has been painting since February reflect the sense of mortality that has come with the pandemic. "Time is not stretched in front of us now," she said via telephone. "The sense of death is hovering over everything." Yet the paintings themselves still ebulliently reflect her love of life – and its contradictions. Applying vibrant acrylics directly from the tube in bold, thick swirls, she fills in other areas of canvas with detailed outlines suggesting unmarked maps, or unexplored territories.