It was midwinter, post-deep freeze, and a burst pipe had left three inches of water on the floor of Tucker Ragone Functional Art's old shop next door to Vineyard Decorators at the airport. Stacks of precious wood were swollen like sponges.
After heartbeats settled, water was drained and cleanup began. Liz Ragone pointed to a piece of timber. It was old tight-grain fir that for unknown decades, or possibly centuries, had been part of an Edgartown whaling captain's home on North Water Street before being salvaged from a dumpster. "It's perfect for a doghouse if we shave the end," she told her business partner and boyfriend, Brad Tucker.
Though they had neither a dog nor plans to get one, Tucker agreed this particular piece of wood called out for that purpose. He and Ragone set to work building a rustic post-and-beam timber frame, complete with barn-board siding and a collapsible awning – a worthy home for any purebred golden retriever, but not so Architectural Digest that a good ol' Heinz 57 would feel out of place.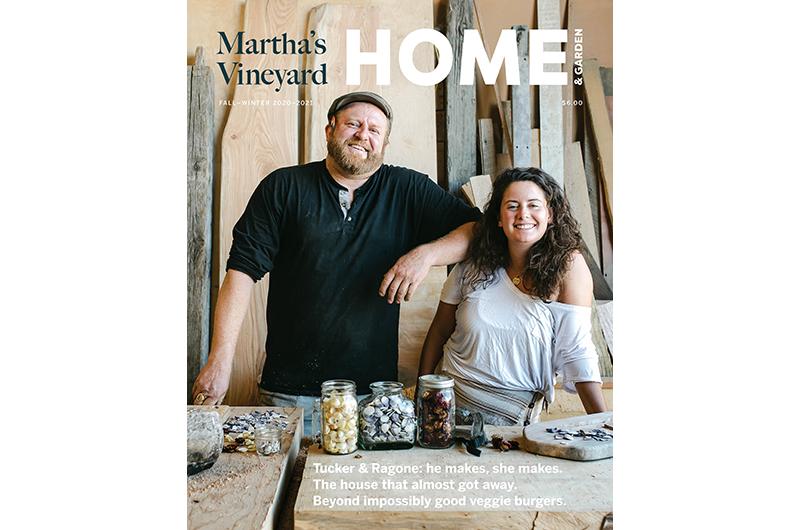 All that was missing now, besides a dog, was a roof. They took a break and walked over to see friends at the nearby liquor store. "Hey, Brion," Tucker greeted both Brion McGroarty Sr. and Brion Jr., two of his old hockey pals who own MV Wine & Spirits as well as the adjacent building that once housed the Hot Tin Roof nightclub. "We just built the coolest doghouse." On the spot, the McGroartys offered up some Hot Tin Roof salvage.
"We now had the Hot Tin Woof!" quipped Tucker. Six months later, Tucker and Ragone got a shop puppy, Ralph, a blue Neapolitan mastiff–cane corso mix who happily occupies said doghouse, most likely finding it a welcome respite from the flying sawdust and incessant drilling noises of the shop.
It's this sense of whimsy and openness to sudden inspiration that guides Tucker Ragone Functional Art. The company itself began roughly five years ago under the name Mill & Mason after Tucker started "building random things" and saw a business for what he was creating. Today, it is known for turning salvaged materials into furniture, cutting boards, and cabinets, and has garnered attention both locally (a recent table won Best in Show at the 2019 Martha's Vineyard Agricultural Fair) and internationally (pieces have been shipped as far away as India.)
Most people come across a woodpile and just see, well, a woodpile, explained Tucker. But for some reason that he can't quite explain, Tucker sees the makings of beautiful goods – or, as the company tag line puts it, "Custom handcrafted functional art." He imagines anything from buckeye burl end tables to wampum-inlayed old growth timber and hollowed-out elm rounds filled with beach stones.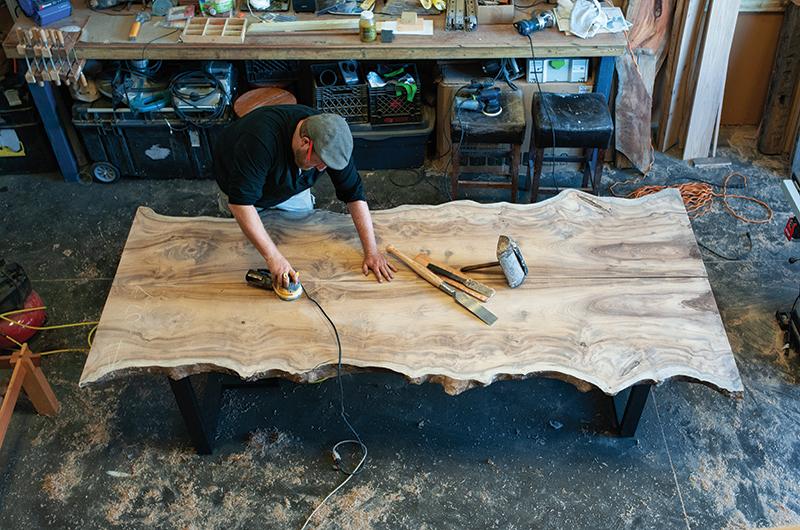 "It's the same material customers want designwise, but 
they can't imagine what's possible from its raw form," said Tucker. "Not until it's turned into a table base do they think it's incredible."
A sucker for roadside debris, he will spot a particular fallen tree and, when he realizes no one is coming for it, "almost get rear-ended stuffing it into my truck. Once someone even yelled, 'Get a job, hippie!'" In addition to self-salvaged materials, a growing list of friends in the contracting business now call on Tucker Ragone Functional Art to rescue materials from job sites. "I have found beautiful barn beams in dumpsters. People don't always think aged wood is precious," said Tucker. One look around his studio and it is obvious how sadly mistaken those people can be.
In Tucker and Ragone's hands, the materials are turned into unique creations. Take the counter they made for customers Jen and Carl Woods of West Tisbury. The handsome reclaimed maple slab showcases a smattering of rocks the Woods children found on a beach walk. The family laid everything out themselves, and Carl, an avid fisherman, couldn't resist incorporating a few of his most trusty jigs and a Deadly Dick lure. It's all now encased in epoxy that looks like water. "It was fun to do a project that toddlers could take all the credit for," joked Ragone.
Or consider a table created for writer and activist Rose Styron of Vineyard Haven featuring a circular inlay of various shells, strawflowers, and dehydrated vegetation on painted pine with a cedar base.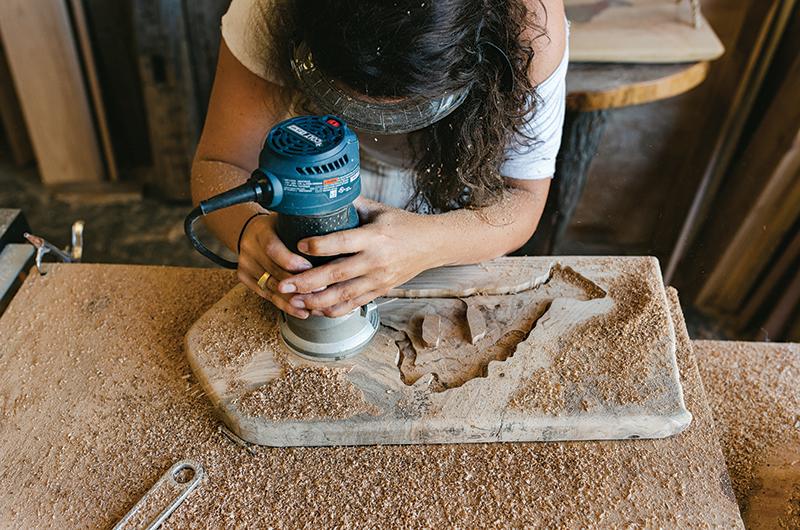 This inlay technique has become a signature style, and Ragone, who joined the company two years ago after working in fashion design, has a lot to do with it. "She doesn't help," Tucker says of his partner. "She is half of it….The features people love about recent projects wouldn't have happened [without her]."
He's referring specifically to the three pounds of wampum they just laid into a sycamore table, and their new coasters with strawflowers – but really, it could be any number of projects. 
"I wouldn't have put flowers in coasters. I wouldn't have put flowers in anything," he said. Which isn't to say that Tucker 
is scared of unconventional materials; past experience as a stonemason and carpenter has inspired him to mix mediums.
"I keep an open mind – I can always learn something 
from someone, even if I disagree with it," Tucker said, trying 
to explain the origin of their style.
The pair met in 2017 after Ragone, a Cape Cod native, left the San Francisco fashion industry to move to the Vineyard. She took a job bartending at Offshore Ale Co. in Oak Bluffs while seeking creative work. It wasn't long before she met the Island-born and -raised Tucker, a talented musician who often played on nights she worked. The two soon found they had even more synergy in the shop than at the bar. "Our styles are compatible," said Ragone.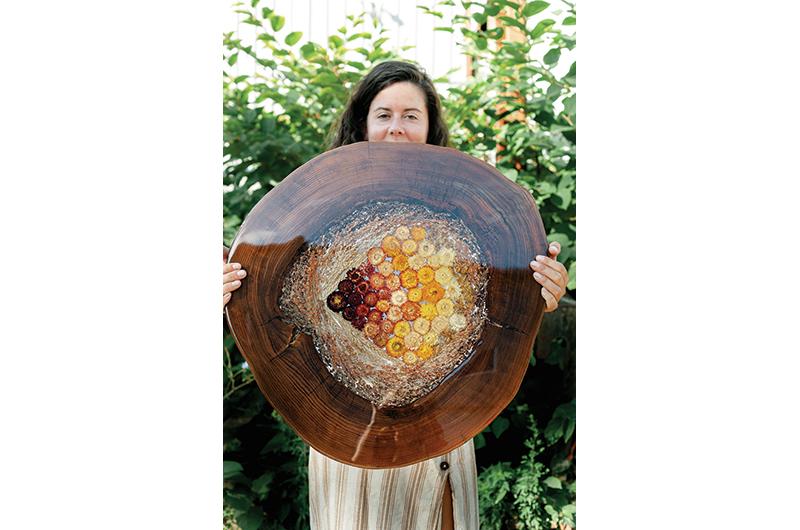 At that time Tucker was not long back from Nashville, 
which had been his home base for seven years while he toured the country as a musician. But even on the road he never lost 
the urge to work with his hands. "I was making origami in the back of tour vans," he remembered. While in Nashville, he 
also began repurposing local whiskey barrels into coffee tables and barn siding into dining tables. "Making money and filling time," he explained. "It was easy with Home Depot down 
the street."
Tucker is still a hardware store junkie of sorts. "It's like, I can't stop working until Cottle's closes, because there's always one more thing to run back for," he said. He estimates that he and Ragone probably spend 70 percent of their day preparing and 30 percent executing. His own day typically starts with what he calls "nerd time," watching how-to videos at home before heading to the shop around noon and working as late as 2 a.m. Once engrossed in a project, in other words, it's hard to stop.
After a handful of years in business, Tucker Ragone Functional Art has hired its first outside employee, Colin Hurd, a builder who is also interested in more creative work. It also has moved into a new shop in the industrial park behind Trip Barnes's place in Vineyard Haven, where the team has big plans for internship programs, internet sales, and a host of products large and small.
"I'd love to build a whole team one day," said Tucker. "For now, if I could just get Ralph [the dog] over there prosthetic thumbs….I wish he could at least hold something." Ralph, asleep in the Hot Tin Woof, paid no attention.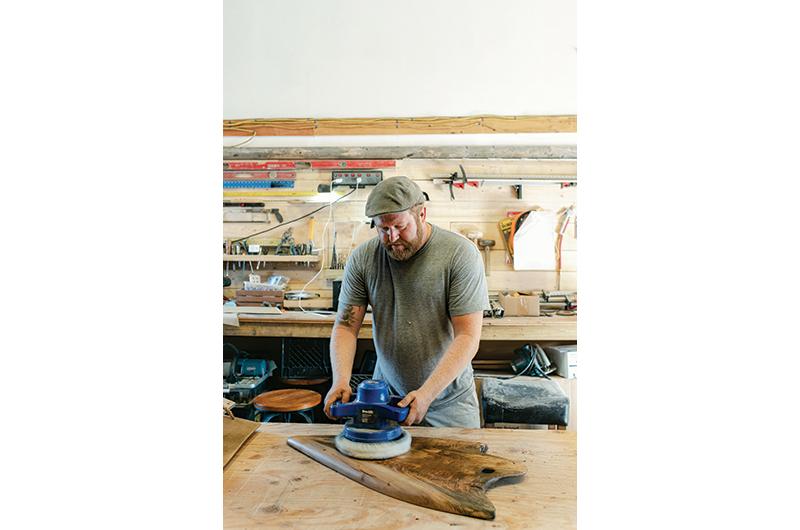 "There's nothing I can think of that we can't make. The sky's the limit," he beamed, pulling on his signature cap. Still, he said, hands down the hardest part of the job is "selling stuff, dealing with the managerial side of things – getting it to the right eyes." To help make ends meet he still plays music, and does stonework and "oddball jobs."
"If I didn't have to earn a paycheck, I'd just be creating all day long," he said.
Ragone agreed. "It's all just so fun without someone telling you what to do," she said. "It's so beautiful because it comes right from us."
Tucker Ragone Functional Art's work can be seen online at tuckerragone.com and by calling 615-999-3141 to make an appointment.