Quite naturally, fishermen and hunters lean toward art that celebrates outdoor themes – and that does not self-destruct after dropping $1.4 million for it at a Sotheby's auction.
Irrespective of the cost or name on a piece of art, I think the vital element in the equation is the personal thread that connects an individual to a work he or she finds meaningful. Over the years, my wife, Norma, the truly artistic member of our family, and I have acquired prints and paintings that hang on the walls of our small Cape-style house. Our collection is modest but linked to memorable experiences and personalities.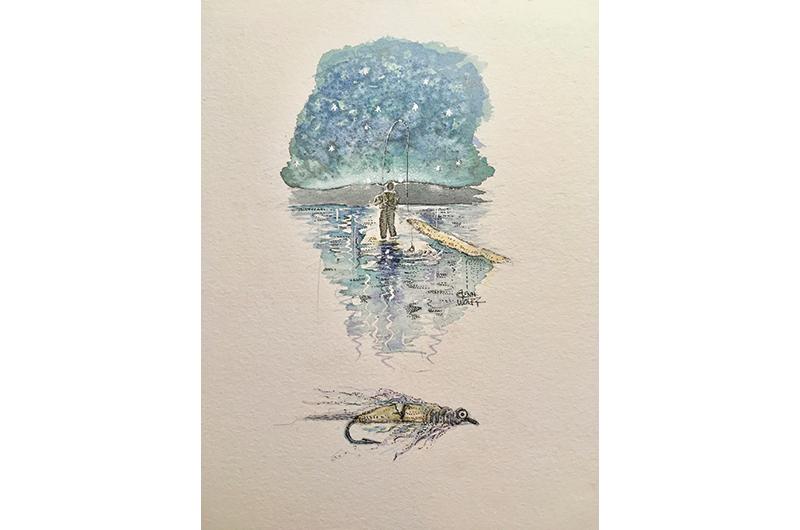 One summer, while working as a shore fishing guide, I took George Bramhall of Pennsylvania and his friend to Cape Pogue. A rainstorm had passed. A rainbow appeared and I took a photo. George asked if he might have a copy. I was happy to oblige.
Months later, a nicely framed oil painting of three men fishing on the shore of Cape Pogue Bay and a rainbow in the sky arrived in the mail. I think of George's gentlemanly manner and enthusiasm for fishing on Martha's Vineyard when I look at that painting.
For twenty-six years beginning in 1979, artist Glenn Wolff of Michigan provided the fine pen-and-ink drawings that accompanied West Tisbury resident Nelson Bryant's Outdoors column, published in The New York Times from 1967 to his retirement in 2005.
In July 1994, Peter Conway, a fan of both men, arranged a show of Glenn's original and limited edition prints at the West Chop Club. Although the two spoke on the phone and exchanged letters, Glenn and Nelson had never met.
During his brief stay, Glenn, a trout fisherman, accepted my invitation to fly-fish for striped bass. Late at night, with the illumination cast by a starlit sky, he and I stood on a sandbar in Lake Tashmoo and cast to stripers slurping sand eels on the surface of the water.
I was fishing with a sand eel fly I had tied that relied on a sliver of balsa wood to keep it on the surface. The fish were finicky, but the fly was effective, and I continued to catch fish until one particularly violent strike fractured my sand eel imitation.
At one point, I told Glenn that no camera could ever capture the beauty of the evening we were experiencing. Only an artist could do that, I said.
Months later, a package arrived from Michigan. Inside was a watercolor of a fly-fisherman under the night sky in Tashmoo. Under the image was a detailed drawing of the slightly fractured fly I had used with some success that evening.
Artists remember images. Glenn perfectly and simply captured the beauty of that evening. And his unexpected gift illustrated the bonds that arise from a shared fishing experience.
One print on the wall over our television set reminds me how lucky I was to marry a woman who understands the passion that drives Island fishermen.
It was the last day of the forty-ninth Martha's Vineyard Striped Bass & Bluefish Derby, and I knew that Gary Look of Edgartown had caught a 12.44-pound bonito off Cape Pogue. (His fish set a new all tackle Derby record.)
When I arrived off Cape Pogue in my skiff, there were a number of fishermen chasing breaking schools of bonito. I had no interest in joining the fray so I tossed my anchor and broke out a ham and cheese sandwich. A pod of bonito broke off the bow.
I dropped my sandwich, grabbed my flyrod, and cast a small white bunny fly in that direction. A pod broke off my stern. I lifted the line and dropped the fly behind me. I was on.
Once back on shore I went to the Edgartown house of my friend Cooper "Coop" Gilkes, owner of the tackle shop by the same name. I had been practically living at Coop's over the duration of the Derby, while Norma attended to our three-year-old daughter, Marlan, and watched over the Chilmark household where we lived as caretakers.
Norma had had quite enough of my absence. That was evident when I called her from Coop's with the news that I had caught a 10.81-pound bonito. "Honey, I caught the winning bonito," I said.
"Big friggin' deal!" was her response before she hung up.
At the awards ceremony the next day, my fish took first place in the boat bonito flyrod category. The Derby was over.
A few days later, when I returned home from work, I found a package and a card on our kitchen table. A framed print of a bonito by Island artist Ovid Ward. The card, written by my daughter, and guided by my wife's hand, read, "Daddy, I'm so proud of you for catching the big one. Love, Marlan."