While "sheep-shearing demo" may not be on your bucket list of life experiences, it probably should be. That is, of course, if Andrew "Andy" Rice is wielding the shears. I got my chance to see the man in action early last summer when I drove out to Northern Pines Farm in Tisbury, down a seemingly endless dirt road. Rice, who is seventy-three, was already hard at work. All around him young, brawny men in Offshore Engineering T-shirts (farmer John Packer's other endeavor) were taking a break from dock-building to help wrangle the farm's flock of sheep.
As I approached, John and his wife Janet stood near a wooden pen crowded with a mix of about ten ewes, eight lambs, and a single solid ram. Rice was squatting nearby, a broad, muscular man in dirt-stained overalls. He sat with one knee raised, a calm and unsuspecting ram lamb pulled up against his legs, the lamb's undersides exposed in a manner that left little to the imagination.
I'm not by any means an expert in anything farm or sheep related, but it became quickly clear that this little lamb was in for more than a haircut.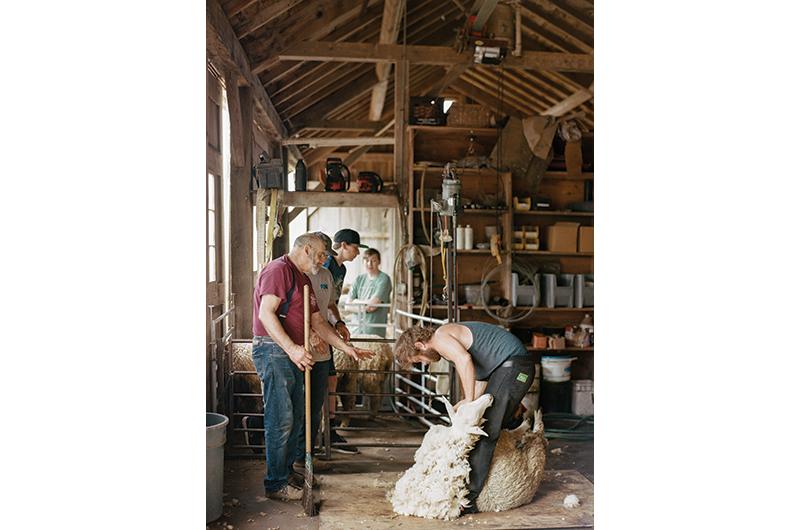 "Shepherds have been doing this for thousands of years," Rice explained, gently bracing the lamb's torso with one hand while lowering a small knife into its nether region with the other. "At Cornell, they still teach you to use your teeth. Your hands can get too slippery." (In response to an email request, a spokesperson for the Cornell University College of Veterinary Medicine said, "I haven't been able to talk to anyone who can confirm this is a process taught or affiliated with Cornell. Sorry we can't help.")
A quick slice, an invasive tug, and a wayward toss – yes, a toss; protective footwear is a shearing wardrobe essential – and the lamb was successfully neutered. The actual "procedure" lasted less than a minute, with not so much as a baaa in protest. No blood was spilled (cauterizing powder and an antibiotic spray were applied for quick healing) and moments later the lamb was placed in a second pen with his recently snipped brothers, none of whom seemed any worse for wear.
Rice made easy work of the remaining lambs before moving on to the main event. Between clients, he chatted easily about his semiannual visits to the Island, the art of shearing, and the time Temple Grandin put his whole life into perspective.
Rice was born in New York City but moved to Westchester with his family soon after, where he discovered a deep and lasting affinity for animals. "I was the guy that everybody brought every baby bird that fell out of its nest," he said. "I had everything: snakes, and bats, and shrews, you name it."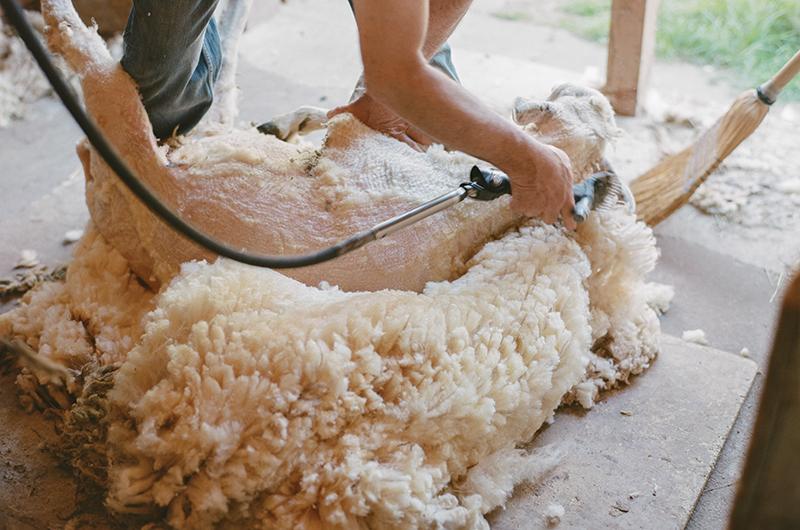 After school (he left Marlboro College in Vermont five weeks before graduating to join the Navy – "every parent's nightmare"), Rice, who had always been handy, found work repairing tugboats and then as Mister Fix It, the handy-man service he offered for decades out of his adopted home of Halifax, Vermont. "There was a guy that had been a professor when I was in college," he remembered. "He had a big farm with fourteen rental houses. He kept on hiring me to do repairs and eventually he brought me out and made me foreman."
This is where he rekindled his connection with animals, caring for the farm's cows and horses, and eventually sheep. A self-proclaimed jack-of-all-trades, Rice was dissatisfied by the performance of the first shearer he hired. "The guy cut the living crap out of them," he recalled. He decided to learn the trade himself and today has clients all over New England, from the Canadian border down to southern New York.
Though Rice has visited Martha's Vineyard with friends since the seventies, it wasn't until the mid-nineties that he took over as visiting expert in all things sheep. It started with a call he received from Clarissa Allen of Allen Farm in Chilmark one summer. "She said that half the Island still hadn't been sheared. It was the beginning of August, the week the Kennedy plane went down," he remembered. He worried that he'd never get on a boat, but luck (and perhaps the Vineyard sheep lobby) was on his side. The next day he was traveling from Island farm to Island farm, on the first of what would become regularly scheduled tours of nearly every Vineyard flock.
This year, he estimates there to be about 300 sheep on the Island. On any one of his visits (including a quick trip to Naushon in the Elizabeth Islands chain) he stays for about ten to fourteen days, aiming to hit up to five farms a day. Rice's full-service, on-site sheep care typically involves shearing, vaccinating, deworming, hoof clipping, and, of course, the neutering.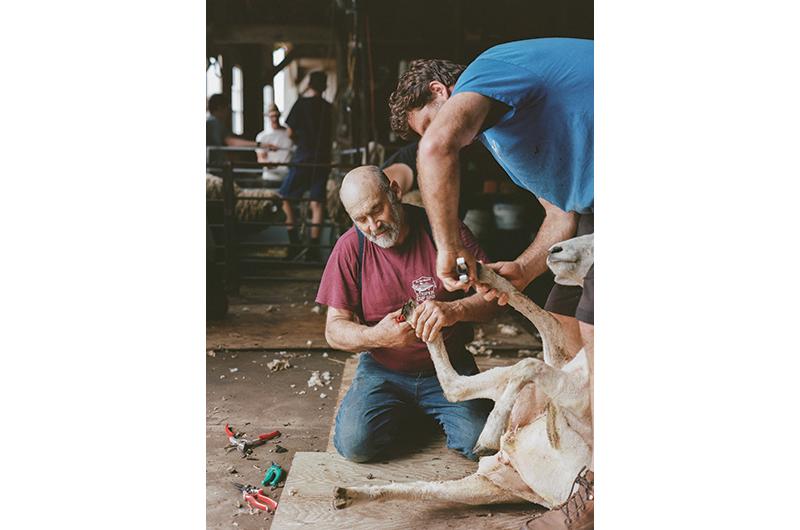 But it's the shearing he's most known for, by farmers and – thanks to popular demonstrations he gives each year at the Farm Institute's Sheepapalooza as well as the agricultural fair in August – by the Island community. "He's the sheep whisperer," Janet Packer said. "There's never been anyone like him."
His gifts lie not only in his ability to keep the sheep, which often weigh up to 200 pounds, docile and happy, but also in his technique, which he has down to a science. Holding the shears – sharp, motorized clippers attached to a hanging motor he rigged himself – in one hand, he stabilizes the sheep between his other arm and two legs. The whole operation takes Rice precisely thirty-four moves: down the belly, around the bottom, up the other side, then around for the back, neck, and head.
The ultimate goal is to get the fleece off in one piece, which happens for Rice "just about every time." The newly shorn sheep trots off virtually nick-free, another mark of an expert handler.
Also essential to a successful shearing session is the ability to keep all of the sheep, who are easily spooked and notoriously wily, in one place long enough to get them all groomed, dewormed, and vaccinated. Occasionally, between
one event and the next, one will slip away. That's when he calls for reinforcement.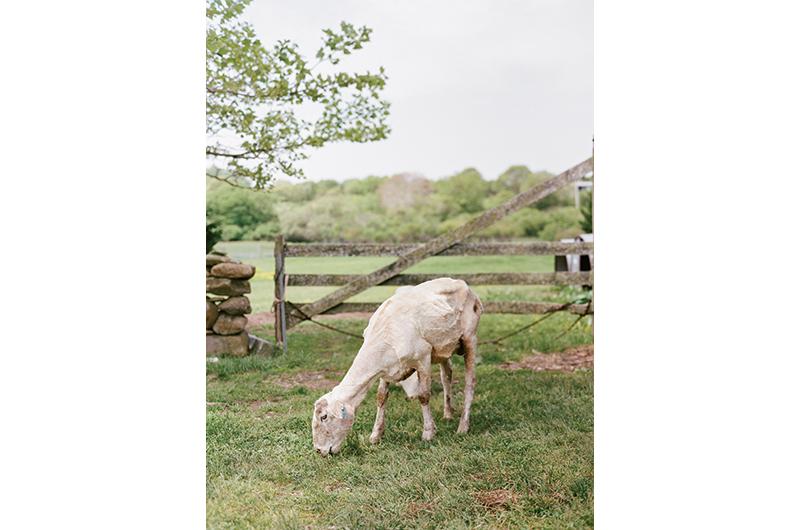 Meghan, his beloved sheep dog, may look like she's sleeping on the job, but all it takes is a whistle and she gets down to business. In the event that a ewe escapes, Rice calls out commands, and Meghan begins her dance of chasing and pausing, gradually corralling the runaway sheep back toward the pen. (Meghan, too, is available for demos.)
Rice's respect for the animals is apparent in every move he makes, but he didn't realize he'd found his calling until he met famed author and animal behaviorist Temple Grandin at a book signing. "I had a long conversation with her," Rice said. "I told her I didn't know why I was able to do the things that I can do with animals. I have all kinds of learning disabilities. She said, 'That's why you can do it.' She justified my whole existence in about five minutes."
At seventy-three, Rice is beginning to feel the effects of decades spent wrangling livestock. His hands are calloused from gripping the shears; his shoulders, hands, and wrists have all been rebuilt. His legs and back ache from a compressed lumbar (though that wasn't farm related; he got it from bumping along fishing on an Island friend's boat).
"I'm slowing down," he admitted, as Janet stuffed the last of the freshly shorn wool into a giant bag. "I can't throw around sheep all day anymore."
But he can still speak their language. The last ewe of the day began to struggle as he held her into position. Rice huddled over her and stroked behind her neck.
"Life's too short," he whispered. "Just relax."