Like so many, Pam Benjamin's Island love story began on a boat that sailed ashore and never left. It was 1972 and she and her husband, Nat, came to the Vineyard at the suggestion of friends. "Nat had been here as a child in the summers," Pam remembered, as we sat in her three-season-porch on a too-cold spring afternoon. The couple had been from Europe to the Caribbean, sailing and working on their boat, with plans to end up somewhere near Maine. "But as soon as I walked ashore I thought, 'This is the place. We're not moving.'"
Today, more than forty years later, the Benjamins are Island fixtures. Nat continues to design and build boats and is a co-founder of Gannon and Benjamin Marine Railway in Vineyard Haven. Pam, again like many Islanders, has worn a number of hats. She has been a mother and teacher, an artist, and with her husband, an activist and advocate, working with community centers and orphanages in hurricane-ravaged Haiti.
But her life's work, the passion that has guided her through and between it all, can be found in a small but bustling space adjacent to her harborside Vineyard Haven home. Once a boatbuilding studio, the space now hosts hundreds of children year round, as home to the Sense of Wonder Creations summer camp and after-school art program.
Sense of Wonder and I share a meaningful anniversary; I was a camper for the program's inaugural season in 1991. It was my first full summer on the Vineyard, the first time I made "summer friends." That summer also introduced me to the interdisciplinary style of learning and working that I would go on to explore as a student and young adult. Back then, of course, I mostly just appreciated the running wild in the woods, playing with paints, and puppet shows that made up our daily routine.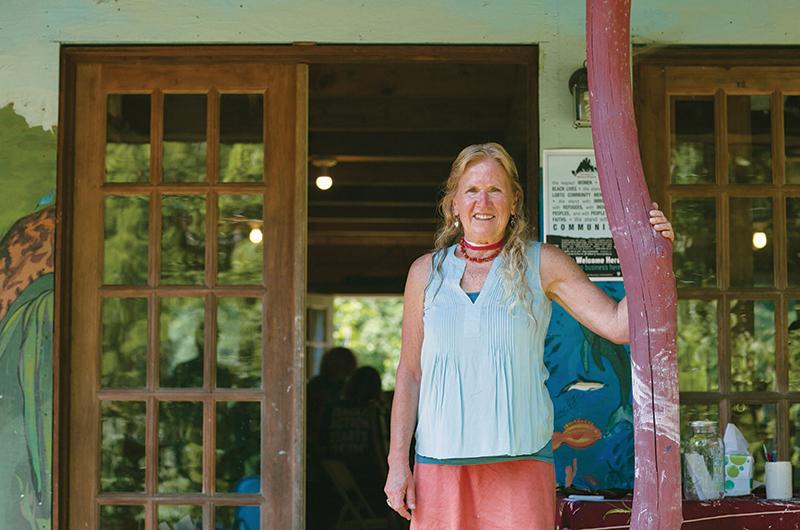 That sly, almost subversive introduction to big-picture thinking and a greater awareness of the world through the arts is at the heart of Pam's agenda – if it can be called that. Better, perhaps, to call it a mission, as the goal of her wide-ranging programming is nothing short of a call to service. The philosophy that guides the camp is based on the idea that inspired, globally-conscious children grow into inspired, globally-conscious adults – adults who might one day change the world.
It may seem a lofty goal, and indeed it came to Pam from a lofty place: a spiritual calling of sorts that Pam said she received during a daily practice all those summers ago. "I was asking for guidance, and the answer came as a combination of all of the things I'm passionate about," she said of her inspiration to start both the camp and the after-school program in the same year. After going back to school for printmaking at the School of the Museum of Fine Arts in Boston, and helping to start the Montessori school and teaching art there, she knew she wanted to continue sharing her love of the creative process with children.
But she also knew from the beginning that she wanted the program to be about more than just art. "I was always very interested in social and environmental consciousness," she said. "I definitely wanted to have a higher goal mixed with art and creativity."
That higher goal quickly took the form of nurturing an environment where children were learning about different cultures and creating art inspired by a desire to help and connect with others. "The art medium is the vehicle for helping to educate young people to understand how they can make a difference in the world," said Pam. And over time she developed a three-pronged approach: "Through fulfilling themselves, helping other people, and being creative."
In the summer program, this relationship between art and culture is deepened by guest visitors who spend time with the children each session, many coming from far and wide. Dancers and musicians from South Africa and Uganda, as well as award-winning authors, artists, theater professionals, and puppeteers are all on the schedule for this summer, for example.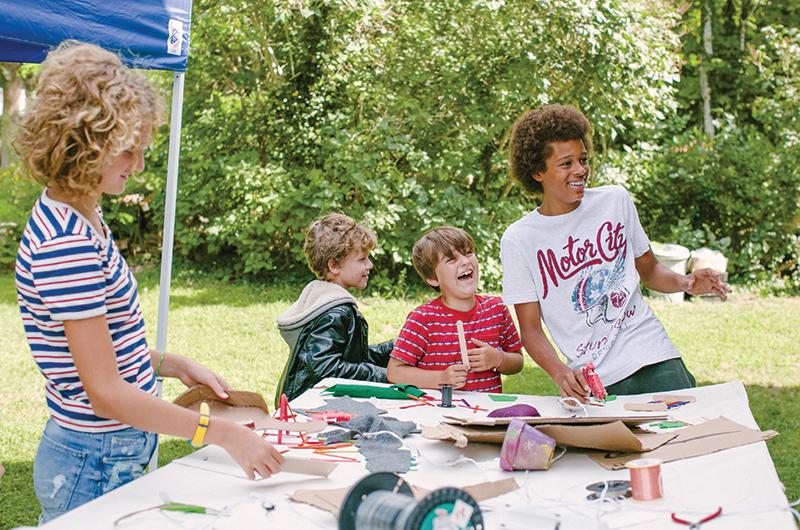 Cross-cultural and cross-class connections are made not only between campers and visitors; many campers themselves come from other countries. In any given season children join the program from seven or eight different countries. Many of the campers also receive financial aid from the camp, part of an effort to make the experience available to everyone who wants it.
These interpersonal connections, along with the power of art-making to open a child's mind and understanding, are what Pam feels make the program so powerful. "When I talk about something deep and profound, about helping other people, it reaches their hearts," she said. "A moment later they can be running around, but it gets to them. They know."
The empathy and awareness campers cultivate during their time at Sense of Wonder stays with them well beyond the summer season. Many campers come back year after year, ultimately moving up in the rank to Leaders in Training, before becoming counselors themselves. "Some of them have stayed all the way until they are in their early twenties," Pam said with a smile.
And as the camp has grown – the first summer saw fifteen campers per session, and last year there were thirty-five – so has the tribe of Sense of Wonder alumni, many of whom Pam continues to hear from on a regular basis. She seems proud, though not surprised, that so many of them have gone on to careers in service or the arts.
Islander Lily J. Morris is one such camper. Now an accomplished fine artist who splits her time between Hudson, New York, and Los Angeles (where she's currently painting for a film starring Sandra Bullock), Morris started attending Sense of Wonder at the age of five. She later worked as a counselor and counts Pam as one of her greatest mentors. "Pam has created an environment that teaches children about social and environmental issues, with the understanding that we all are a part of the same family," Morris, now thirty, said. "She's someone who wakes up every day and truly lives the things she believes in."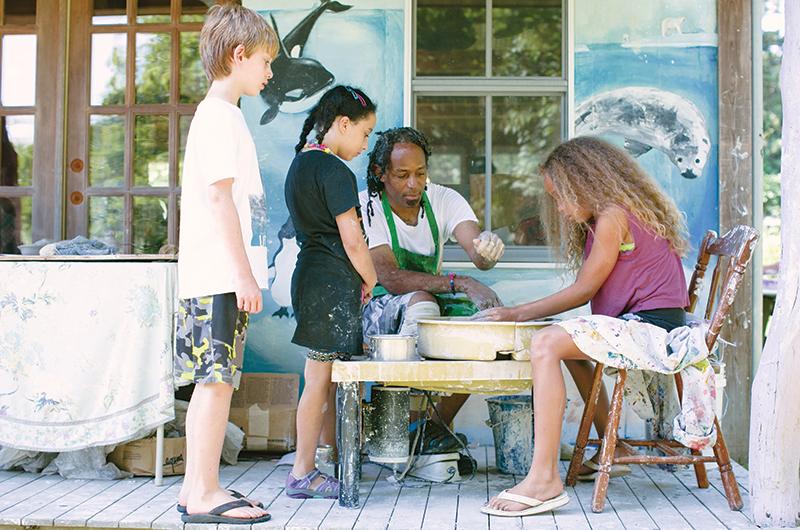 Former camper Aaron Teves agreed. As a young adult, Teves took advanced art classes with Pam and later worked as a counselor. Today, at twenty, he studies sustainable architecture at the Rhode Island School of Design. "Pam encourages the
connection between creativity and activism," Teves said. "That's the Sense of Wonder mission, and little do the children realize that it will stick with them for the rest of their lives."
Pam is grateful to have been a witness to the creative and personal development of so many Island children over the years. She is also in a unique position to observe changes in the campers as a group, many of which she attributes to advances in technology and the role it plays in the children's lives. "It's funny, even in the beginning I was worried about the role technology would play at camp," she remembered. Though phones and tablets were not yet an issue, she was concerned by the amount of television many of the children were watching and had already started to notice a difference in the attention span of children who spent lots of time around technology and those who didn't.
Today, she said, the differences are even more pronounced. "I can always tell the children who don't have a lot of screen time," she said. "They have more patience and are encouraged to work longer on certain projects."
This ability to stick with a single project or activity over time is something Pam works with the children on in depth. Recently the after-school students had been creating animal-themed paper lanterns, and Pam recalled working with one child who was becoming bored by gluing the papier-mâché pieces over and over again.
"So I said, 'Stars come out every night and the sun comes up every day,' she remembered with a laugh. "There's a lot of repetition in the world, and it's very important to appreciate it and enjoy the process. You can always see something new, especially in nature."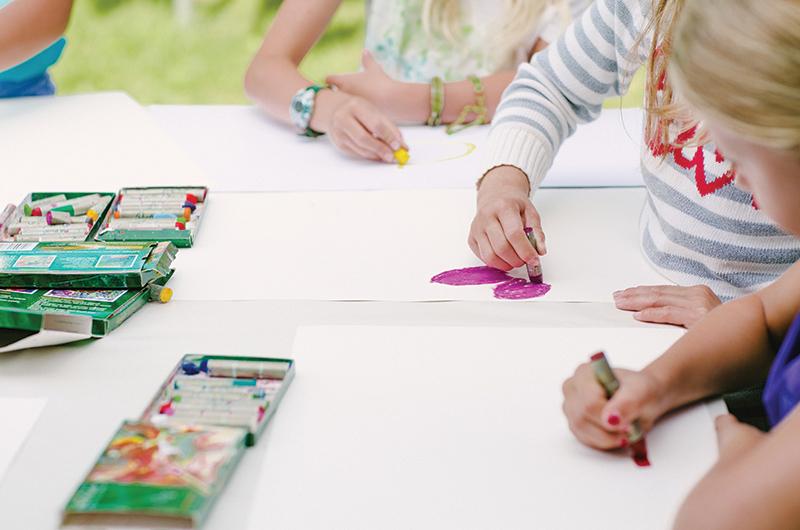 While the summer program is livelier and more intense, with week-long themes that allow the children to immerse themselves in various projects and cultures, the fall, winter, and spring after-school sessions encourage more in-depth exploration. The lanterns, for example, came out of a long project on indigenous animals. Pam later had the idea to work with the Martha's Vineyard Museum and hang the finished lanterns at the museum's summer fundraiser, complete with an opening party for the children and their families.
Other collaborations have been more politically motivated. At the beginning of the Iraq War, Pam was struck by the general sense people seemed to have that "nothing else could be done." "Everyone kept talking about how there were no alternatives to going to war," she said. This led to collaborating with the high school and a group of students on a film. "I'd always wanted to do a peace project with them," she said. "And we thought the film was a great vehicle."
Pam remembered the experience of talking at length to each student on film, and working with them to edit and create the final result. But when I asked where the film had been showed, she seemed surprised. "We showed it here, I'm sure," she said. "And I think I gave a copy to the teachers."
This, perhaps, is what most sets Sense of Wonder and Pam's philosophy apart from other art programs. The message is never in the finished result; it's all about the process. The time Pam spent with those students, talking about peace, brainstorming alternatives to war, and learning about various organizations, was an experience that would stay with each of them. The film itself was almost incidental.
This is not to say that campers don't achieve a deep sense of accomplishment by the work they create at camp. One quick glance around the studio reveals layers upon layers of past students' finished work, from masks to puppets to a giant papier-mâché giraffe. Bins of materials, shelves of reference books, paints, paper, and rows of tables on which to create fill the room. It is a room where serious work takes place, though it's also clear that a great deal of fun is had along the way.
As Pam left to prepare for the afternoon's class, I wandered the studio with a handful of children who had been dropped off on the bus. Class wasn't officially supposed to start for another half hour, but the children were perfectly content to roam, working on side projects or chatting with friends or scampering outside in the Benjamins' backyard.
Kassidy Fogt, a seventeen-year-old junior at the Martha's Vineyard Regional High School, was helping a pair of elementary-aged girls with their lanterns. Fogt was encouraged to get in touch with Pam by a friend who knew of her love of art. Now she works as an assistant two days a week. While art is her passion, it's the children that keep her coming back. "I love their personalities," Fogt said. "I love the way they act while they're making art. It brings out a different world for them."
Another pair of students was looking at masks they had finished in another session. Both fifth graders at the Tisbury School, they had been coming to Sense of Wonder since they were six. One of them shrugged when I asked what she liked best about the space. "It's our favorite place to be," she said.