Suffice it to say that Stina Sayre is not usually one to look back. Over the last twenty years on the Vineyard, the fashion designer has steadily grown her business from single pieces done out of her home, to trunk shows, to a small harbor-side boutique, and eventually into two larger stores on the Island, a flagship on Vineyard Haven's Main Street and a satellite at Nevin Square in Edgartown. Her loyal customers, almost 90 percent of whom she estimates are repeat buyers, come looking year in and out for classics like the Bond cardigan, the Cocoon coat, and the Garbo Long Fold skirt. Or to check what new product Sayre is experimenting with. Last year it was shoe design and leather bags.
And yet this year, after so many years of growth and expansion, she decided not to reopen her Nevin Square boutique. Is there trouble on the horizon for the Island's best-known designer? To the contrary, said Sayre. She sees it almost as coming full circle and has no regrets.
"Having two stores, it's double the amount on the business side," she said, sitting at her drafting table in the back of her Vineyard Haven store, the birthplace of so many Stina Sayre designs. In the front of the shop her sales assistant helps a customer put together a new outfit, chatting amicably. "I wanted to work that hard, I wanted to have two stores. I had to do it to be the one human being I am. I just had to."
But, she added, the additional work of running two stores took her away from her favorite part of the business: designing clothing. "It becomes more of a strategy," she said, "not that I didn't design, but it became less hands-on."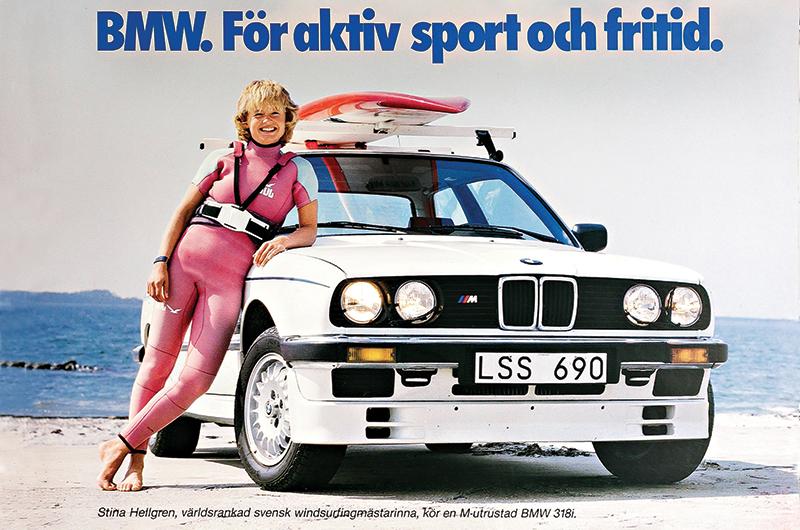 Though not a strict A-to-Z planner, Sayre always has rough visions of where she would like to take her business, and her life, next. "You know who you are and you know what turns you on, and that's really how I've operated my whole life," she said. "I see an opening and I go for it."
So it was with the first pieces of clothing she sold: knit sweaters she made while traveling. This Swedish supernova, today known to many Vineyard visitors and residents as the high-end designer for professional women, actually began her professional life as a windsurfer. She held the title of Swedish champion for six years before turning to fashion.
Sayre's athleticism was apparent from a young age. She grew up on the island of Frösön and summered on the island of Tjörn, in a family of athletes and artists. Her father worked as an architect and her mother as a pharmacist who painted in her spare time. Sayre remembers true winters full of activities.
"Sweden is all about being outdoors, skiing and hiking and skating and sailing – very much outdoor activity, that's our lifestyle," she said. This proclivity for activity eventually led her to try windsurfing in her late teens, just as the sport was taking off in that country. Her figure skating and skiing experience gave her the edge she needed, literally.
"I found a sport that really suited my athletic talent…a lot about balance and knowing your body really, really, really well. It's such a technique sport. It's a lot of technique. It's a balancing act, and to do that you have got to know your body."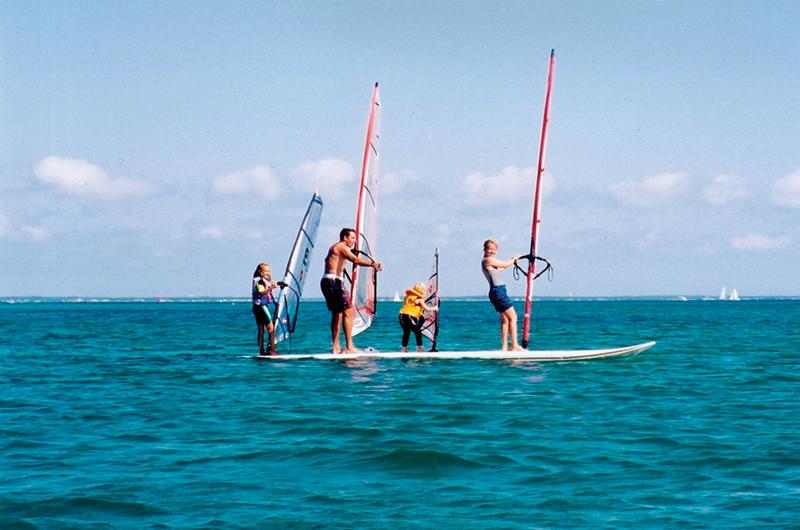 For several years in her mid-twenties, Sayre was part of the group that shaped what the sport would become. She credits the sport with introducing her both to Nevin Sayre, the three-time world champion windsurfer who would become her husband, and through him to Martha's Vineyard. The two met in 1983 on Barbados, where they were both competing, and continued to run into each other at different competitions around the world until a windless world cup in France in 1985 kept them off the water and firmly established their relationship.
"That's how I met my husband. That's how I got to this country. It's really because of windsurfing I met him. We have a shared passion for the ocean and there you have it," she said with a laugh. Soon, the couple made the Vineyard their home base between races, staying at Nevin's parents' Vineyard Haven home with sweeping views of the harbor.
After Sayre retired from racing in 1989, Nevin continued to compete around the world. She joined him on his travels, tucking the knitting machine in with the mountains of gear windsurfers travelled with at the time. She sold sweaters to her friends and the other windsurfers (jokingly calling them guilt sweaters, bought for wives and girlfriends left at home).
Her first introduction to design was as a child. Sayre's grandfather owned a store in her hometown where the shelves were stocked with bolts of fabric and a tailor who sat cross-legged on his table would sew clothing to measurements. In Sweden all young people learned to sew in school; she recalls sewing a pair of pants in the sixth grade. "I remember swearing at that sewing machine, because it's not easy," she said. Beyond lessons in sewing and a class or two here and there, Sayre never officially trained in design.
But something about it was addicting. From the first pair of pants, to the eighties sweaters, to her current sleek and sporty collection, Sayre stuck to original designs that favored quality in both material and fit. And always with a flair of sass.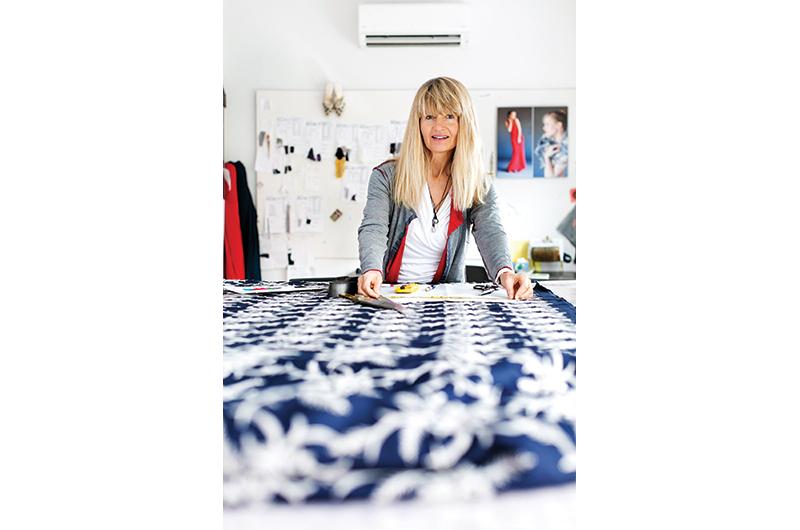 She and Nevin began to travel less, eventually settling for a dozen years in Falmouth. There, she began to design her first full line and sold some of the items out of her home and at trunk shows. When their two kids, Solvig and Rasmus, grew older, they moved to the Vineyard and she began to look for a shop. "It was really a great thing to work that way [at home] in the beginning," she said. "Then it came to the point where they were a little bit more self-sufficient. I didn't have to rescue their life every second as you do as a mother of young kids."
Sayre found a small shop near the Black Dog Tavern in Vineyard Haven and set up a one-woman enterprise. There were no set hours. She worked when she was able and left the door open to let people know she was there. After about five years she made the move up to Main Street. Her loyal customers followed.
Today sales assistant Theresa DiMattia is on hand to help those loyal customers, and new ones, select pieces and build outfits. Customers come to add a jacket or skirt to their collection or to select an outfit for a special event. DiMattia, who has worked with Sayre for more than three years, pulled a long black satin skirt off the rack. The wrap skirt, called the Garbo Long Fold, is one of her favorites, she said. She recommends it for weddings, cocktail parties, and classic Island fund-raising events like Taste of the Vineyard.
"I always end up dressing people for the Possible Dreams Auction," said DiMattia.
Sayre uses her own aesthetic as inspiration; she's both her best client and her primary model. She designs pieces that she would want to wear, using the motto "strong is sexy" as her guide. She prefers simple shapes that flatter and wink rather than reveal, and unusual details like asymmetrical lines, high collars, and zippers that function as focal points.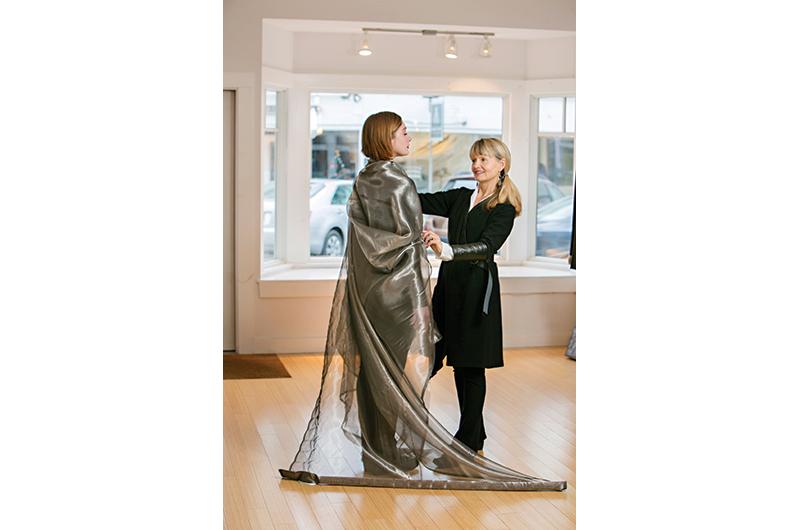 She's also a fan of using unexpected materials. A tour around Stina Sayre Design reveals sumptuous fabrics like buttery lambskin leather, bamboo fabric, and boiled wool, plus a sporty jacket that seems crafted from a spinnaker and recycled seat belts turned into coat belts or woven into bags.
"In the beginning I was like, 'Well, if no one else likes it, I like it, so I'll wear it,'" she said. "I think that's worked pretty good, that line of thinking."
After creating a sample in her size, Sayre evaluates the item's merit. "When will I wear this? How often will I wear this? Is this something I'm going to go to more than once?" she asks. If she's satisfied with the answers, she knows she has a good design. She sends most designs to Massachusetts factories, where they will be graded (made into different size patterns), cut, and assembled. A few pieces are still made completely in-house. Then they're ready to be sold.
It's this hands-on creative approach that Sayre believes will help her business survive the changing look of Main Street, America. "We've tried online sales, but because we are such a creative space, a big part of the attraction is you come in here, you see the fabric bolts, you see the patterns, you see some sketches, you hear the sewing machine go," she said.
"I've always thought it's so cool that when you buy something from me you might be standing behind the seamstress at the grocery store. And that we share a life together."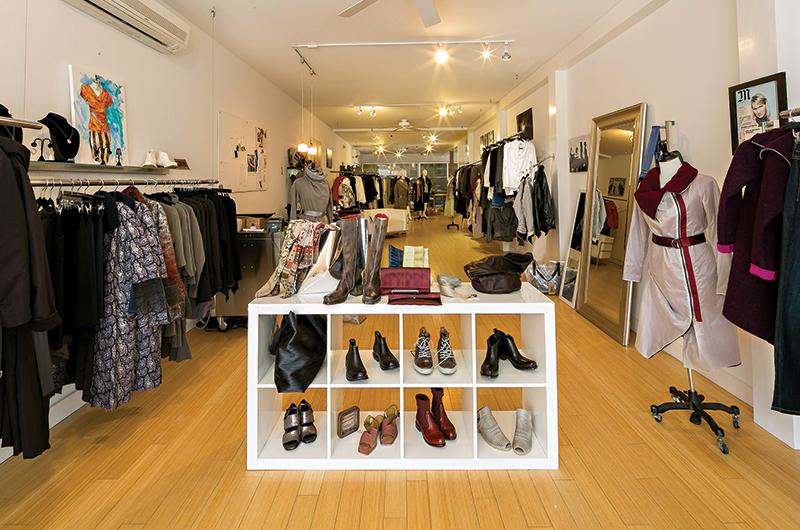 The decision this year to scale back her retail operation comes on the heels of a debilitating case of Lyme disease that she contracted almost two years ago. The lengthy and expensive medical fight left her dizzy, weak, and afraid to return to the woods.
For the last few years, Sayre had been working harder than she wanted to – but she thought she had to, she said. She was the face, the aesthetic, the everything of Stina Sayre Design. When sickness took hold she had to delegate. Eventually Sayre realized she didn't have to be everything anymore. And she didn't particularly want to be, either.
She settled into a new routine, one that primarily involved light computer work at the Vineyard Haven store. "I'd just sit over here and have all the people around me do their thing, and I would point a finger," she said.
She credits the business with keeping her going, even if in a different capacity than before. "It's what saved me," she said. "If I hadn't had this, I don't know what would happen, I would just be a wet thing at home on the couch.
"If I had stayed home I would have driven myself and my husband crazy. I'm an athletic person and I was bedridden."
Now back on her feet, Sayre flits around the store holding out supple fabrics to feel and pointing to different recurring design elements.
At one point Carrie Jochelson, a customer for the past fifteen years, stopped by the store. Jochelson doesn't live on the Vineyard but visits often. She and Sayre greeted with a cheek kiss and Jochelson began to recount how she first discovered Stina Sayre Design.
Jochelson was walking down the street in Edgartown one day when she spotted a stylish woman in jeans and a brown fleece. "I said, 'Oh my god, this girl has style – she's got it going on,' and I followed her into her own store," she said. Sayre had a pop-up shop in Edgartown at the time and Jochelson quickly loaded up with an armful of Stina Sayre originals.
Jochelson shares a few anecdotes about others inquiring about Sayre's designs, lists the outfits hanging in her closet, and seems equally amazed with the woman as with the clothes.
"Who doesn't want to be Stina?" she asked.
Sayre laughed. But even she has been thinking about becoming a little bit more like an earlier version of herself.
"Here I am wanting to go back to the beginning of being more creative," she said.
Stina Sayre Design is located at 43 Main Street in Vineyard Haven and online at stinasayre.com.