Larisa Stinga did not dream of owning her own business. An abandoned master's degree in marketing in her native Romania led to a passion for wedding photography, which she began to pursue in earnest after moving to Martha's Vineyard in 2014. But a combination of early influences – her mother has owned and operated a number of businesses in Transylvania, where Stinga grew up, and her father is an engineer and renaissance handyman with a can-do approach – instilled in her the ambition, confidence, and time-management skills to open Sleek MV, a women's clothing boutique just off Main Street in Vineyard Haven last spring.
Stinga and her brother, Vlad, came to the Island on student visas in 2014. They chose the Vineyard because of its proximity to the ocean; they didn't realize it was an island until after they had booked their flights. Stinga found work in restaurants and cafés, and in her free time lined up photography jobs. She grew to love the small-town feel of the Island, and was encouraged professionally enough that she decided to stick it out for the off-season. Friends assured her that winters were mild and peaceful.
"It was the hardest winter of my life," she remembered of the brutal 2014, full of isolating snowstorms and more down time than she knew what to do with. She buckled down and built up her photography portfolio and professional website, and volunteered to take photographs of friends and businesses where she worked. "There are so many photographers here. It was hard to get my name out there. I did whatever I could," she said.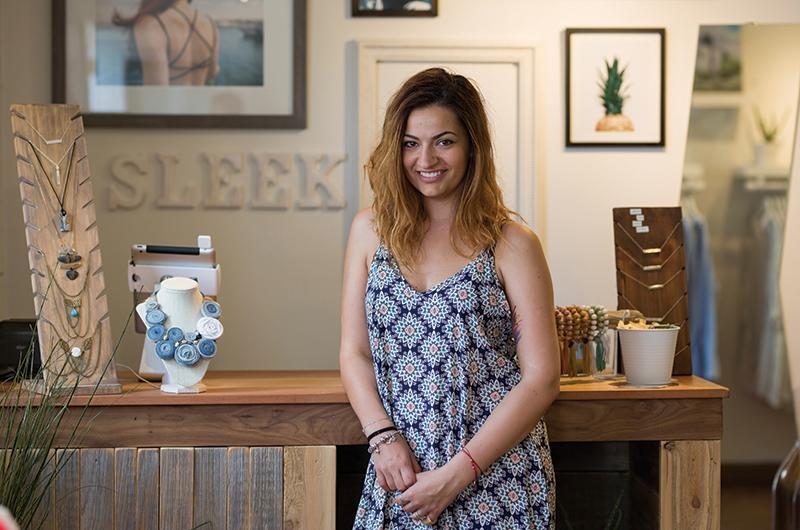 After a few years of supplementing her photography income with jobs in restaurants and retail, she started to dream of working for herself. "It's a dream to live doing your passion," she said. "But then every winter I'd have to take a job working for somebody else. It was depressing."
When she noticed that the ground-floor retail spot in the building where she lived had a For Rent sign in the window, she and her brother began daydreaming of opening a small shop.
"We didn't know what we wanted to do," she said. "We are always joking around, and we brainstormed lots of ideas." Eventually, Stinga decided that with her background in fashion (she had worked as a fashion photographer before moving to the States) and her knowledge of retail ("at least clothes don't go bad," she said), they could open a small women's clothing boutique.
Though she didn't have any formal training in business or much time to do extensive market research, Stinga was careful to find a niche for her shop that wasn't already filled in town. She also decided early on that her shop would cater as much, if not more, to year-round Island residents as it would to seasonal tourists.
"I don't carry a single thing with a picture of the Island on it," she said, glancing around the bright, cozy shop. Instead, Sleek MV highlights semi-casual, trendy clothing – from active wear to flirty dresses and tops in neutral tones. Having realized that most of the people she knew – from other visiting students to people who had lived here for years – shopped for clothes during trips off-Island or online, Stinga decided to stock pieces at a lower price point. Nothing in the shop carries a price tag of more than $100.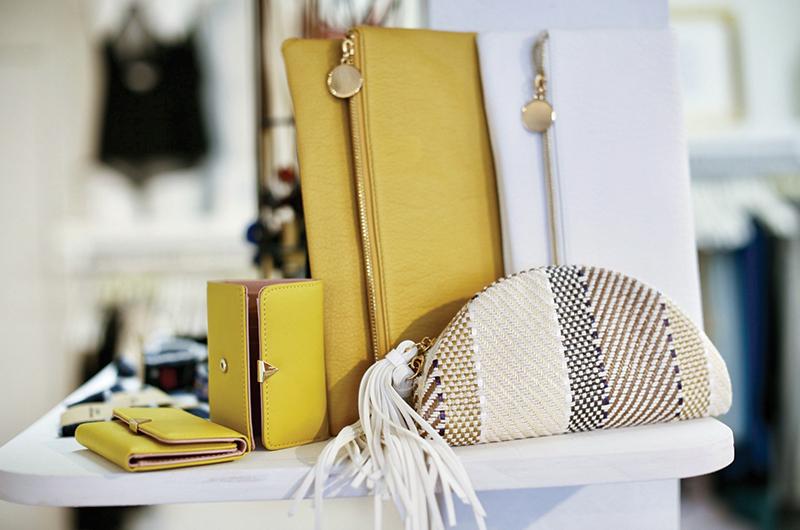 "A lot of the women here are independent. They own their own businesses, or they're photographers, or landscapers," she said. "They don't want to spend all of their money on $300 jeans."
Also important to Stinga was to feature quality products made in the United States, from clothing to lifestyle accessories. A window display of candles in scents like Coconut Hibiscus and Surf Wax caught my eye. "I really didn't want to sell candles," Stinga sighed, "but I met the woman who makes these at a trade show. She's from San Diego, she has three kids, and she was really nice. I wanted to support her."
Stinga's warmth and eagerness to connect with the Island community was returned in kind when she opened her shop last May. The opening party was crowded with familiar faces: friends made through photography, yoga (her boyfriend is Island yoga instructor and Broga founder Robert Sidoti), and previous employers. "I couldn't believe how many people showed up," she said. "Everyone is very supportive here."
Though last summer was overall a slow one for Vineyard Haven businesses, Stinga reports that her first season was a success and she is already planning to improve the shop for this year. A surprise best seller was a line of comfortable yet feminine lingerie, in line with the shop's apparent thesis that practical, everyday clothing can also be attractive.
"Sometimes comfy can mean sloppy," Stinga said, gesturing to the selection of lacy undergarments she plans to expand for 2018. "I want to redefine being comfy. We can be pretty too. Why not? We work hard. We deserve it."