As a child Traeger di Pietro was a Chuck Taylor–wearing baseball player in his element with a mitt in one hand and a bat in the other. That is, until he fell for a girl his freshman year of high school. "She was into the arts, and she liked the boys who rode skateboards and did paintings," he said with an easy laugh as he remembered his teenage days in Swampscott, a town just north of Boston, in the early nineties. Instinct kicked in, and to win her affection his mitt became a palette and his bat a paintbrush.
With his newfound interest in art, di Pietro won the girl's attention, if only for a little bit. But the desire to be an artist took hold. Off to college on a baseball scholarship, he left the game to focus on the craft and graduated with a BFA in studio arts from the University of Maine. Fast forward years later and di Pietro is still an artist, represented by two Island galleries, and concentrating fully on his pieces. "As soon as I started, I didn't stop," he said. "There was no turning back."
His move to the Vineyard was similarly instinctive, even if he didn't realize it at the time. Eighteen years ago a childhood friend was working here and told di Pietro that the Island would be the perfect place for him. "So I came down for the summer and I literally never left."
Standing outside his Oak Bluffs home on a warm day last summer, di Pietro was covered in paint from his T-shirt and shorts all the way down to his Crocs, his hair pulled back into a low bun. Just a week away from an opening art reception at the North Water Gallery in Edgartown, he had been painting nonstop to be ready for the show.
"Some of these paintings will show up wet to the gallery," he said, pointing into his studio, located in the basement of his home. The space was split into two sections – a storage area full of canvases and paintings in various degrees of completion and a work area. Natural light streamed in through the sliding glass door located on the west side of the room; lights hanging from the rafters were directed at works in progress.
Many of the paintings for the North Water show were somewhat impressionistic and featured an iconic Vineyard scene: the beach. Di Pietro doesn't normally set out to create multiple paintings with the same subject. "I just paint when I want to and see what happens," he explained. The beach was on his mind, though. Mixed in with the scenes were oil on canvas paintings of a cow, a still life, a couple kissing, fishing boats, clam diggers, and his niece sitting on a couch with some dogs.
"I just dive in," he said of his process with the oils. Colors and ideas are put down before he adds and subtracts elements. Working from memory of a scene he saw or an idea he thought up, he renders the painting until it makes sense to him. "It's more what I see as opposed to trying to get creative."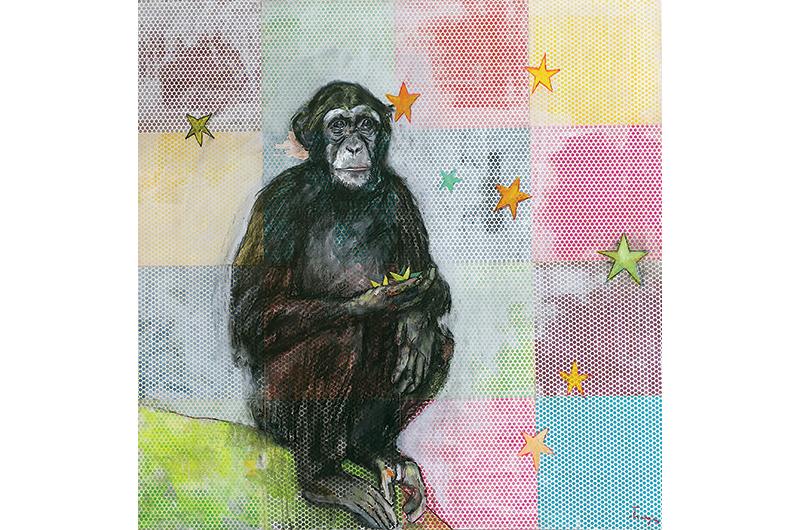 In his contemporary mixed media work, which he shows at the Field Gallery in West Tisbury, a more playful side comes out. He'll lay down magazine or certain newsprint, use charcoal or crayons, acrylic or oil paint. Pretty much anything he can get his hands on.
"Messages are more likely to be put in my mixed media work. No big heavy topics, but playful," said di Pietro. For example: "It's a man pouring glitter into a star, and I call it Making a Wish. "It's fun," he said of the work. "You get to be more dirty, raw."
A recurring motif of some of the mixed media work over the past decade is a character di Pietro calls the Messenger Man, a faceless figure clad in a black top hat and black-and-white suit, often clutching a cartoon red heart. A scroll through di Pietro's Instagram page shows the Messenger Man in various incarnations: in one piece he's jumping rope; in another, sitting on the hands of a clock; in another, riding a carousel. Occasionally he's superimposed onto a photo, sitting in a boat, perhaps, or taking his place on a steel beam in the iconic skyscraper piece Men at Lunch. The character's purpose, said di Pietro, is to push love, change time, and bring color and happiness to the world.
In a way, you might say the same of di Pietro himself. These days he spends a fair amount of time finding inspiration outside the studio, following creative whims and unearthing art in everyday things – he's transformed a damp section of a wall into a woman standing at a bus stop, foam in a glass of beer into a row of elephants, leaves on the ground into a man riding a horse. "If you walk down the sidewalk with Traeger it takes ten minutes more," said friend Matt O'Neil, who introduced di Pietro to the Vineyard years ago and last summer commissioned him to create art for his Salem restaurant.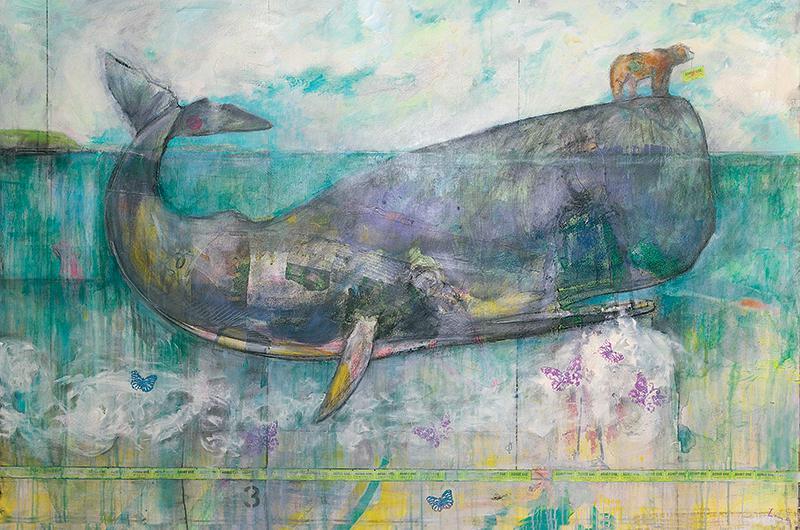 Di Pietro catalogues these transformations on his Instagram using the hashtag #OnTheWarehouseFloor. To date, there are more than 450 video clips. "It's more cute than anything," he admitted of the videos, but it gives him that creative jolt he loves. "I don't want to be put in a box where it's like, 'He only does landscapes; he's only a portrait man.'"
It may seem that di Pietro is all over the place with his art, but that's probably exactly how he likes it. Even in the midst of our conversation about his work he intermittently interrupted himself to play with a leaf hanging above his head, absentmindedly broke his gaze to stare at the paintings that crowded his studio, or abandoned one story mid-thought to begin another.
One gets the idea that di Pietro is constantly dreaming up new ideas, waiting for his artistic instinct to tell him to get to work. "I have a lot of unfinished paintings because I want to get the idea down, I own it, then I go back to finish it," he said.
"Every time I paint, it's something new. I have no idea what to expect."
Di Pietro's work can be seen at the Field Gallery in West Tisbury and the North Water Gallery in Edgartown, as well as online at traegerdipietro.com. His latest show will open July 15 at the Field Gallery, with an artist's reception from 5 to 7 p.m.