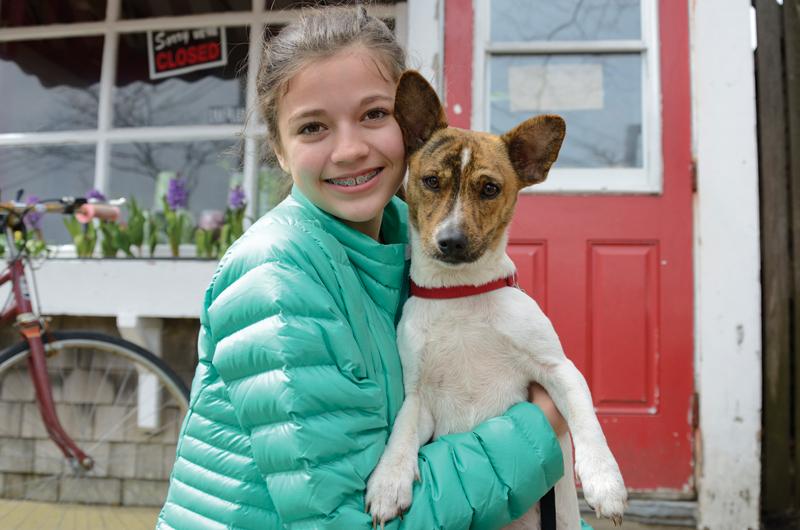 On animal-centric Martha's Vineyard, it should surprise no one that a small all-volunteer rescue group here helped with the evacuation of more than three hundred dogs and cats from St. Thomas and St. Croix in the immediate aftermath of Hurricane Irma. In fact, seven of those dogs are now napping on dog beds right here on the Island.
The Caribbean connections to the Vineyard exist through Leslie Hurd, who over the past thirty years has published various magazines and guidebooks both here and in the Caribbean and Bermuda. Always an animal lover, she began volunteering in St. Croix and then for the Humane Society of St. Thomas, where she found incredible dedication by staff and volunteers, but also an overflowing shelter with a high rate of euthanasia. Eventually she founded Angels Helping Animals Worldwide (AHAWW), a nonprofit that runs a small certified animal shelter in Oak Bluffs and works to rescue pets, many of them from the Caribbean. She also c0-created Pets With Wings, a program with American Airlines and Cape Air that matches travelers with animals heading to shelters in states that will accept Caribbean dogs and cats for adoption.
The size of Hurd's nonprofit belies the results. "We've rescued more than 300 dogs in the three or four years since we started," she says. "We work with local dogs who are abandoned; but we also work with kill shelters and adopt many of the dogs here on the Vineyard, on the Cape, and in Rhode Island."
When the call for help came in from St. Thomas, the troika of women who are the core of AHAWW spun into gear. Lynn Shepardson jumped on a plane to San Juan and then a boat to St. Thomas and the humane society shelter. Hurd and Ashley Medeiros headed to Norfolk, Virginia, where the more than three hundred dogs and cats would eventually land.
"We all cried," Shepardson remembers of the moment when she and fellow volunteers finally arrived after various challenges with transportation, lodging, and curfews at the St. Thomas shelter with dog crates, food, and water. "They were so happy to have the help, and
everyone got right to work. We fed the dogs and got them taken care of and then moved them off the island as quickly as possible."
An unexpected challenge came when the air transport back to the States agreed to take the pets, but no passengers. Shepardson managed to get back to San Juan on a military plane, but, as she recalls, "that wasn't that great because we were still in Puerto Rico and [Hurricane] Maria was coming. I finally got up one morning at three and went to the airport and said, 'Take me anywhere.' I ended up in Fort Lauderdale."
Even though there were moments of uncertainty and fear because the hurricane was not far off, she had no regrets. "To be honest, I felt extremely lucky to be able to go because not everyone gets an opportunity to help in a situation like that," she says.
In Norfolk, on the other hand, everything went smoothly. "There were a lot of different groups getting everything prepared," says Hurd. "We walked them, cleaned them, and made sure they were okay." The animals also were checked and cleared for entry by government veterinarians. Within twenty-four hours the dogs were on their way to various shelters, including the one in Oak Bluffs.
Shortly after the seven dogs and three human volunteers returned to the Vineyard, there was an adoption event at the Black Dog store in Vineyard Haven. For the past five years the Black Dog has partnered with animal shelters near its retail stores both on and off-Island to host adoption events that Hurd credits with being key to helping find permanent homes for the pets.
"We've grown from just a few people there when we started and one or two dogs, to the last two times we've done it, sixty or seventy people are waiting when we get there to see the dogs," she says. "We had seven dogs at the event and we could have adopted them all out five times, so then we take applications for our next group of dogs."
Another reason for the growth of the program is the third cog in this volunteer wheel of women, Medeiros. Twenty-eight years old, she went to school with Hurd's sons at the Martha's Vineyard Regional High School. While she helped at the shelter on and off for a few years, AHAWW became a true three-person operation last March when she signed on to help with the all-important vehicles that make up social media. "I've extended our outreach and network of rescue shelters through social media, and it's a perfect mix with Leslie knowing so many people in this world the old-school way," she says.
Medeiros spends her winters in South Florida, where she volunteers at another shelter, works on Hurd's publications, keeps all the social media tools fired up, and tends bar at night. "Sometimes Leslie and I joke that we spend more time on dog rescues than we do on making money for ourselves, but this is what makes us happy," she adds, "helping the dogs."
To learn more, go to ahaww.org.