Collins Heavener wants you to use the furniture he makes. He wants the table to be filled with dings where a toast has ended a little too hard. He wants the benches to be warmly worn where you sit every morning for the first cup of coffee of the day. He is not in the business of showpieces. Rather, his Shaker-inspired furniture is simple, elegant, and functional. It is sturdy and beautiful. It is the spalted maple table in his own dining room. It is headboards, coffee tables, and benches in homes around the Island. Sold under the name Marshall Farm Wood-Works, it is built on Chappaquiddick in the off-season in a basement workshop on Slip Away Farm.
At thirty, Heavener has been operating Marshall Farm Wood-Works since the spring of 2015, but he has been building tables on the Island since his second summer here, in 2012. "I think I'm fortunate. I'm a millennial who knew exactly what [he] wanted to do, pursued that, and am now doing it," he said, running his hands across one of his own tables.
Heavener's first workshop was in his childhood home in southern Vermont. With his mother's blessing, he turned a guest room into a shop and built guitar stands. In high school he secured a job in a nursery, planting one day, building cabinets for the showroom the next. He took his preoccupation with wood to a scholarly level, studying building materials and wood technology in college. "One of my first classes was sitting with a microscope, taking a slice of wood, and identifying it by its cell structure," he said. "And I loved that, that was amazing. I was like, 'This rules.'"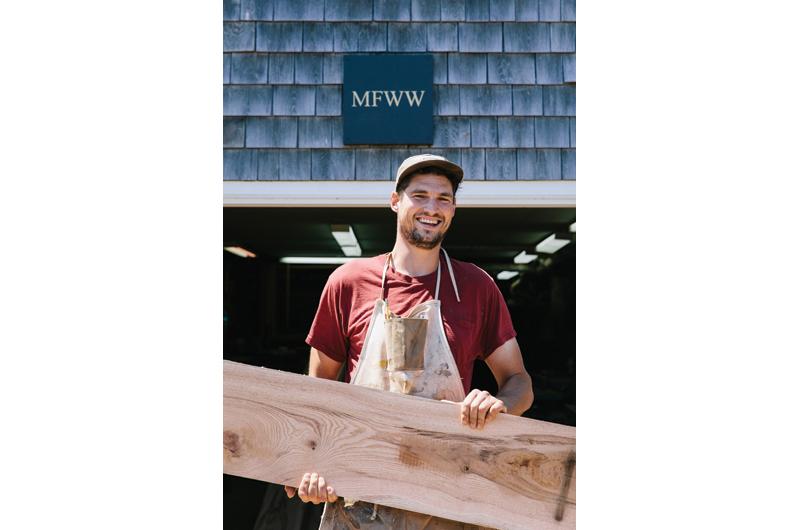 After graduating in 2009 Heavener began framing homes in Vermont. But as the housing market slowed, he decided to try his luck on the Vineyard. He made a mistake in his calculations, however. The building season in Vermont is in the summer while ski-season homeowners are away. Of course, the season here is reversed. Newly arrived, Heavener worked that first summer in the fields at Morning Glory Farm before working with West Tisbury carpenter Scott Young.
As he gained experience in different woodworking fields, he became increasingly enamored with detailed work. He began to teach himself to make furniture where the degree of preciseness is heightened. "You can get away with half an inch or even more variation when you're framing," he said. "What I'm dealing with is sixty-fourths of an inch."
It seemed like everything was falling into place for a furniture making business when Heavener moved to Slip Away Farm. The house at the farm had a low-ceilinged, 650-
square-foot, basement-level room that he immediately took over as a workshop. "Boom, I get a year-round house and a shop all in one location within months of having to move to
the Vineyard," he said. In 2015 he began his official business, naming it after Bob Marshall, who used to own the Slip Away Farm property.
His first Vineyard table was built out of necessity. Spending the summer on Beetlebung Farm before moving out to Chappy, Heavener offered to whip up a couple of tables for a greenhouse dinner. There were thirty-eight guests expected and only one table on the farm. He used boards lying around to build the simple dining tables, which were further restricted by the narrowness of the greenhouse. "The result was they were twenty-eight inches across – that's really intimate," he said. "And in the end, I really like that."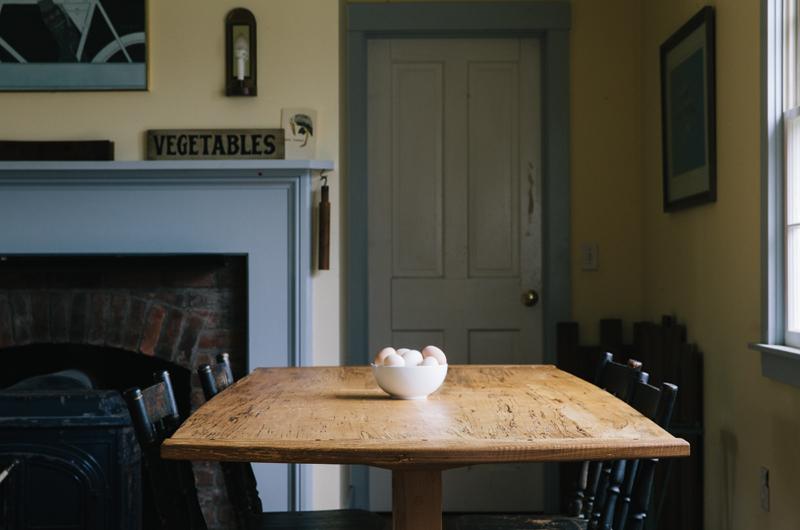 Heavener now sees his furniture as purposefully inviting the intimate. Narrow banquet tables force diners to be close, to share, to bump elbows, and make eye contact. Likewise,
he favors benches over chairs. His furniture is a vessel for camaraderie, a way to get people close.
When it comes to designing and building pieces, he isn't much of a planner. He doesn't draw a design and then execute it exactly in wood. "That would be kind of stale; there needs to be more of a fluid relationship between the two," he said. "Starting with an idea you work with the materials, the materials continue to inform that shape, that form – it evolves over time. It would feel really constricting to start out with plans."
When possible, he likes to build with wood that has a narrative. He's built a headboard out of black oak from someone's yard. He's built bookcases from barn boards and a banquet table out of 250-year-old oak beams from a client's home, filling the divots and knots with epoxy mixed with Chilmark Coffee. He works only with domestic wood, preferably from the Northeast. "If I could build every piece out of a material with some sort of provenance, I would be so happy," he said.
The dining table standing in his kitchen was built from spalted maple from a friend's property in Vermont. The trees fell during a storm in the early '90s, then were milled and stored in a sugar shack. One winter, Heavener was exploring the property with his friend when they discovered the stash of wood, by then forgotten.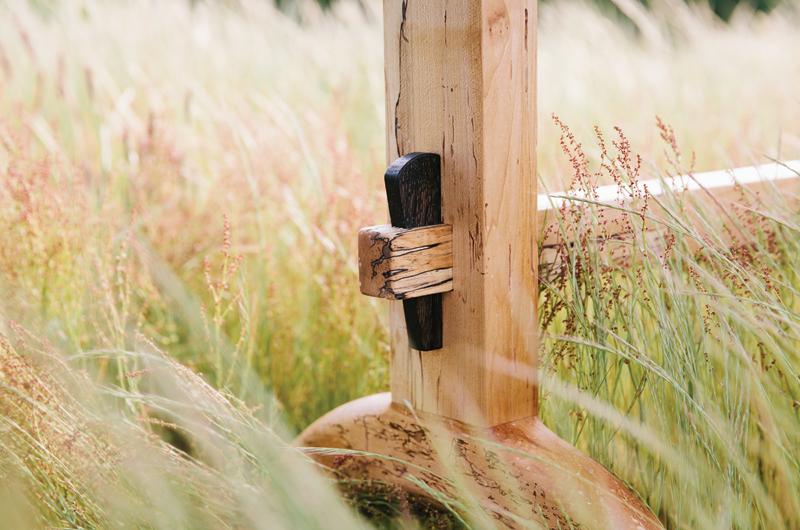 Even when he needs a break from making furniture, Heavener builds things. His craft is finished pieces; his break is rustic. He recalled building an outdoor shower for Slip Away after finishing two commissions. "I was like, 'I'm not using a tape measure; I'm not using anything,'" he said. "I love utilitarian, stupid-simple stuff."
Heavener surrounds himself with antique furniture that has life in the design. A tour through his house reveals a hope chest from his great-grandmother, a chair that travelled from Ireland in the early 1800s with his great-great-great-grandmother, an antique cabinet his mother restored that now serves as the Slip Away seed cabinet. Different in source and style, it's all wood.
From a tactile perspective, he is drawn to the warmth, the feeling, and the variation of wood. From a philosophical standpoint, he is drawn to the history of the trade. He hand-shapes his furniture as much as he can. To keep time and cost in check, a lot of the roughing and early stages of a piece are done on a machine, while finishing details, like the curve of an edge, are done by hand. He is on a constant mission to upgrade his tools by buying something older. The older tools are generally better built, he said. "I'm trying to replace my tools with the oldest pieces of machinery I can find," he said. He calls his lathe (a tool for shaping table legs into circular shapes) bomb-proof.
In a world where a new table is just a trip to Ikea away, Heavener is committed to keeping a human element in furniture. "I ask myself, 'Why would anybody hire me to build them a table when they could go get something?'" he asked. "But the reason is because they want something a little bit more. They want something that is interesting; they want something that has a story; they want something that was made here on Chappy, made here on the Island. Maybe they are a friend of mine and they want something made by a friend; maybe they can see what I can see when I look at an antique – what's appealing about this stuff is it's
slightly imperfect."