Looking back on the early days of her long career as a painter, Barbara Kassel described a trip on the overnight train from Nairobi to Kampala during which she sketched from a window as the sand dunes and migrating animals of Africa rolled by. "Instead of taking twenty-four hours, the train ended up taking forty," she recalled, "and as I
drew and painted tiny watercolor studies in the café car, which was packed, I had a crowd of people all around, some standing on tables to get a view watching me paint. They were laughing and talking, fully engaged, and I had a wonderful time because we were able to communicate with no spoken language at all."
Kassel, who has been spending long seasons on the Vineyard for thirty-five years and has a new one-woman show opening at the A Gallery in Oak Bluffs on August 4, is known primarily as a painter of still lifes. But the range and diversity of her compositions seem to expand the category of her art far beyond the classical. She paints seascapes and landscapes. She often merges interior spaces with external views to juxtapose private and public worlds: a tabletop centered on a beautifully rendered coffee cup or vase of flowers, which looks out on the streetscape of downtown Manhattan; a screen porch in the country where someone has been drawing under a full moon. The work is realistic and never pure abstraction, but it can also be playful, contemplative, mysterious, or at times gently disturbing. Kassel paints very personally, which inevitably reflects the course of events in her life. "My work can change right out from under me," she said.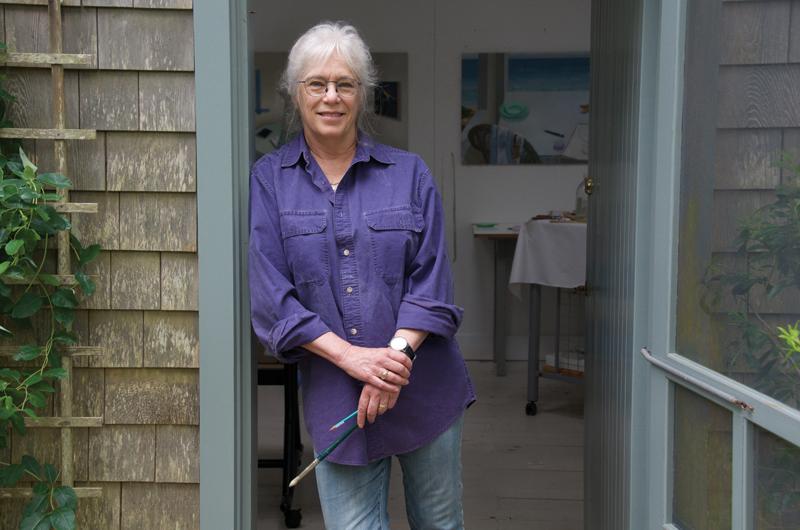 Kassel always paints when she travels, the way others take snapshots or fill journals, to remember where she was and who she is. Her travels have been far-flung, from the long stays in Africa and Italy that inspired much of her early work, to China, Ireland, Israel, and across North America, always with sketchbook and colors at hand. Being on the road and out of the privacy of her studio introduces an unknown she finds invigorating. "To work on-site is a visceral experience and it keeps you in the moment," she said. Kassel vividly remembers her first experience sketching African animals, which were from life, and her views from the train, which were dreamlike.
On the Vineyard, where she has a house and studio in West Tisbury and loves to paint en plein air, Kassel might sketch a single peony in her garden or the rising surf on the south shore. She is a swimmer and drawn to the many moods of the sea. The resulting small watercolors, which rarely appear in a show, are different from her major work with oils: lighter, more ephemeral, and more direct. Like travel itself, they have influenced her work. Many have become larger oil paintings or parts of paintings carefully rendered in her studio; others have been the source of new ideas about the use of techniques like fresco or Roman mosaics, which came from her time in Italy and show up in her recent work.
Apart from the small bottles she once decorated with mythic women, Kassel rarely includes human figures directly in her work, although they are often implied in their very absence by an empty chair, an unfinished coffee, or in a small picture hanging on a wall. In her loft in New York or her studio on the Vineyard, Kassel stages many of her paintings by arranging chosen objects in a setting to capture a view or a mood and, in a symbolic way, to tell a story. She selects familiar items like a cup or a glass and a flower, a notebook or a piece of fruit, as well as surprising exotica like small figurines of animals, a zebra and an elephant, a camel or a cow. In a misty painting from 2012 entitled Wet Weather, the view from a big window on the street and a distant glimpse of the unfinished Freedom Tower is anchored on an interior table set with a parade of eight animal figurines and an architect's blueprint for an ark; a mobile of birds flies overhead.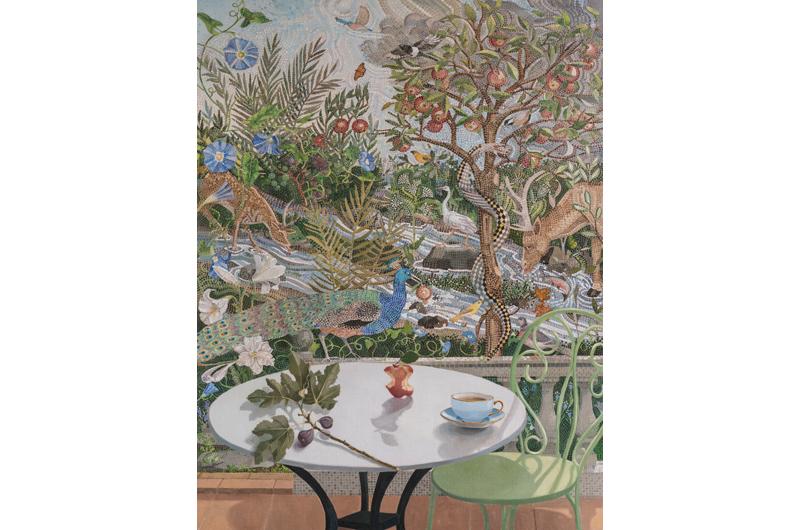 In an ongoing series, inspired by an impulse purchase of Hermès scarves on eBay, Kassel has been posing her objects on the designer's muted florals, hunting vistas and beach scenes. "I wanted to explore a different palette when I began painting still life on the scarves," she explained. "I liked the whimsy and sheer beauty in combination with animal figurines, fruit, or flowers...." She lets the scarf itself suggest what is placed on it, she added, and the paintings evolve on their own.
Kassel strives to paint visually beautiful tableaux, many of which are what she calls "celebrations" of memorable moments in her life: Africa, a new marriage, the death of her mother, her move to New York City. "A sense of loss is a major part of my work," she said in a recent online interview. "Creating a world or a vision that might be physically gone but is still in my mind is what often speaks to me."
In the early years of her career, Kassel depicted simple, often mystical scenes of African animals or, in 1990, bathing huts on the bay in Cape Town. Later, in a troubled time in her life, she expressed her state of mind in stark and lonely interiors that looked out on an empty sea. Since her marriage to photographer Jed Devine, whose own art has affected how she views a subject, she has begun to paint portraits of city life, enjoying the light on vintage buildings, engaging in their architectural detail. In the wake of 9/11, which happened in her TriBeCa neighborhood, Kassel's work has begun to change in other ways. "I paint where I am in my life," she said, "and since 2001, it is less about memory and revisiting other places than where I am living. I am in this loft, this view, or on the Vineyard. Oddly, I never really painted Baltimore, where I lived before. I am now more grounded in my day-to-day reality."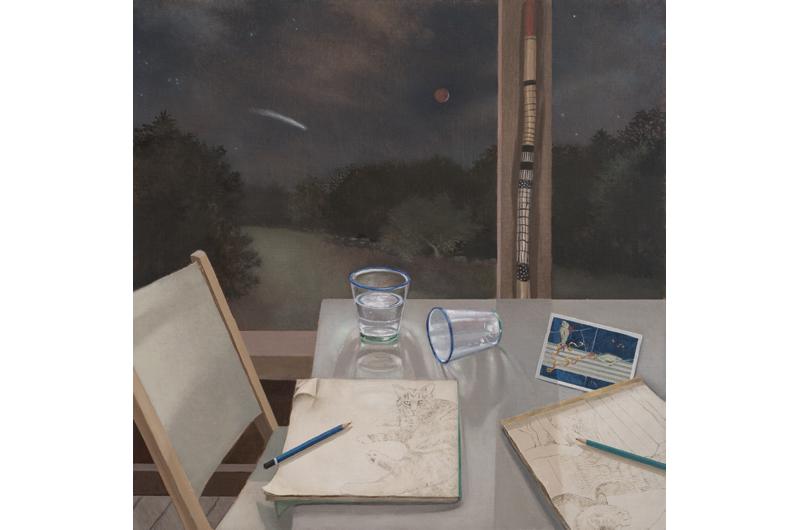 In her new realism, Kassel's work has become more free-ranging, more complicated, at times almost fantastical. In the mosaics she has used as a backdrop in her staging, there is a new edge: a snake with an apple core, a frog leaping from a glass of water. In tabletop scenes, a glass of wine has spilled, colored almonds have been scattered. There is a perceptibly political caste to the painting called First a Chair, which pictures a roulette table with a broken glass and a house of cards – a single joker face-up – staged against a mosaic depicting utter chaos: trees and houses in the air, a tiger leaping through fire, order blown apart by events.
Kassel's rich and natural use of color, her precise technique and ambitious spatial configurations, are a reminder of her extensive training, at UCLA under R.B. Kitaj, then at the Slade School in London, and at Yale, where she earned a master's degree in fine art. She emerged from her studies to win entry to the Venice Biennale in 1984, and as "a discovery" she entered a heyday for realistic art in America. A long sequence of gallery exhibitions has followed her work in New York and around the country, including four shows at Carol Craven's galleries on the Island.
Kassel talks readily about the way she works, like a young girl who is delighted with her profession. She remembers her first art lessons, at age eight, in a local Los Angeles framing shop, where she liked to paint furry kittens. She recounts how her new thoughts about realism originated with the moment that her cat Vinny, a frequent subject, jumped into a staging and disrupted the work in progress. The experience registered metaphorically as well as visually, and has encouraged a desire for spontaneity. "I now add ingredients for pure pleasure and color, like the almonds," she said. "I play around a lot."
She also Photoshops her compositions, moving early sketches around on the computer, tentatively enlarging a view to become a diptych or a triptych and to evaluate her options. She has been doing multiple panels for thirty years. Her largest one to date, a canvas called Bear Turns Corner from 2005, is set inside and outside her loft in New York and measures 11 1/2 x 3 feet.
"My impulse is always to add," she said. "It may be hard for people because I paint so many things. But I am intent on the beautiful, too."