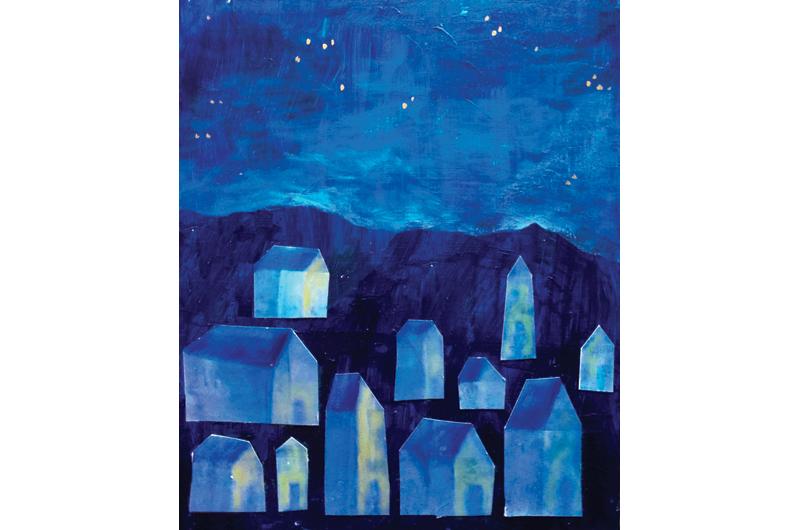 The collage by Julia MacNelly began with monoprints that didn't sing to her, yet became the foundation of a nighttime scene that evoked strong memories and feelings in this twenty-six-year-old Island-born artist.
"I had a ton of monoprints and I wanted to transform them since this was a new art form to me and I found I wasn't totally connected to the pieces. One thing I learned from [local artist Fae Kontje-Gibbs] is that you can cut up your art and transform it. And I was working with my dad in his studio and cutting my prints up into these house shapes and then I had this wonderful, deep-blue acrylic paint and it came together as a night scene."
When not creating, she holds down the roster of jobs common in the summer push – landscaper, gardener, caterer. Although largely self-taught, she gives credit to Featherstone Center for the Arts' community workshops, where she's been inspired and encouraged by seasoned artists, particularly Kontje-Gibbs, the late Nick Thayer (who led the monoprint workshop), as well as Wendy Weldon, Leslie Baker, and Rob Hauck.
"Being on the Island in the winter and having the open studios is such a great way of keeping a community and a gathering space," she says. "It's a really big gift the Vineyard provides – the space for artists to interact."
MacNelly also tips her hat to a creative, extended family always ready to critique yet encourage her artistic experiments. And she imagines there's probably a correlation between her attraction to house shapes and forms and the fact that her parents, Bruce MacNelly and Linda Cohen, are both architects. She spends most Sundays with her father in his new painting studio.
"I work a lot with these little houses at night. The inspiration comes from going on road trips in the mountains and seeing the houses in the distance, when you see a few lights twinkling in the hillside somewhere. To me, that's a really evocative sight. You're traveling completely in the darkness, but you can see someone is out there so there's warmth and comfort, but also some sadness at the same time.
"Monoprint is like a spontaneous form of art, but I wasn't totally happy with the compositions. Once I cut them out and began collaging them, then I appreciated all these little details. It was a way of regenerating something that didn't have a lot of energy, or wasn't happening for me, but then making it into something exciting and new and part of a new piece. The idea that you can save your art and collage and can make an alchemy, that you can have these parts and see something fresh and richer by using them in a new piece."
To see some of MacNelly's work, visit her Etsy shop, HandFullStudio (etsy.com/shop/HandFullStudio).