Often with paintings I know from the minute I start how they're going to look," said Stephanie Danforth, a self-taught artist who lives in Chilmark and shows at the Eisenhauer Gallery in Edgartown. "I work from my own photographs and I see the painting in my mind right from the get-go. I paint things bigger than life size. I love to get up close. I like to engage.
"This particular painting, Resilience, is a little different because I didn't know what I was going to paint. As I went on, a dialogue started with the painting and what came out was the result of the journey.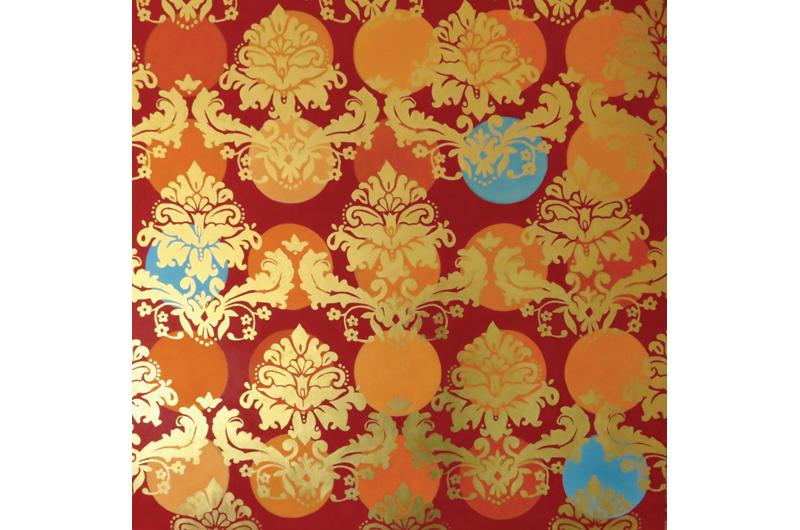 "It's a regal, bright, and meditative painting. For me, it's almost an abstract. It's not what I usually do, like painting an object like a bowl of fruit or a face. It's shapes and colors – reds and oranges and gold leaf.
"I knew I wanted to start with big circles. Circles to me are indicative of portals, the entrance and exit points of our existence. I put twenty-five big circles in shades of orange, a couple in blue. My original intention was to put small images – maybe a tiny bird – in about half of them. But when I put the gold leaf over the circles in a large fabric pattern, I realized it didn't want anything more. There was a simplicity about it."
Having spent more than twenty years working in pediatrics, Danforth now sees her artwork as a way to continue to influence the lives of kids. She donates all profits from her art toward providing the children of Kenya with education, and visits the country yearly to do volunteer work with various schools and organizations.
"My artwork and my work in Kenya are closely intertwined," she said. "I was just in Kenya doing student selections for a girls' school, Daraja Academy, traveling down dirt roads to mud hut primary schools, to interview girls for admission. Without secondary education, girls in Kenya have no options other than early marriages and pregnancies."