If you have ever eaten seafood on the island of Martha's Vineyard (and if you haven't, you're not doing it right), chances are good that a portion of your meal was caught, bought, or sold by a Larsen. With not one but two Larsen-owned fish markets in the village of Menemsha, one in Vineyard Haven, and another in Edgartown, it's safe to say that the name "Larsen" has become synonymous with all things fish.
It hasn't always been this way. When Louis Samuel Larsen was born at home on Larsen Lane in Menemsha in 1925, it would have been impossible for his parents, newly settled Norwegian immigrants, to imagine what the next century would hold for their son, future generations, and the community they had so recently joined. The youngest of five children, Louis was the only Larsen of his generation to be born on American soil, and the tight-knit community of Chilmark wasn't known at the time for welcoming newcomers with open arms.
"The only way we could have made it was to stay together because it was a cruel town," Louis, who died in 2014, said in an interview with the Vineyard Gazette. "You always had that feeling you weren't wanted."
Louis and his two older brothers, Bjarne and Dagbard, took solace in the ocean. Like their father and a long line of Norwegian Larsens before them, they found a love for fishing that would last a lifetime. The "Lucky Larsens," as the brothers were known, had a reputation as skilled and steadfast harpoon and longline swordfishermen. In response to rising market demand and a decreasing availability of swordfish in local waters, in 1964 the brothers commissioned two eighty-three-foot steel fishing boats, the Chilmark Voyager and the Chilmark Sword, from which they hauled in as many as 700 fish in one trip.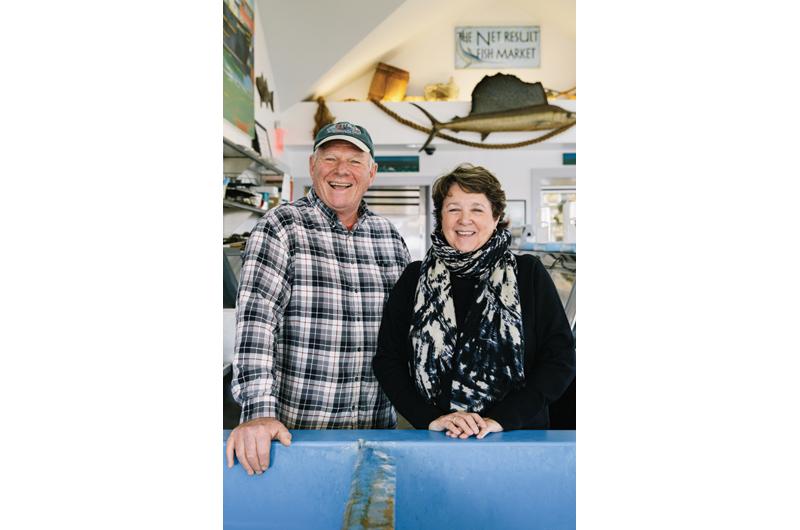 But these were also the boats that carried Louis away for long stretches at a time from his wife, Mary, their four children, Daniel, Kristine, Louis (Louie) Jr., and Betsy, and the family home on Beetlebung Corner. Betsy, now owner of Larsen's Fish Market in Menemsha, clearly remembered looking forward to her father's arrival as a little girl, racing to the dock and throwing her arms around the legs of an unsuspecting fisherman. "I thought it was Dad," she said, so many years later, with tears in her eyes.
"He'd go from Newfoundland to the Azores, and all the way down past Texas," Betsy's older sister, Kristine, added. We sat in the kitchen of Betsy's Chilmark home, near Stonewall Beach, the market truck and stacks of lobster pots in the driveway an anomaly in the neighborhood of mostly summer homes. "I think it was hardest on my mother," Kristine said.
Like many career fishermen, Louis and his brothers were constantly adapting to the industry they had built their lives around, prowling for swordfish up and down the coast, lobstering when swordfishing was temporarily outlawed, or trawling and dragging when harpooning was no longer an option. It was during a short-lived lobstering stint that Larsen's Fish Market first opened. As family legend has it, when Louis had trouble finding a distributor for his lobsters, he took to selling his haul out of a crate on Dutcher Dock.
Louis's younger son, Louie, now owner of The Net Result in Vineyard Haven, remembered working alongside his father in those days. The Larsens were shocked by the community's response. "We couldn't keep up with the demand," Louie said. "That's how the fish market was born."
As would come to be a trend in the evolution of Larsen family businesses, there was not a great deal of ramp-up to the market's opening day. "From the time he made up his mind to the day he opened – it was about a week," Daniel "Danny" Larsen, the eldest of the four siblings and owner of Edgartown Seafood said, seated across from his brother at The Black Dog Tavern on an uncharacteristically warm winter morning this February.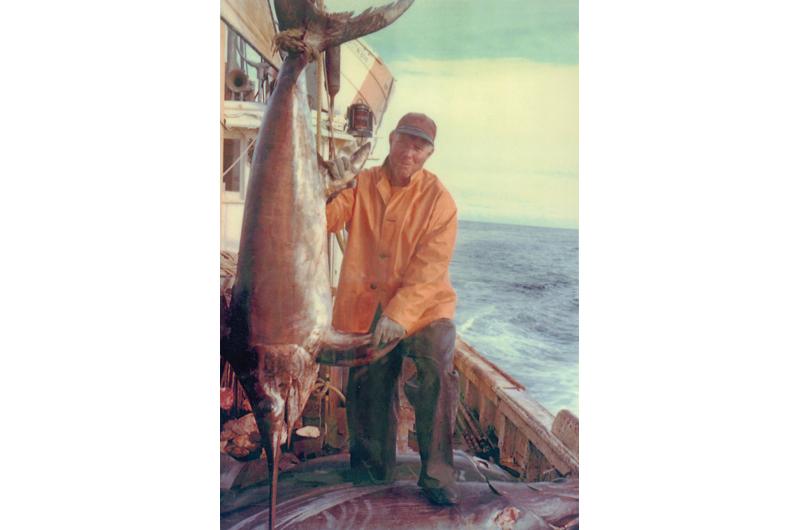 But the support from fishermen and the village of Menemsha was overwhelming. "The whole town got together to build that market," Danny said.
With Louis still on the water most days, the responsibility of running that original market fell first to Mary, his wife, and later to their daughter Betsy, who took over as manager at the age of nineteen. After a brief stint at Mount Ida College in Newton, Massachusetts, Betsy had returned to the Island and was surprised one summer when her mother asked her to step in.
"I knew I wasn't going back to school," Betsy said. "Studying was never my thing. I remember telling the guidance counselor in school, 'As long as I can count money, I can always find a job.'"
Still, she wasn't sure she had what it took to run a growing business. "I was excited to be given the chance, but I had no real experience," Betsy said. "I've had to learn a lot of things the hard way."
As any visitor to Larsen's on an August afternoon will attest, Betsy has grown into the role, just as the business grew from a crate of lobsters to the ever-bustling landmark and beloved pre-sunset supplier of lobster rolls, chowder, clams, and fresh filets of local and imported fish.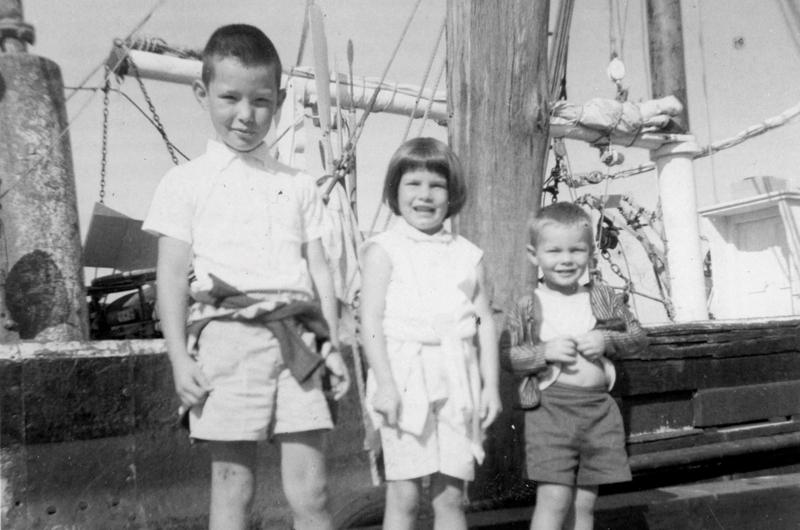 Betsy's sister Kristine, who manages the market's kitchen ("Kristine can make a chowder out of anything," Betsy insisted), remembered helping her parents in the market's early days. "It's night and day, in terms of the amount of people," Kristine said. "But it wasn't like it happened overnight. It got progressively busier."
In addition to the swell in crowds, Betsy and her staff have had to contend with an industry that, because it depends on the maintenance of a wild public resource, is highly regulated. "It used to be that if you had a little boy come up to the back door with a bucket of squid, you could buy it," Betsy remembered of quieter Menemsha mornings. "Now, everybody has to be licensed, everything has to be reported, which has kind of taken the fun out of it."
Despite the regulation and the swelling summer population, Betsy and Kristine have managed to grow a thriving business, while holding on to some of that dockside, boy-with-a-bucket charm. And with a front-row seat at the harbor, it gives the sisters an opportunity to watch generations of Island fishermen grow up around them, often bringing their own children back into the Menemsha family business.
"You get little kids coming up, kids whose fathers I've been buying fish from for years, now they're walking over with their dad's stuff," Betsy said with a smile. "The totes are almost as big as they are."
And it isn't just the fishermen who keep coming back for more. Over the years Betsy and Kristine have developed friendships with many of their customers. Some send Christmas cards; others come looking for photographs on their wedding day. A few have even involved the market in intricate proposal plots. One customer approached Betsy with a note and asked her to put it in the showcase, nestled between filets.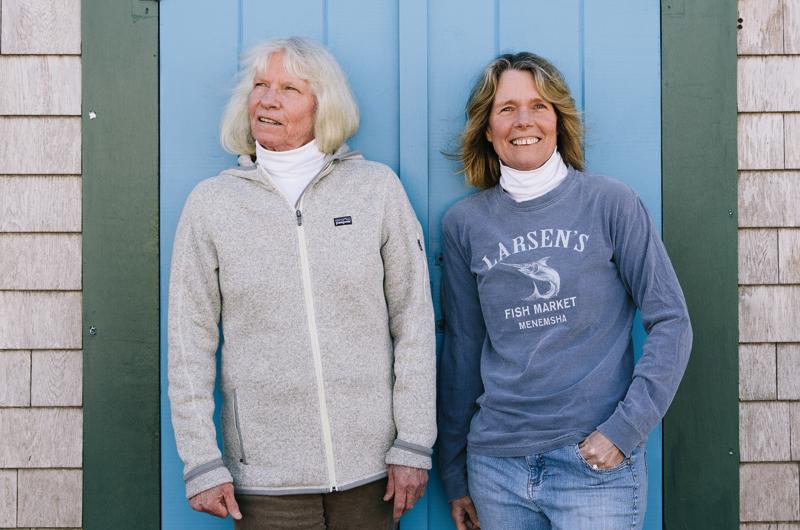 "It said: 'So-and-so, you're the catch of my life. Will you marry me?'" Betsy recalled with a smile. She obliged, and then spent the next hour and a half explaining to customers why there was a handwritten letter behind the glass. "Finally he comes in and he says to her, 'Whatever you want, you pick out dinner tonight.' So she's looking up and down the showcase and she gets up to the corner, and she bursts into tears. She's in such shock she backs straight out the door."
Like any successful Island business, the ebb and flow of seasonal work at the market can be daunting. It's not surprising to find Betsy in the office as early as 4 a.m. on a busy summer day, while winters are for slowing down, travel, family time, and planning ahead. "You miss a lot of things," Betsy mused. "I don't go to the beach; I haven't been to the fair in fifteen years. No Fourth of July parties, no fireworks. Sometimes in August I think, 'Why can't I have a T-shirt shop?'" she joked. "Nothing would ever go bad."
By the time Mary and Louis wrote their youngest daughter's name on the Larsen's Fish Market lease (some businesses in Menemsha operate on lots leased from the town) and the process of transferring ownership of the market began, Kristine was busy with a growing family and older brothers Louie and Danny were already running markets of their own.
As fishermen in the 1980s, when the industry was changing and regulations were just beginning to kick in, both Louie and Danny struggled to make ends meet. "As fishing became depleted it was harder to be the one to catch it," Louie remembered. "But you can always find something to sell. And there was a need for it. When I first started, there weren't any year-round fish markets down-Island. I lost my shirt the first couple of years, until we figured out what the public wanted."
With a wife and three young sons at home, Louie also saw himself repeating a familiar trajectory. "I grew up with a father who was never home," he said. "I had children and I wanted to see them grow up."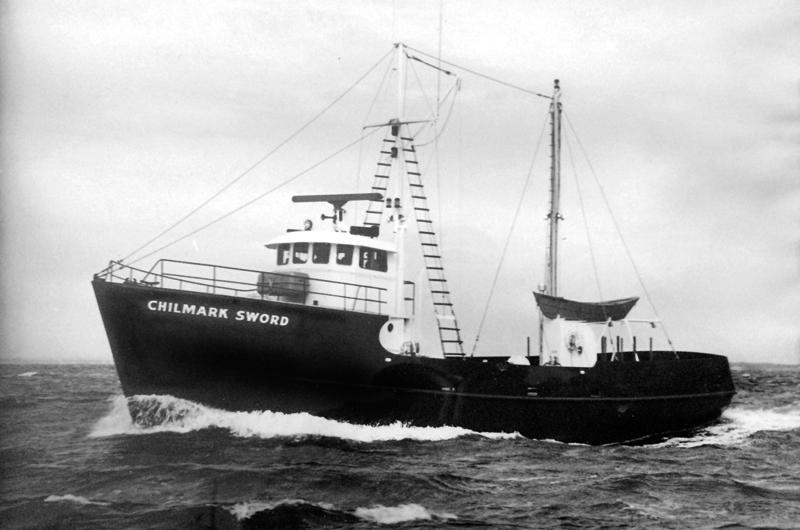 Danny, at that time, also had children to consider – two sons and a daughter – but was recently divorced. Always most at home on the water, he had moved away for a time in his
youth to study marine biology, but nothing compared to the thrill of fishing or the magnetic pull of the Island. "It was the sixties," he shrugged, his trademark wool cap perched over
shaggy gray hair. "So it was a whole different fog. I was interested in marine biology. I was on a research boat for the summer and it was the most boring thing in the world."
Louie also studied marine biology for a time, but like his siblings, felt pulled by family and Island life to return. "Our family – my father – was the glue," he said. "Family was huge to him."
"We didn't know you could leave," Danny joked. "I tried going places. I was still here when I got there, so it was a problem."
The brothers moved home, started families, and made a go of fishing, but slowly discovered that life on the water – and the Island – had changed. In addition to the burden of regulations and quotas, the brothers attribute the decline of the fishing industry to the rise of navigational systems and other technological advances.
"It made everybody a captain," Louie said, contrasting the new crop of computerized equipment with the bare-bones gear he had on boats as a kid. "I remember fishing with my father one time, we were out off Sable Island and he said, 'I can smell them. I can smell the swordfish.' And the next day we were doing the biggest catches I've ever been a part of."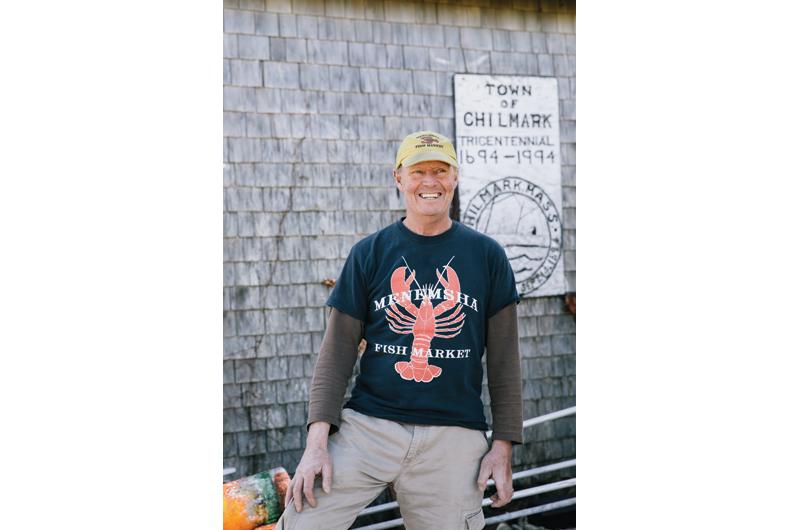 As prospects of a sustainable career in fishing dwindled for both men, they made the transition – somewhat begrudgingly – to small business owners. Louie opened The Net Result in 1985. Two years later, Danny followed suit, opening Edgartown Seafood in 1987.
"Running the market was totally new for me. I made my kids go to college. I don't care if they never use their degree," Louie said, attributing early struggles at the market to his lack of business knowledge. "I wish I had known that when you buy something for one and you sell it for two, you're not doubling your money. You have expenses."
"I'm horrible at paperwork," Danny added, listing the administrative attentions of running a business among his least favorite parts of the job. With a degree in economics, Danny's second wife, Marie, and mother of his youngest son Sam, has offered invaluable behind-the-scenes help. Similarly, Louie admitted that his wife, Beth, works longer hours at The Net Result than he does.
Like their sisters, both men maintain exhausting schedules in the summer, but when Larsen's closes up-Island each fall, the doors at the down-Island markets stay open. It was a business decision that Louie attributes less to economics and more to a sense of duty. "I tell everybody that if I expect you to drive through Five Corners in the summer and fight that traffic, I better be here in the winter," he said. "And customers are loyal because of that."
"It's the best part of the job," Danny agreed. "The people." Though he noted a particular contingent of summer visitors he could live without. "I do love 90 percent of my customers, but I wish 10 percent would go see Louie."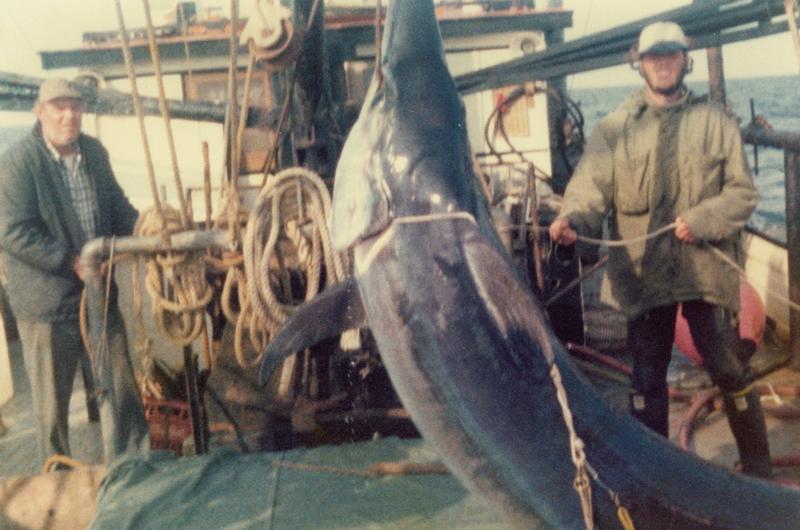 Both brothers acknowledged that the help they received from their father getting started played a pivotal role in keeping their businesses alive. "Dad would drop everything," Danny remembered. "He'd help anybody."
Louie laughed. "When we were kids we always said we'd have a lot more if he wasn't so busy helping everybody else."
The spirit of family and community has clearly trickled down the Larsen line, though each of the siblings is keenly aware of the competition that exists between them. They're happy to talk shop to a point, but in the end, the businesses are separate. "We're related, but it's all different pockets. We're not paying each other's bills," Louie said, nodding across the table at his brother. "It's not like I call him up and say, 'Hey, this is a big seller.'"
Still, as their children have grown, the siblings have stayed close, celebrating holidays together whenever possible. "It's fun to get together with all the kids," Danny said, offering what seems to be his own highest praise: "They all have a great sense of humor.
The most recent addition to the network of Larsen markets, Menemsha Fish Market, opened in 2004, just down the dock from Larsen's in what used to be the old Poole's Fish Market.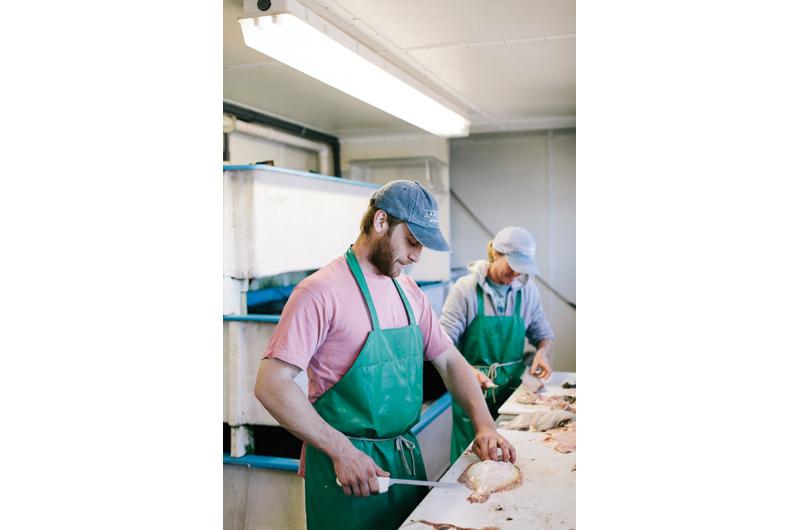 "I crossed paths with Donald [Poole] one day," remembered Stanley Larsen, son of Louis's brother Dagbard, and cousin to Danny, Kristine, Louie, and Betsy. "He threw it out there that he was thinking about selling, so we cut a deal."
A fisherman first, Stanley was interested in finding a way to stay on the water while supporting his family. Though running the market is a full-time job for both Stanley and his wife, Lanette, he still finds time to get out on the water, catching what he can and bringing it in to sell. "In the summertime I get fluke, flounder, monkfish, sea bass, scup," Stanley said, glancing out at the ocean from a stool perched between the shop's back windows. "The market supports my fishing habit."
Unlike his cousin Betsy's market next door, Menemsha Fish Market is open year round. "It's a challenge," he said, likening the experience of running a business in the off-season to the risky fishing trips of his youth. "It used to be a challenge getting to the grounds, getting back through the weather. And this time of year, trying to make the payments," Stanley shook his head. "It's an adventure."
Though both Stanley and Betsy acknowledged the competitive dynamic of operating similar businesses on the same small block, they insisted that family comes first. "We all grew up together," Stanley said. "I think some of them might have been shocked when I came in, but it could have been me, or it could have been somebody else."
Like most fishermen, Stanley, who for nineteen years served as shellfish constable of Chilmark, has a pragmatically pessimistic view of where the industry is headed. "Every year they're taking more away from the fisherman," Stanley lamented, citing quotas and limited access to fishing grounds as a major obstacle. More than overfishing, Stanley sees pollution and an ecosystem out of balance as growing concerns.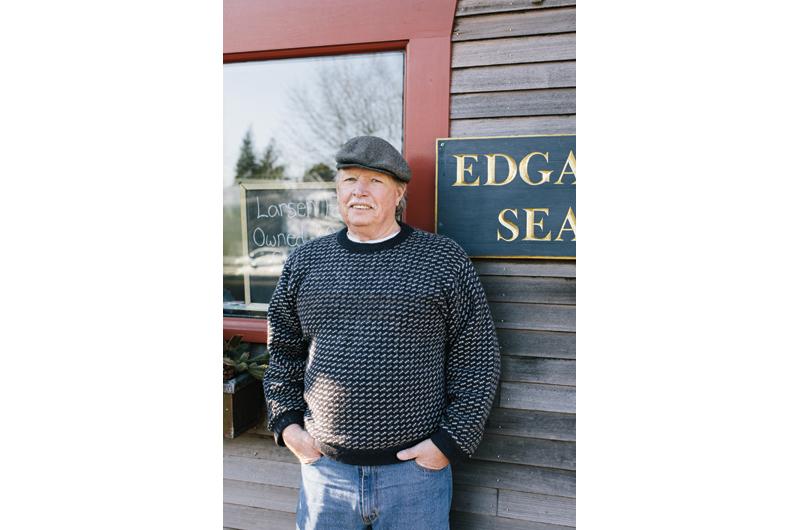 "There is a shortage of fish, but I attribute most of that to pollution. Acid rain, road runoff, septic systems," Stanley listed, turning to look out over the expanse of marshland in front of the market, and the row of sprawling estates that have crept closer toward the ocean over the years. "You'd have to tear down all these houses, pump out the septic systems, fill them in, move them all back about a mile, and then maybe in a hundred years you might start to see some of these fish come back."
Similarly, brothers Louie and Danny don't see much potential for future generations of fishermen trying to earn a living on fishing alone. Though they applaud recent efforts to bolster the industry, ultimately they worry that the damage has already been done. "The whole thing they've got going on in Menemsha to resurrect the fishing fleet, it's great," Louie said. "They're just missing one thing: fish."
As for the future of the markets, the siblings are each hopeful that younger generations will keep the family businesses alive. Scott Larsen, son of Menemsha lobsterman Stephen Larsen, Betsy's cousin, has worked at Larsen's Fish Market since the age of fourteen. Today he serves as Betsy's right-hand man, processing fish as it comes in and putting in long hours each summer alongside his aunts. In the winter, like many fishermen and market employees, Scott goes scalloping, and hopes to one day take over at Larsen's full time. "It's been working so far," Scott said. "I'm moving ahead."
In Edgartown, Danny relies on his son Danny Jr. to keep the operation running smoothly, but he knows firsthand what taking on a business with a young family at home would mean. "It's hard to really want him to do it," he said. "I hope he takes it over, but then I also think: he's got two little girls, does he really want to get up and do all of this every day?"
Louie has similar hopes for his sons, though he's been forced to acknowledge that at times his dreams may not have aligned with their own. Glancing out from a Black Dog table toward the ferry terminal, Louie admitted that he was on a noon boat, off to help his youngest son move to Brooklyn. "It was a surprise to me," he said. "But I told him it was always my aspiration for him to take over, not his. I never wanted my kids to work the hours I worked, and in that I wish him luck."
It may take more than luck to fully relieve any Larsen of a life intertwined with the ocean. Brothers Jeremy and Isaiah Scheffer, sons of Kristine and oyster farmer Roy Scheffer, haven't strayed far from the family business either: Jeremy is an oyster farmer in Edgartown, like his father, and Isaiah is the shellfish constable and propagation officer for the town of Chilmark. And perhaps more than a shared love of the sea, it's the legacy of a strong work ethic that is the true Larsen legacy. "My family doesn't know how to relax," Jeremy said. "They're workaholics."
It's the same dogged persistence that earned Jeremy's grandfather and his brothers their nickname, The Lucky Larsens.
"It wasn't because they were lucky," Jeremy explained. "It was because when they were harpooning, even when it was foggy and nobody expected them to catch much, they were always steaming around. They always tried a little bit harder than everyone else."
The result of that effort can be felt in each of the family markets today. "We are lucky," Danny insisted, attributing much of that good fortune to the community that has supported his family through each new venture, through every up and down.
"I am blessed," Danny said. "It took me a long time to realize it, and now I don't question it. The Island has been good to us. It's been good."