At the top of the Ocean Park bandstand sits a weathervane in the shape of a whale. Back and forth the copper leviathan sways in the wind, keeping a watchful eye over Oak Bluffs. On days when there's not a cloud in the sky and the sun reflects off the metal, it can look as if the whale is actually alive. That's what creator Anthony Holand strives for in this piece, and every piece he carefully produces – life.
"That's the one thing I'm really good at," the metal sculptor said with a laugh in his Vineyard Haven studio on a warm summer morning. From a customer's vision, he aims to craft what they see when they close their eyes: a school of stripers that seem to be swimming through the air, a stork suspended in mid-flight, or even a great white shark ready to attack.
Holand, who is forty, has been a metal sculptor for almost half his lifetime. But it's not the path he envisioned as he grew up across the country in Washington state. "I wanted to do special effects for movies or work for Lego," he recalled.
He went to college to get a degree in business, per his mother's request to find "a real job." And it was there, at the school's foundry, that he fell in love with figure sculpture, soon followed by bronze casting. "It was something about the metal," he said. "The longevity of the whole thing. It's going to be around still in a couple hundred years."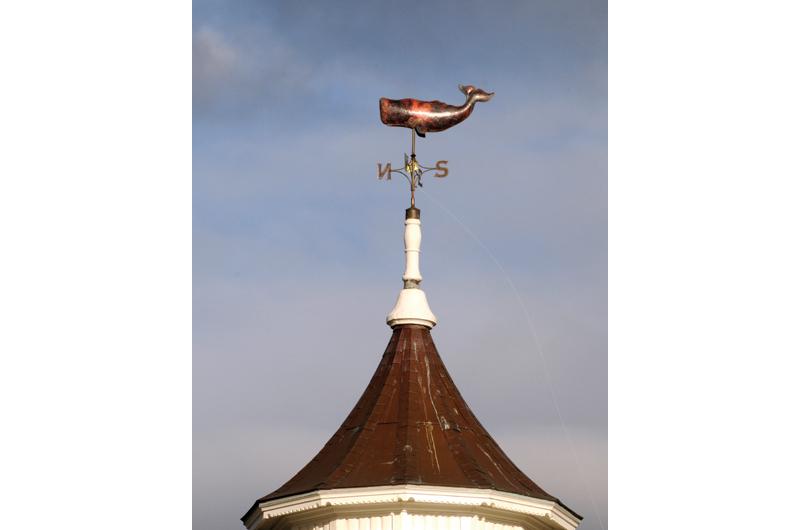 After graduating from college, Holand came to the Vineyard in 1996 with some college friends and found a summer job. Still trying to figure out what to do with his life, he would talk with his employers about his passions. Then one day his boss saw an advertisement in the local paper stating that metal sculptor Travis Tuck was looking for an apprentice. She persuaded Holand to apply. He sent in a couple of pieces, and out of quite a few candidates landed the gig.
Two years later Holand completed his apprenticeship and decided to stay on at Tuck's studio. The pair eventually joined forces, and Tuck & Holand Metal Sculptors was born in 2002. Unfortunately, later that same year, Tuck lost a battle with cancer. Holand remembers fondly the last piece they worked on together – a ten-foot Nittany Lion, the largest weathervane created to date, that sits atop the Penn State football stadium. They fit almost half a year's work into two months to complete it. "As Travis put it, 'I did the lion's share,'" he said.
After Tuck died, the transition into business alone was easier than expected. "There were a few clients that helped really make a difference," he said. They stayed, they understood what had happened, and were willing to trust him with their pieces. And he delivered. So much so that a lot of his business is from repeat customers.
Ben and Virginia Crisman, attorneys who own a summer home on West Chop, have commissioned Holand for two works so far. Their first was a weathervane that showcases their family's love for kayaking. Holand was able to incorporate the Crismans, their two daughters and son-in-laws, and their five grandchildren into the piece. "Anthony involved the children in the process," Virginia said, "inviting them to his studio, demonstrating how he heats the copper, and [how he] manipulates it into the shape he envisions."
Holand adheres to an open-door philosophy: he wants people to come in and see the techniques used to create his work, to ask questions, to be intrigued by it all. But the process itself is complex and time consuming. Once a client confirms a sketch, Holand creates a pattern, blows it up to the actual size the finished product will be, then makes paper patterns. "It's a lot like making a garment," he explained.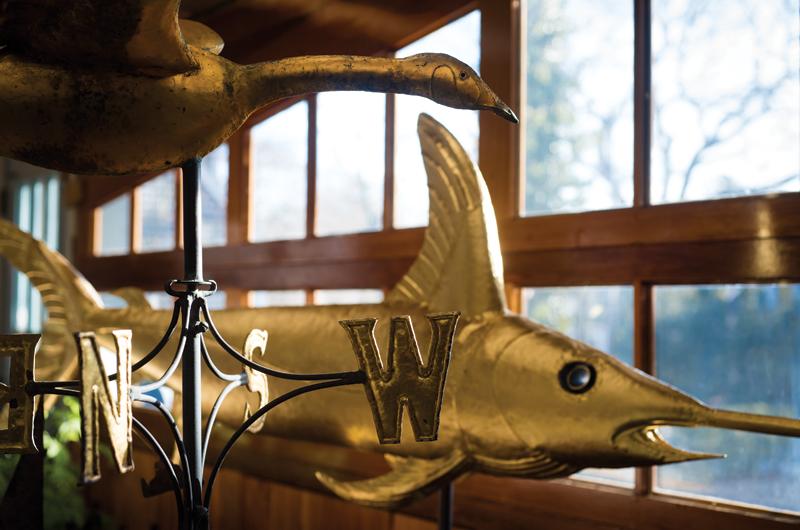 Next, he transfers the pattern onto a copper sheet and cuts it out. To make the copper easier to work with he uses a process called annealing, which involves heating it with a torch to red-hot temperatures so that the molecules expand and the metal becomes soft and malleable. This is where he also achieves the colors in the finished product. "Sometimes [the color] is more dark or more red. And if you're going for one [color] you'll get the other."
After quenching the copper by thrusting the hot metal into water, he begins to shape the pieces on wooden blocks. Holand swept his hand over to four blocks of wood that stand in the center of his studio. "The stuff from the last twenty years have come off of those." To finish the piece he brazes, or joins together, the various components by melting and flowing a filler metal into the joints.
The artistry behind it all draws a lot of people to his studio/gallery, which is attached to his home off State Road. They come to see the work firsthand, and often end up inquiring about a customized piece of their own.
But don't expect to get your customized weathervane, which typically costs $18,000 to $20,000, within a few months. Try a couple of years…maybe. "I have a two-year backlog for custom right now," Holand said as he shuffled through papers to show what he is currently working on. The theme of the moment, quite randomly, is dogs. One sketch showed three Labradors, another was of a Brittany spaniel – both for repeat customers. The third drawing was for a first-time client and featured two golden retrievers.
He doesn't work only on customized pieces, though. For those really yearning for a Holand original, he has numbered editions to choose from that range between $5,000 to $10,000. Those fly off the shelves too. "I finished a mermaid at 3 a.m.," he said." I came to work at 10 and it was gone by 11."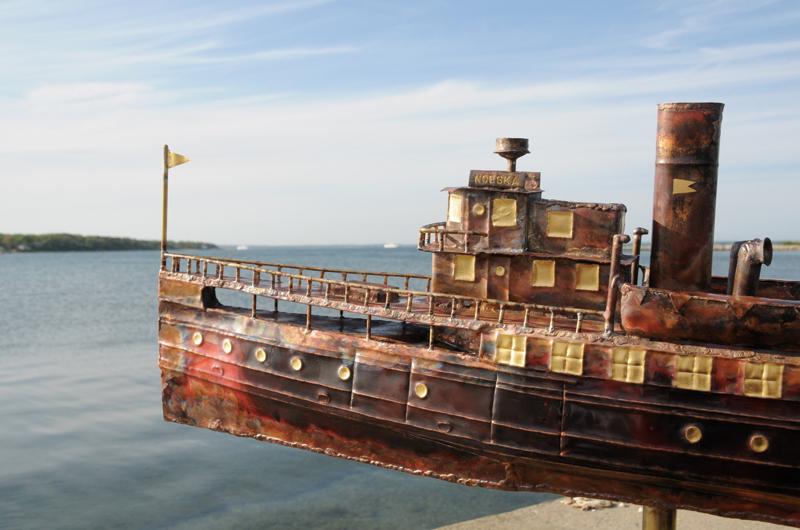 He admitted that it's hard to find the time for numbered editions when there is so much custom work he needs to do. But, he added, it's also one of his favorite aspects of the job.
Though his predecessor Tuck concentrated on creating weathervanes, Holand also works on other metal sculptures for interested clients. He has crafted chandeliers, Island maps, compass roses, and sundials. In 2014, he was really put to the test when the Crisman family on West Chop came back to him and asked if he would create an elaborate mobile for their Island home. The theme, naturally, was the Vineyard. "Each person in the family, including the grandchildren, selected an object which relates to memorable summer experiences," Virginia explained. There was a Ferris wheel from the Ag Fair, a ferry, the West Chop Lighthouse, the West Chop tree, and numerous other Island-related objects like a lobster and an ice cream cone. Thirteen unique, handmade symbols in total.
The finished product hangs in an open stairwell in the couple's home. "When we renovated our house last winter, the mobile was moved to the West Tisbury library during construction," Virginia said. "I think others enjoyed it!"
But Holand is still known for his weathervanes, which fittingly reflect their surroundings all over the Island: the Oak Bluffs Steamship Authority wharf has the Nobska, Edgartown Yacht Club flies a burgee, private homes boast fish, mermaids, lobsters, and other Island themes. He is working on restoring the arrow from the Federated Church in Edgartown. The list goes on and on.
Like his metal sculptures, Holand is here to stay. And through him Travis Tuck's work and style lives on too. One day in the future, if all goes according to plan, Holand will pass the torch to a protégé, who will no doubt continue to dazzle folks by taking a simple piece of copper and giving it life.