It is an unseasonably warm September night at The Ritz. Mike Benjamin has wrangled together a five-piece horn section. He has already played three gigs this weekend, and the other musicians have been just as busy.
What's left of the dance floor after squeezing the horn section against the wall is packed. The floor is heaving with every beat. The walls are shaking. The horn section is trying to blow the roof off the joint, and they are damn near succeeding. This is hot, sweaty rock 'n' roll like it was meant to be.
Larkin and Jacqueline Stallings, Vineyard souls with deep roots in northern California and south Texas, are sitting at a back table this warm September night. They have owned The Ritz for only a short time. Larkin is a hands-on manager. When he is at The Ritz, he is in work mode. But he did something he says he never does while on duty. He grabbed his lovely wife of twenty-seven years and they danced up a storm.
"That was a moment for us," Larkin said. "Jackie and I knew what we had. We looked at each other and said, 'Holy crap, this is what The Ritz is.' It was magical."
The Ritz has anchored the foot of Circuit Avenue for as long as most can remember. Once a fish market, then a favorite haunt of brawling fishermen, where entertainment sometimes included two guys running across the room to bang their heads together, and Pat and the Pinheads rocked the jukebox sing-along, the place earned every inch of its reputation as the Island's quintessential dive bar. For some, the reputation was a draw. For many others, it was a stigma that kept them away.
But it was never the exclusive domain of down-and-out drinkers and fighters. It always maintained a quirky edge, just offbeat enough to draw a few well-heeled tourists, in tune enough to entice the occasional music legend, and irregular enough to make the locals want to drop by and see what's
going on.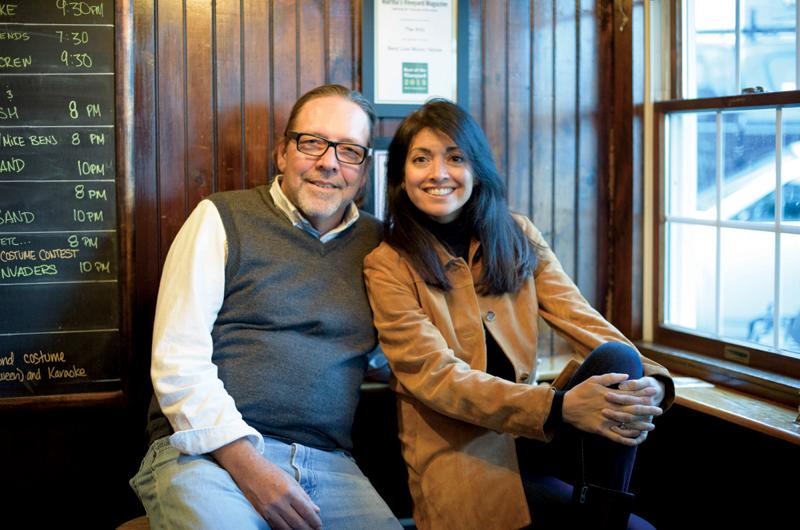 Opened in 1944, The Ritz changed hands a couple of times before the Pachico/King family purchased it in 1967 and operated it for about forty-seven years. The Stallings put in an offer for the place in 2012, but they were outbid. The deal with the other bidder fell through, however, and in February of 2014, they made another offer. It took a few months of lawyering before $975,000 changed hands and the Stallings owned The Ritz. That delay would have unintended but fortuitous consequences.
So what made it a good deal?
"Nothing," Larkin said. "It was the stupidest thing I've ever done. The building was a good deal. It was a good land deal. Was it a wise thing to do? Probably not."
When he was still in high school, Larkin opened a disco in Palo Alto, California, for eighteen to twenty-one year olds. He made enough money to put himself through college, but college was just about the last place he wanted to be. At his mother's insistence, he enrolled at the University of Houston to study hotel and restaurant management. Over the years, he opened or owned more than twenty-five different restaurants, clubs, and bars, everything from a hip-hop establishment to a country-western honky-tonk. He still owns three establishments in the Houston area, and spends a week or so every month in Texas.
It was in Houston that he met Jacqueline. Her family, like many Latino and Mexican-American families in south Texas, had a picture of Jesus and a picture of John F. Kennedy hanging on the wall. She was named Jacqueline Lee, after first lady Jacqueline Kennedy, and at a young age, having learned that her namesake owned a summer compound here, Jacqueline predicted that one day she would live on Martha's Vineyard.
She focused on raising four children, while Larkin devoted himself to business. With success came time for short vacations on the Island, then longer vacations, then a summer home. But Larkin was itching for change.
With their nest empty, and barely settled into their new dream home in suburban Houston, they agreed to think out of the box, get out of their comfort zone, and throw off every other cliché that draped their comfortable life.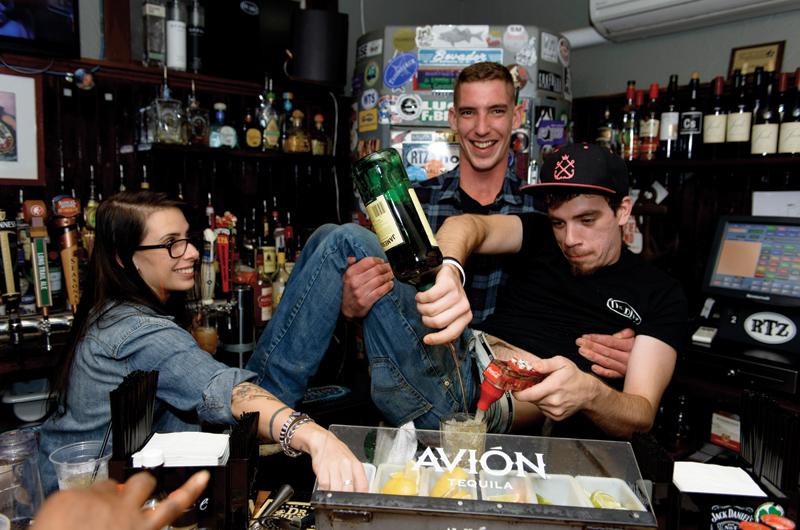 Which is to say, they fulfilled her childhood prophecy and moved to Martha's Vineyard. "A bar that serves the fine folks of a small island, seven days a week, 13 hours a day is a Coen brother screenplay waiting for the green light," Jacqueline wrote in her blog chronicling the new adventure (livinglola.com). "How's that for going outside the comfort box? Nailed it! Our days of structured life are over. We run a bar. We stay out late, we hang out with amazing musicians, and throw crazy parties. We did it. We took a chance."
The changes in The Ritz were subtle but immediate. Larkin brought in some employees from his other establishments and made training the backbone of his operation. No patron was left standing for long without a bartender or a waiter offering personal service. The staff moved constantly, clearing tables and serving drinks.
In the first few months, new tables and seats went in. Lots of flat-screen televisions went up. Art prints of local musicians appeared on the wall. Some trendy new premium liquor brands appeared on the top shelf, and some new draft beers were on tap.
A few, very few, regulars heard a whisper in their ear suggesting they move on. There were fewer altercations. Some of the rough and tumble edges of The Ritz were filed down a bit. Eventually, the live music schedule expanded. More local musicians were added to the schedule. Some new bands, carefully positioned to attract a younger audience, without turning off the regular patrons, headlined on weekend nights. Two shows were booked on many nights, with the early show allowing working folks to get home at an earlier hour.
But that was never the plan. Larkin is a concept guy. He succeeds by staying on top of the trends, knowing his clientele, and running a tight ship. "We had big plans," he said. "We were going to change the name; we had a concept in mind."
When a bar is in business for seventy years, however, it gets set in its ways. Change is difficult, and on Martha's Vineyard people are often more resistant to change than they are in other places. A pony-tailed Texan intent on a fresh new look for an Island institution had disaster written all over it.
It was a bit of good fortune, therefore, that while lawyers were dotting every "i" and crossing every "t," their first summer as owners of the bar snuck up. By the time the sale closed, the season was in full swing.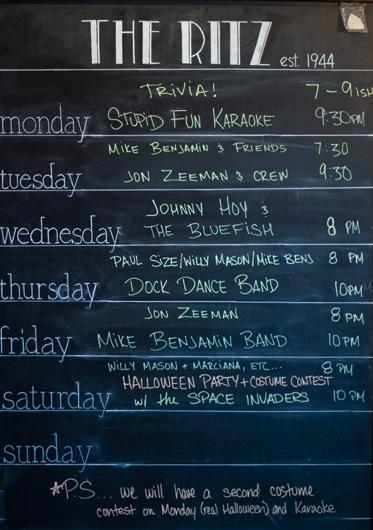 "We didn't have time to do anything," Larkin said. "Because of that, I learned there was a soul to The Ritz that I didn't know. We were forced to operate as The Ritz for a summer, and by the end of that summer, I realized I can't change that much. If you lose that, if I were to make it something other than that, you destroy it. Left to my own devices, I probably could have destroyed it. Once I got that, once I understood what the soul of it was, from that point forward it was pretty easy. We're just a humble dive. I don't want it to ever be anything bigger or fancier. We've got to keep its soul right. That thing is like an old Martin guitar."
It is a frigid February night at The Ritz. Johnny Hoy and Paul Size are playing the early set, with drummer Kevin Medeiros. The tables are full of people sampling the revamped menu, pub food with flair, and side dishes heavily influenced by tater tots.
Hoy starts a number, then wanders through the crowd. He beckons the other musicians to follow. Cabin fever is a powerful disease. It makes people do strange things.
"They all end up on the bar," Larkin said. "They're on the bar playing in the middle of the winter, when it should be just shut down. It was a full house and everybody's going crazy. It was a blast."
The soul of The Ritz may be in its seven or so decades of providing refuge and respite, but its heart is in live music. The Vineyard is home to a small but vibrant corps of incredibly talented musicians, players who could sit in with acts that fill arenas and not miss a beat. The Ritz is the center of that universe.
Johnny Hoy and the Bluefish, Mike Benjamin, drummer Tom Major, keyboardist Wes Nagy, guitarists Paul Size and Jon Zeeman, horn players Steve Tully and Scott Shetler, as well as singer-songwriter Willy Mason play there so much these days that they sometimes leave their instruments and amps in the back room.
"They're dedicated to making it more of a music venue," Benjamin said. "For me it's awesome. For the Vineyard, it's awesome. They've managed to take a bit of the rough and tumble stigma away from The Ritz and turn it into a more friendly venue."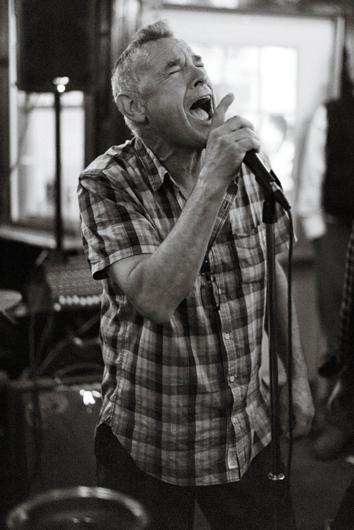 Larkin is an amateur musician himself, and he's hired hundreds of acts over four decades in the bar business. He's a pretty good judge of musical talent. He is in awe of The Ritz regulars.
"I can say this with absolute certainty," he said, "Johnny Hoy is the best front man I've ever heard in my life. His presence, an incredible harmonica player, he's got this insanely great soul, rhythm, and blues voice. He's got to be one of the coolest guys on earth.
"Mike Benjamin, he's got a phenomenal voice. He is also a great front man, a great guitarist. I don't think people give him credit for being as good a guitarist as he really is."
It is a cool September evening at The Ritz. Hoy is stomping on the grungy set lists he keeps on the floor. Keyboardist Jeremy Berlin is hammering a bass line with his left hand, and holding up a melody with his right. Buck Shank is making his powder-blue Fender scream. Robbie Stoltz is driving it all from a sparse drum kit wedged under a stairway.
And Hoy is wailing, wailing, on a blues harp.
He's covering a Waterboys tune. It's a hard rocking anthem to the fate of a working man. He loves this song:
I wish I was a fisherman
Tumblin' on the seas
Far away from dry land
And its bitter memories
Hoy can handle a room like nobody's business. He takes
the crowd up and up and up. He swings the mic stand in a
pirouette, then dips it like a dance partner. He belts out the
final chorus in a frantic, soulful voice:
With light in my head
You in my arms
Light in my head
You in my arms
Hey hey hey-ey...
He raises his hand, then signals an emphatic downbeat, and the band seals up the tune in a decrescendo. As the last cymbal crash hangs in the air, and the applause begins, Hoy finds another gear and fires into another chorus like it's the last song he'll ever sing.
The band picks up the tune again, dutifully pretending surprise. Again, and again, and again. The downbeat, the ruse, another passionate chorus.
The Ritz rocks on.