My favorite part is carving," Althea Freeman-Miller pauses to say, but that has already been made clear by the enthusiasm that infuses our conversation. "When I'm drawing I'm thinking about how I'll be carving. I realize some lines translate differently when carved. Actually the carved lines come more naturally. It's the simplest version, the edited version of the drawing. You have to find the most important parts and once carved you can't change it. You're going to live with those lines forever."
Her linoleum block prints, all in unlimited editions, are easy to recognize: bright colors, textured ground, single bold images usually of everyday objects, tools, kitchen implements, vegetables. She also makes ornate all-over designs featuring birds, fish, leaves, and flowers, and designs logos, illustrations, and invitations.
"This is my first landscape print," she says of Stone Wall and Crocuses. "It's not a specific place. I did it as a representation of an Island winter scene. You're looking over a stonewall through bare trees that go on and on. I love the contrast in textures, the smooth stones in big interlocking shapes in contrast with the feathery trees. I made all the trees black for a dramatic linear contrast. Then in the foreground are the crocuses that represent spring.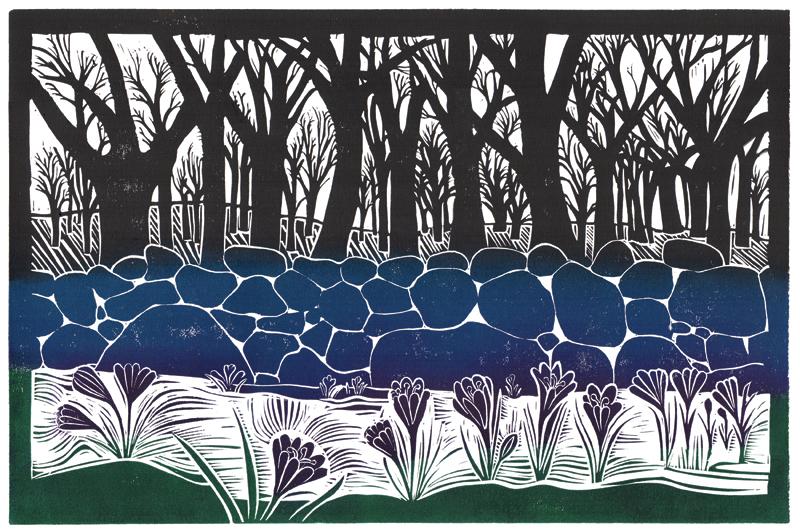 "When you begin you on-ly have this idea of what you want to do. Then the tools and materials take over and make it what it becomes. This is why I like block printing. You can see the process happening."
After the drawing is made ("the hardest part"), a charcoal transfer of it is put on the block and carved with Japanese tools. Soy-based colors are rolled on using a small brayer. Laying paper over the block, the image is printed by rubbing the back of the paper against the inked block with a wooden spoon.
"It's always backward," she says of the sort of inside-out, upside-down mechanics of block printing. "What you carve doesn't take the ink and becomes the negative space. And when you print, the image is reversed. If it faces right, it prints facing left."
It all comes naturally to the Island native, who returned to the Vineyard three years ago after spending most of her twenties in Vermont. Her mother, Leslie Freeman, operated Island Children's clothing store in Vineyard Haven, selling Althea and Emily Designs, clothing decorated with her own block print designs. Her father, Laurie Miller, a painter, also designs logos. "Coming back gave me a lot more understanding of who I am," she says. "It feels good to be back."