Centuries ago, Native Americans fished with carrot-shaped lengths of pine and spruce stained with vegetable dyes, but it wasn't until the 1940s that striped bass fishermen took the cue and discovered that the small, freshwater Creek Chub Pikie Minnow was a killer in the Cape Cod Canal. Prior to that, plugs had simply not been used for stripers: bait and jigs had been the choices. After the Pikie revolution it was off to the races as demand for striper plugs surged, and dozens of small tackle businesses sprang up across New England.
The early bass plugs were basically handmade and larger than their freshwater cousins, because more weight was needed to cast them with the conventional saltwater tackle that was in use at the time. They were fashioned of wood, designed and field-tested by the expert fishermen who made them. Names like Bob Pond, Stan Gibbs, Jerry Sylvester, Danny Pichney, and Charlie Murat were in the vanguard and are still legendary today. Their early plugs worked as well as anything invented since, and there have been few improvements over the years.
It was Pond who took the freshwater Pikie to the next level after catching a number of stripers on one that he found on the Canal riprap. He produced an outsized eight-inch swimmer – the Striper Atom 40 – that drew laughs until bass devoured it and made believers of the skeptics. The first plug I owned was one of his wooden 40's that I found in the mouth of a dead shark on South Beach in 1953, and it still catches bass all these years later.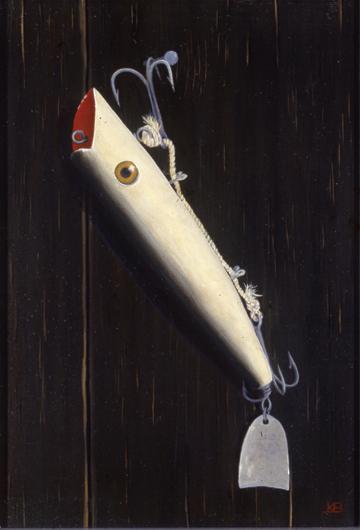 Among many other memorable names from the wooden plug era were Cap'n Bill, Floyd Roman, Hicky-Do, Masterlure, Blue Streak, and Leo Cooper's Goo Goo Eyes, which Charlie Cinto was trolling at Cuttyhunk when he caught the Massachusetts state record seventy-three pounder in 1967. Not to be outdone, Creek Chub entered the striped bass market with several larger versions of the venerable Pikie.
A lesser known name was Gamsby's Action Lures, whose jointed wooden Wig-Lit and Wob-Lit plugs were made in a garage in Wollaston, Massachusetts, in the 1940s. Clifford Luce of Vineyard Haven used a Wig-Lit to win second place in the 1948 Martha's Vineyard Striped Bass Derby.
Demand for striper plugs reached all the way to the West Coast. According to tackle collector and historian Tom Clayton, "at times salmon lures were very popular with the striped bass crowd," and sharpies had to have certain models. One such plug was the Martin "Flash Trailer," made in Seattle in the 1950s/'60s, and pictured in the accompanying painting. This plug had belonged to Larry Meyer, and I purchased it from his daughter Ruth some twenty years ago when she closed Larry's Tackle Shop at the Mobil station in Edgartown. I never fished it, but was attracted by its unique design and aura of a bygone and colorful period in angling history.
Gibbs Lures of Cumberland, Rhode Island, still offers a few of those early plugs handmade in wood, including the inimitable Danny Swimmer, but the vast majority are now plastic, thanks to that material's advantages of lower cost and consistency in production.