Most artists spend their lifetime developing one certain style or technique. Kara Taylor is not one of those artists. For the past sixteen years she has been conceptualizing and selling her artwork on Martha's Vineyard. And no two collections are ever the same.
Her studio is a testament to that. Perched on dock pilings at the Martha's Vineyard Marina, natural light streams in and lands on a mix of finished and unfinished pieces. On one wall hangs a painting from her "Storm" collection – dark, edgy, raw. On the opposite side of the room, panels are leaning upright in various stages of completion. They are part of her newest mixed media installation, "40 Flowers" – bright, natural, feminine.
Taylor continued to work as we talked. With only a few weeks left until her opening for "40 Flowers" in July, time was of the essence. Plus, her glue was drying. "I've done thirty-three," she said of the flower panels. "Each flower represents a year in my life." She recently turned forty.
But there's more emotion behind the pieces than just another birthday. Two years ago she unexpectedly lost her father and believes that she is finally coming out of that state of grief that followed his death. "The flowers are hopeful," she said, staring off into the distance for a few seconds. She shook it off and went back to the gold-leaf stems she was working on. "Some of the stems are sturdier than others," she explained, "some years your stem is more fragile. And some years you're more grounded."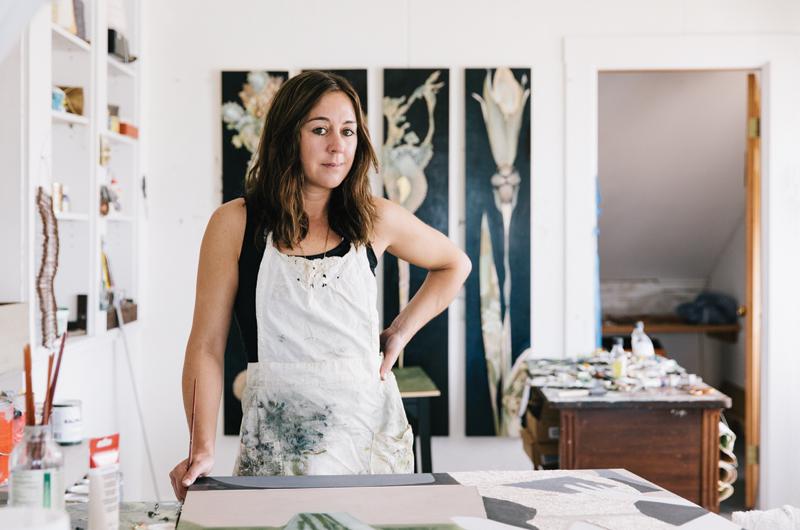 It seems as if Taylor has been relatively grounded as an artist her whole life. As a child, she lived for her time in the art room at school. Drawing, painting – whatever let her use her hands. "I wouldn't say I was one of the best drawers," she said of her earlier years. "I feel like I developed my abilities over time."
It helped that family members were artistic too. Her maternal grandfather, the late Charles Davis, was known for his beautifully carved duck decoys and creating his own flies for fishing. Taylor remembers sitting and watching him as he worked when she was younger.
At the regional high school, her art teachers saw potential and helped foster her artistic goals. During senior year, ceramics was offered and Taylor fell in love with clay. After graduating in 1993 she headed to Maine College of Art in Portland, where she majored in ceramics. "Etching was my other thing," she said. "I really got into printmaking and etching and ceramics."
After college, Taylor settled in Maui for a bit, then traveled to India. In Maui, she changed her medium almost by accident. There were no local facilities for either printmaking or ceramics, so she turned to painting and her work quickly began to sell. "I got accepted to this juried exhibition in Maui and the state of Hawaii bought one of my pieces," she said. "I wasn't a trained painter. I was trained in other modalities. [But] if you're good at one thing, you could be good at others."
In 1999, when the Field Gallery in West Tisbury offered to present her first solo show, it was time to move back to her home island. She built a house and opened her first gallery at Nip 'N' Tuck Farm in West Tisbury, across the street from where she grew up. She named it Haystack Gallery. "I grew flowers, I farmed the field, and I made it into this sweet little market," she remembered. "In the back milking area was where the gallery was. I pretty much sold every painting every summer that I created out of there."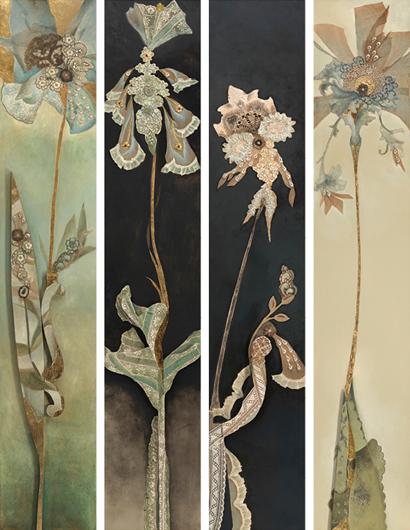 It was in this makeshift gallery that Taylor began friendships with her future art collectors that have lasted throughout the years. Pixley Schiciano, a children's ballet master for the Boston Ballet, said that she "was first drawn to Taylor's artistic balance in her vegetable shop…the way she placed antiques in the room, the way the olive oil was arranged on the shelves, even the produce was aesthetic!" Taylor eventually brought Schiciano into the back gallery. "From the moment I saw her work, I was hooked," Schiciano said. She has been collecting Taylor's art for about ten years now.
After five years at the farm, Taylor picked up and moved her gallery to a space on Main Street in Vineyard Haven. With a more public, commercial location, her artwork was more accessible to folks strolling through the town. Her winters were spent developing and creating the art she would sell in the summer. One year it was landscapes of the Island painted as if you were flying in a biplane, looking down at the scene as you went by. Another year she took enhanced photos of herself and embossed her poetry onto the surface.
Yes, Taylor is also a poet. "I write a lot of poetry," she said, "but I don't share my poetry as much as my paintings."
After seven years on a busy main drag, it was time for her to get back to her roots. Taylor's third gallery is housed in Chilmark at the old Stanley Murphy gallery. It sits next to the Grey Barn farm in a sprawling pasture. "Now I can be a destination because I've had enough people who know my work and will come up and find me," she said of her current location.
Helen Benham, a former publisher, is one of those clients who has followed Taylor to her new space in Chilmark. Benham has been a collector of Taylor's art for a few years, and has purchased six pieces, including one she commissioned as a gift for her mother. "Kara's work is dreamy and lyrical and passionate," Benham explained of the artist. "She is brilliant; her talent is beyond description."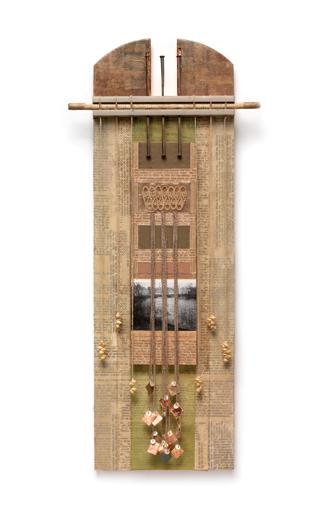 This past May, Taylor's gallery opened for the 2016 season. The walls were full of different pieces from over the years. A few panels of her "40 Flowers" collection hung on a wall. A man walked in. She greeted him by name and immediately took him over to the flowers. She explained her vision for the finished installation: each 12" x 64" panel will hang just three inches apart. Once completed, it will be as if you're standing in the middle of a meadow. A meadow derived from Taylor's imagination, that is.
"They're totally unique," she said. "I like making the flowers intuitively. I just start cutting things and laying it down."
Her use of lace throughout adds to the femininity of the work. The lace swatches come from a collection she began years ago from trips to Paris. There is a sleeve from a girl's christening dress. Another is from an old tablecloth that has been ripped and no longer serves its purpose. But Taylor can give it new life.
Her artwork is unpredictable. One never knows where it will end up next. Taylor herself never really knows. She has pages and pages of ideas that she let's sit in her mind and incubate before they are scrapped or brought to life. "As an artist she is not only hugely prolific, but also endlessly imaginative," said Benham. There's no telling where
she'll go next.