'Tis the season to sing the praises of volunteers, and to hail the boom of retirees with time and a desire to serve rather than sit. Take the Island Food Pantry, for instance, which served 450 families last year. It takes a little over eighty volunteers to collect, bag, and distribute the food each week at the United Methodist Church in Vineyard Haven. Food assistance is available year round, but the main season is mid-October to mid-April, because "that's when people are laid off and the heating bills begin," says Armen Hanjian, the retired Methodist minister who has been the all-volunteer organization's coordinator for the past twenty years. Several volunteers, he says, are either current or past clients.
Eighty is also the magic number for Meals on Wheels, which has been around since 1977. Volunteers deliver one day per week on a scheduled route that added up to 37,983 meals last year. Jacque Cage, the Vineyard director of Elder Services of Cape Cod and the Islands, says that the program is about more than just nourishment. The conversation, she says, is often the most essential ingredient of the meal, pointing to a recent client survey in which almost everyone mentioned how much those volunteer visits added to their daily lives.
Opportunities abound, in other words, for those with time to give. From Habitat for Humanity, to Felix Neck, to the myriad programs under the Martha's Vineyard Community Services umbrella, to the animal shelter, to the Boys and Girls Club, to youth sports. There are no candy striper uniforms at the Martha's Vineyard Hospital, says Suzanne Hammond, the director of volunteer services, but there are about ninety individuals who perform essential tasks: greeting people at the main or out-patient desks, handling paperwork in the lab, applying calligraphy to the stunning birth certificates sent to parents.
Leslie Clapp, the executive director of the Martha's Vineyard Center for Living, which provides a day program, medical taxis, and other services for Island seniors, believes the Vineyard "has a very vital core of people who want to and do volunteer, especially in the realm of services for elders. But there's always room for more." Especially, she says, in the area of supportive day care, where people are often leery of dealing with issues like dementia. According to estimates, nearly 30 percent of the population will be 65 or older by 2035.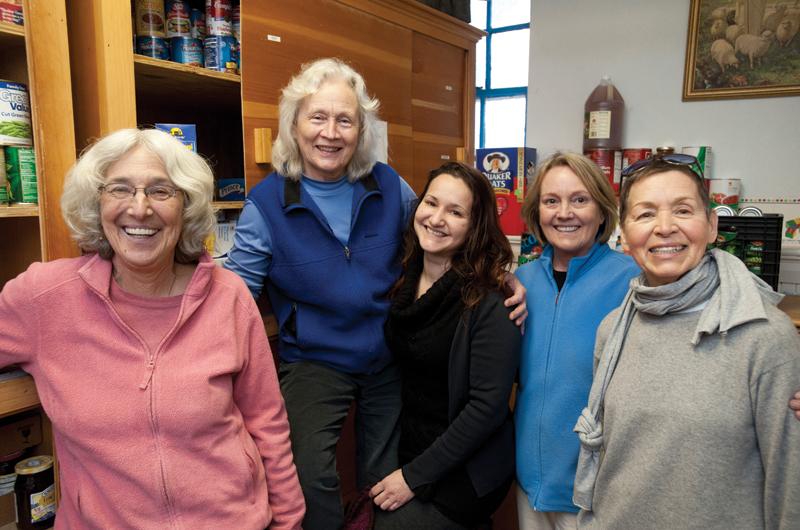 "The last year or two, there's been much more buzz about it in the community as a whole. How to be more age friendly, how to create dementia-friendly communities, and there's a lot of models and information out there," says Clapp. "The thing about the Vineyard is we like to forge our own way and figure it out. There are some unique aspects here, including people who volunteer that we can really tap into."
Polly Brown is a bit of an expert on volunteerism. Not only did she create Vineyard Village at Home, a volunteer-driven operation that assists older Islanders who want to remain in their homes, she oversees the annual Spirit of the Vineyard award, which singles out extraordinary and longstanding volunteer contributions.
"The Spirit of the Vineyard volunteers are completely unsung heroes," says Brown. "Without exception, they say, 'I don't deserve it.' These are people who put hours and hours and years and years into this work and just do it out of the goodness of their heart."
Take, for instance, Nell Mendenhall, the 2002 awardee, who was a lifelong advocate for several public causes, including conservation and recycling. Never one to seek publicity, she would only accept the award if it was made clear it was on behalf of the many others who likewise volunteered. At ninety, she wasn't supposed to drive from her Indian Hill home, but did anyway because she didn't want to bother anyone. Upon her arrival, she argued briefly with the reception table because they declined to take her $5 for lunch. And then, surrounded by friends, she collapsed and died.
As her daughter Bethany Mendenhall told the Boston Globe at the time, "An insider joke is that Mother was so embarrassed" by the attention created by the award "that she would do anything to get out of it."