When Brooke and Lynne Adams first conceived of their web series, All Downhill From Here, a short-form, semi-autobiographical, mockumentary-style comedy about two aging sisters now in its second season, the roles were originally reversed. Lynne was meant to play the part of Elizabeth, the former actress/filmmaker who arrives on Martha's Vineyard to cheer up sister Kate, who may or may not be dying, and who was originally to be played by Brooke.
"I felt like too often life imitates art," Lynne explained as we sat at the dining room table of the Chilmark home Brooke shares with her husband, the actor Tony Shalhoub. "So many things that I've written have actually happened after I've written them." And Lynne couldn't live with the possibility of writing such tragedy into her own sister's life.
But what about Brooke? How would she feel if the curse worked the other way around and Lynne fell ill?
"I just didn't care," Brooke deadpanned. The sisters, both of whom are actors with résumés spanning decades on stage and screen, share the same dry wit. (Brooke has had roles in dozens of films and recently appeared on the CBS series BrainDead, and in well-received productions of Samuel Becket's play Happy Days, while Lynne starred for years on the soap opera The Guiding Light.) For the past year and a half, however, they've been trying on new roles: producers, co-writers, and constant collaborators. With their costar – and co-just-about-everything-else, from editing to sound and camera work – Joe Farina, the trio is giving new meaning to DIY film production, all from a quiet corner of Chilmark.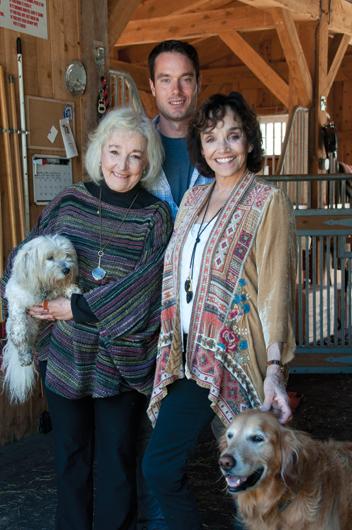 All Downhill From Here is a comedy built on serious themes, themes both sisters feel personally connected to and ones they weren't seeing addressed by traditional media. "It gives us the opportunity to talk about and think about death and dying," Lynne said of her character's mysterious illness – presented in the form of vague symptoms like depression, sleep apnea, and general malaise. "Which was the original idea, because it's just so hilarious."
"It's life," Brooke added. "Everybody's got to face it. We all face it very differently, and for the most part, we face it really badly. And I thought, what's the fuss about? Everybody dies. At our age we have to think about it."
The show also provides a vehicle for the sisters to produce meaningful work in an industry that famously makes it difficult for women to do much of anything past a certain age. And that "certain age" might be younger than you think. "I've had multiple people in New York tell me, 'You're what everybody wants,'" Joe said. "'You're the late twenties-thirties male who can be in the cop show.' But to my friends that are women, they're saying, 'You've got to get going. You don't have much of a shelf life.'"
Though Joe and the sisters are in very different stages of their lives and careers, they share a similar desire to beat the industry at its own game, or at least to find a new way onto the playing field. After meeting Joe seven years ago, Lynne encouraged him to study acting and she and Brooke helped him get settled with friends in Los Angeles. "I stayed for almost six months," Joe said. By day, he trained at the Beverly Hills Playhouse. By night, like any good aspiring actor, he worked in a restaurant. "I wasn't going to come back, but it was very hard for me to survive what I was doing. I didn't like the lifestyle."
Eventually, Joe, a New Jersey native, discovered that it would be easier to split his time between the Vineyard and New York City. He spent a few winters going on auditions and casting calls in the Big Apple. "I used to have an agent," he said. But he wasn't ready to give up his connection to the Island, or the project he, Lynne, and Brooke had started dreaming up.
Industry insiders had a different idea about the kind of work he should be doing. "They said, 'We want you to audition for commercials and be that guy putting things on a shelf. We think you could make a lot of money doing that.'"
Instead, Joe chose to stay close to the Vineyard year round, and has in the process gained invaluable, hands-on experience in every facet of filmmaking. "Joe had never done anything like this before," Brooke said of his jack-of-all-trades production support. "And he did everything."
The ideal trajectory for a web series would be to have it picked up by a network or major distributor. The sisters would love to see their show go the way of High Maintenance or Web Therapy. But they've found that even short, scrappy webisodes are costly to produce.
"Look at hers," Lynne said of Lisa Kudrow's popular four-season-long show, Web Therapy, in which the actress plays a call-in psychotherapist doling out questionable advice. "I mean, this is a show that's two people on a Skype call. Check out the credits at the end. Hairdressers, makeup people, costume, best boy. It's a huge list. And we have Joe."
While the sisters enjoy the creative freedom running their own show has afforded them, the practicalities of producing a series, soup to nuts, has proven to be too much. "My idea was that we do it for nothing, so we don't have to answer to anyone," Lynne said. "We could shoot it all on our own for no money, but post-production kills you." And so recently the team has expanded to include a new sound editor, guest directors, and, perhaps most important, a social media expert. Brooke is busy promoting the show on a weekly blog
series she writes for Huff/Post50, an offshoot of the Huffington Post. But in order to keep the project afloat, the show will eventually need support from advertisers, which means it needs to first reach a broader audience.
The sisters, who have both been visiting the Vineyard for more than thirty years (Brooke and Tony bought a home here in 1999; Lynne bought the house across the street a few years later) are optimistic that all the audience they need is right here. They've shot scenes in local businesses – Alley's General Store and Midnight Farm – and hope to do more. "The response here has been wonderful," Lynne said. "People love it."
"Even people we don't know," Brooke added, "which is, of course, what we want. At the farmers' market, vendors will say, 'Oh, I love your show.' And that's really fun."
You can watch All Downhill From Here at alldownhillfromheretv.com.