In this series I'm expressing the larger issue of how we treat our natural environment – how we treat the spaces around us," says Dan VanLandingham. "I want the concept to get as much consideration as the painting and design.
"It's not just telling my story. I want to create more of a dialogue through my work. I want the viewer to write the narrative."
But VanLandingham provides the elements of consideration. In King of the Forest, there are subliminal visual references to impermanence and deforestation.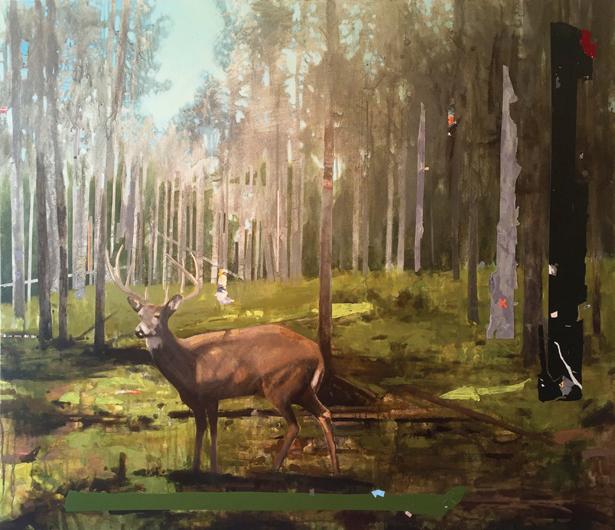 "Both the trees and the deer own their spaces," the artist says, "but both are there as temporary parts of the landscape. And the red X on the tree refers to many things, including the marking of trees for cutting."
His inspiration is not confined to Island sites and locations. "My landscapes and street scenes are invented spaces, nonspecific, a general composite of what we have in this country presented in a familiar enough way to make the viewer feel connected."
His painting technique contributes to making his work unusual. Pieces of acrylic colors that have been poured on a glass palette to dry are scraped off, shaped, and added to select objects on his canvas to create
a dimensional effect.
"I become the architect of the landscape, using the addition and subtraction of paint to transform the space. I physically built the trees with pieces of paint. The process pushes the deer up off the background, and shadowsare created that add volume to the objects.
"It's meticulous," he admits, "and takes months to get the end result."
The end result is not foreordained, however. Depending on his reaction to the composition and colors as they are developed, the image is changed and altered. "I like the idea of chance and randomness. It ties into the randomness and unpredictability in nature."