You hear the rumors all the time. The Vineyard is the second most popular wedding destination in the world. There are forty weddings every Saturday in June, unless it's fifty weddings, or sixty. That wedding on the north shore cost $400,000. Or was that the one at Herring Creek Farm? Or was it $700,000? Which celebrity got married here in August? To whom? Did the Obamas go?
To try to get a handle on the wedding industry on Martha's Vineyard is to wade into a sea of anecdotes and facts, with a distinct shortage of the latter. But there is no doubt that the business of tying the knot is a major boon in the shoulder seasons, allowing many commercial operations, large and small, to ramp up in May and keep going deep into the fall. Its reach is broad and diverse, ranging from the expected bakers, photographers, caterers, and innkeepers to the less obvious small farms, artisans, fishing charters, and even yoga teachers.
But establishing the full economic impact of the wedding industry with any specificity turns out to be impossible. Christine Flynn, the economic development and affordable housing planner for the Martha's Vineyard Commission, says she has no idea, adding that determining how the business of weddings fits into the economic engine of the Island is on her long to-do list. Nor can the Massachusetts Office of Travel and Tourism provide a breakdown for the Cape and the Islands. Nancy Gardella, the Martha's Vineyard Chamber of Commerce's executive director, can only quantify it this way: "It's huge."
Even the seemingly simple number of ceremonies and celebrations that take place on the Island in a given season is hard to nail down. Collectively, the six Island towns issue about 250 marriage licenses annually. Yet that number seems small to people in the business who estimate there are twenty to forty event-type weddings every weekend from June through September, and only somewhat fewer in May and October. Part of the explanation is the unknown number of couples who arrive with licenses from other Massachusetts cities and towns. Still others officially tie the knot in other states but come to the Island for a purely celebratory ceremony. And, by the way, that thumbnail estimate of events doesn't count the small backyard weddings of Islanders that happen throughout the season but don't create much fuss or bother, except perhaps for the mother of the bride.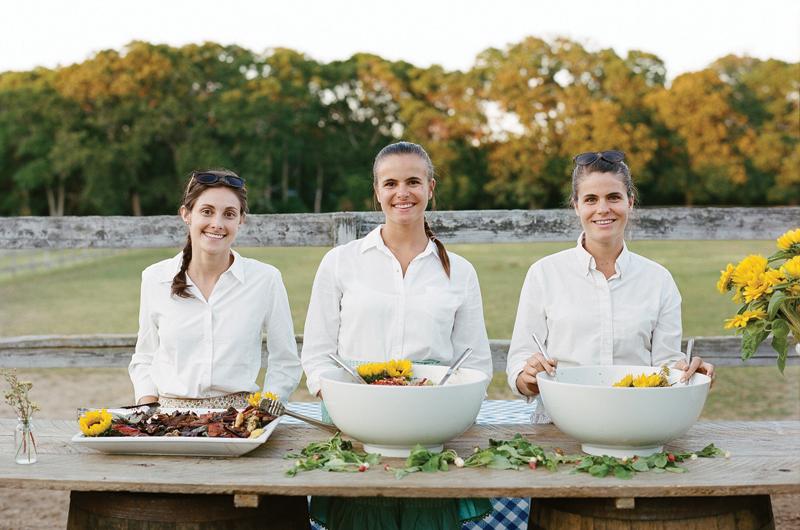 Whatever the actual number of weddings is, it appears to be an industry that, while not completely immune to economic downturn, keeps humming along. Jim Eddy of Big Sky Tents and Party Rentals says the recent recession prompted more customers to seek discounts, but with steady bookings, there wasn't much incentive to be accommodating. As longtime caterer and planner V. Jaime Hamlin says, "We're in the memory-making business. Usually, the brides have read all the magazines and been to a million weddings and they're very specific about their wants and needs. And for parents, it's the wedding their daughter has dreamed of forever and they are generally going to give her everything she wants."
Which isn't to say the improving economy has no impact. At the Lambert's Cove Inn in West Tisbury, wedding bookings were up in 2015 from the previous year and owners Kell Hicklin and Scott Jones also saw a return to wedding parties taking rooms for longer stretches. Additionally, there's plenty of crossover. "Someone may be getting married at the Harbor View or somewhere else and block out all fifteen of our guest rooms. And we do rehearsal dinners and luncheons and brunches for weddings, whether they get married here or not."
Hicklin believes that kind of spillover is key to fully appreciating what the wedding business brings to the Island economy. "There's a trickle down for most of the Island. We'll set up fishing charters or sunset cruises, and bus tours and tee times for golfers and kayak rentals and Jeep rentals. We've had Back Door Donuts deliver apple fritters at the end of the night, bought boxes of Chilmark Chocolates or stuff from the Black Dog, so weddings mean much more than a venue or accommodations. It touches so many Island businesses."
Hamlin recalls a recent 300-person June wedding where the bride's family wanted everything local, so the Good Farm started raising all the chickens in April, the wedding party got blankets from the Allen Farm Sheep and Wool Company looms, the liquor wasn't shipped in but purchased locally, and the flowers came from Tea Lane Farm. (She also remembers a wedding where the dog ate the wedding cake – literally – and there was a mad rush to the Black Dog to save the day.) According to Jan Buhrman of Kitchen Porch Catering, the wedding business works perfectly for the several stay-at-home moms who work with her in-season. "They know they can count on fifteen jobs that will pay them $250. It's perfect, they can count on it and these are year-rounders with families."
The wedding business's coattails don't just stretch laterally to other businesses; they stretch across time. Andrew Bartlett, the general manager of the Harbor View Hotel in Edgartown, says weddings regularly create that "first touch" for guests that brings them back to his hotel and the Island. At the other end of the Vineyard, Hugh Taylor of the Outermost Inn in Aquinnah agrees. "It's very much a kind of back-door advertising and you don't have to pay for it. When you do a wedding for two hundred people, some of them become endeared to the Vineyard and they come back."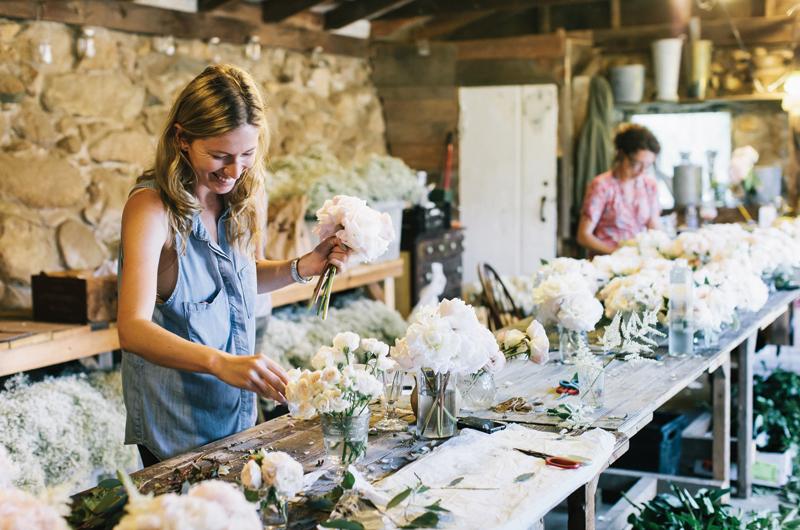 And who gets married here? People in the know say that nearly all of their engagements – upwards of 80 percent – have Vineyard roots, many running generations deep. Most vendors say it's a rare wedding when neither the bride nor the groom have an Island connection, even if it's simply been their favorite summer rental haunt.
Still, Edgartown town clerk Wanda Williams reports that about 40 percent of her marriage licenses in 2015 were issued to out-of-state couples, which she attributes to the proximity of the Probate Court across the street. Couples who arrive without a license need a court waiver to the three-day waiting period in Massachusetts. But out-of-state can also mean – and seems to mean, in most instances – relatives of year-round or seasonal residents.
So, how does the Vineyard line up as a destination? Well, we're in the mix, but not in the big leagues despite local lore. Take, for instance, that oft-quoted line here, tossed out with great certainty over cocktails, that the Island is the second most popular wedding destination after Las Vegas. A quick Google search will turn up lots of "Sin City," but it's tough to find us. Buzzfeed lists the twenty-two coolest places to get married: no MV. Ditto Fodor's. And Brides. Only one search produced the Winnetu Oceanside Resort in Katama as the fifth most "relaxing resort for a stress-free destination wedding." That's from the list-rich Huffington Post.
Still, the myth endures. Eddy of Big Sky Tents hears it all the time. Julie Flanders of the Captain R. Flanders House in Chilmark says, "I know I've heard that. Maybe on the news?" And the Chamber's Gardella has her own take: "I've heard that, but I tell people we're the second most popular after Hawaii." Whatever.
Still, we do seem to be a draw. So says wedding and events planner extraordinaire Bryan Rafanelli of Rafanelli Events, who orchestrated Chelsea Clinton's 2010 wedding in the Hudson Valley (batting down nonstop rumors that it was happening here), decorated the White House for Christmas this season, and planned Matt Damon's wedding vow renewal in St. Lucia. The Vineyard is always on the short list when clients are looking for an East Coast destination wedding, he says. Our competition? Nantucket (of course) and (surprise) the Blackberry Farm in Tennessee.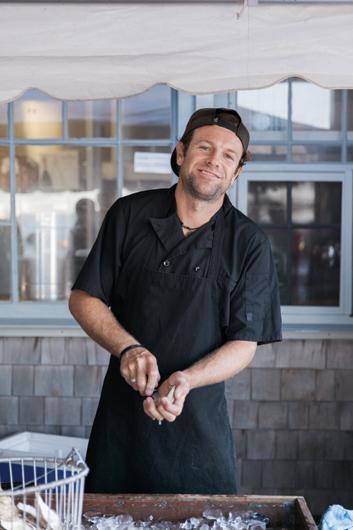 Rafanelli says the price tag for these multi-day celebrations can be bracing, about one to two thousand per guest for a typical high-end wedding, and is only going up with each passing year. "The truth is if one daughter got married five or ten years ago, this year's daughter is going to want to do more, because she's read everything and the wedding industry has done a very good job promoting destination weddings with four or five or six events over the weekend."
That's the trend that has given the Island wedding business even longer tentacles. There are welcome-to-the-Island cocktails, rehearsal dinners, golfing for the groomsmen, spa afternoons for the bridal party, Sunday brunches, sunrise yoga, farewell events, and, of course, those after-wedding parties that move to another location once the wedding band breaks down at 10 p.m. in Chilmark, West Tisbury, and Edgartown, or 11 p.m. in Oak Bluffs and Vineyard Haven to comply with noise regulations.
"It's become much more of a family reunion or extended holiday," says Flanders. "Basically, people think it's a cheap bride if they're not invited to five or six things over the weekend."
Janet Heath, who has been handling weddings and events for the Martha's Vineyard Preservation Trust properties for eighteen years, has seen the change firsthand. "It's gone from a very traditional 'rehearsal dinner, wedding, reception, done' to now, lots of them start on Thursday and carry on right through Sunday. It's one of the biggest evolving things I've seen and it becomes quite a production."
Flanders believes this is where the Vineyard stands out from mainland venues. "We can give people a ton of options. Maybe they go to the beach one day, or get a fishing charter, or go to Edgartown for the evening. When you go to most places, they hold you captive on the property and I think that's what makes the Vineyard exciting for people."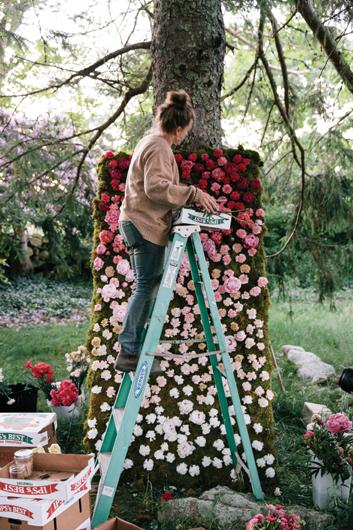 One outfit that has jumped on that trend is Bluefish Taxi and Aquinnah Taxi, which, with a fleet of six large vans, two mini vans, and drivers dressed for the occasion, has pretty much morphed into a wedding company. Jim Hickey and co-owner Samantha Church acknowledge that it requires a certain go-with-the-flow mentality.
"No matter how good the wedding planner is, no wedding goes according to script," Hickey says. "They spend months in planning, but people come here and they're on vacation and on their own schedule. You just have to be flexible and adjust on the fly." For Hickey's crew, that might mean gathering up the groomsmen to have a final beer with a nervous groom or making sure that everyone exits at the last stop, including the young woman who passed out in the third row of the van.
All is not over the top, however. Jackie Kane created My Vineyard Elopement (now rebranded as My Vineyard Concierge) in 2013. She's done about twenty-five small weddings or elopements a season, many of them second marriages, or before June 2015, several same-sex weddings for couples who could not get married in their home state. "When it's small, it's so heartfelt. I'm not in it for the money and I don't have the stress of the larger weddings."
Even an Island town can benefit. The Sailing Camp in Oak Bluffs on the Lagoon hosts the Island Children's Theatre and Sail MV on the weekdays, but the weekends belong mostly to weddings. Five years ago the camp's John Breckenridge says there were eleven events netting $14,000. In 2015, with fifty-eight events, most of them weddings, the camp is no longer a negative town asset, bringing in $75,000 and breaking even.
And let's not pooh-pooh honeymoons, which are very much on the Chamber of Commerce's target list. The Chamber actively promotes the Vineyard internationally through the Massachusetts Office of Travel and Tourism, which has representatives in Europe who promote directly to tour operators and travel agents. Oftentimes, says the Chamber's Gardella, people combine honeymoon destinations by maybe spending five days in New York and Boston and then capping it off on the Vineyard.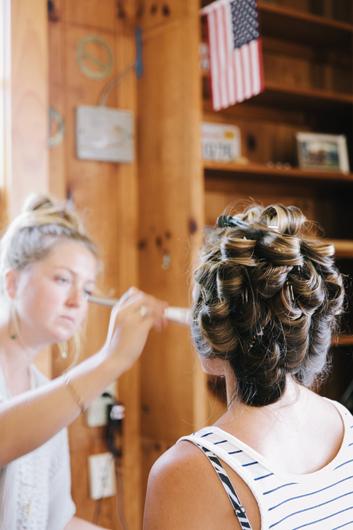 Gardella says they have also made a particular effort to woo gay couples to marry and honeymoon here, citing the Chamber's marketing arrangement with Boston Spirit magazine and participation in its annual wedding expo. Its website includes a built-out series of links under LGBT Weddings with a tailored narrative and gay-friendly photos aimed to attract couples and their families.
A gay scene on Martha's Vineyard? Not so much. But Gardella is more than ready for that question. "I tell people, 'Provincetown is the bachelor party, but Martha's Vineyard is your wedding or your honeymoon.'"
As popular as the Island is for newlyweds-to-be, and as beneficial as the business is to a wide swath of Island entrepreneurs, there are some nagging limitations that keep the Island from becoming a bigger beneficiary of the wedding industry: complicated logistics, a shortage of large venues, and noise regulations. But the greatest of these is noise regulations.
"The good places book up very quickly," says Eddy, "and there are noise restrictions on a lot of them which make them less attractive. For how much money weddings generate and how many people are employed, it would be nice if the Vineyard were a little more wedding friendly. Everyone is benefiting from the extra business the industry brings to the Island and it would be helpful if we had better venues to have these weddings and more support from the community."
To pianist Jeremy Berlin, who plays in and manages Johnny Hoy's band, the ordinances don't make a lot of sense. Singers belt through speakers and drums are part of most ensembles, but amplifiers are forbidden for the other musicians.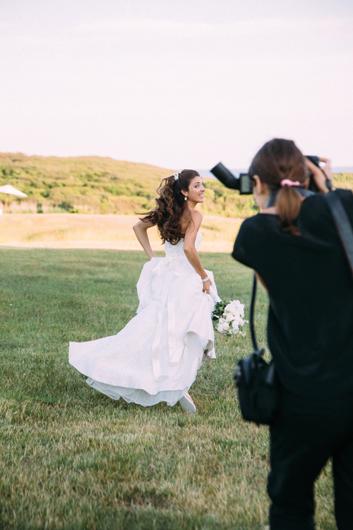 "That means the bass player, guitar, acoustic guitar, and piano players all have to bloody their fingers to be heard. The amplifiers by their very nature can be turned down. The difficulty of having big weddings here in addition to all the logistics is people don't want to be told the reception has to stop at ten."
"You're always looking to buy out a pub or a restaurant or a private home," says planner Rafanelli. "We're constantly looking for that stuff because young people don't want to end their big night. This is once in a lifetime and they don't want it to end at ten when the music shuts down."
Even Taylor in Aquinnah has thought about building a specific event space to accommodate larger weddings. "Right from the get-go, it's expensive here because you always have to tent weddings no matter where it is, and then you have to add on all the rental fees – the table settings and the equipment needed to handle food production that can produce 150 or 200 plates in twenty minutes."
And then there's the weather. Particularly in the fall. Buhrman of Kitchen Porch always asks brides to consider a hurricane plan for any late summer or fall weddings and, naturally, no one wants to talk about it. Buhrman remembers one bride who simply declared "she was not going to have a hurricane on her wedding day." Well, when the poles started weaving and the tents came down at the Captain R. Flanders House, and the bride was crying in the closet, someone thought of the Home Port Restaurant, which had just closed for the season. The trucks loaded up in the wind and the rain, and voilà – a Menemsha nuptial.
Ahh, the horror stories. What would we do without the stories? For Flanders, the wedding that stands out more than the $200,000 wedding by a New York designer was the one where a tropical storm came calling, and with pants rolled up and dresses hiked, everyone danced in the howling wind and rain.
For photographer Peter Simon, who started shooting weddings in the late seventies but now only shoots for friends and family, where to begin? Maybe the nude wedding on Moshup Beach in the late eighties? Or a very sweet one last summer on Lambert's Cove Beach where the bride and groom, after living together for twenty-five years, decided to tie the knot in their seventies.
And then there's the incomparable John Alley, former West Tisbury selectman, current postmaster behind the bars at Alley's General Store, who became a justice of the peace almost on a lark more than thirty-five years ago in order to help his friends Allen and Lynn Whiting tie the knot. Since then he has performed hundreds of ceremonies, marrying people in lighthouses, on ferries, on beaches, and even on an airplane.
The magic formula is pretty simple, he once told the Vineyard Gazette: "The ideal wedding is doing whatever the bride wants."