Oink Free or Die
A group of pigs were working up in Aquinnah, clearing some unwanted vegetation, when they made a break for it by Lighthouse Road. There were a lot of them; they had perhaps all stayed up late watching a double-bill of Babe and Charlotte's Web and were determined to live free. And they did, for a few hours at least, until they were captured with an enticement of cereal, bread, fruit, and leaves. Pigs will be pigs after all. Aquinnah Police Chief Randhi Belain shrugged off the incident as just another day. "Nothing out of order," he said. "It's a first for Aquinnah. We've had goats loose. But pigs? No."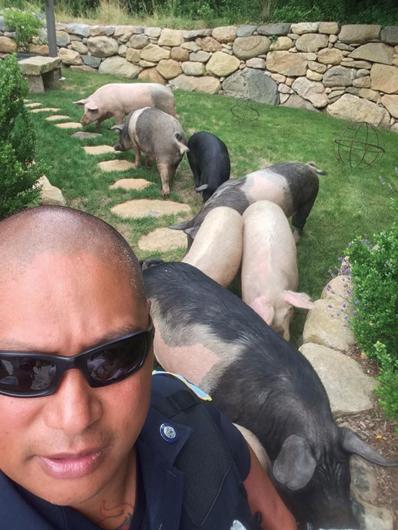 Sit Free or Die
Tisbury abandoned its pursuit of new money through a tax on the fecal output of new homeowners. What seemed like a brilliant idea to cut nitrogen waste hit the skids as quickly as a three-bean burrito feast. The town is looking to idea number two: new rules to denitrify septic systems. F&J is not sure what that means, but it smells like progress.
Heavy Frog Warning
F&J heard recently from a reliable source that not one, but two Chihuahuas were carried off by hawks. There is no photographic proof at this time, but consider it fair warning to keep all small dogs on a short (or at least very heavy) leash when visiting the Vineyard. Blue jays and other medium-size birds should take note too of a different danger, one that lurks at pond's edge (yes, F&J has a sizable wild readership). There, a very large and ferocious frog recently attacked and killed a blue jay, much like an alligator surprises a zebra. This time there
is photographic proof, and it isn't pretty.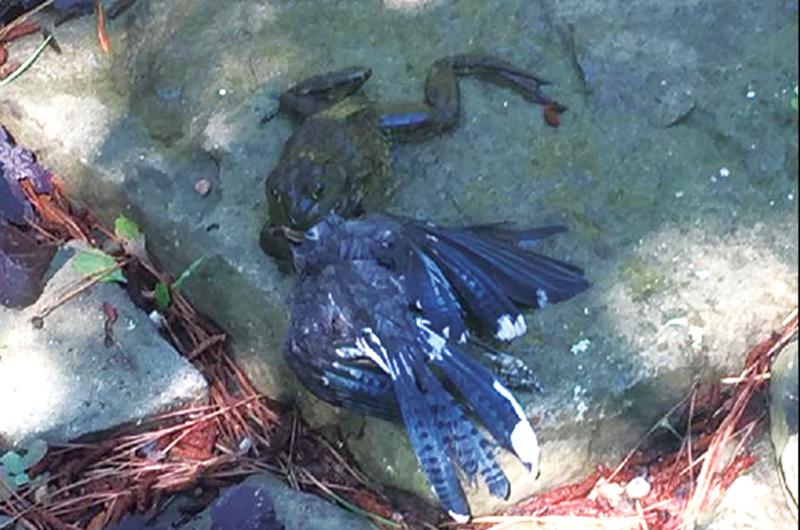 But Could that Frog Eat a Jurassic Chicken?
Do you miss the woolly mammoth? Well, the saber tooth tiger certainly does. And so does Stewart Brand, a founder of Revive & Restore, a group trying to revive extinct species. But it looks like he will have to start closer to home with a bird. "De-extinction has been hard to fund in other cases, with the great auk and the woolly mammoth," he recently explained. "Thanks to Martha's Vineyard there has been specific money for the heath hen." Oh well, there goes the branding opportunity. "The Vineyard Is For Woolly Mammoths" is so much cooler than "The Vineyard Is For Formerly Dead Birds."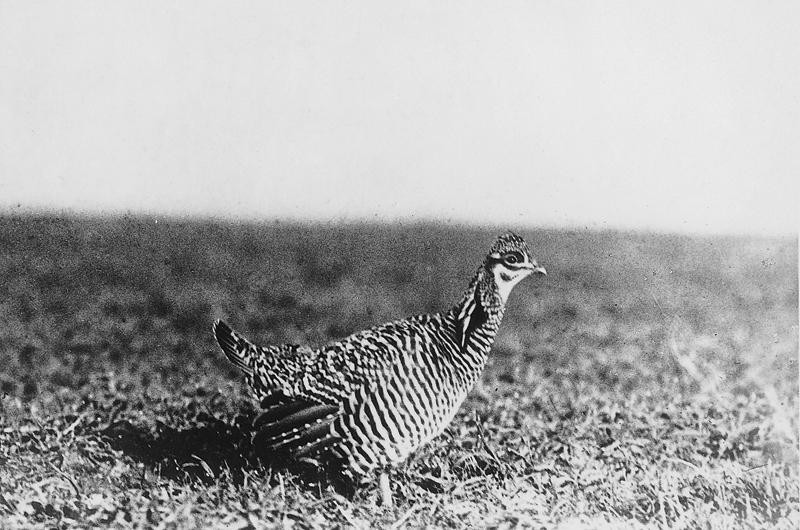 Brokebird, We Hardly Knew Ye
The gull formerly known as No Name, latest in a long line of injured avians to find temporary refuge on the island of misfits otherwise known as Chappaquiddick, is no more. Like her predecessor Broken Wing, No Name was dispatched by an unnamed automobilist rushing to board the Chappy Ferry.
Duly Noted
The website of the fashion magazine W recently published what it called "The Ultimate Packing Guide for a Trip to Martha's Vineyard," consisting of "ten essentials for a weekend of farmer's markets and clambakes." The total cost of the items, which didn't include any T-shirts or flipflops, came to a mere $8,755. But if you already have an Hermes watch, you can get the price down to just over $6,000.