First Place
Lia Potter, Vineyard Haven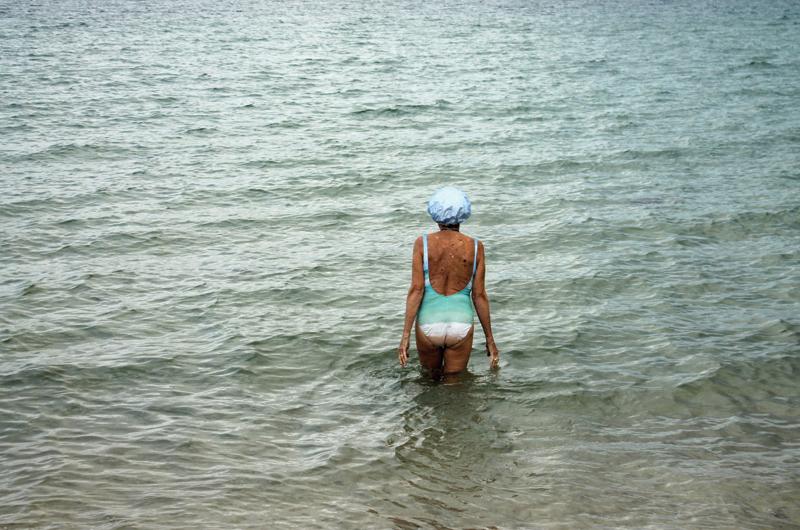 Lambert's Cove was the perfect backdrop for this image on a mild November day. Lia Potter, a student at Martha's Vineyard Regional High School, said she was drawn to how the bathing suit, cap, and ocean were all shades of cool blue. The judges agreed. "What a beautiful, enigmatic shot," one said. "The color combinations are wonderful."
Second Place
Kevin R. A. Walsh, Edgartown and Mashpee, Massachusetts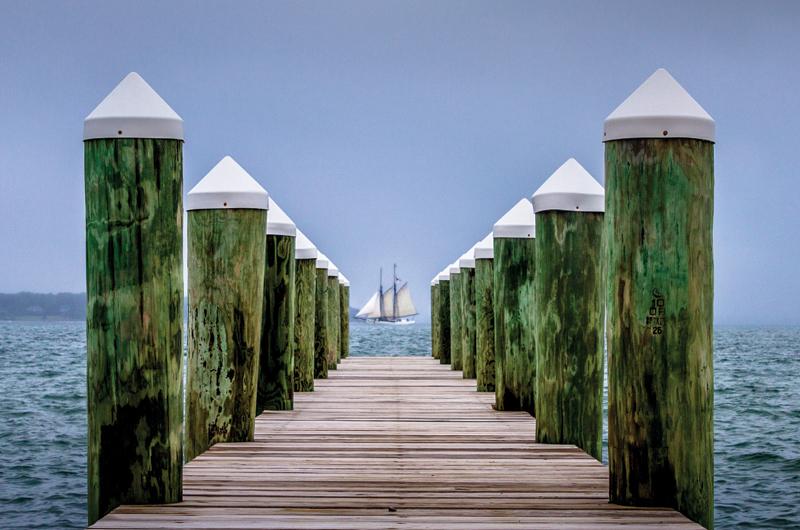 Patience makes perfection. Kevin Walsh waited forty-five minutes one rainy summer day for the schooner Alabama to position herself between the dock posts while returning to Vineyard Haven harbor. "I like the combo of the strong graphics and soft coloration," one judge said.
Third Place
Marian Gurry Stanton, Wayland, Massachusetts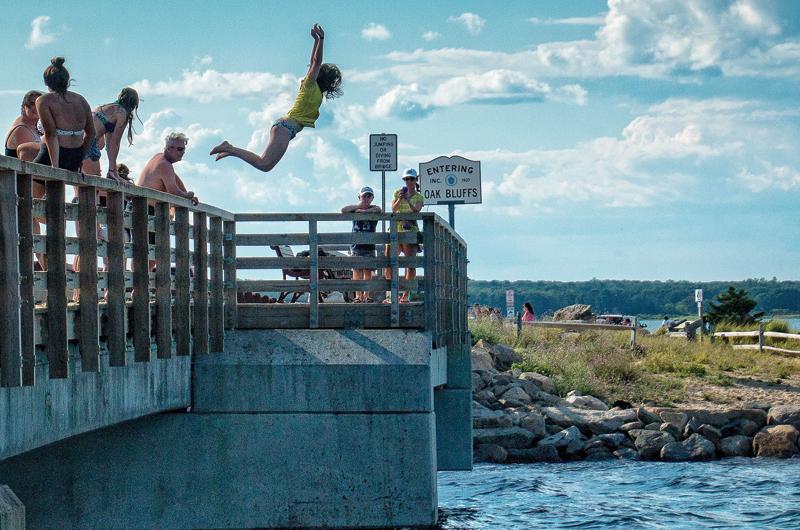 What's a greater rite of passage on the Island – jumping off the bridge or taking a photo of kids jumping off the bridge? It's hard to say. But the judges still appreciate an iconic shot done well, with great color and composition. Said one: "It's classic Martha's Vineyard summer."
Honorable Mention
Walter (Terry) Meinelt, Chilmark and Topsfield, Massachusetts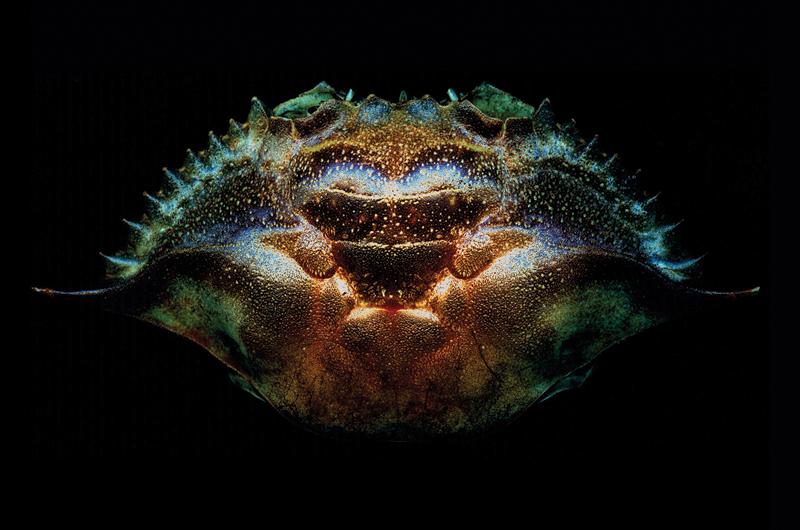 "The subtle coloring and translucent tones of the crab shell are rendered both convincingly and expressively," one judge said of this dramatic image. Using his scanner as a camera, the photographer was able to "photograph" the Atlantic blue crab shell that he collected from
the shore of Chilmark Pond.
Honorable Mention
Douglas Burke, Vineyard Haven and Milford, Massachusetts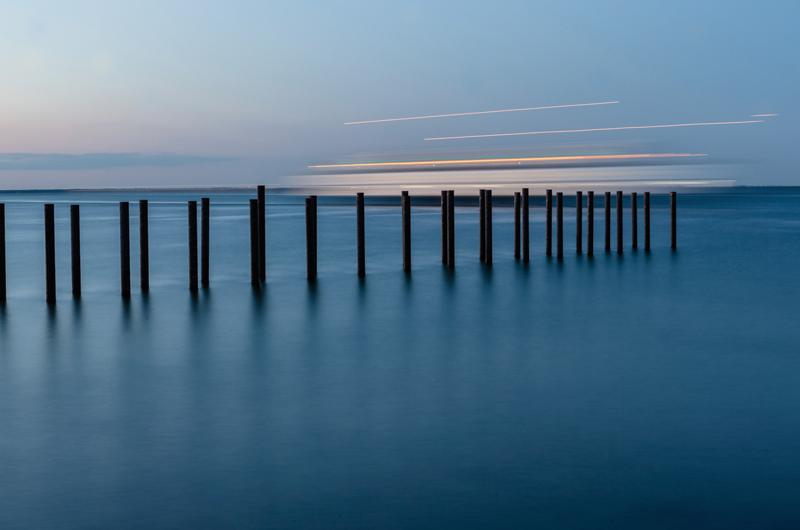 When out with his camera, Douglas Burke said he "looks for that one moment where the colors are riveting and come together in a brief second of beauty." Success achieved. Here he captures what one judge called "a striking mix of smooth surfaces and hard lines."
Honorable Mention
Brendan Devlin, Easthampton, Massachusetts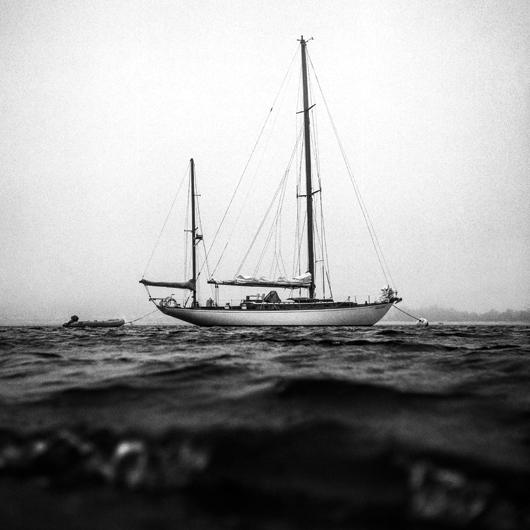 "I love how this photo makes me feel like I am in the water," stated one judge. "It has a unique perspective that captures both the stillness of the boat and the motion of the water."
Honorable Mention
David Sussan, Stamford, Connecticut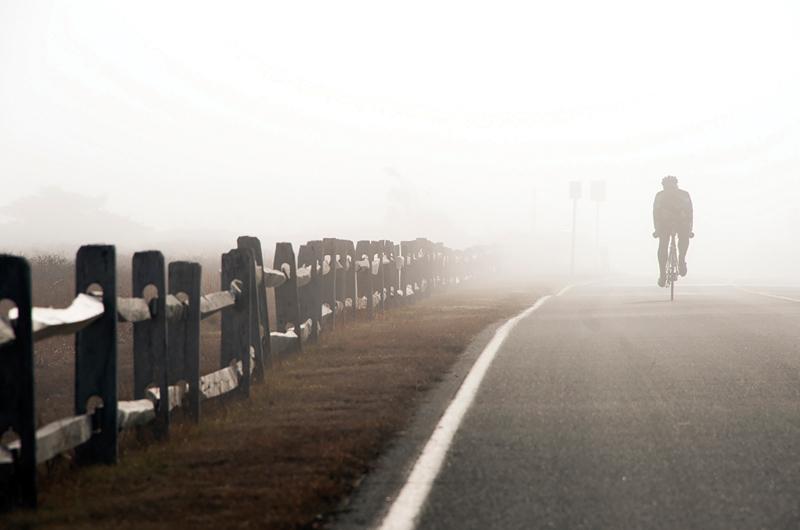 On a warm, foggy December day, David Sussan headed out to Katama. While photographing the fence, a rider emerged from the mist. "I like the feel and composition of this image," he stated. "The silhouette of the rider is perfectly set against the light," one judge said.
The Judges
This year's panel included Susan White, a longtime summer visitor and the photography director for Vanity Fair; Elizabeth Cecil, a frequent contributor to this magazine and a well-known professional photographer who lives in West Tisbury; Ray Ewing, an Islander and adjunct professor of photography at College of the Desert in Palm Desert, California; Alley Moore, the art director for this magazine; and Vanessa Czarnecki, the magazine's senior editor and the editor of Martha's Vineyard Island Weddings.