Cheryl rarely wears jewelry. Margery wears some, all silver. They're a handsome couple, one tall and demonstrative with straight blond locks, cut short now, the other sturdy and grounded with curls, more salt than pepper these days.
In business for half a century, together for nearly that long, two lives cast in parallel before intersecting by chance during the heady sixties on Martha's Vineyard – theirs is familiar a story that's been told and retold. Cheryl Stark was the young silversmith on a scholarship at the Boston Museum School who began selling her wares from a shed on the Vineyard Haven waterfront. Margery Meltzer was the cerebral philosophy major who wrote poetry and worked at the Vineyard Gazette setting lead type.
Told and retold – but possibly never quite like this, on a late May afternoon at their home in the sandplain oak forest off the twisty Dr. Fisher Road in West Tisbury. It was one of those days when the scrubby forest felt a little enchanted after a lingering cold spring. Stark and Meltzer had only recently returned from their winter home in Sarasota, Florida. The following week a small party was planned at CB Stark Jewelers on Main Street in Vineyard Haven to celebrate the fiftieth anniversary of the venerable jewelry store, the Island's oldest. On the same day, Stark would turn seventy. There would be cake, a toast to the decades.
But that was a week away. This was a day to sit in the living room flooded with sunlight and turn back the clock, with no tape recorder running, no photographer taking pictures – just tall glasses of fruity iced tea, Stark jumping up and down from one end of the couch, arguing with Meltzer about the details, Meltzer seated on the other end, unmoving, gently steering her back to earth.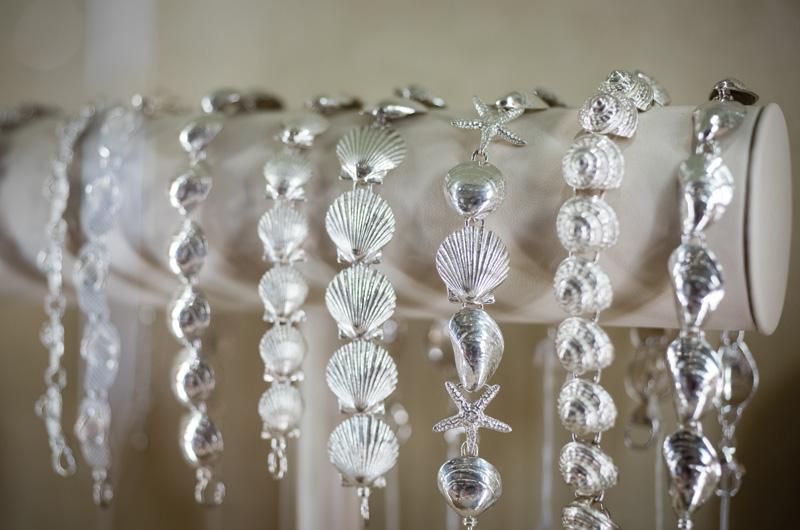 As they have been for more than forty years.
"We come from old Vineyard, and that means good people being good to each other," Meltzer said.
She and Stark were talking about their staff, whom they absolutely place on a pedestal. "You can't make a living year-round on the Vineyard, but we have made the choice to keep our employees employed," Stark said. "And there have been times when it's hard to make payroll in March."
Fifty years ago there was no payroll, only a nineteen-year-old from Scarsdale, New York, who was enrolled at the museum school in Boston. The Vietnam War was escalating, a military draft was on, and social unrest was all around. Stark thought she might learn a craft, signed up for a course in jewelry making, was drawn to silversmithing, and liked the professor. "He taught me how to solder. I thought I had found my thing. It was great."
She had seen a notice on the bulletin board at the school inviting artists to Martha's Vineyard. "I took the bus down, met Sydna White's mother who told me she had an Island Craft Center," she recalled. "People were making things from clay taken at Gay Head, Rose Treat had her seaweed art..."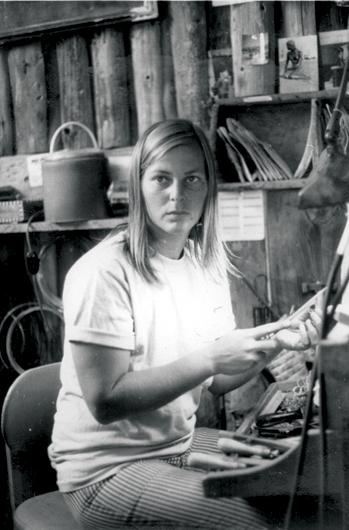 She rented a room at the Ritter House in Vineyard Haven for fourteen dollars a night. "I met some girls. They told me about Oak Bluffs," she recalled. "We all started going there, worked at the Lampost at night, the Sea View. You did what you had to do."
In the craft center tucked behind the massive Linden tree that stood on Main Street Vineyard Haven for centuries but is now gone, she began making things. A silver peace sign, circle jewelry. Later would come a bunch of grapes, presaging the charms that would one day become the bread and butter of a thriving CB Stark enterprise.
From 1966 to 1969, she moved around a little, working in the Cellar Shop on the corner of Main and Union Streets, then in a leather and silver shop on Main Street.
She knew the Vineyard was her place. But she was under pressure from her parents. "My father said, 'What do you plan to do with your life?' People were saying, 'Hey, let's go out to California.' That didn't happen for me," she said. "My father said, 'A girl doesn't become a silversmith.'"
She defied that and other stereotypes too, moved to New York and worked in the diamond district, one of the first women to do so. "I didn't have any plans; I didn't have a degree," she recalled. "But I had a booth on 47th Street for two years and it taught me a lot about the business end of jewelry making."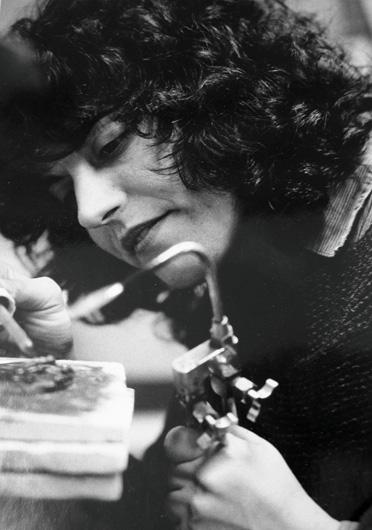 "She sold things to Cartier," Meltzer said.
"It was a lot like what you would call a popup now," Stark said. "I made a codpiece once."
In summers, she came back to the Vineyard, returning for good in 1969.
Meanwhile, Meltzer was having her own Vineyard journey, first arriving in 1968 after hearing about the Vineyard from college friends. She stayed up-Island. "I loved it from the start," she said. In December 1971, after a brief, too-young marriage had ended, she moved back, working various jobs – inserting papers and setting type at the Gazette, staying nights with the elderly Katharine MacKenty out on Edgartown Great Pond. In 1972 she moved to Chilmark to help take care of Clarissa Allen's mother, Catherine. Rural Chilmark was pretty remote in those days. "Two cars and a horse might go by," she said. "You could look out over the water and see the Russian factory ships. Hear the bombing at Noman's."
A young jewelry designer named Cheryl Stark came by one day. "We've been together ever since," said Meltzer.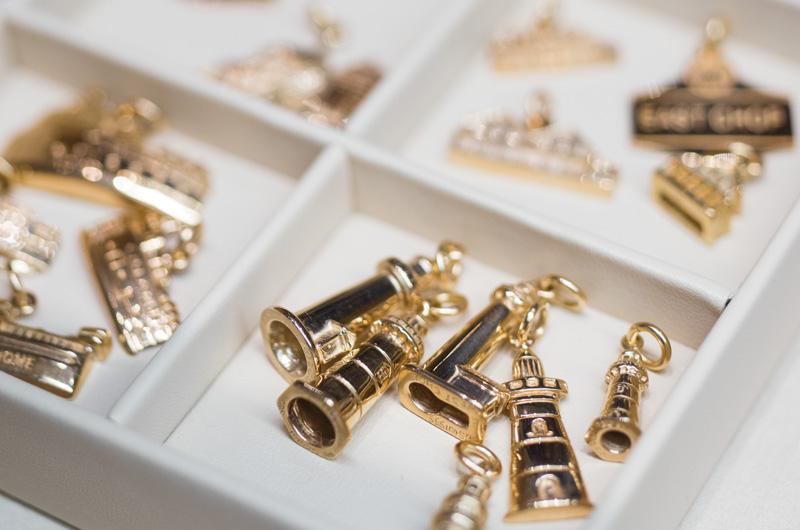 "Margery Meltzer who is the love of my life," Stark said with a sweep of her arm. "My parents didn't know I was gay."
The first CB Stark store opened in 1969 in a garage on Water Street in Vineyard Haven, where the Black Dog Bakery is today. A framed black-and-white photograph of Stark standing in front of the garage now hangs in the den of their house. Taken by her brother Leslie, it captures the mood of that rare, brief era when the Vineyard was experiencing its first wave of the counterculture movement. Change was in the air, but it wouldn't fully arrive for another decade or so. Neither Stark nor Meltzer had any money, but for them and others like them, Island life was rich. At various points they worked several jobs, went bay scalloping, did carpentry.
And kept making jewelry. Meltzer joined Stark as a business partner and apprentice. "I had always been good with my hands, I played guitar.... She taught me how to solder," she recalled.
In the 1980s, space became available in a building on Main Street. CB Stark Jewelers moved there and stayed. Somewhere along the way they started doing jewelry repairs. Business began to grow.
"We would be able to sit at our benches and get up and wait on people," Meltzer recalled.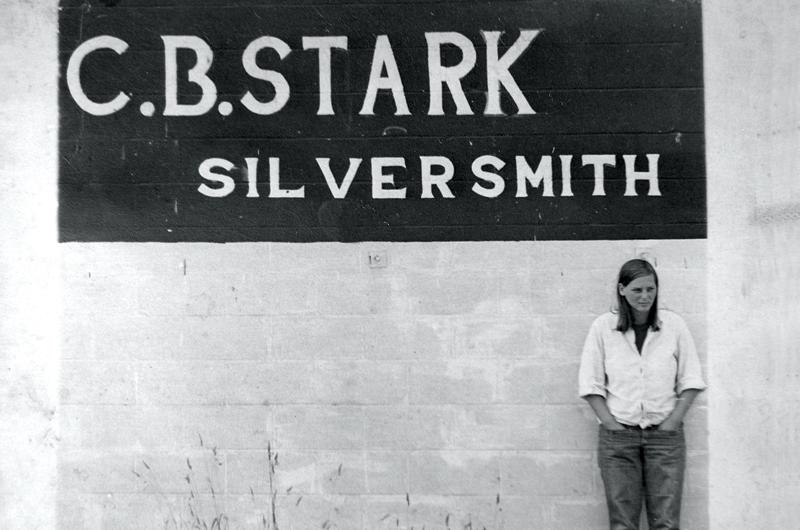 "It was the beginning of the Vineyard having famous people visit," added Stark, speaking of their earliest days in business. Mary Martin, Kitty Carlisle, Frank Sinatra – they all came through the door at CB Stark. One day Katharine Cornell and Nancy Hamilton paid a visit.
Meltzer picked up the story. "Nancy's son was getting married. They came into the store with a big bag of buffalo head nickels, wanted the nickels to be made into buttons for the men's blazers," she said. So they hammered nickels into buttons. "In some ways our business grew because people kept asking for things. And we said okay – to make a living."
Beverly Sills, the New York Metropolitan opera singer and longtime summer resident, would make the store her first stop. "Bubbles would walk in off the boat, ask us to clean her diamond," remembered Stark. "We were like the mother ship."
As the Island grew up around them, the pair evolved as artists and businesswomen, honing their reputation as quality jewelers, developing a loyal customer base. They made shrewd business decisions, produced catalogues, opened an Edgartown store. Today they do a large business from their website.
But by far the biggest success story has been their silver and gold charms. Stark had the idea to make the first one in the shape of the Vineyard. Others followed: the town signs, the ferry Islander. "Remarkably, no one had ever done it," Stark said.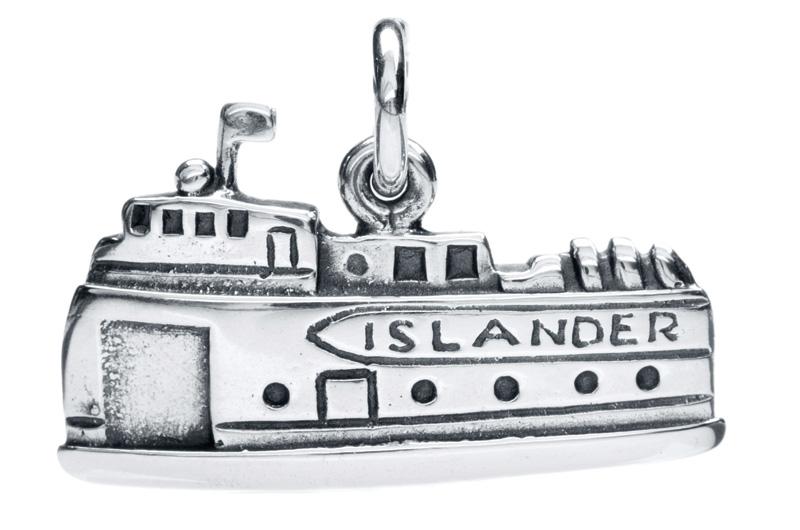 Soon CB Stark had 200 designs. Today there are more than 500. The charms are high-end keepsakes, and customers flock to the store to buy them to mark birthdays, anniversaries, graduations, and christenings. Today many of those customers are third generation.
"How grateful we are for our customers the last fifty years," said Meltzer. "We truly are."
And they have two hearts full of gratitude for their loyal staff, including general manager Sarah York, jeweler Jeff Regan, Edgartown manager Chris Bergeron, and assistant jeweler Elysha Roberts.
Five decades in, they have earned their modestly comfortable life, spending winters in Sarasota, summers in West Tisbury. They talk about growing older and the stuff that comes with it. There was a cancer scare. A knee got replaced. Brother Leslie died. They're still artists, still work in the store, still create designs. They have friends. Stark plays bridge. Meltzer has begun painting. And they've started to hear the question from people. The one about the future of CB Stark Jewelers.
"We're not planning on selling," said Stark, bluntly if not starkly. "We've taken care of that."
Time, then, to blow out fifty candles and cut the cake.
(Note: this article has been edited slightly since it's appearance in the print version of Martha's Vineyard Magazine.)