The trick, the skill, the art of it is to express complexity with s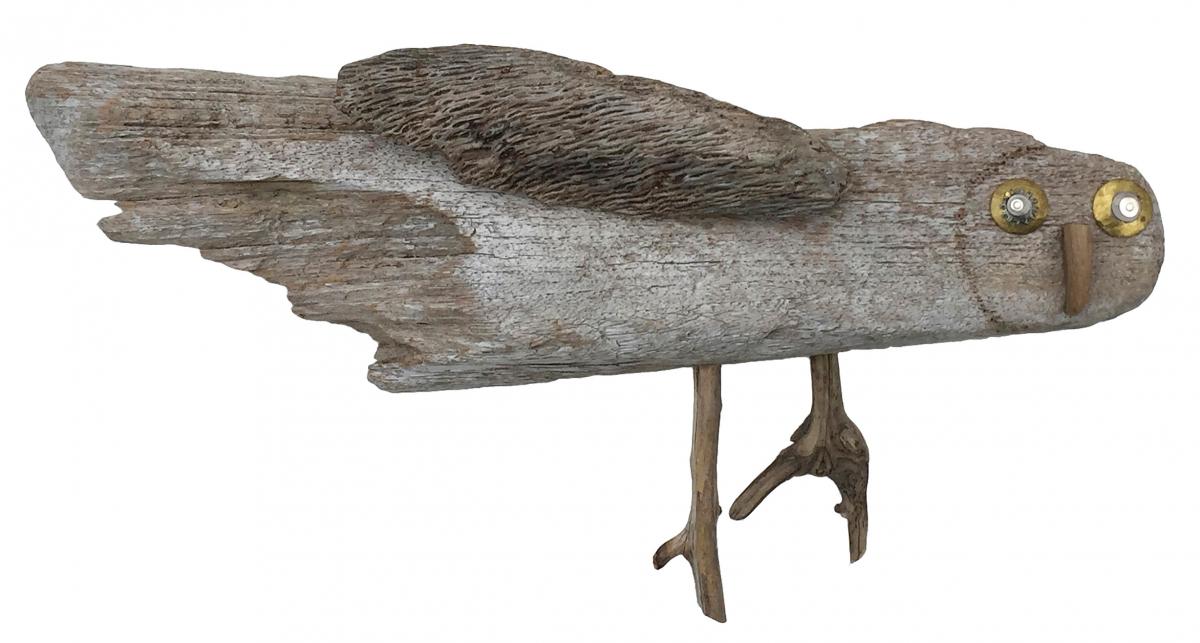 implicity and grace, something West Tisbury artist Ashley Medowski has mastered. Fashioned from driftwood and found materials, her sculptural depictions of birds, boats, and fish convey both form and personality with uncluttered elegance.
"Ever since I was a little girl I made things out of materials I found. I'm always beachcombing – Lobsterville Beach is my favorite. I can't keep my eyes off the ground. I'm like a crow looking for shiny objects.
"Found objects have an authenticity you can't find at Walmart," she continues. "I choose a piece of driftwood because of its shape, or its grain, or because it reminds me of something. That's when I take it home."
Little is done to alter the material. Owl uses the hard tip of a piece of driftwood for its nose. Its wing is a piece of naturally textured scrap wood. The twigs for the owl's legs remain essentially as they were found. Medowski's skills as a jeweler are used to notch, peg, or pin the pieces together.
Her gallery and studio are in a refurbished barn her great-grandfather Captain Norman Benson used as a fishing shack. "The first floor was so packed with nets, eel pots, and fishermen stuff I couldn't see the floor," she admits.
"I'm really in my element creating these pieces. Something happens along the way as I work, and the essence of the material begins to match the essence of the object I'm trying to create. Often I reach that point when I start laughing because I can tell I'm getting there and the character of the bird or fish reveals itself."
"Birds, Boats & Fish (Wood Carvings & Driftwood)" opens August 6, from 5 to 8 p.m., at the Ashley Medowski Gallery in West Tisbury. For more, visit ashleymedowskigallery.com.