Ferry Boat Island: Small island in Lagoon Pond in Vineyard Haven that was the original anchorage for the first ferry service between the Vineyard and Falmouth. Starting around 1703, ferryman Isaac Chase offered passage on his packet boat for three shillings per person, and up to six shillings if you had a horse in tow. Looking toward Lagoon Pond from the Marine Hospital, it is the larger of the two grassy islands, in the northwest corner of the pond.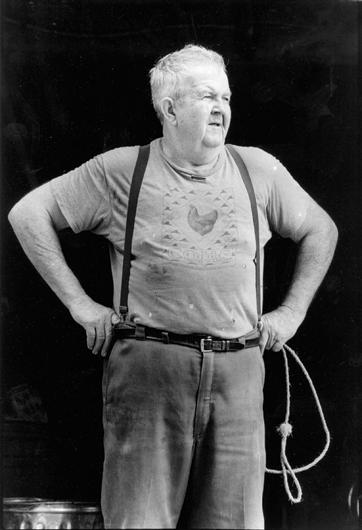 Fisher, Fred S. (Sr.): 1924–1998. Farmer, mentor, and lifetime member of the Martha's Vineyard Agricultural Society. Fisher, whose family purchased property on the Vineyard the year he was born, grew up working on various Island farms. In 1956 he purchased 135 acres to form Nip 'n' Tuck Farm in West Tisbury, which he named because it was "nip and tuck" to get the funds together. In an era before "teaching farms," he enjoyed introducing children to farm life, affectionately referring to his various young helpers as "scabs." At fair time he entered every animal he could into competition, but draft horses were his specialty; he re-introduced the old-fashioned horse pull into competition. Fisher is also largely responsible for extending the fair from three days to four, which took place in 1998.

Fresnel Lens: A peripatetic "catadioptric apparatus" that almost didn't get to Gay Head, where it served as the lighthouse beacon from 1856 to 1952, and then almost didn't get to the Martha's Vineyard Museum in Edgartown, where it now serves as a key attraction. Named for inventor Augustin Fresnel, it consists of 600 pieces of glass arranged in a complicated system of lenses and prisms that beamed a three-white, one-red pattern visible from twenty miles at sea.
It shipped from France to New York in 1856 with no label or papers. So, following protocol, the large crate was auctioned off to the highest bidder sight unseen. The buyer, pleasantly surprised by his purchase, put the lens on display for a nominal fee, which was when the government repossessed it and sent the lens to Edgartown. From there it required forty yoke of oxen to move it up-Island.
The Dukes County Historical Society (now the Martha's Vineyard Museum) planned to take ownership of the lens when the lighthouse was electrified in 1951. But a few months before the planned relocation to Edgartown, residents of Gay Head began to wonder why they shouldn't be able to keep what had been theirs for nearly a hundred years.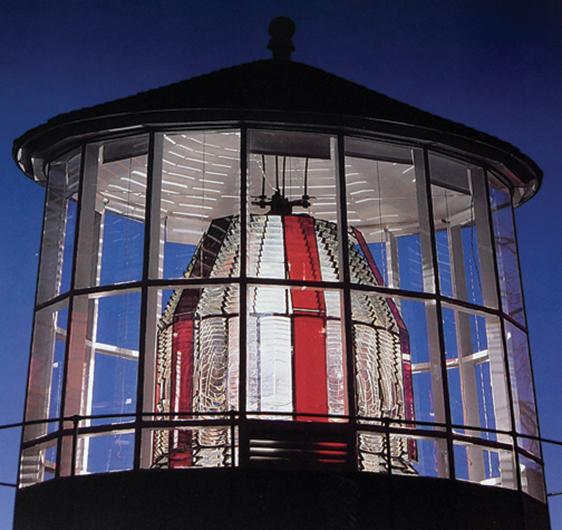 Islanders talked. "We never thought they would take the lens away from us up here and move it away down to that end of the Island," the president of the Gay Head Improvement Association, Lorenzo Jeffers, told the Boston Globe. "Some of those people in Edgartown would move the Gay Head Cliffs down to their end of the Island if they thought it was possible."
"Are we not one Island with one hospital, one Methodist Tabernacle, one courthouse, one Historical Society? What does it matter what town any one of them is in – it is there for the Island," read a letter to the Vineyard Gazette.
The Coast Guard gave the towns a deadline to figure it out amongst themselves, and on December 1, 1952, exactly ninety-six years to the day it was first lit in Gay Head, the Fresnel lens was ceremoniously lit in its new home in Edgartown. There it stands today, though plans are underway to move it to Vineyard Haven...