"Before I go onstage, or when I'm making images, I go inside myself and take a deep breath. Then it's like diving off the second bridge. There's no preconceived idea. I close my eyes and find my inner self and see if I can fly."
The artist herself is a collage of intuitive and honed talents that bubble and flow from her in images and music, words and theatrics.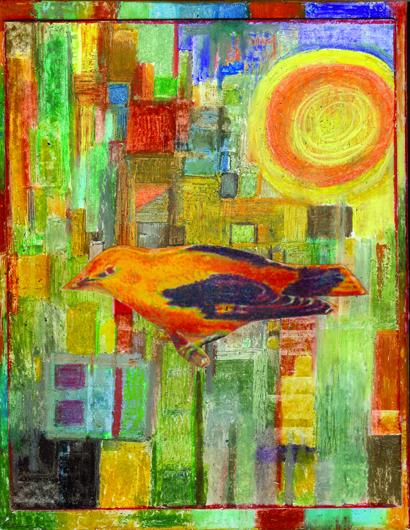 "It all comes from the same well, but singing is very extroverted and my art is completely solitary," Suesan Stovall explains. "Sometimes I can't even listen to music while I'm working. When I work I'm not consciously thinking about anything but the process, the medium. I don't think about the impact. I want everything to have an impact, but I don't manipulate it. Unless I'm representing a social issue."
The New York City native and Oak Bluffs seasonal resident (she owns Groovy Sue Gallery) created Bird in the City with pastels she inherited from her artist stepmother. "And now I'm an addict," she says of pastels, which she describes as "a very fluid medium. On this piece I worked for hours adding the colors."
After laying in the colorful geometric ground, she says, "something just happened and I added the bird. I've always had a thing for birds, for the whimsy of a bird. That's where this started....Sometimes I'll paint things without knowing why, but here there's a sort of kinship. I like its freedom.
"There's a lot of magic in how I work – it's a stream of consciousness. With this piece I was just letting the art happen. I was in an optimistic mood and put in the burst of sun and then added the bird to celebrate it."