Martha's Vineyard Magazine's annual Best of the Vineyard winners were announced Thursday night during a packed event at the Loft in Oak Bluffs.
More than 5,500 votes were cast in this year's contest, in which the readers declare the best that the Island has to offer in 85 categories, from beaches to bars.
Standouts included first-time first place winner 7a Foods, which took home wins for Best Sandwich and Best Picnic Food. For the fifteenth year in a row, the Net Result reeled in the top spot for Best Fish Market, plus additional wins for Best Fish and Chips and Best Seafood Restaurant. The Harbor View Hotel took home three of the four lodging category wins: Best Hotel, General Excellence, Best Family-Friendly Lodging and Best Budget-Friendly Lodging.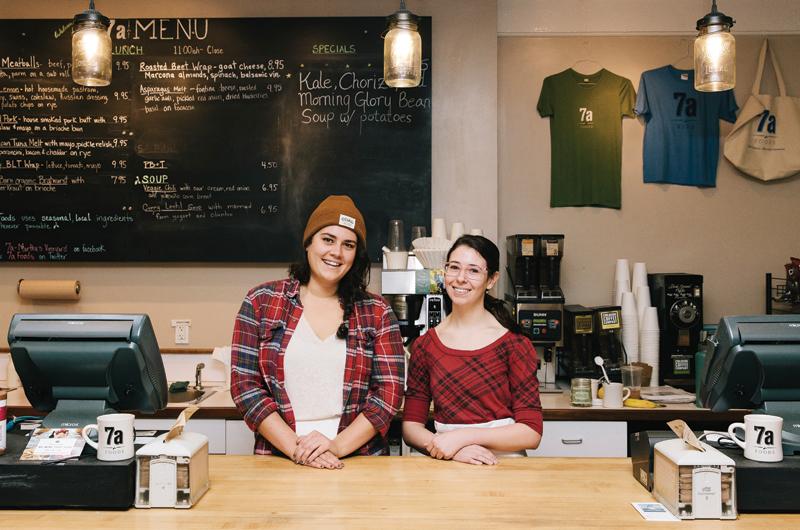 Back on the ballot after a one-year hiatus was Best Family Activity. The Flying Horses Carousel took home that prize and the newly established Barn, Bowl & Bistro came in second. Contemporary Landscapes raked in their eighth Best Landscape Company award. And the always-popular Grace Episcopal Church secured the title of Best Lobster Roll, marking their tenth win.
The stylish crew of Maggie's Salon celebrated their victories in both the Best Hair Salon and Best Mani/Pani categories. And the Green Room happily toted their awards for Best Women's Clothing, Best Men's Clothing, and Best Shoes – of course dressed for the occasion.
Approximately 350 people attended the party, where they enjoyed food provided by the Martha's Vineyard Chowder Company and kegs by Offshore Ale – both Best of the Vineyard winners. DJ Shizz kept the Loft rocking.
In between the revelry, gift cards were raffled off, including a grand-prize item. With it came several gift cards to Island businesses, a custom Vineyard Gazette Vineyard Vines tote and tie, a subscription to Martha's Vineyard Magazine, and two round-trip CapeAir tickets to Boston.
Martha's Vineyard Magazine has been sponsoring the Best of the Vineyard awards since 2001, carrying on a tradition begun by sister publication the Vineyard Gazette in 1996.
The full list of winners and runners-up is available in the July issue of Martha's Vineyard Magazine, on newsstands now. See below for a sneak peak of some winners for 2016. Voting for next year's contest begins July 1.
Best Bakery: Back Door Donuts/Martha's Vineyard Gourmet Café & Bakery
5 Post Office Square, Oak Bluffs, 508-627-3688, mvbakery.com
Runner-up: Scottish Bakehouse
977 State Road, Vineyard Haven, 508-693-6633, scottishbakehousemv.com

Life is too short to eat bad donuts, which is why we line up at the back door of Martha's Vineyard Gourmet Café & Bakery to devour the very best sugar-dusted, lightly frosted, freshly baked spheres of deliciousness that the Island has to offer. In Vineyard Haven, the Bakehouse serves up Scottish shortbread, gluten-free brownies, almond croissants, and lemon drop cookies so good you'll want to skip the delicious lunch and dinner food they also serve and head straight to dessert.
Best Picnic Food: 7a Foods
1045 State Road, West Tisbury, 508-693-4636, 7afoods.com
Runner-up: Humphreys Bakery
Woodland Center, 455 State Road, Vineyard Haven, 508-693-6518, humphreysmv.com

House-smoked pulled pork, coleslaw, and mayo on a brioche bun says summer all the way. For something lighter, try the Roasted Beet Wrap with goat cheese, spinach, Marcona almonds, and balsamic. Or the Liz Lemon, a customer favorite. Add a muffin or brownie and a cold drink and you're picnic ready. Humphreys' huge sandwiches and family-friendly prices make for a good choice to fuel a big day at the beach or on the water.
Best Pizza: Giordano's Restaurant
18 Lake Avenue, Oak Bluffs, 508-693-0184, giosmv.com
Runner-up: Rocco's Pizzeria
Tisbury Marketplace, 79 Beach Road, Vineyard Haven, 508-693-1125, marthasvineyardpizza.com

Giordano's (known to many simply as Gio's) has been serving Italian favorites like eggplant Parmesan, seafood alfredo, and chicken cacciatore since 1930. But it's the hand-tossed, authentic Neapolitan-style pizza that keeps people coming back again and again. Try the Vineyard Special: extra cheese, onion, peppers, linguica, mushrooms, and genoa salami. Or grab a slice and a soda and sit on the bench outside. Rocco's fans go crazy for the meat lover's, margherita, and white Italian pies, as well as the daily specials. Try the gluten-free crust as well.
Best Nature Walk: Cedar Tree Neck Sanctuary
Obed Daggett Road off Indian Hill Road, West Tisbury, sheriffsmeadow.org
Runner-up: Menemsha Hills Reservation
North Road, Chilmark, 508-693-3678, thetrustees.org

A trip to Cedar Tree Neck can be like a choose-your-own-adventure book. Head right to go directly to the shore, or veer left to explore the wooded areas and brooks. Menemsha Hills' three miles of trails provide one of the Vineyard's most challenging hikes. Make sure to stop at the Prospect Hill lookout – at 308 feet, it's the second highest elevation on the Island.
Best Jeweler: CB Stark Jewelers
53A Main Street, Vineyard Haven, 508-693-2284
10 Main Street, Edgartown, 508-627-1260, cbstark.com
Runner-up: Claudia
51 Main Street, Edgartown, 508-627-8306
34 Main Street, Vineyard Haven, 508-693-5465

From charms to traditional wampum, CB Stark Jewelers' timeless designs have been a hallmark of Island life for fifty years. Mark your Vineyard memories with a new charm every summer. Claudia presents a dazzling variety of designs from local and big-name international designers, plus high-end accessories and perfumes.
Best Women's Clothing: Green Room
71 Main Street, Vineyard Haven, 508-693-6888, vineyardsurf.com
Runner-up (tie): Basics Clothing Company
24 Circuit Avenue, Oak Bluffs, 508-693-8819, basicsclothingcompany.com
Slate
11 North Summer Street, Edgartown, 508-939-1908, slatemv.com

If you're on a denim hunt, book it to the Green Room – you'll find Sevens, Levis, Citizens, and True Religions aplenty. While you're there, try on some North Face gear and browse the wide selection of leather goods. Slate in Edgartown guarantees one-of-a-kind fashion, including loop scarves made on-Island. Over in Oak Bluffs, Basics sells maxi dresses, casual T-shirts, sweaters, and accessories – proof that you don't need to go off-Island to score a killer outfit.
Best Yoga Studio: Yoga Barn
1 Red Barn Road, West Tisbury, 508-645-9642, mvyogabarn.com
Runner-up: One Hot Yoga
Woodland Center, 455 State Road #7, Vineyard Haven, 508-338-7949, one-hotyoga.com

Perfect your sun salutations in the serene up-Island Yoga Barn. This peaceful studio
has classes ranging from vinyasa to kripalu for both beginners and advanced students. If you're really trying to work up a sweat, One Hot Yoga will crank up the heat while you work on your downward dog.
Best Family Activity: Flying Horses Carousel
33 Lake Avenue, Oak Bluffs, 508-693-9481
Runner-up: The Barn, Bowl & Bistro
13 Uncas Avenue, Oak Bluffs, 508-696-9800, thebarnmv.com

The calliope music draws you in. The allure of catching the brass ring keeps you riding again and again. Now in its 141st season, the Flying Horses Carousel continues to delight families with its antique horses and timeless fun. At the new Barn, Bowl & Bistro, hoots and hollers are regularly heard when someone, probably Jared, bowls a strike.
Best Interior Design Company: Tracker Home Decor
89 Pease's Point Way, Edgartown, 508-627-8725, trackerhomedecor.com
Runner-up: Julie Robinson Interiors
510 State Road, West Tisbury, 508-693-5065, jrobinsoninteriors.com

Tracker Home Decor can handle all your home design needs, whether you're building a new house or just need to revamp an old space. The designers are well versed in lighting ideas and window treatments, and can help mix and match fabrics, wallpaper, and carpeting to reflect your style. Julie Robinson Interiors specializes in window treatments and drapes, as well as custom upholstery, slipcovers, cushions, and pillows.
Best Hotel, General Excellence: Harbor View Hotel
131 North Water Street, Edgartown, 508-627-7000, harbor-view.com
Runner-up: Charlotte Inn
27 South Summer Street, Edgartown, 508-627-4751, thecharlotteinn.com

The Harbor View Hotel, located across from the Edgartown Lighthouse and within walking distance to downtown, is an ideal spot for both family vacations and romantic getaways. The hotel offers guest rooms and private cottages, two restaurants, a heated pool, and an expansive porch. The charming Charlotte Inn has been welcoming guests for more than fifty years and prides itself on sophisticated service and understated elegance in the heart of historic Edgartown.