At eighty, printmaker Ruth Kirchmeier emits sparks of energy as she talks about coming to the Island in 1988. It was, she says, "the beginning of a new life," where she found her artistic calling – her intricate and distinctive woodcuts.
It is a painstakingly slow and exacting process that she describes joyfully. "You have to take away what you don't want printed and leave what you want to be part of the image." She carves four surfaces, one for the image, and the others to apply as many as 100 colors.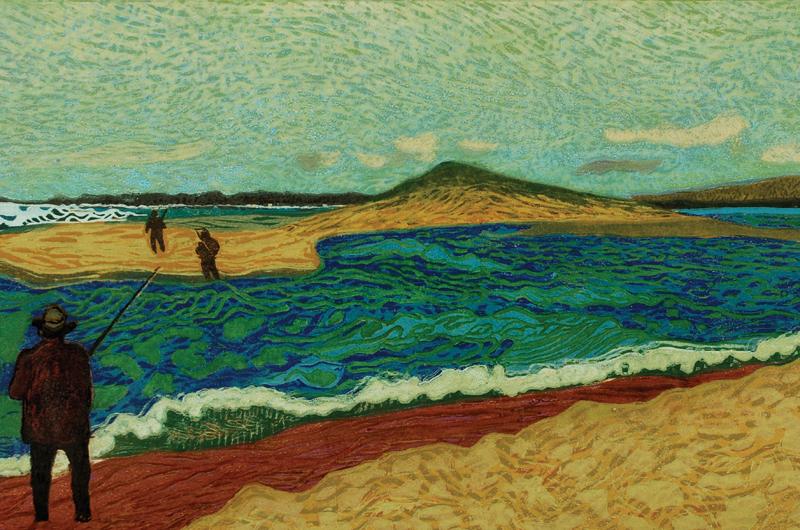 "I've always had a great appetite for relentless, repetitive things," she says, laughing. "My hands are gnarly and totally deformed, but they've become accustomed to the work; they know now how to do it.
"It's months of work, and I think, 'What if this doesn't work?' But sometimes I step back and look at what I've done and think, 'Wow, I can't believe I've done that.'"
Her decisions about form and color are the result of "informed intuition. It's a product of tacking back and forth – a constant adjusting. I have to anticipate the relationship among colors."
Tisbury Great Pond Opening depicts what she refers to as "an iconic spot" for her and her partner of more than twenty years, former New York Times "Outdoors" columnist Nelson Bryant. "I couldn't count how many times we would canoe across the pond. Nelson would fish and I would do stretching and yoga, then sit and draw. I imposed [the figure of] Nelson in the foreground to break up the horizontals."
She says, with no hint of complaint, "It's not easy. It's very absorbing and I love that it takes up my life." She laughs again and adds, "What better way to spend it?"
In June, the West Tisbury Free Public Library will exhibit a retrospective of Kirchmeier's work.