The Wesley House, the grand gateway to Oak Bluffs, the looming Victorian matron above the harbor, the big sister to the Camp Ground since 1877, is no more. Well, she is still physically there: all ninety-five rooms of her. But please welcome Summercamp (yes, that's one word), the newly titled, completely renovated, and reimagined hotel of old.
If "Summercamp" conjures up something other than high-end toiletries and flat-screen TVs, don't worry. There won't be archery practice on the top porch, gimp-bracelet-making at the bar at Nancy's, sunsets marred by attacking mosquitoes, midnight canoe raids across Sunset Lake to the sibling camp called Our Market, or "Reveille" blasting you out of your bottom bunk bed in a drafty cabin with ten other sunburnt munchkins.
This is today, not yesterday, and Lark Hotels, the group that purchased the Wesley House in 2015, has given Summercamp an unapologetic modern look and feel. Which isn't to say the camp theme isn't pretty much everywhere. Gone is the old grand piano from the lobby, replaced by unobstructed views of the harbor and a "Camp Canteen" that sells the usual essentials along with penny candy, dog treats, local products, and straw hats and towels showing off a new logo. At the other end of the lobby, there will be a rec room carpeted in Astroturf where guests can play Twister, board games, Ping-Pong, or take in family movie night.
"I grew up going to Methodist summer camps and while the ongoing tradition of revivals has deteriorated over the years, we wanted to give the hotel a fresh start yet tie it to its history," said Dawn Hagin, whose official title at Lark Hotels is "chief inspiration officer." Lark owns or operates eighteen other resort properties, including The Sydney and The Christopher in Edgartown. In virtually all of them, Hagin said, the company is "doing the unexpected with a touch of mischief."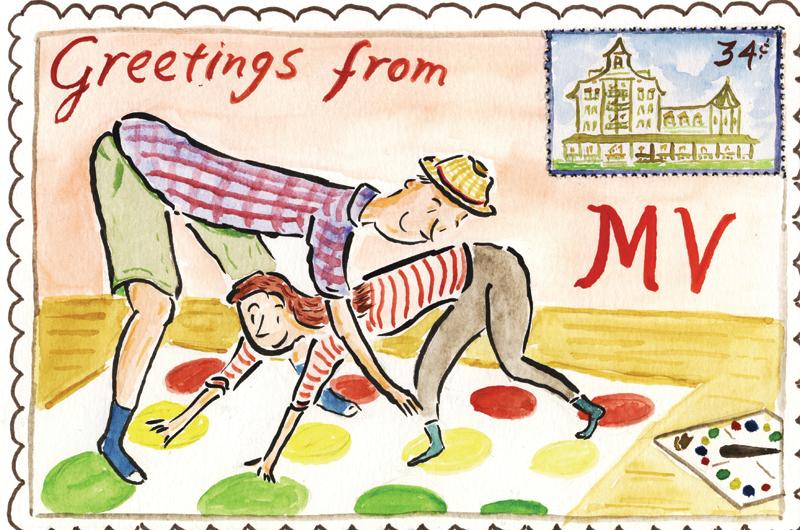 "Our hope," said Rachel Reider, director of design at Lark Hotels, "is that guests will think of our hotels as a collection, but that they experience each of them as really unique in terms of their environment and design concepts. There's that name recognition and the knowledge that there are consistencies – that the technology is of the moment, that there's a strong emphasis on design, and that there are great beds."
It's safe to say that "great beds" is not a phrase anyone with firsthand knowledge would associate with summer camp. But then again, neither is Apple TV, built-in sound systems, or iPads on each floor featuring Islandwide activities, sites, and restaurant recommendations. Summercamp has all of those.
Modern interior aside, the exterior architecture will remain essentially unchanged, though a hanging couch will join the venerable lineup of rocking chairs. Transient boaters will still be able to freshen up in a couple of full baths for a fee, which is a relief. The old signage and various other artifacts will adorn some of the interior walls.
"We know that there has been some debate on the Island about what we're doing and we've spent a lot of time being tuned into that and we hope the hotel captures the look and feel of the Vineyard," said designer Reider. "We hope when people see the space, they will come around."
Of course they will. What's not to love about summer camp with great beds, on-demand TV, and mixers for your BYOB stash?
Unless, that is, their enthusiasm leads to endless choruses of "99 Bottles of Beer on the Wall" out on the porch after 10 p.m. Then, the senior counselors shacking out in the Camp Ground
might blow the noise whistle and call "Lights out."