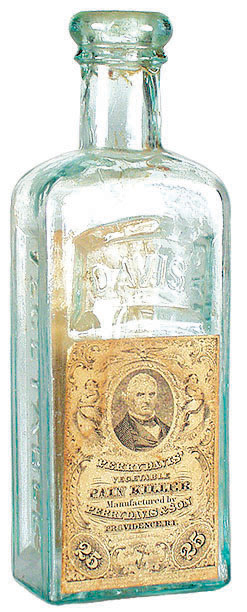 Davis' Vegetable Pain Killer: A patent medicine first produced on Chappaquiddick in 1840. Perry Davis, who didn't live on the Vineyard but invested in several Island grist mills, was a chronic pain victim as a result of a childhood accident. In the front room of the Huxford property on Chappaquiddick, where one of his mills was located, he mixed the first bottle of his soon-to-be-world-famous nostrum.
"I searched the globe in my mind's eye for a cure during my illness and selected the choicest gums and healing herbs," he later told a Rhode Island newspaper. Though an ardent member of the temperance movement, what his mind's eye found was a mixture of opium and 114-proof alcohol. This, along with various other ingredients including myrrh, spruce gum, camphor, and chili peppers left him feeling no pain.
He wasn't alone. The Vegetable Pain Killer was soon mass-produced off-Island and is believed to be the first nationally advertised pain remedy. Global business boomed after Davis sent free samples to every Baptist mission on the planet. Even more customers were introduced to the brand during the Civil War, when the U.S. government seized the Rhode Island factory to produce the painkiller for both soldier and horse. Later the cure became popular among Canadian miners and lumberjacks who, despite the hot peppers that were supposed to deter recreational drinking, were known to buy six or eight bottles at a time. According to one account, satisfied Canadians kept separate bottles in separate pockets to minimize breakage when they inevitably fell down in a stupor.
Davis died in 1862, but the company continued making various versions of the mixture well into the twentieth century. Not even Prohibition halted production: the Vegetable Pain Killer was, the government agreed, a "cure" and not a beverage.
Devil's Den: Ravine on the northerly slope of the Gay Head Cliffs that, according to Wampanoag tradition, was home to Moshup the giant, his wife Squant, and their many children. The family adhered to a seafood diet – preferably whales. These they roasted over a huge bonfire fed by whole trees ripped by hand out of the surrounding landscape. Hence the lack of trees on the Aquinnah headlands to the present day.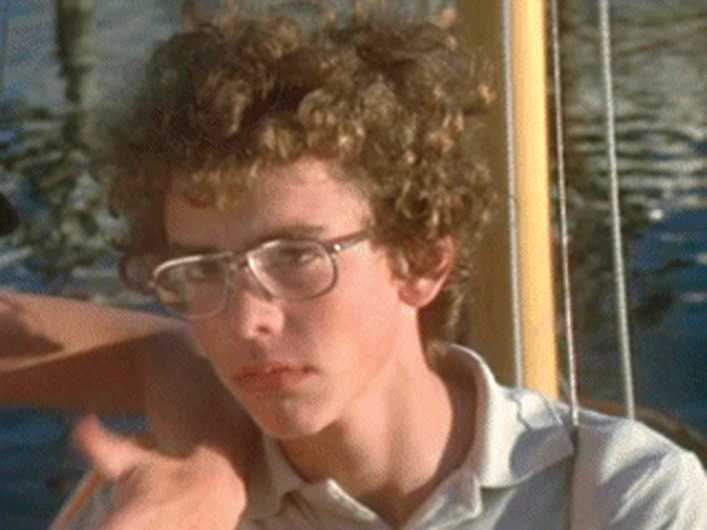 Dunlop, G. Thomas IV: Author, historian, journalist, and actor from Edgartown. Though best known on the Island for his books on various Vineyard subjects and his frequent contributions to this magazine and to the Vineyard Gazette, to film buffs he is remembered for his 1978 portrayal of the teenager Timmy Weldon in the film Jaws 2. Dunlop, who grew up summering in Edgartown, landed the role at age sixteen in part because he was able to skipper a sailboat. Perhaps inspired by Roy Scheider, who ad-libbed "You're going to need a bigger boat," which is arguably the most famous line in the original movie, Dunlop went off script. "I'm thin. I wear glasses," he riffed in one of the movie's most memorable scenes. "I live on Amity Island year round. I'm not good enough for her."