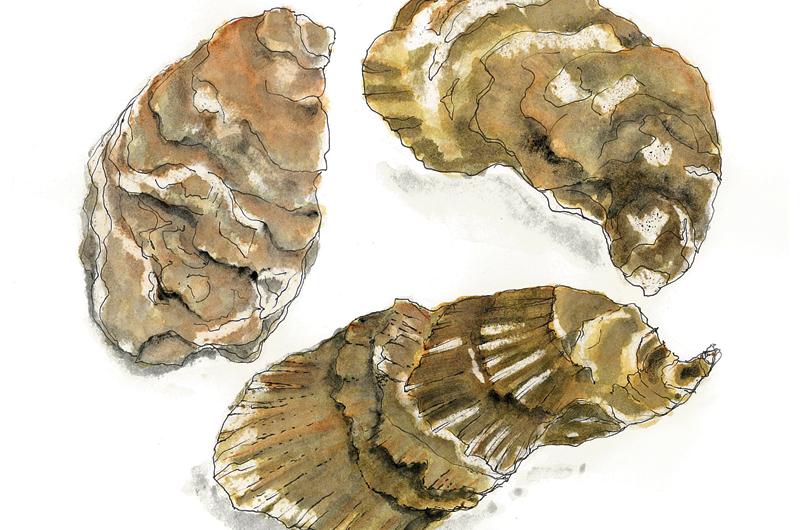 It's a strange twist of fate that oysters, often described as nature's aphrodisiacs, are such funny-looking things. Maybe there's a life lesson to be observed here, like, say, the old adage about how real beauty is found on the inside. Or is it that beauty is only skin-deep?
On these shores, American oysters have broad appeal: they're good for you and for the health of our coastal ponds. (For more on their merits, see "Is the Future on a Half Shell?" page 50.) And, well, they're pretty delicious, too.
Where to look: Oysters grow best in brackish waters, so check the flats of Edgartown and Tisbury Great Ponds, which are seeded regularly, as well as Katama Bay. The process is akin to looking for seashells – at very low tide in shallow water you can pick them up by hand. Wear appropriate footwear when doing so since oysters can cut up your feet. A rake may be needed in deeper water. In all cases, a permit is required; check with your town hall for rates, regulations, and tips on where to look.
How to use: The world can be your oyster, but first you have to pry open its shell. Slip on a pair of oyster gloves and hold the oyster with the narrow end at the top, then insert your knife at the halfway point until you hear it click. Add a fresh lemon, Tabasco, or mignonette sauce. Or fry, if you're into that sort of thing.
"He must have been a very valiant man who first adventured on the eating of oysters."
– King James I